eCommerce stores have been one of the popular viable business models for retail stores. It does benefit not only the business owners but also their consumers. It is both convenient and accessible to consumers, and it offers its products to a broad audience.
While many business owners use regular websites to showcase their products, most of these are not integrated with shopping features needed by both business owners and clients.
You need an eCommerce platform with web hosting, shopping cart, payment processing, and shipping. When selecting an eCommerce platform, it's essential to make sure that it suits your tech skills, owner and customer needs, customization option, etc.
It can be a laborious task for anyone, especially those not familiar with web development. As such, we narrowed down three (3) of the best eCommerce platforms available online, WooCommerce vs Magento vs Shopify. Read on as we compare these three platforms based on their features, benefits, drawbacks, ease of use, pricing, and more.
What is an E-commerce Platform?
An eCommerce or Digital Commerce platform is an end-to-end software application that allows business to manage their online businesses, online sales, and operation. It offers various eCommerce features, comprising website builders, accounting, inventory management system, shipping options, and customer service, enabling a business to centralize its operations and run it effortlessly.
What makes a good e-commerce platform?
When starting an online business, choosing the right eCommerce platform is one of the biggest blockers owners may encounter. The platform needs to be scalable, long-term, affordable, and customizable. In addition, a good eCommerce platform should:
Help flawless engagement with business owners and customers

Promote brands and digital products

Ensure employees can implement both internal and external campaigns and strategies

Effortless shopping experience on both owners and customers

Protects your website and customer's data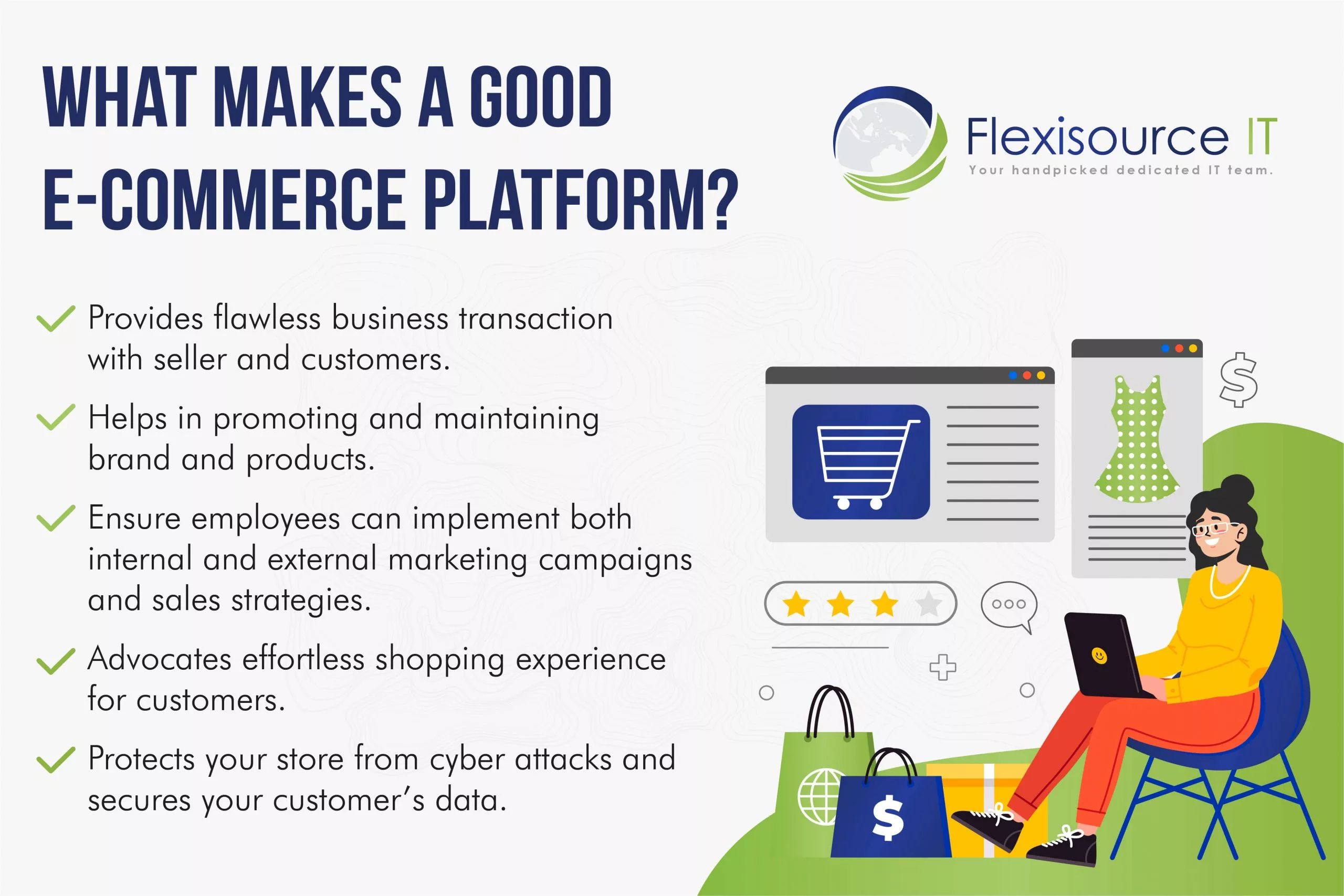 Which is the Best Ecommerce Platform?
If you are unsure whether to pick WooCommerce vs Magento vs Shopify, you are not alone. These brands are three of the most used eCommerce platforms on the market. Woocommerce, Magento, and Shopify come with a number of pros and cons. Thus, here is a brief rundown of what you can expect from each platform.
Shopify
Shopify is an all-in-one eCommerce solution that is great for startups with its easy-to-use interface. It can help beginners create an online store, accept payments, handle inventory, arrange shipping and delivery in one single platform. Unlike Woocommerce and Magento, Shopify is easy to manage and you don't need to worry about the technical aspect of managing an eCommerce site such as maintenance, web hosting, security, etc.
Shopify is fully equipped with great features and can perform nearly any shopping option. Business owners can:
Create their online shop with more than 100 professional Shopify themes.

Create mobile-friendly Stores

Choose between salable price-lists

Edit HTML and CSS directly

Hook up your website with your domain name

Add a blog page to your website

SEO your site and integrate social media, product reviews, email marketing

Incorporate their Shopify Point of Sale Store into their Shopify surface

Link other online distribution channels
Advantages of Shopify
Shopify comes with attractive advantages and a few disadvantages. Below we have a list of some of the benefits of Shopify.
Comes with Various Payment Processors – Shopify has inbuilt payment services like Amazon, Google Pay, Apple Pay, and PayPal. It also allows owners to accept payments from credit-debit cards from Mastercard, Visa, or American Express. Moreover, Shopify has over 100 payment processors integrated into the platform, allowing sellers to accept multiple currencies.
World-class Speed and Performance

–

Shopify websites load faster compared to other eCommerce platforms. Slow-loading websites or even a single page can affect any potential sales you are making. With Shopify, customers can shop any product hassle-free.

Boost Sales with Inbuilt Features

–

Online shoppers often leave items in their cart if they are interrupted or just deciding whether to buy them or not. Often, they will forget about this and never come back to purchase it. Shopify has a feature called

abandoned cart recovery

that reminds customers about forgotten products in their carts. This feature sends customers an email at customizable intervals.

Variety of Themes/Designs

– Online market owners may want their eCommerce website to look as aesthetically significant as possible. Shopify offers various Shopify categories such as furniture, art & photography, clothing, food & beverages, and more. A wide range of more themes is available for purchase or premium users.

Easy to use Interface –

Shopify offers a straightforward way of creating and launching an online store that is doable, even for those not familiar with Web Development. All you need to do is create an account, select a theme, and customize it. In addition, it comes with an initial setup guide that features a step-by-step tutorial of the tasks you need to achieve to set up your shop.
Disadvantages of Shopify
Using Shopify vs Magento and WooCommerce might include a few disadvantages.
Themes are harder to Customize –

As much as Shopify offers various themes, customization can only be done by the most professional developer or if you learn how to code yourself. Shopify created their PHP language called Liquid, which they used to develop the themes they offer. The best course of action to this is sticking to the original theme or hire the development team. Check out w

hy you should hire the best remote developers in the Philippines

to know more.

No Email Hosting –

Shopify does not offer email hosting to its active users. You can't have an email with your shop's name (e.g., info@shop.com). However, Shopify still offers email forwarding. Thus, whenever someone sends an email to an email with your shop name (e.g., info@shop.com), it directly sends an email to your personal Gmail or yahoo account. You need to set up a third-party email hosting connection to use this function (buildthis.io, 2020).

Plans are a bit expensive –

You can use Shopify free with limited features. However, if you want a fully functioning eCommerce website, it is better to avail of their premium plans. The cheapest plan Shopify offers is $29, to it can go up to $299. In addition, you may need to add additional features or subscriptions for specific apps.
Magento
Magento eCommerce is a powerful open-source eCommerce Content Management System (CMS) available for individuals. Open source allows developers to improve and alter the website functions and features according to their needs. Using Magento Commerce can be difficult for beginners and is more suitable for enterprise-level businesses with their software development teams.
Despite its open-source nature, you still need web hosting, security, plugins, and extension. The following are the Magento features available:
Create websites, allowing compatibility for both Apple and Android

Fully customizable design and templates

Customer segmentation targeted promotions and merchandising available

Automated email marketing reminder

Restrictive catalog features

Regular framework improvements

Integrated product management system

Polls and customer groups.

Unlimited product features
Advantages of Magento
As an online retailer, it is reasonable to be picky when adopting an e-commerce platform. Magento Commerce is a good CMS choice due to the following reasons:
Open-source with lower costs –

Magento

is an open-source CMS free to use for small to medium-sized enterprises. You need to pay for web hosting, around $10 per month. It also offers an Enterprise edition that works well for more prominent brands that can invest more than $18,000 per year.
An abundance of built-in features – With Magento Commerce, it's easy to configure orders, invoices, shipment methods, currencies, languages, discounts, and more. Magento comes with an insightful and straightforward backend administration with tons of valuable front-end features for customers. The admin panel is easy to operate and maintain. Magento is undoubtedly a well-developed eCommerce CMS with the capacity to be adjusted and customized.
Highly Scalable – When starting with Magento Commerce, you can pick the Community version. But as your company grows, you can move up and try the Enterprise Edition. You won't have any problems migrating products, launching a new store, or upgrading your current ones. All products, customers list, and data you manage will be controlled in one backend office.
Years of experience –

Magento eCommerce has been popular since 2008, maintaining one of the best eCommerce platform solutions for online vendors. It continues to grow and develop to capture the larger companies in the e-Commerce market. Currently, Magento is being used by more than 250,000 merchants worldwide, composing of big companies like Ford, Liverpool, Nestle, Hermes, and more.

A robust global community

–

Magento has a good reputation and is being recommended by most internet merchants. It has a big community with more than 150,000 developers worldwide. You can depend on lots of active and experienced users when facing issues or needing support and assistance.
Disadvantages of Magento
Using Magento vs Shopify and WooCommerce as a platform comes with a few drawbacks.
Hosting is not included –

Unlike Shopify, Magento does not include hosting. Users will need to pay for a third-party hosting service. You can take advantage of this peculiarity and host your eCommerce website in your chosen hosting environment that fits your needs. Such as shared, VPS, dedicated and cloud, and a wide choice of hosting solutions.

High Cost of Enterprise Version –

Magento Community Edition is free and open-source, a perfect choice for small businesses. Nevertheless, medium to large-scale enterprises may find the community version inadequate. In this case, Magento has an enterprise version that costs $18,000, which may be steep for some companies.

Time-consuming and Hard to Customize –

The default design of Magento is easy to comprehend even for employees without the developer's expertise. It also offers up to 76 Magento Themes. However, fully customizing your virtual shop with Magento can be difficult for persons without developer knowledge. Magento is currently one of the most difficult PHP systems available. If you do not have the skills and knowledge of programming, it is strenuous to learn Magento.
WooCommerce
WooCommerce is an open-source eCommerce plugin that allows businesses to run an online store on their websites hosted in WordPress. WooCommerce is highly customizable due to its open-source nature, depending on your needs and skills. Check out the following WooCommerce features.
It is bundled with several payment gateways such as PayPal, BACS, and Cash on Delivery.

WooCommerce offers options for free shipping or flat rate shipping.

It creates reports on sales, reviews, inventory, and store other performance.

You can configure tax settings based on tax classes and local rates.

Owners can build

digital marketing efforts

such as discounts, promotions, vouchers, etc.

The plugin is built in WordPress and available from the wp-admin of your website.
Advantages of WooCommerce
Against other eCommerce options, WooCommerce can stand out with its offers and benefits.
Great Flexibility –

One of the key benefits of using WooCommerce is its flexibility. You can set up your shop, regardless of your niche. It has high scalability that allows companies to sell all kinds of items without expanding the business past the plugin capabilities. It also has many free plugins and themes in WordPress Plugin Directory and paid versions in WooCommerce.com. In addition, if you don't find the perfect theme, you can customize each section of any theme, from the header to the tiniest element.

Top Security Features – WooCommerce comes with secure payment gateways like Paypal and Stripe. Its developers regularly update the platform to prevent any cyber-attacks. Customers' credentials are always safe from any compromise. However, the plugin does not have a backup feature to restore data in case attacks are successful. Developers can always add backup stored information in encrypted form to ensure data confidentiality. WooCommerce also allows adding security plugins to scan your website for malware regularly.
Collaborative Community

– WooCommerce has a large user base, approximately 4.5 million websites distributed across several industries. It also has several forums where members share guides and tutorials to help people and ensure that WooCommerce remains relevant.

Straightforward plugin – The plugin is specific once installed on your WordPress website. It comes with a highly customizable dashboard. As long as you can adequately use WordPress, using WooCommerce would not be a problem. Business owners operating WordPress find it easier to install WooCommerce when creating an eCommerce store than opening a new one from another platform. The plugin is safe and works effectively.
Disadvantages of WooCommerce
As much as WooCommerce appears ideal, it still has a few flaws that might affect your eCommerce Business.
Available only in WordPress – WooCommerce is just a WordPress plugin. Hence, you still need a WordPress website to use it. Thus, if you are not using WordPress to host your company's site, it would be time-consuming to remake your website.
Add-ons are Expensive – While WooCommerce is free to download and install, some extensions or add-ons may require payment for your online shop to operate.
WooCommerce vs Magento vs Shopify: Which is for you?
To sum it up, choosing an eCommerce platform for your business demands time, planning, and budget. With these factors in mind, here is a brief synopsis between WooCommerce vs Magento vs Shopify.
If you are a novice or a startup business, Shopify is the one perfect for you. Shopify offers a beginner-friendly platform and design that most newbies can learn the process of building a great-looking online store. Most of the themes are already prebuild and only require a few alterations.

If you are an experienced developer or own a big corporation, Magento is your go-to. With its complex setting, it can help corporations develop a big store. It is also customizable; thus, it can fit anything you need.

If your business already owns a website hosted in the WordPress platform, WooCommerce is the choice for you. All you need to do is install the WooCommerce plugin, and you are ready to go. It is also customizable and scalable with the correct extension.
No time to read? Check out this quick comparison between WooCommerce vs Magento vs Shopify: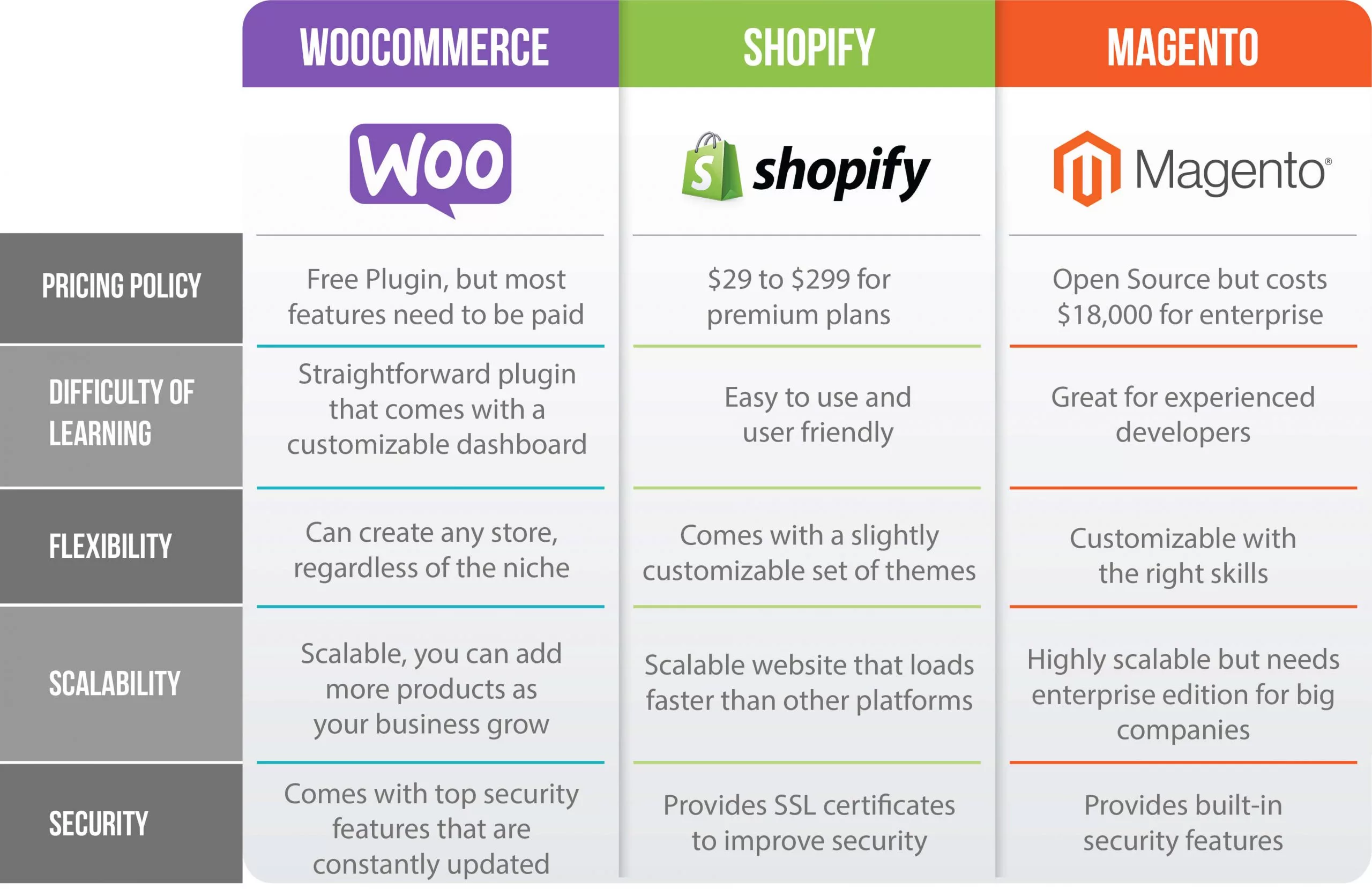 If you are interested in creating your online store and looking for a team of developers, check us out! Contact FSTI today!
Next read these:
Essential Steps To Improve Your Website Security
A Detailed Guide to Different Types of Web Hosting
Important Website Optimisation Strategies for SMEs
Pamela is a full-time content writer and a lifelong Philomath. Her previous experience as a research analyst made her passionate about traveling the world and understanding how it works. During her day off, you can often find her indoors, writing stories or oil painting.