We Are
Flexisource IT
At Flexisource IT, We Know What Works.|Your Hand-Picked Dedicated IT Team|Your Gateway to Top-calibre IT Experts
Learn More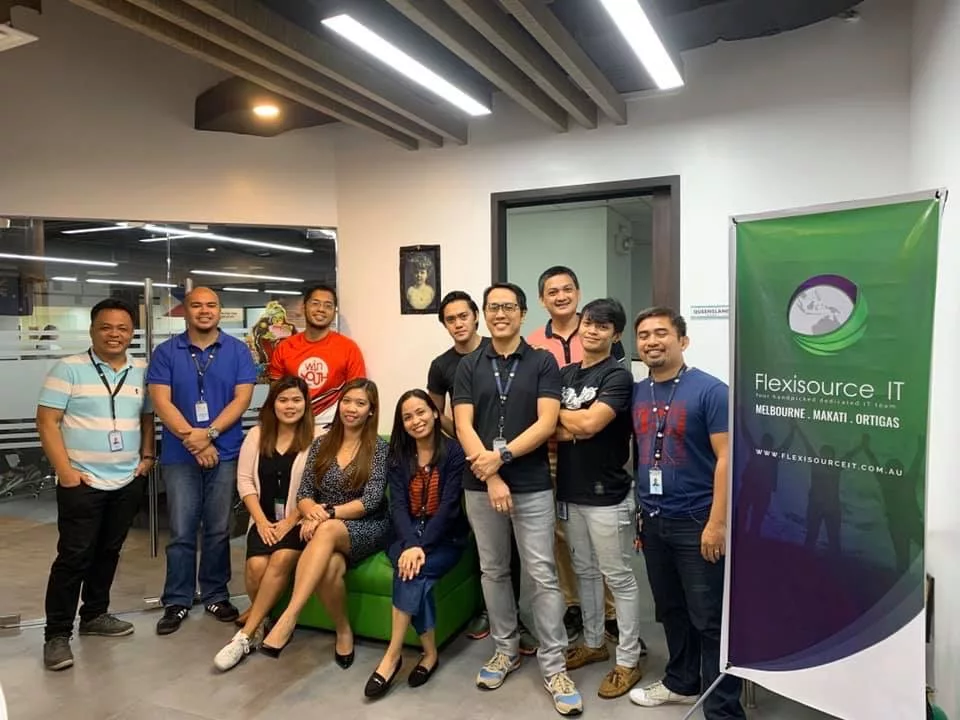 2022 Statement Against Modern Slavery – Flexisource IT

Flexisource IT has a zero-tolerance approach to modern slavery and any form of exploitation. We treat all employees and personnel with respect and dignity by providing safe work conditions, pioneering change, and supporting equality.
We Are One
Growing
IT

Company!
Today, our team of IT experts and marketers has a wide range of
knowledge and expertise at par with international standards.
We deliver solutions that exceed your expectations. We select only
the experienced and best IT professionals from the Philippines.
Flexisource IT is a widely recognized
IT outsourcing and business solution industry leader. We provide optimum IT solutions with top-caliber, fully managed IT teams to Australian and New Zealand businesses.
Flexisource IT started out as an idea.
Our CEO Richard Gross witnessed firsthand the scarcity of onshore talents that impedes business development in Australia.
Today, our team of IT experts and marketers has a wide range of knowledge and expertise at par with international standards. We deliver solutions that exceed your expectations. We select only the experienced and best IT professions from the Philippines.
At Flexisource IT, we ensure that we get ahead of our competitors by adopting new techniques, trends, and technology
Our leaders are experts in various project
management methods such as Scrum and Kanban. We deliver satisfying results to their business partners to concentrate on growing their businesses.
Developers, IT Experts, Digital Marketers and Advertisers, HR, Recruiters other employees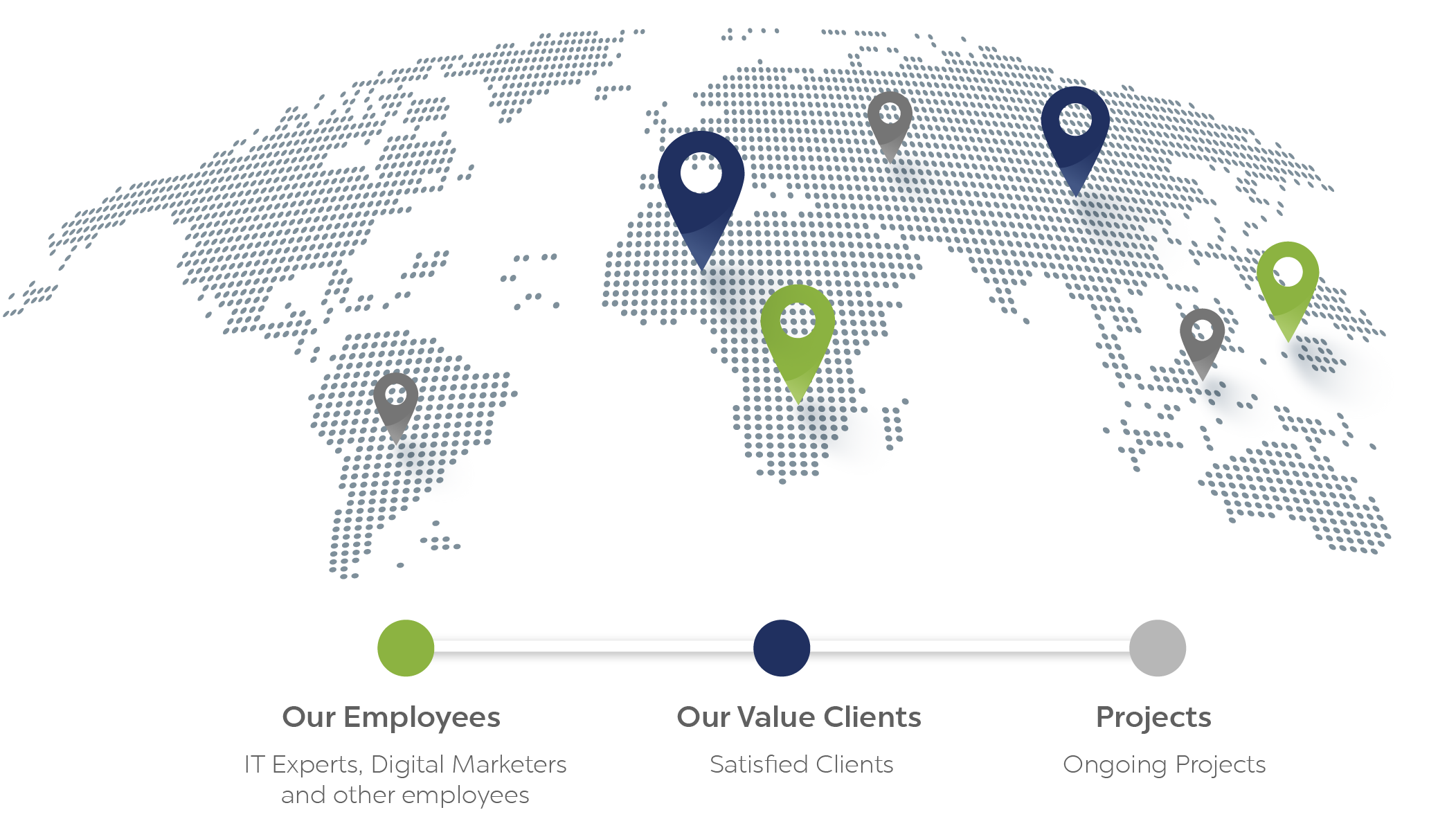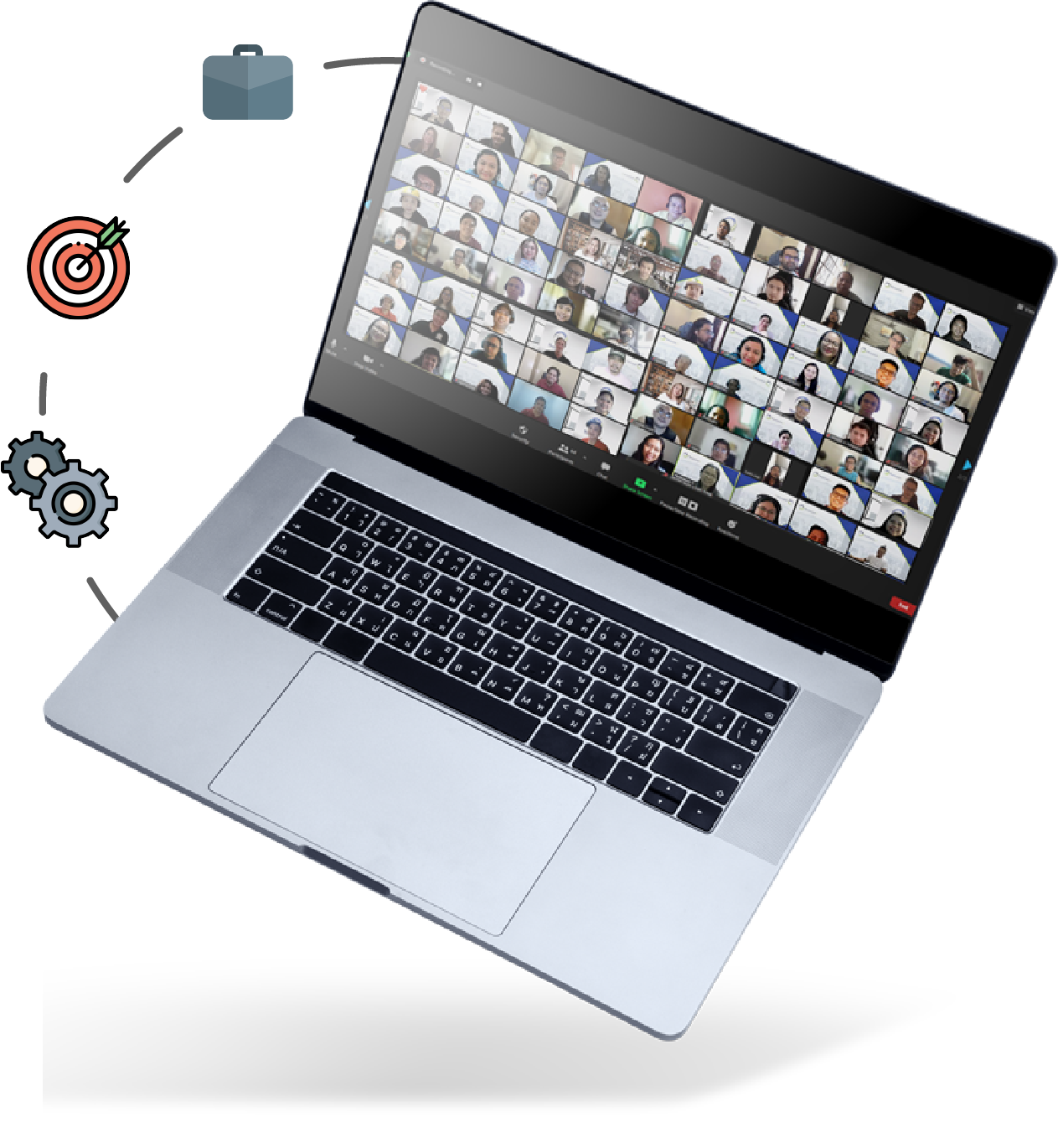 Flexisource IT came from a hybrid business model, Flexible Outsourcing.
We provide top-notch offshore staff from the Philippines that functions just like your in-house employees.
This model allows our clients to control the recruitment and development process more. At the same time, Flexisource IT takes care of every other team aspect.
This joint forced business model enables us
To hire diverse specialists from different career backgrounds. At the same time, we deliver a dynamic service that stipulates cutting-edge products and services.
Tech specialists feel more motivated working with the customer directly and being a part of an international product development team.
We're working to create a better tomorrow
Today, Flexisource IT has offices in Manila and Melbourne. We focus our recruitment in the Philippines due to its abundance of highly qualified IT professionals and the ease of doing business.
We are a well-established offshore outsourcing company, providing different services to clients. We are also expanding our offering with the latest tech trends and business needs spanning Digital Marketing, Social Media Marketing, SEO, UI/UX, and Content Marketing.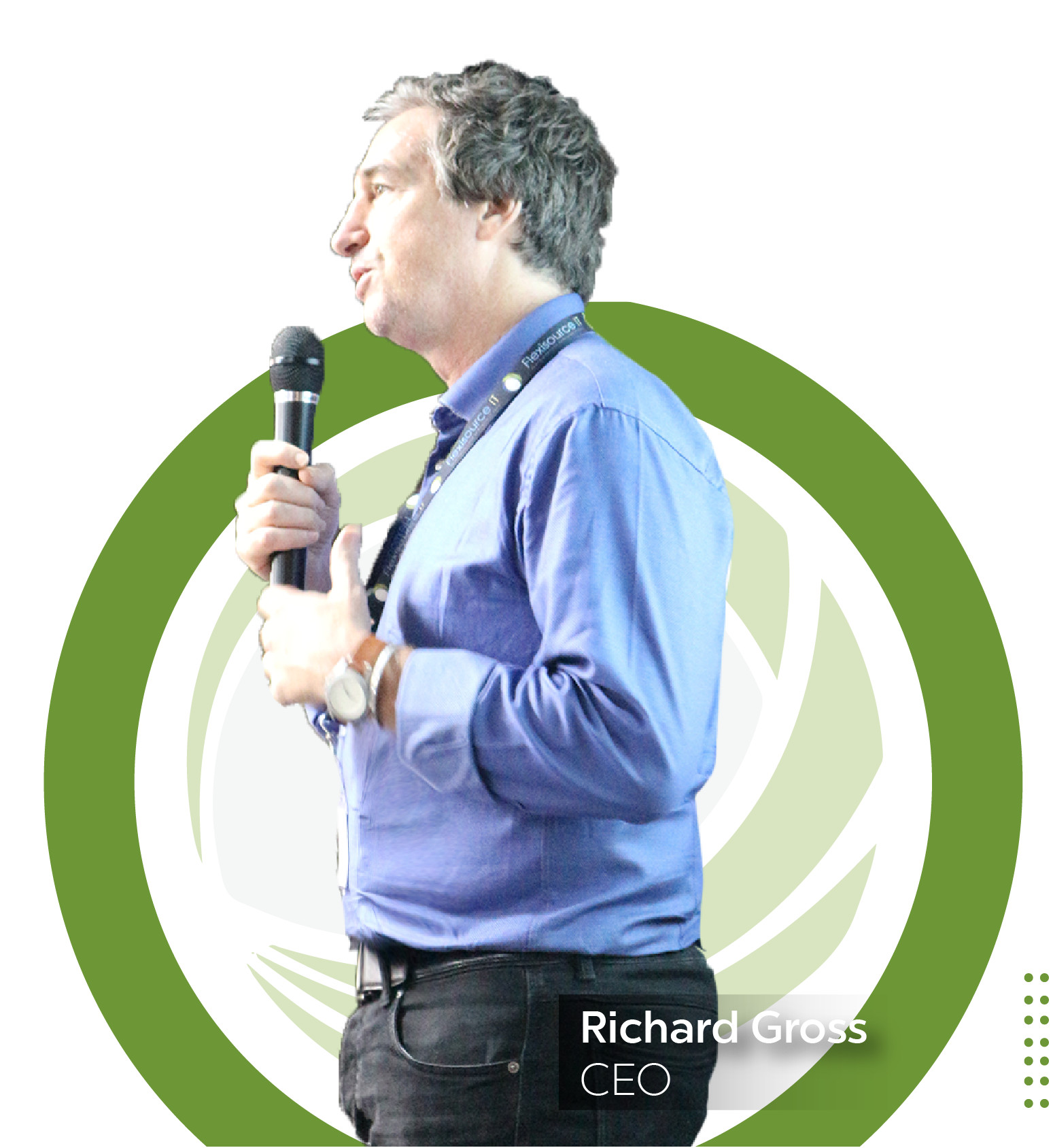 Get to know our core values!
Flexisource IT values define who we are what we stand for. And in Flexisource IT, we make sure that we do the right thing.
We made our core values were made following our commitment to our client, community, and people
It defines every expectation bestowed upon us and guides us to be accountable in every job. They govern every action and decision we make every day. And this is how we lead you to success.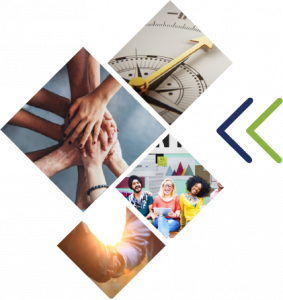 Integrity | do the right thing
We value honesty and transparency in our work. Here at Flexisource IT, we are committed to providing quality outputs to the best of our Company, clients, and colleagues.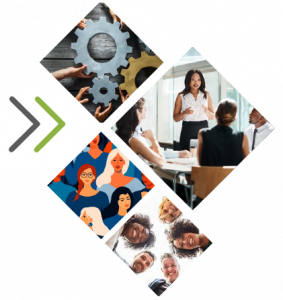 Diversity | Empower uniqueness.
At Flexisource IT, we practice diversity, equity, and inclusion for all. We respect and celebrate differences in ethnicity, gender, age, physical abilities, sexual orientation, and religion.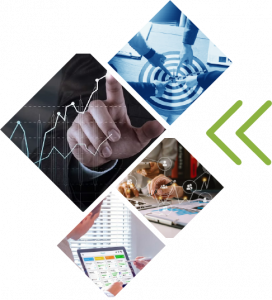 Performance | Make Things Happen
We, at Flexisource IT, deliver our best and most excellent performance. We are committed to giving the best that we can.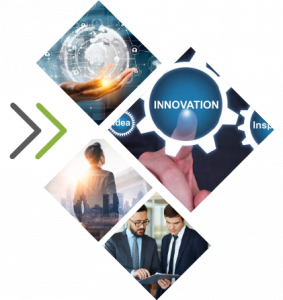 Innovation| Inspire minds.
Everyone at Flexisource IT tries to excel above and beyond. We constantly look for creative ways to solve, build, and develop.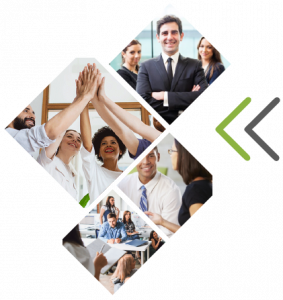 Teamwork | Connect with People
We learn from each other and help our team grow. We strive to empower one another.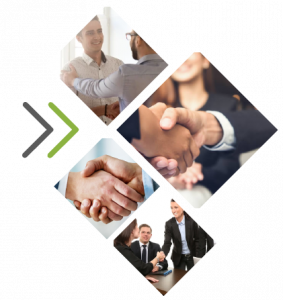 Respect | Honor our dignity.
Here at Flexisource IT, we treat everyone with fairness and courtesy.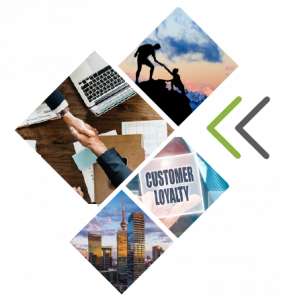 Loyalty | Build connections.
We are dedicated to building and maintaining loyal relationships with clients and colleagues.
Our Dedicated Support Team
For Help You All Time
While we came from different backgrounds, our company ethos and policies came from our employees and people. Our company strictly ensures that everyone voices their opinions and ideas.
Full 1
"The selling point is how the Flexi in the name FlexisourceIT embodied it. Management is kind, generous, lenient, and understanding. If you earn their trust, just ask for the thing you want. If they could allow it and the client allows it, why not. As I say, they're flexible."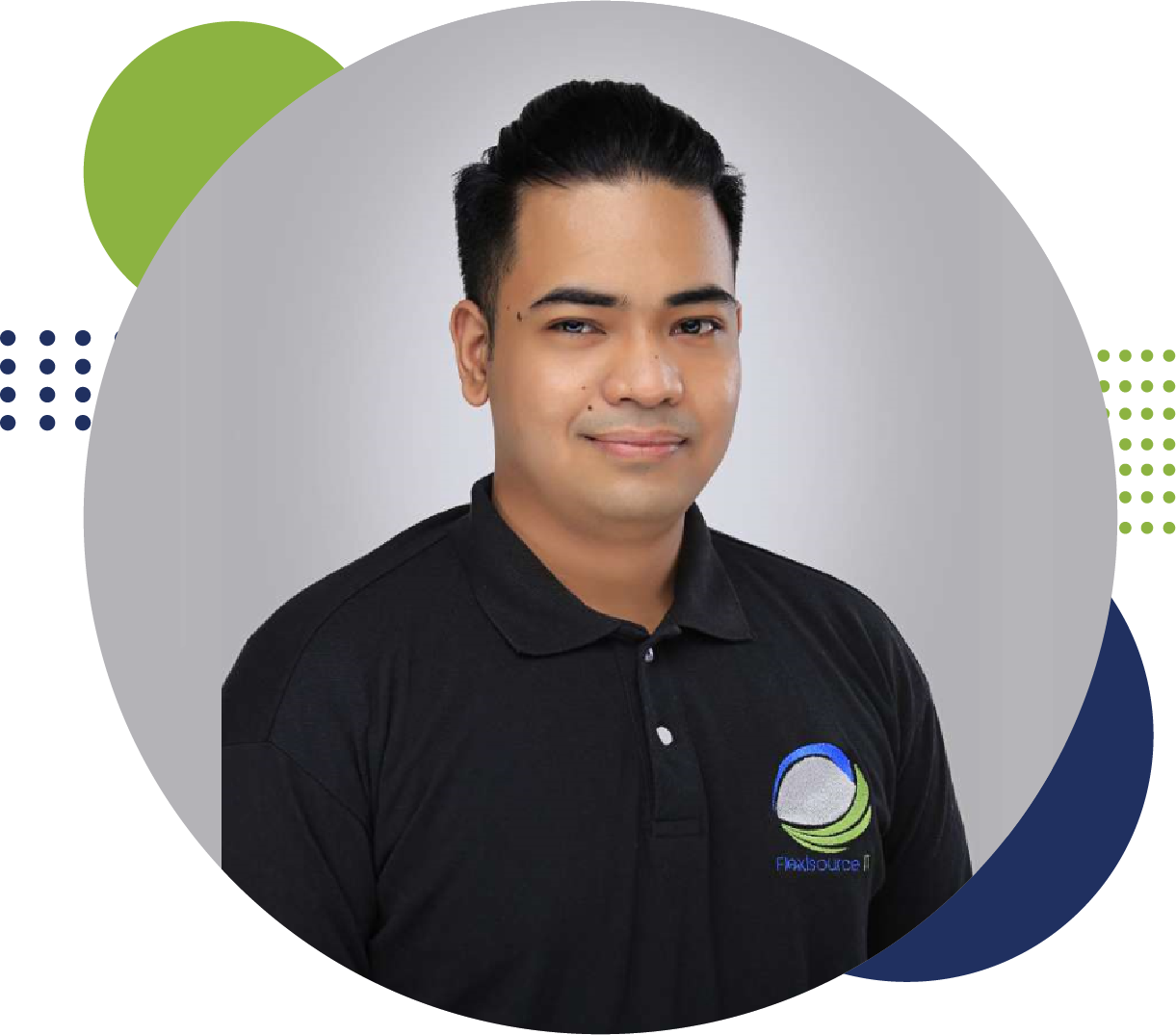 Full 1
"The Company really provides the most comfortable times while working for the employee. A good work-life balance and Enjoying Company Events while in Digital. Really appreciated Management's Effort to impact our energetic working hours."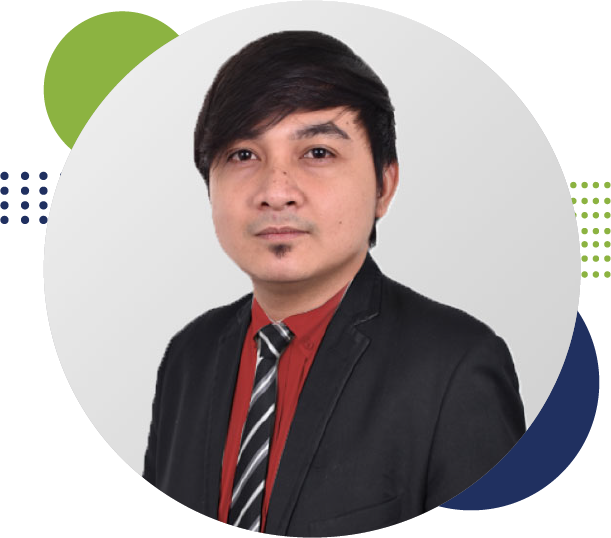 Full 1
Service Now Administrator
"Flexisource IT provides above-average Salary. We also have excellent HR and outstanding supervisors. The shift schedule is incredible as well."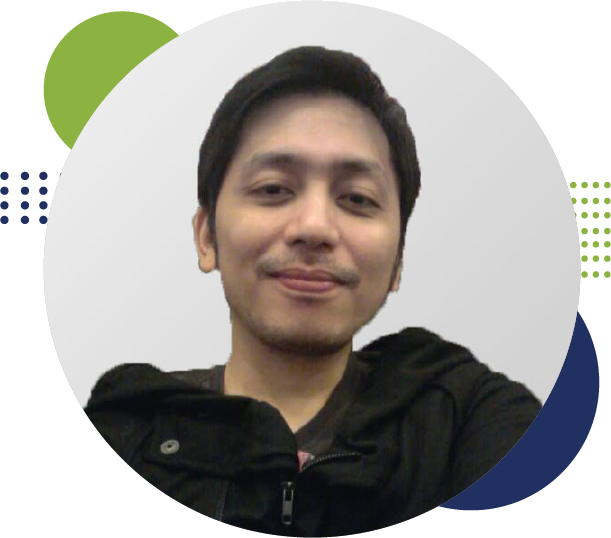 Full 1
Customer Solutions Coordinator
"For me, they think unique and highly commendable that it continues to improve on its flexibility and assurance that all employees are provided with a safe and positive environment."
Full 1
Technical Service Representative
I've been working in Flexisource IT for almost 3 years now and I am looking forward to stay for good. I have seen better improvement and the company has always stayed to being fair with all the employees and promotes 'work life balance'.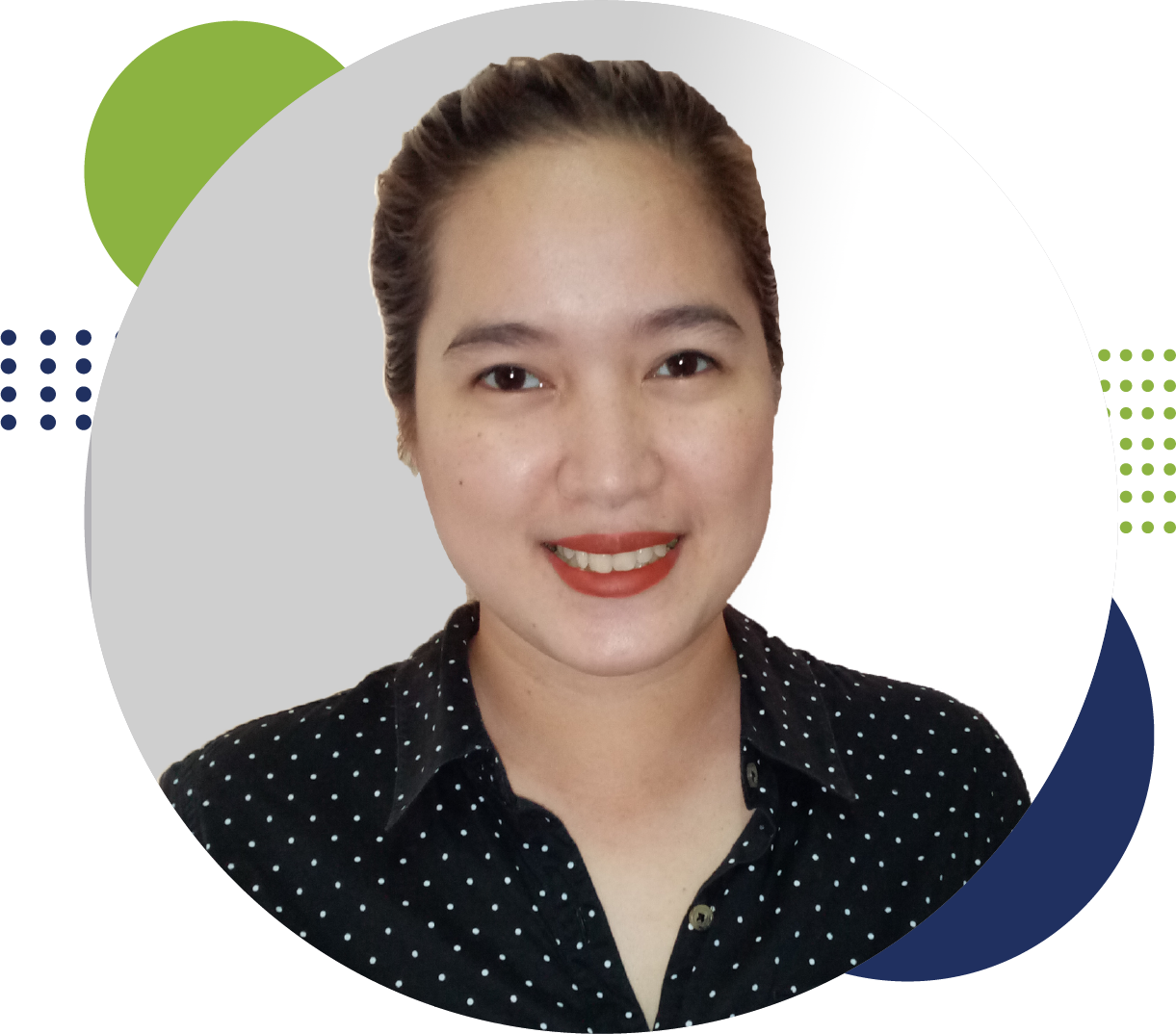 Full 1
"Been working at Flexisource IT for around 6 months now and I truly appreciate how the company promotes personal growth and a healthy work culture. Really excited to continue molding my career with them."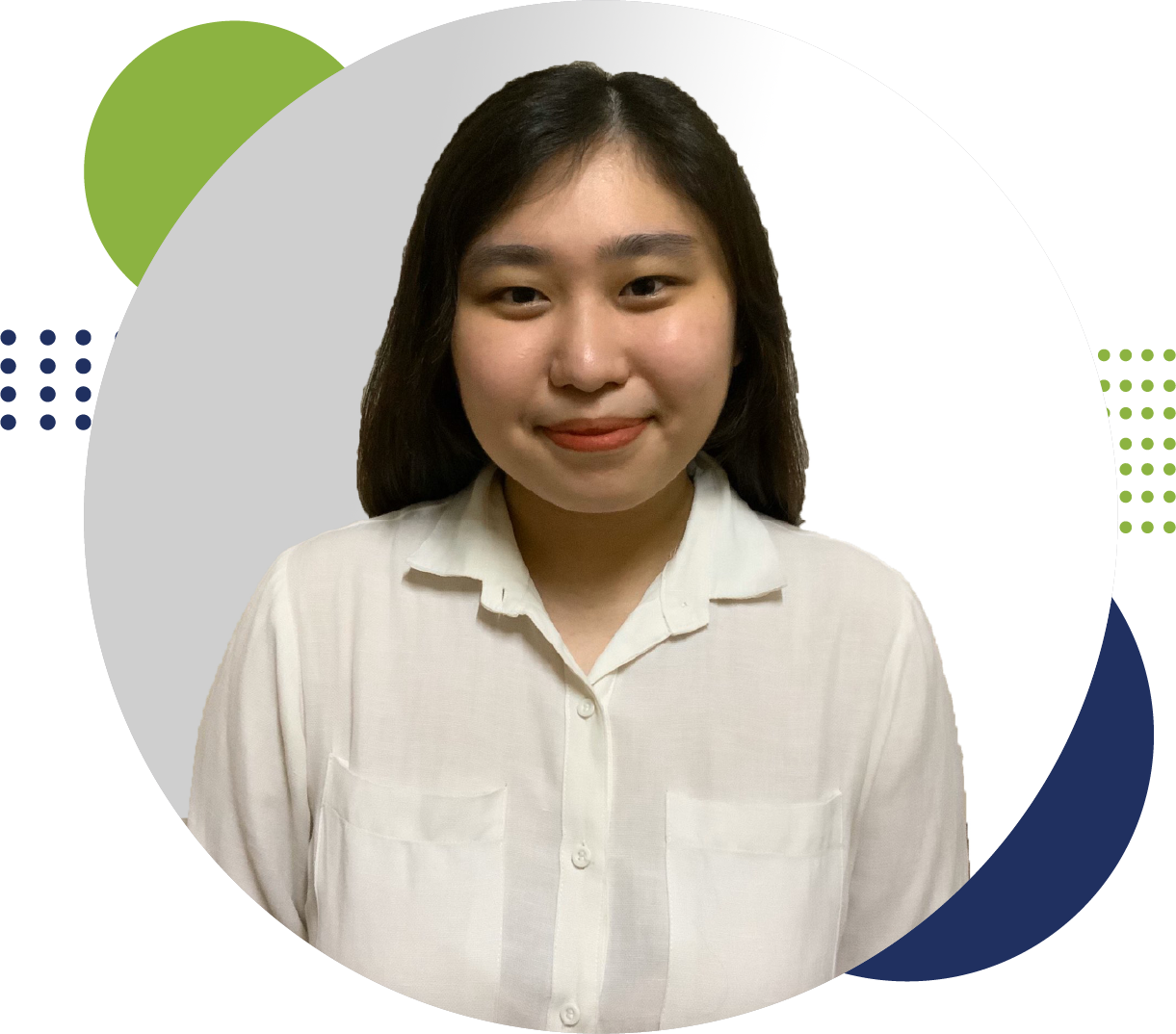 Full 1
"The management cares for their employees while also keeping their credibility to their clients. Supervisors are supportive of the team members' suggestions and ideas. Co-employees are fun to be with. A fun and challenging environment."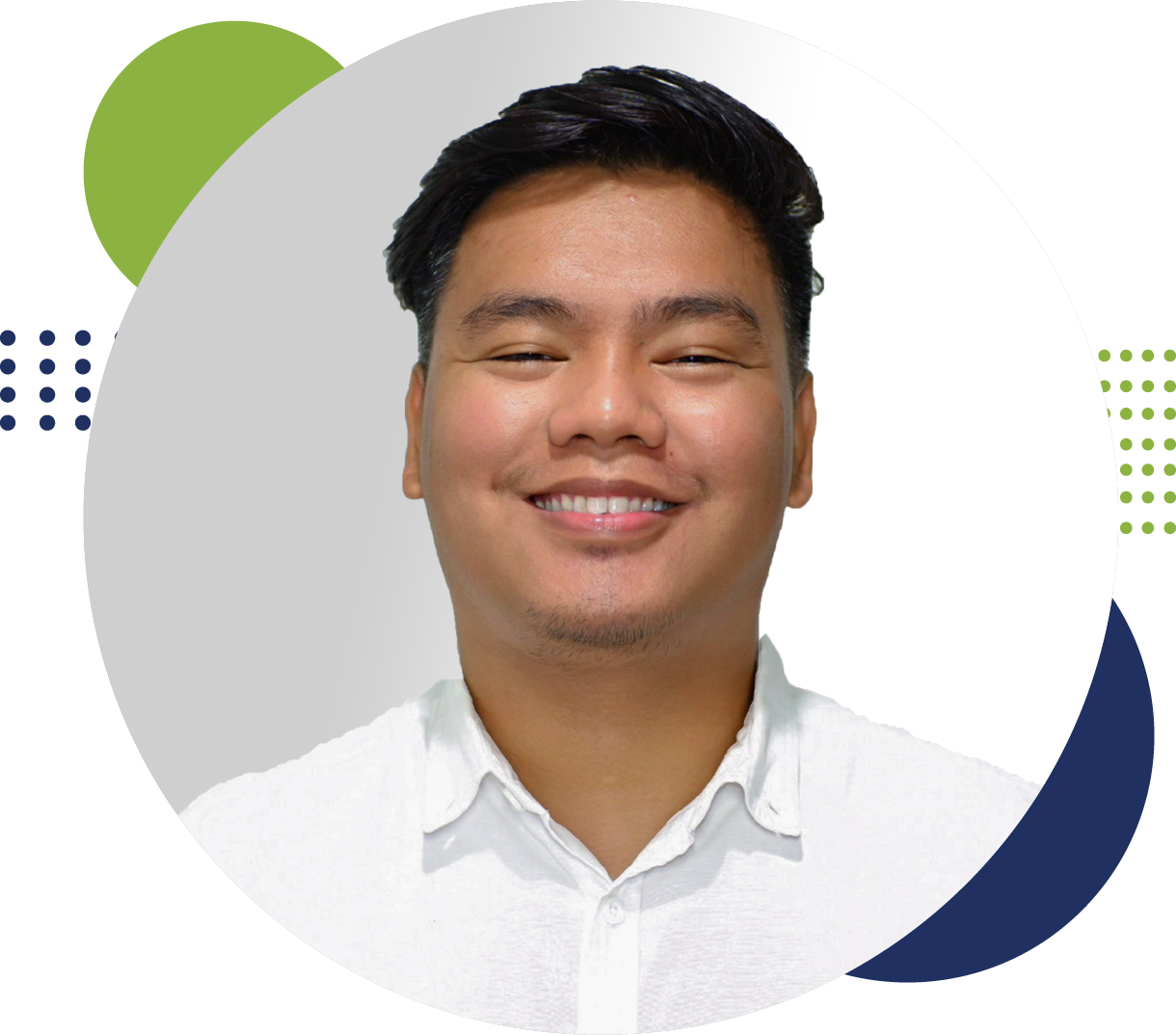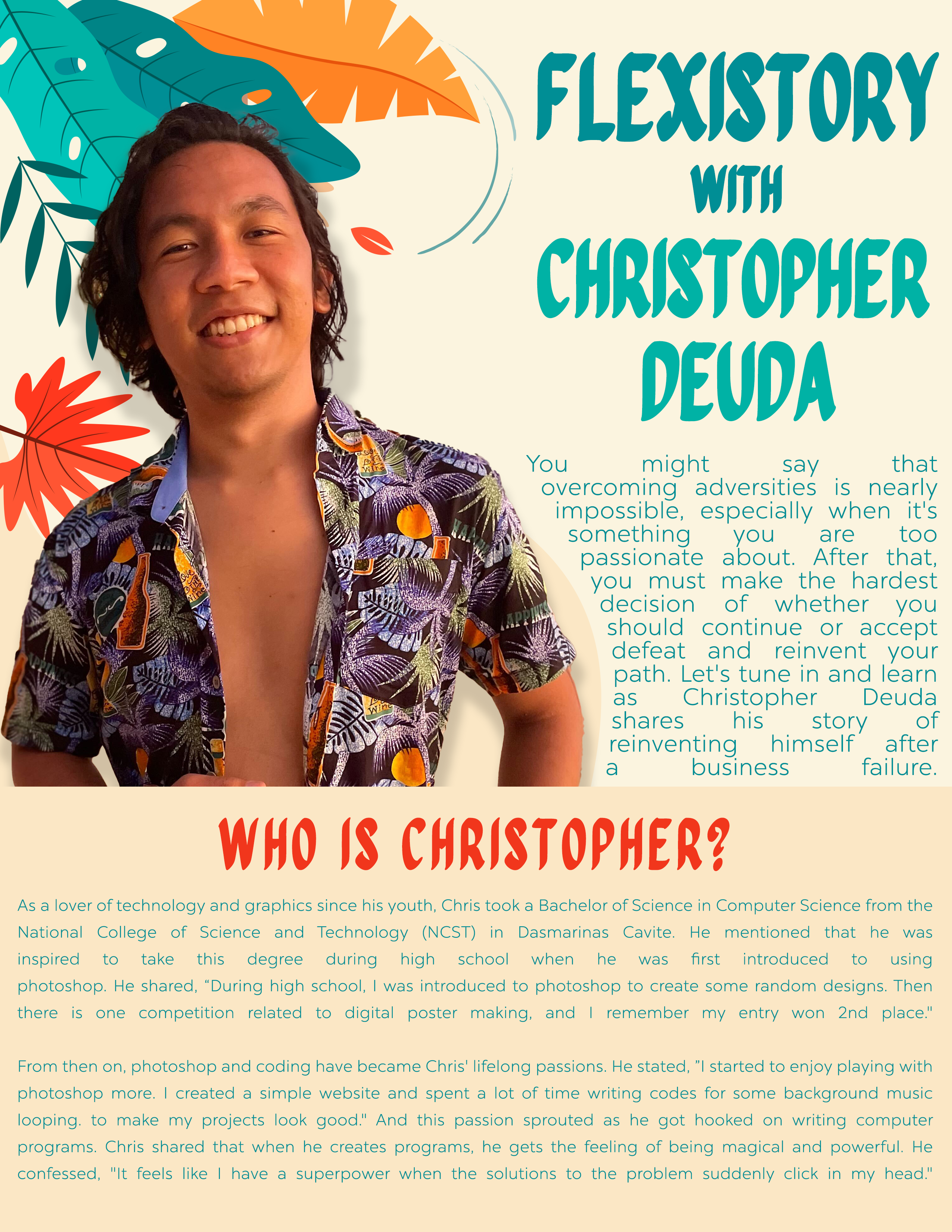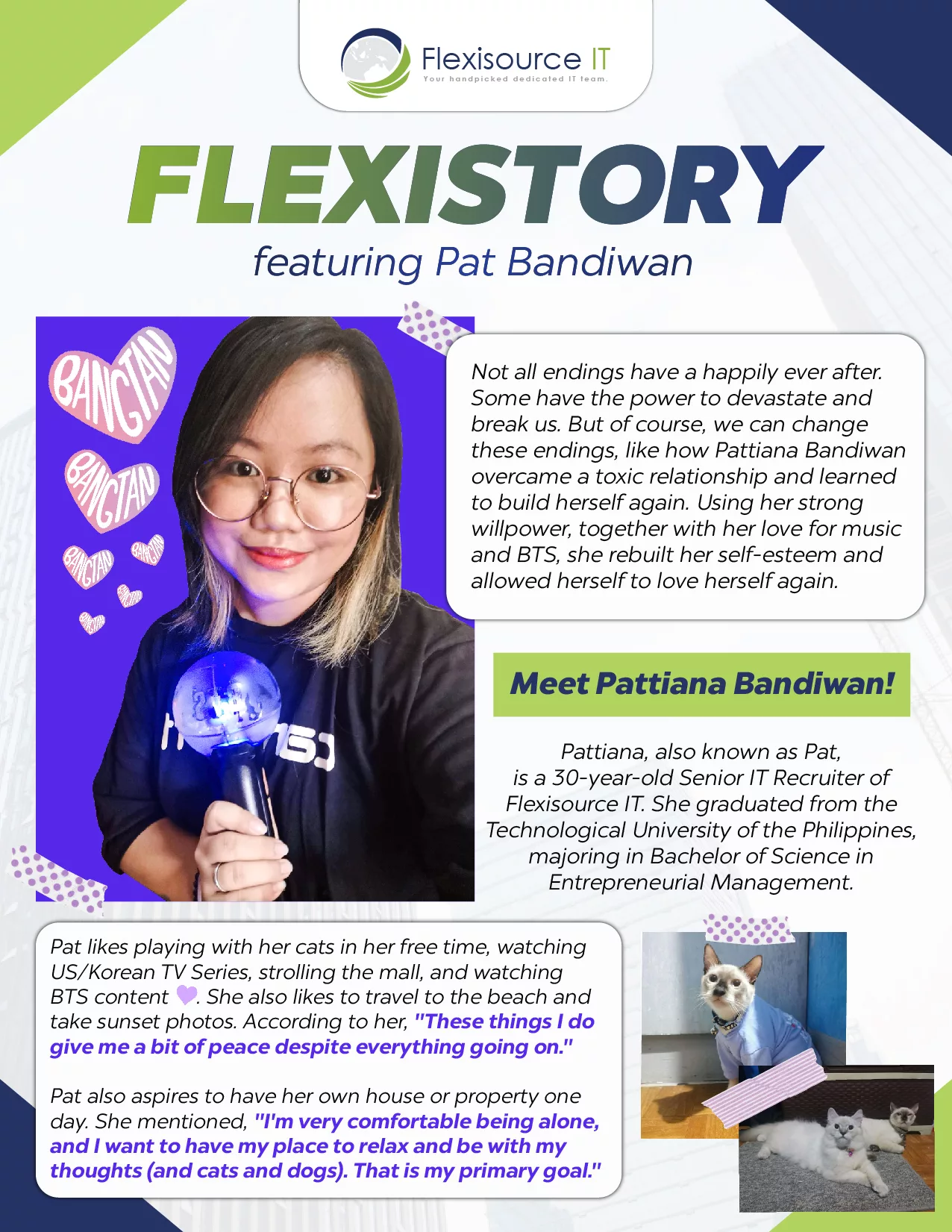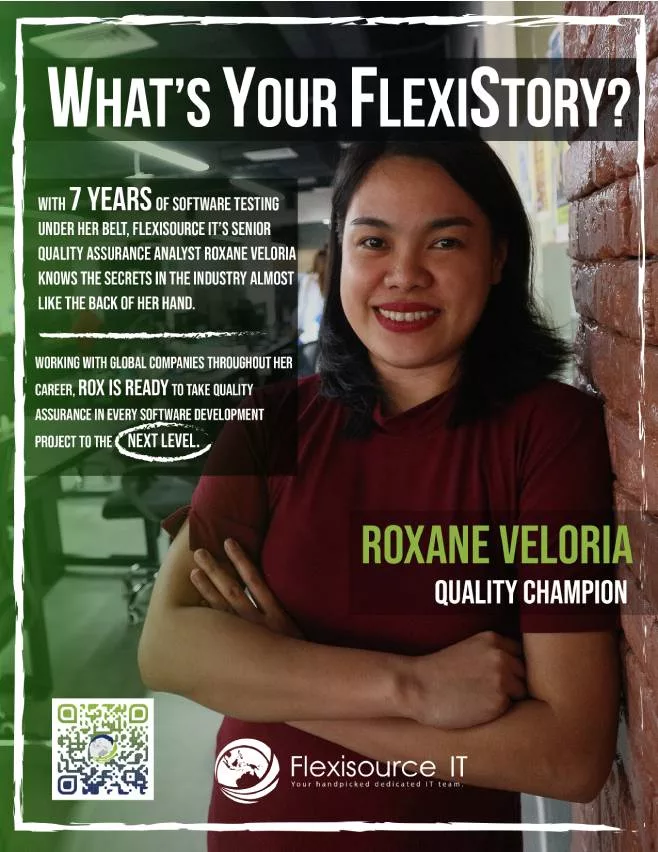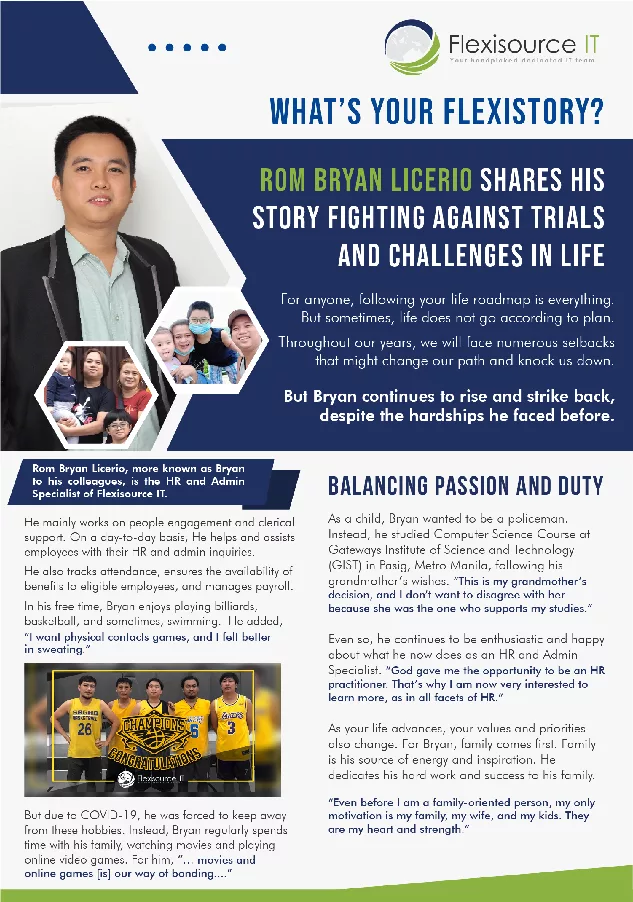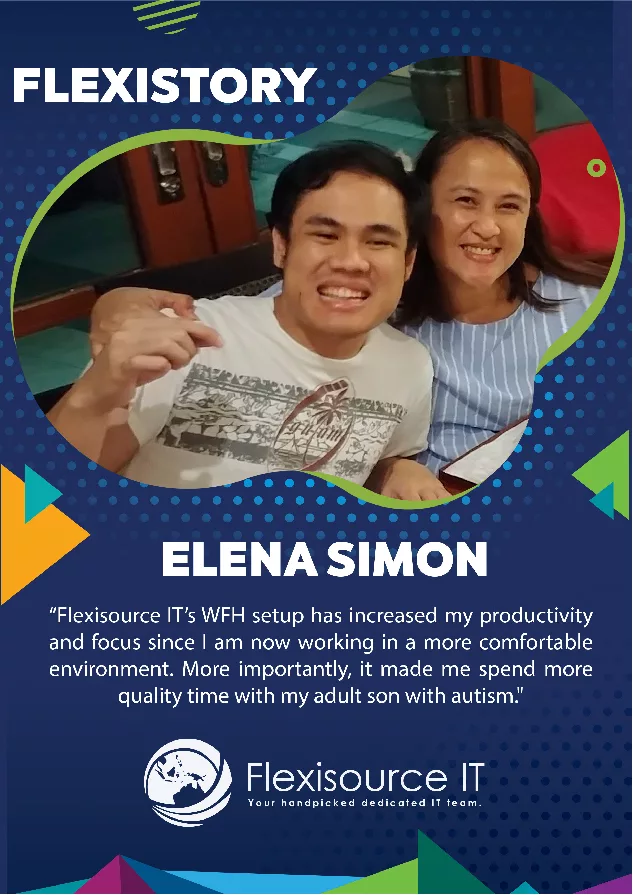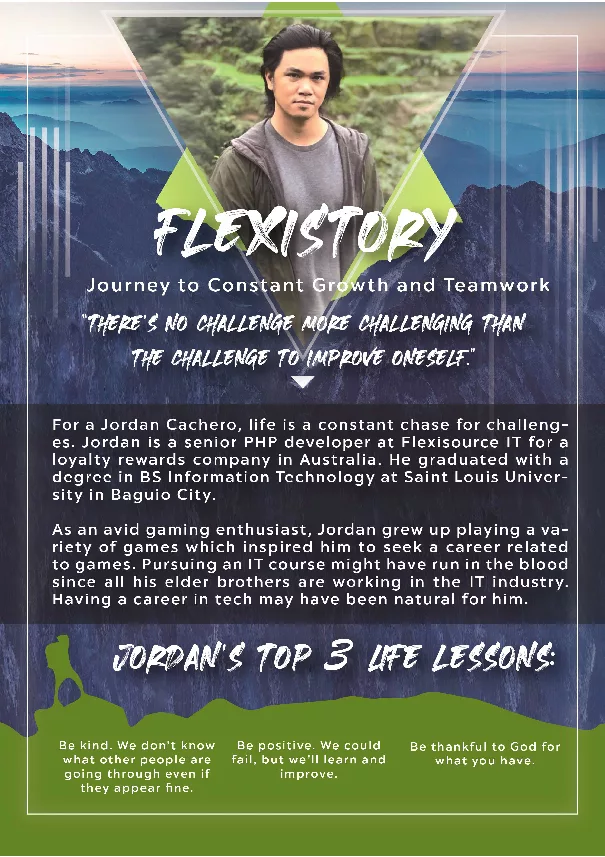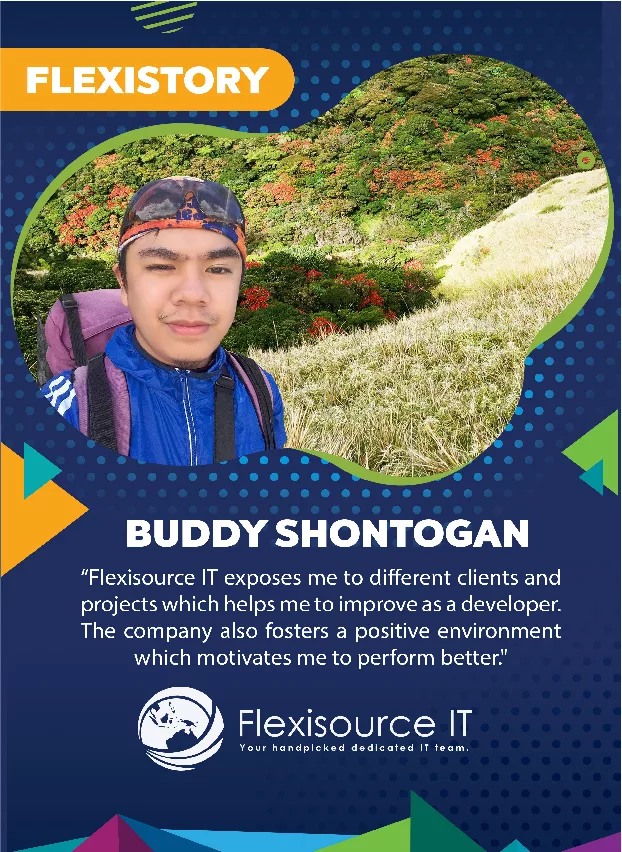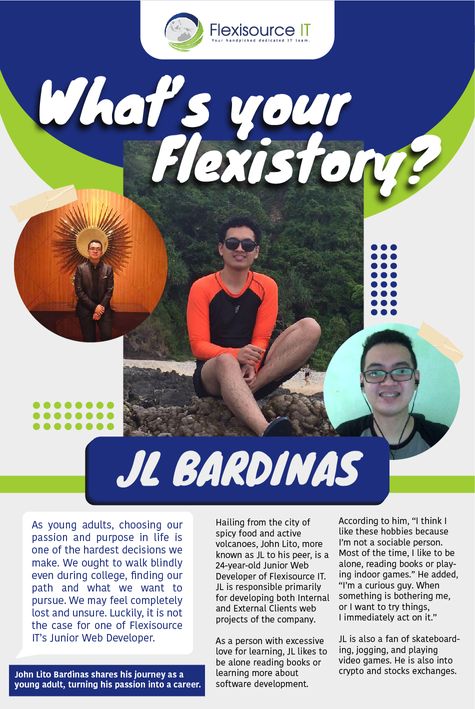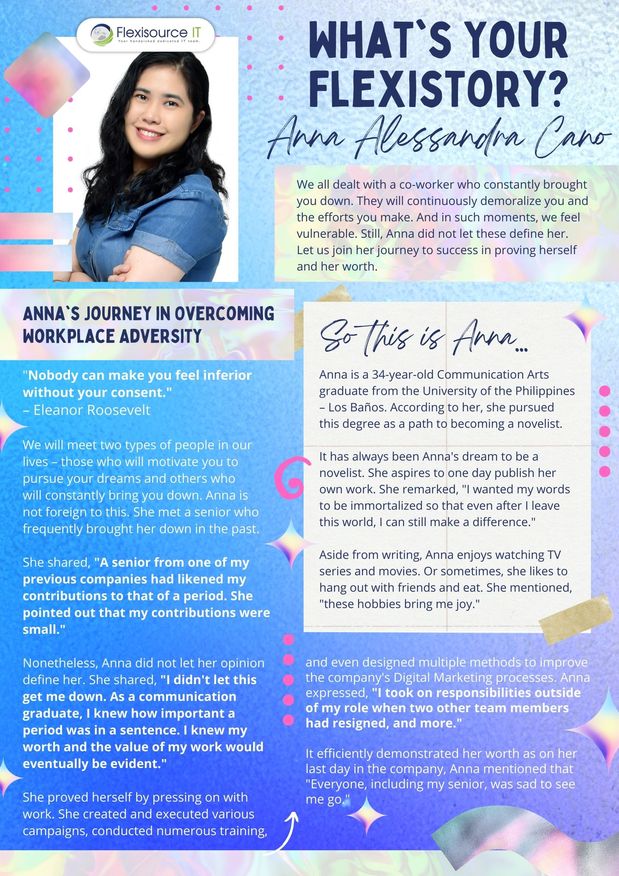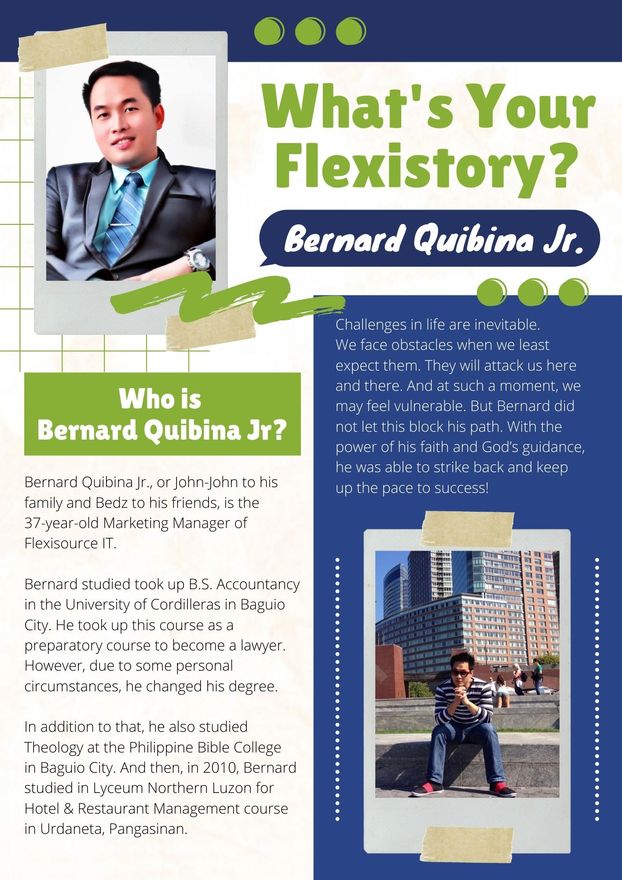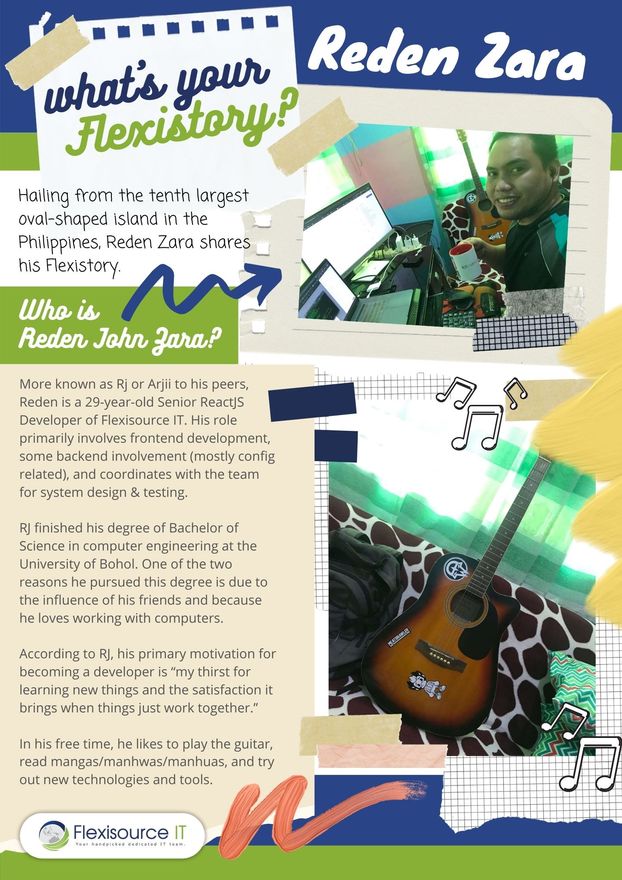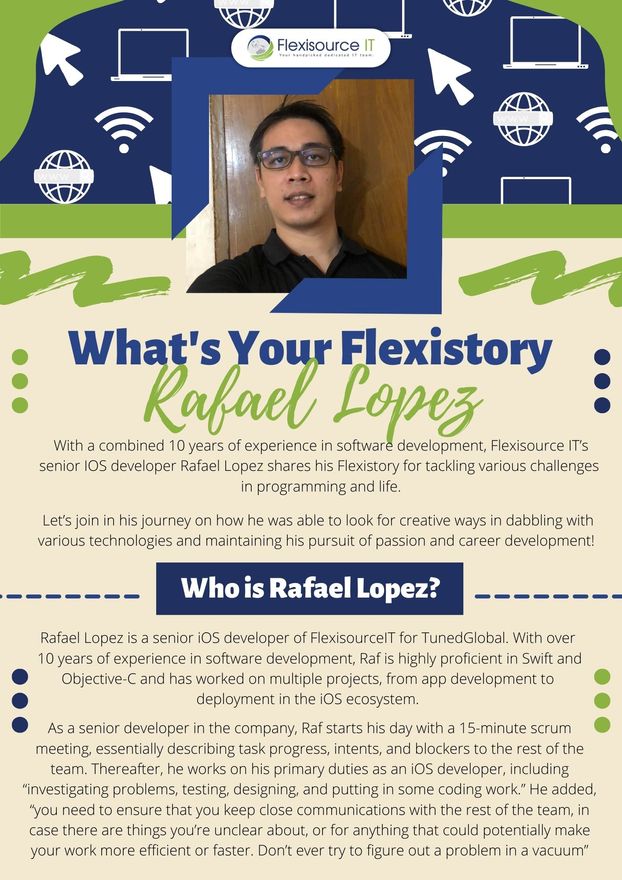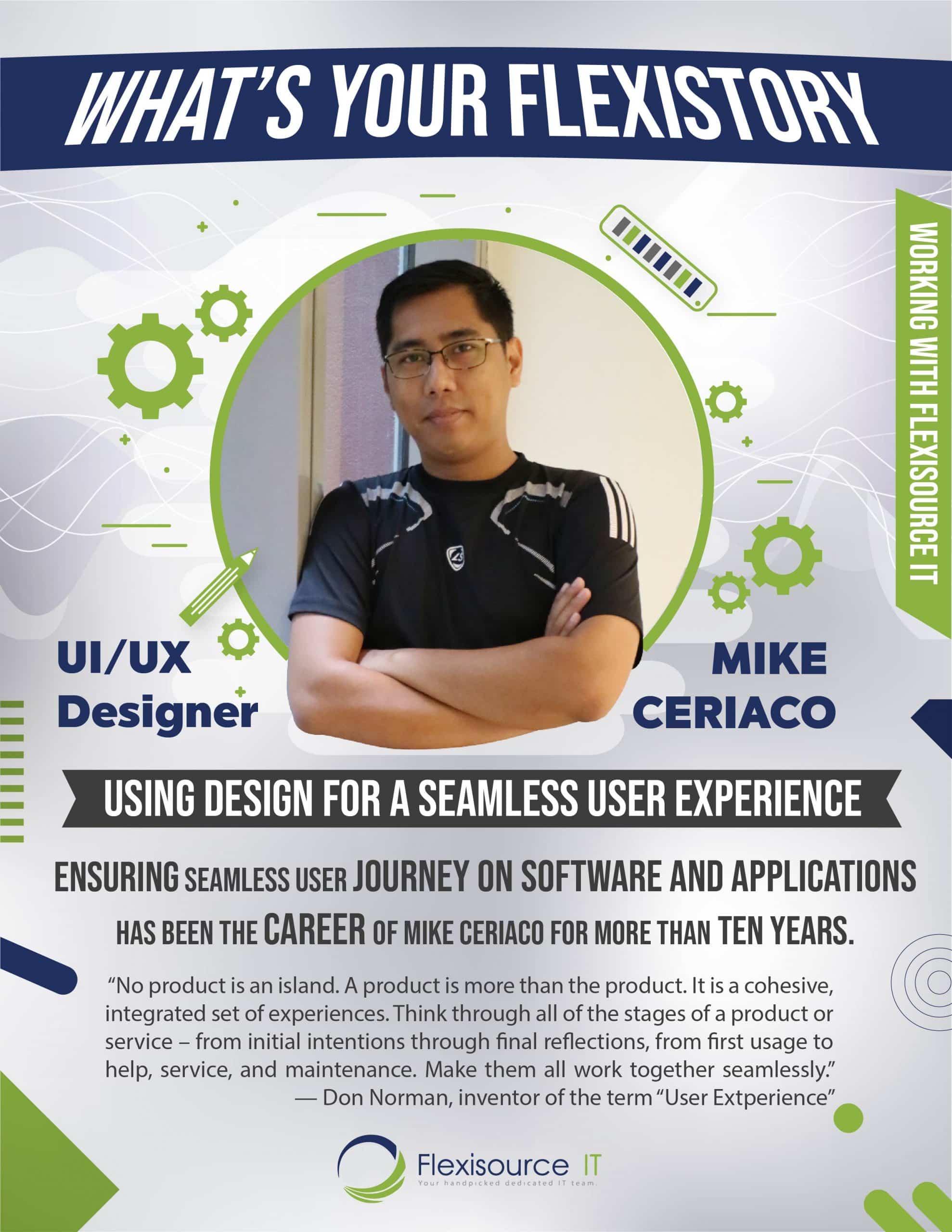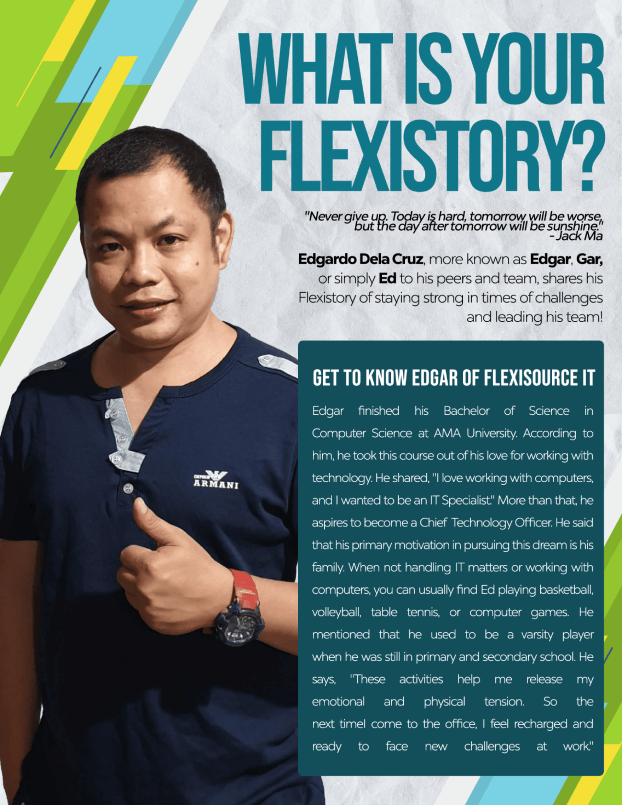 Who is Flexisource to its client?
For 6 years, we have brought businesses closer to their customers. We strive to alleviate their problems and consistently deliver innovative ideas and products that build trust and a sustainable outcome for Flexisource IT, our clients, and their customers.
At Flexisource IT, we believe that happy clients aren't born. They are made. And we start making them by making our employees happy. Our Company is dedicated to creating a healthy and good work environment. And despite the remote set-up, we ensured that we are promoting a welcoming culture where everyone feels happy, engaged, and satisfied.
Flexisource IT tries to achieve an excellent work-life balance for its employees.
 We deem that a good balance between work and life will help the overall production of the Company and improve our work culture. Learn more about our proven work-life balance programs – designed to enhance coworker relationships, productivity, and stress management.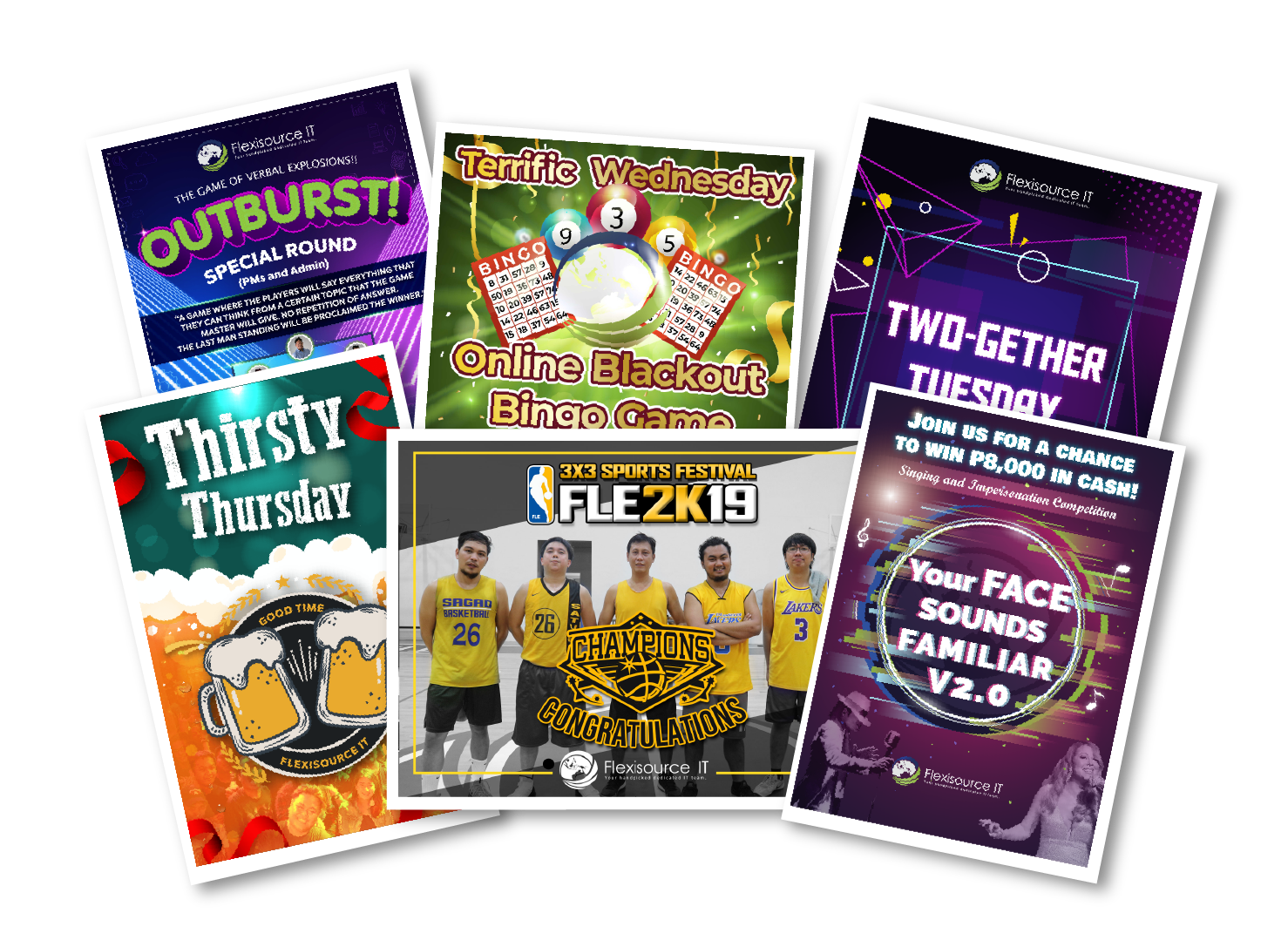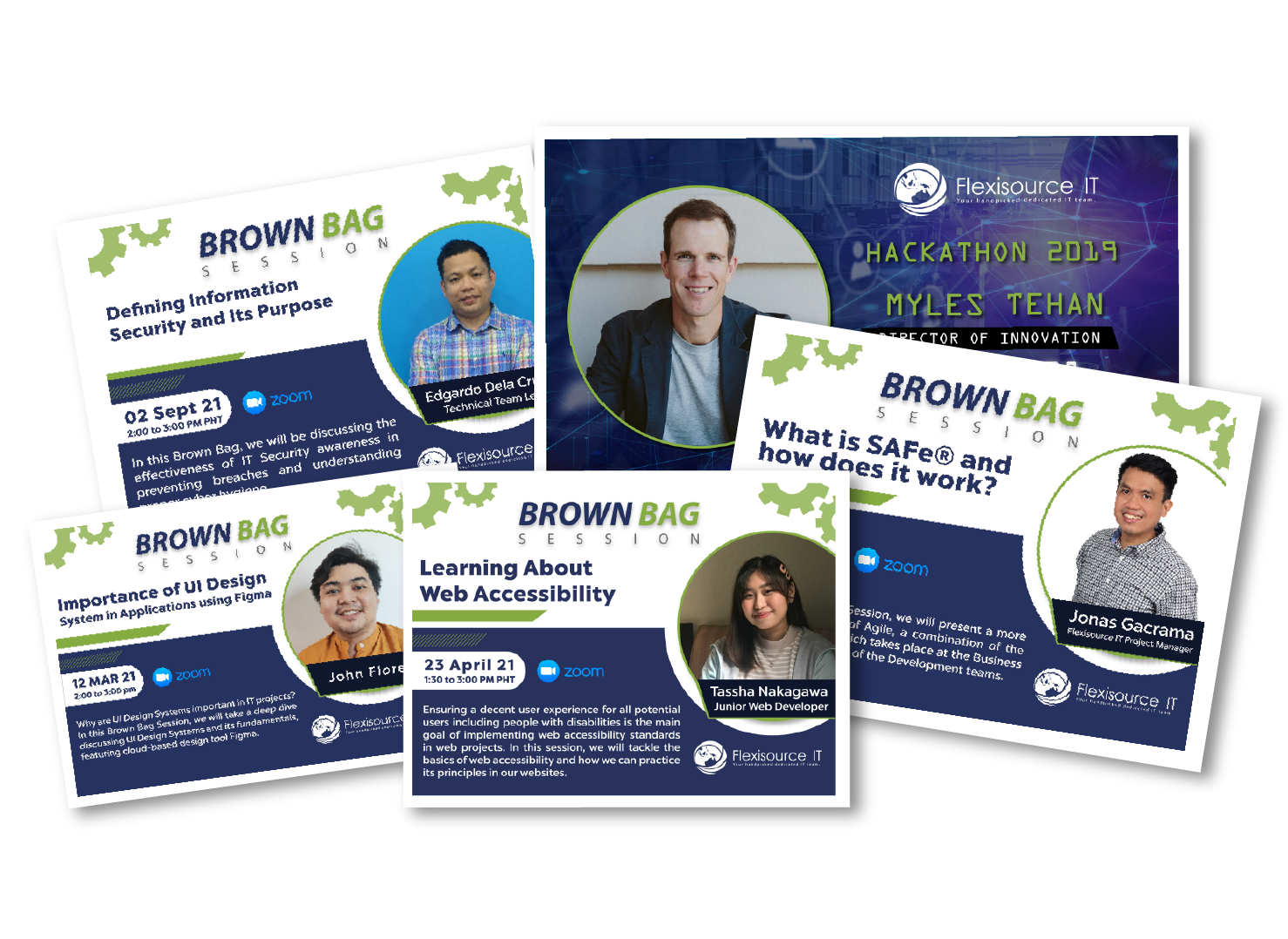 We take learning seriously. Continual learning is vital in Flexisource IT to improve employee performance and self-fulfillment. We want to ensure that our employees take their careers to the next level.
Flexisource IT takes it personally to train them to be well equipped and competent for their job to the next level. We want our employees to innovate and create solutions and make a difference to people worldwide.
Corporate Social Responsibility
As part of our initiatives, we are committed to caring for our communities, people, and the environment.
We take pride in what we do, and we want to create value through responsible businesses. Flexisource IT has shared its assets, skills, capabilities, and talents to the community and its people through various events and programs.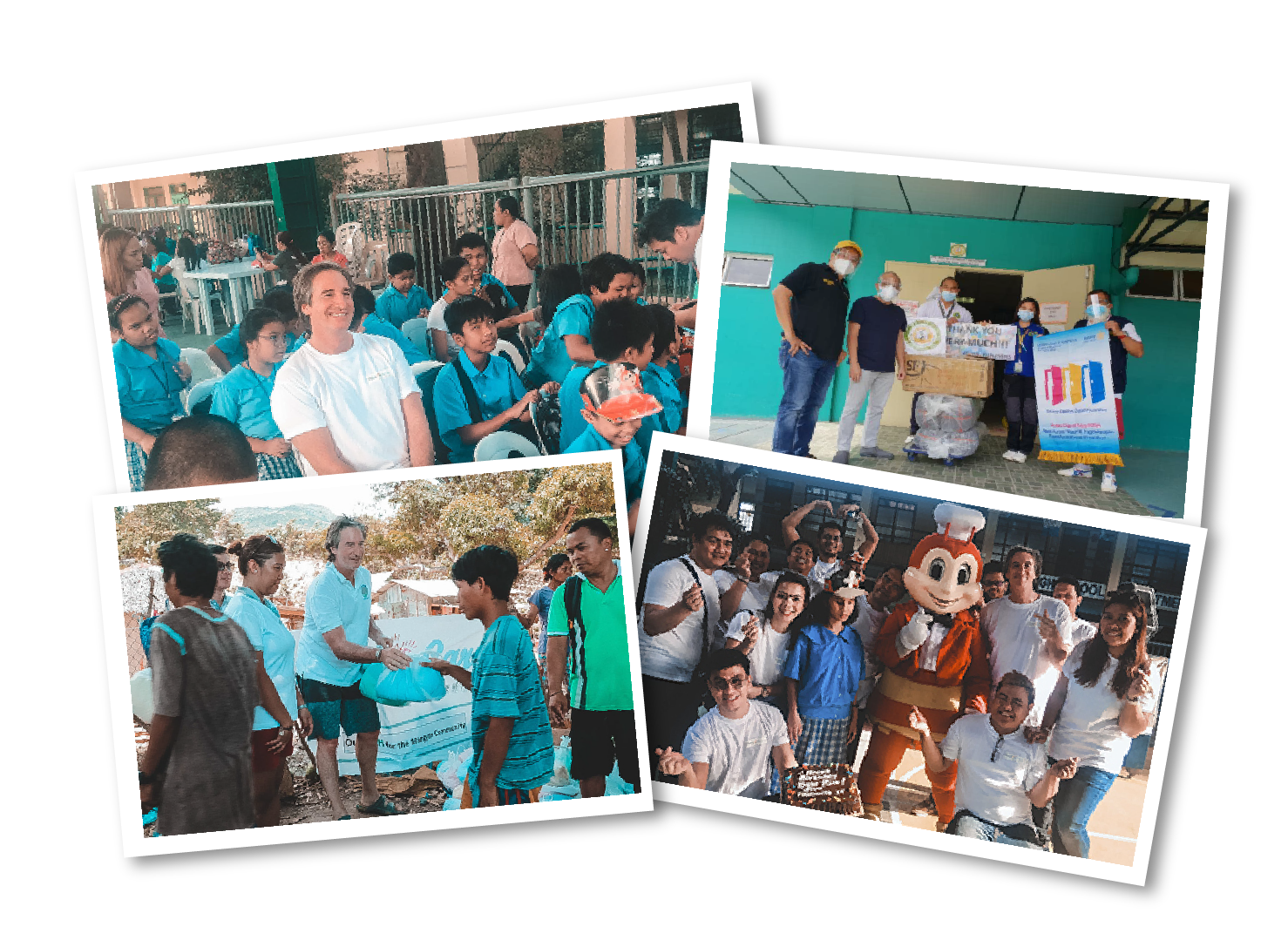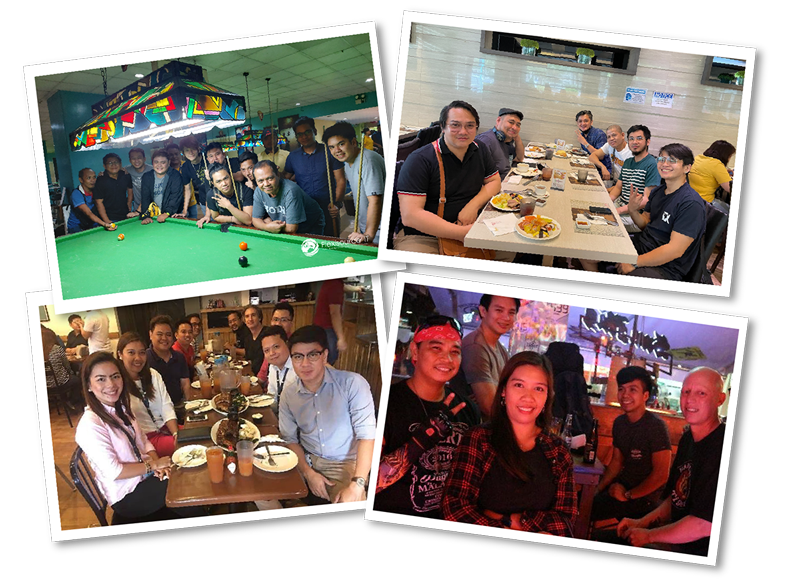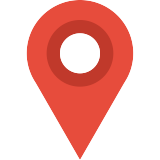 Our office is located in the heart of Makati. It is a great business district for tech-hub pioneers and companies.

Planning to visit us soon?
Here are some of the employees' favorite hangouts after work: