Customer relationship management (CRM) is probably one of the most crucial tools companies worldwide use. It offers various business advantages, including improving customer relations, streamlining processes and information, and effectively improving marketing and sales strategy. So, it's not surprising that 91% of companies with more than 10 employees use CRM.
However, using CRM doesn't automatically mean success. Yes, it is an excellent tool for bridging your business and success. But you also need to have the right people, knowledge, and features in your CRM tool to ensure that it's effective.
Likewise, this article will help you understand what CRM is, its benefits, and what CRM features you should have.
What is CRM?
Companies use customer relationship management or CRM to manage all their business' customer data, relationship, and interactions. This software can help business owners and employees easily track all transaction details from their customers or potential customers. It also helps them nurture relationships, create new opportunities, and generate leads.
While the primary goal of CRM is the same, three types can accommodate different features and focuses of a business. These are
1. Collaborative CRM
Collaborative CRM software helps a company collect, organise, and streamline essential customer information across the business. It gathers data such as sales, purchase history, contact number, and customer preference for future company use.
The main goal of collaborative CRM systems is to have one integrated software that the whole company can use to serve a customer smoothly. It aims to remove the dreaded experience of a repetitive collection of information in each transaction they make.  
2. Analytical CRM
An analytical CRM is a systematic electronic software that collects customer data and analyses it to aid business decision-making. Most tools today can flawlessly and effortlessly manage a large quantity of data. However, most are having difficulty interpreting these data into feasible information that a company can use.
With analytical CRM, you can learn to use these data and see different trends based on your customer's purchase behavior.
3. Operational CRM
Operational CRM is a CRM software that helps the company create a centralised system that supports sales, marketing, and customer service features. It stores a large quantity of information on leads, customers, and other important information that employees can share.
Why do you need a CRM for your business?
Using CRM software can provide endless benefits for your business. It can help you increase customer retention, enhance employee productivity, and amplify revenue. Likewise, here are some benefits of using CRM tools in your business:
Modern CRM software can help you provide better customer service by streamlining customer data.

With CRM software, you can streamline your sales process companywide. It will ensure that any marketing or sales initiative will be given to all your employees.

With better customer service also comes improved customer retention. Having good customer service through CRM will encourage your customers to repeat purchases in your company.

Most CRM tools offer a centralised data database to store all information gathered in a real-time database safely.

CRM tools also offer automated reporting that can make reporting and analytics more effortless than ever!
Top 15 Features to Look for Before Purchasing a CRM
CRM solutions can do more than just gather data and organise contacts. With the right Free CRM Tools and features, you can maximise your company's capability, boost sales, and nurture leads. It can also help you save time, money, and resources.
Here are some great features of the perfect CRM: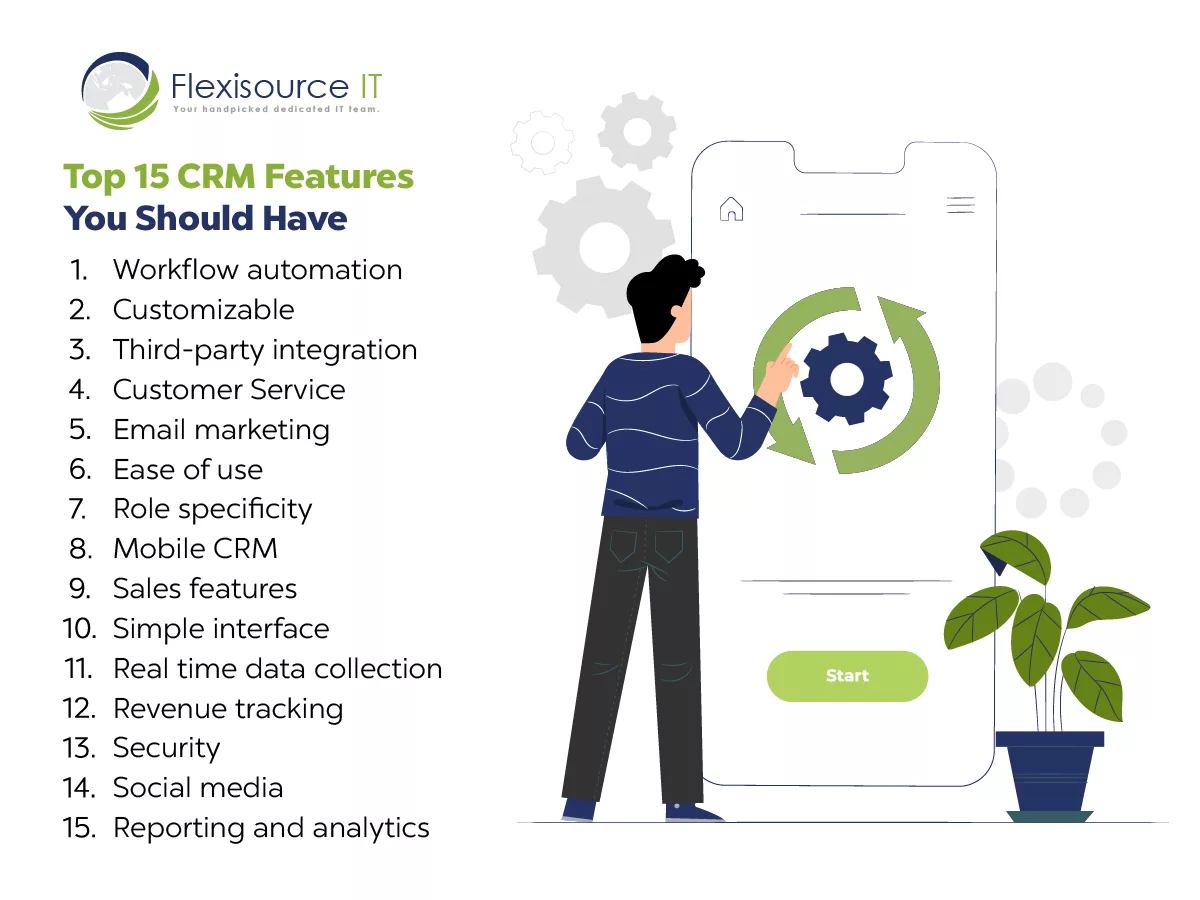 1. Workflow automation
Having a set workflow is essential in a business as it gives you and your employees an idea of what is happening in your operation at any given point. You will know what is happing in your company, the people involved, and a sense of how effective your organization is in reaching its goals and deadline.
And one must-have CRM Feature you should look for is workflow automation. With this feature, your CRM tool can set up reminders for your managers and employees for essential matters such as payment due dates, service expiration, marketing blasts, etc. This saves them both time and resources.
2. Customizable
Not all business is the same. So, your CRM software needs to be customizable and flexible to your needs. Likewise, one CRM feature you should look for is customization. Some CRM will let you choose which features you want to include in your software, such as custom reporting, plugins, system integration, etc.
3. Third-party integration
Suppose your company has a system or software that is important in everyday business. In that case, having a third-party integration CRM feature is essential to you. For example, suppose you have a heavy need to use email servers to contact your customers. In that case, it's necessary that a CRM tool can integrate this program.
4. Customer Service Automation
The main point of using CRM software is to improve your customer service. So, if none of your CRM features include customer service automation, then it's not CRM software. Customer Service Automation can help reduce human involvement in various tasks that a program can do. Tasks like storing customer issues, solving customer inquiries, proactive emailing, etc.
With this CRM feature, you can create a knowledge base of information for your customers for quick access 24/7.
5. Email marketing
Email marketing is probably one of the most effective marketing methods marketers use today. In fact, according to a study conducted by SmartInsights and GetResponse in 2018, 29% of marketers rate email marketing as the most effective marketing channel.
However, using the old-style email marketing through the traditional inbox can be overwhelming. It can lead your email to be spammed. One must-have CRM feature you should include is the email feature. It can help you, and your sales rep be organised and productive.
In addition, an email feature in CRM can help you automate and schedule all email marketing tasks, such as:
       

Client Newsletter Blast

       

Scheduling appointment

       

Email automatic reply

       

Keeping customers updated with their order
6. Ease of use
Another feature that you should be first looking at is your CRM's user-friendliness. Your CRM tool will be used primarily by employees. And they probably wouldn't want to spend all their time figuring out how to use it and its features. The worst thing that could happen is them making a mistake that can cost your company a lot.  
Likewise, before buying your CRM tool, make sure it's easy to use. First, check it yourself and see if you can use it effortlessly. Check if you can find features quickly. And if you are having a hard time yourself, chances are your employees will have a more challenging time.
7. Role Specificity
As mentioned earlier, not all CRM is perfect for each company. Some need added industry-specific features like one perfect for IT, real estate, accounting, etc. Likewise, a good CRM feature you should ensure is role-specificity. With this feature, your employees will maximise your CRM's potential.
In addition, if you choose a CRM Specificity, you will save money from all the features you would otherwise spend customising your CRM.
8. Mobile CRM
Everyone uses a smartphone these days. According to Statista, it is estimated that by 2027, smartphone users will rich 7 billion. It's vital to utilise this fantastic technology and benefit from it.
Likewise, it would be wise to make your CRM tool available on mobile devices. By adding CRM programs to mobile devices, staff can view valuable alerts and data about the campaign wherever they are.
9. Sales Features
Sales automation is probably one of the reasons why you decided to use CRM. You want to streamline your sales process by automating data collection, follow-up with your customers, and providing after-sales service. You can automate repetitive tasks that could otherwise take time from your employees that they can use to complete other tasks.
That's why your CRM should have all must-have sales features. You can handle multiple sales pipelines and easily view your entire sales funnel with this feature. With this feature, you can determine the success of your sales strategy, forecast sales, and many more.
10. Simple interface
As mentioned earlier, user-friendliness is essential when buying a CRM tool. And what can make a device easier to use is no other than a simple interface.
CRM is used for multiple uses such as sales, marketing, etc. Usually, data can get cluttered, making your CRM look messy. And with all the added features, it could get slower or need more steps to complete a single task.
Likewise, choosing a simple CRM with significantly fewer but essential features will be better for any team.
11. Real-time data collection
Real-time data collection in CRM is vital for companies. It enables them to create immediate action, allowing their business to be proactive and not miss any opportunities.
One must-have CRM capabilities matrix is real-time data collection and analytics. Real-time data can be used in two ways. First is by gathering data from your customers and determining the specifics of your target audience, such as their preference, age group, location, etc. Next, your CRM should be able to analyse patterns that can help you in your marketing and sales team. What is their interest? How can you further interact with them?
Large and small companies can use this feature to understand their customers better.
12. Revenue Tracking
Another great CRM feature that you should look for is revenue tracking. In any business, you should identify and track how much money your company makes and how much it is spending. You need to make sure that you are creating more than you spend. And sometimes, tracking this could be arduous and nearly impossible unless you hire an accountant. And this could take time to do on their part.
But with this CRM feature, you will be able to track your revenue in real-time. All you need to do is configure your sales dashboard and select essential metrics that could indicate sales or spending.
13. Security
A good CRM will gather all pertinent data from your customers. However, a better CRM will securely store these data. Days, in a study conducted by Accenture in 2019, they found that 68% of business leaders feel their cybersecurity risks are risky. And the most damaging failure a business can take is having a data breach and losing the trust of their customers through it.
As such, one CRM salient feature you should look for is security. You need to ensure that all sensitive data collected are encrypted in its server.
14. Social Media
Today, there is an increasing need for businesses to use social media in their digital marketing efforts. In fact, according to SmartInsights, more than half of the world is now using social media, with 4.62 billion people staying online within the last 12 months.
Likewise, it is wise that the best CRM tool has a social media management feature. It will let your marketers handle multiple accounts on one device. With these, you can streamline your social media marketing efforts by scheduling posts, looking at your analytics, and reaching out to your customers.
15. Reporting and analytics
Lastly, the most essential and critical CRM feature is reporting and analytics. One of the functions of CRM is that it makes your business productive and efficient. You will see how the software improved your employees with the reporting and analytics feature. In addition, you will be able to identify parts of your company that needs improvement and development.
Likewise, after you implement CRM in your business, you will have all the data you need to improve your company. With these data, it would be easier for you to forecast your sales, improve your marketing strategy, and implement new activities to increase your revenue.
Build Your CRM Tool with Us!
As mentioned earlier, CRM software is a valuable tool for any business. You just need to select and choose the perfect feature that will come with it for it to be indeed effective and maximise its potential. These 15 CRM features are just a few that you may want to consider before buying CRM software.
But if none of these are your choice of CRM tool, you may want to build your own. Flexisource IT can help you create the CRM of your dream. Contact us now and tell us about your business!
Pamela is a full-time content writer and a lifelong Philomath. Her previous experience as a research analyst made her passionate about traveling the world and understanding how it works. During her day off, you can often find her indoors, writing stories or oil painting.