Today's digital marketing is a competitive battlefield that plays a significant role in the future of advertising and business. Like any battlefield, you need to be fully equipped before tumbling into the war. You need a strategic plan for your marketing mission. You need bulletproof armor for advertisements. But ultimately, you need SEO as a backup for any failed marketing plan.
Likewise, a backup plan also needs preparation. People usually wonder what skills are needed in SEO. They ask if it's a technical job or usually if SEO programming skills are necessary. Many people believe that SEO does not necessitate technical or programming skills.
But according to Flexisource IT's in-house SEO specialist Roque Pospos, the short answer is NO, SEO typically doesn't require much hands-on coding but it's a good skill to master. To him, SEO does not require hands-on coding, and you'll do great without touching code. However, it is great to have a good sense of how programming works and the ability to do it yourself.
To discuss more, here is an article explaining why SEO coding skills are excellent capabilities to have.
Do I need coding skills for SEO?
Essentially, search engine optimization programming is not necessary to be successful in SEO. Most of today's Content Management Systems (CMS) have the basic SEO functionality built-in (e.g., Yoast by WordPress). You can usually just follow the step-by-step instructions online to optimize the back-end part of your website.
Still, it wouldn't hurt to have the basic level of SEO programming skills. It can help you identify technical issues and work with the web developer to fix these problems. Familiarity with coding basics can also enable you to peek at the source code of the competitor's website and identify the key features relevant to your campaign.
What are the basic SEO coding skills?
Most SEO specialists continuously enhance their skills to be at par with each google SEO update. However, these skills are primarily concentrated in marketing and advertising functions. Technical skills, like SEO programming, are usually left behind.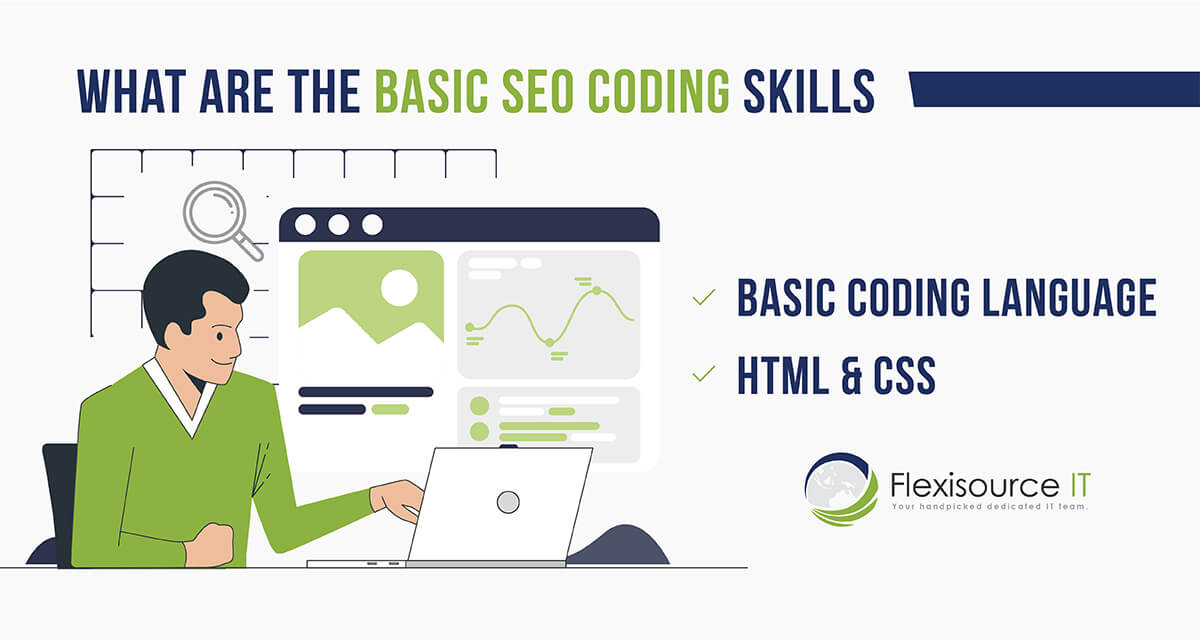 There are a lot of benefits that programming can give you in SEO, as mentioned earlier. Thus, if you are unsure what skills you need, here are some basic SEO coding skills that you might want to take:
There is no need for an SEO Specialist to have in-depth knowledge of programming languages. Having base-level coding language knowledge is enough for them to understand how the front-end and back-end of the website works. With primary programming languages, SEO specialists can make changes on the website without breaking the actual code.
For example, having PHP knowledge when working on WordPress can help you understand the language and its function. It can also enable you to modify the blog section using display code.
A great SEO specialist must have these two digital marketing coding skills, HTML and CSS.
HTML is a markup language that can support you in optimizing your site. It can be used in adding custom tags or words to your website, which basically acts as the keywords and parameters of your website. In addition, HTML can help Google bots find your website faster and rank them.
Meanwhile, CSS can modify your website to optimize its speed and create the best UI/UX by adding a few CSS codes. In addition, using the CSS validator lets SEO experts see what the website is lacking – what metatags are mission and others.
Is SEO a technical job?
As mentioned earlier, SEO is one of the IT-related jobs that don't require coding. You can be great at SEO without coding a single line. However, some SEO functions may require technical skills. Technical SEO includes the technical features that need optimization to improve its visibility and ranking on SERP. It has tactics such as rendering, web architecture, and indexing to help web crawlers find and understand your web content faster and easier.
Here are some of the aspects of a website that needs SEO coding:
 

Optimize Page Loading Speed
Site speed is critical in SEO. Longer load times heavily affect several website factors like search engine site ranking, conversions, and bounce rate. Thus, SEO specialists and webmasters need to optimize their site speed. Some site speed optimization may include some SEO coding best practices. An example of this is file compressions which necessitate reducing the size of your CSS, HTML, and Javascript files to not larger than 150 bytes.
 

Fix Mobile Design
Mobile optimized websites are vital to certain aspects of SEO. Due to the rise of people using mobile, Google has begun factoring a website's mobile SEO in the regular SEO. As such, it is essential to apply Mobile SEO practices and create an SEO-optimized mobile-friendly website. Mobile SEO may include page speed optimization, unblocking CSS, JavaScript, other images, and other site design for mobile.
 

Structured Data
Structured data or schema markup is a code that you can add to the HTML of your website. It makes it faster for search engines to crawl, display, and organize the website's content. It converts all unstructured data to structure data. This microdata helps search engines better analyze and understand your data and bring more detailed results for the searcher.
Should I learn basic SEO coding?
The extent of your job description as an SEO specialist will depend on your need to learn code. You need to understand what the company expects you to do and its resources. Suppose you are working for a large company with a dedicated IT team or developers. In that case, you can just communicate these tasks to the team.
Good to know: Best SEO Chrome Extensions for Competitor Analysis
On the other hand, if you work for a smaller company with no idea about SEO, you will likely do the SEO coding yourself. Certain SEO factors like loading times, HTML tags, metadata, and so forth are necessary when optimizing. In this case, you don't have a webmaster to rely on, and you may need to make these changes yourself.
Do SEO Unicorns exist?
Unicorns in the workplace are those individuals who have all the necessary skills to run the department. They are usually not limited with their title and job description and can take the business to the next level. Basically, unicorns can be defined as the jack of all trades or wearers of many hats.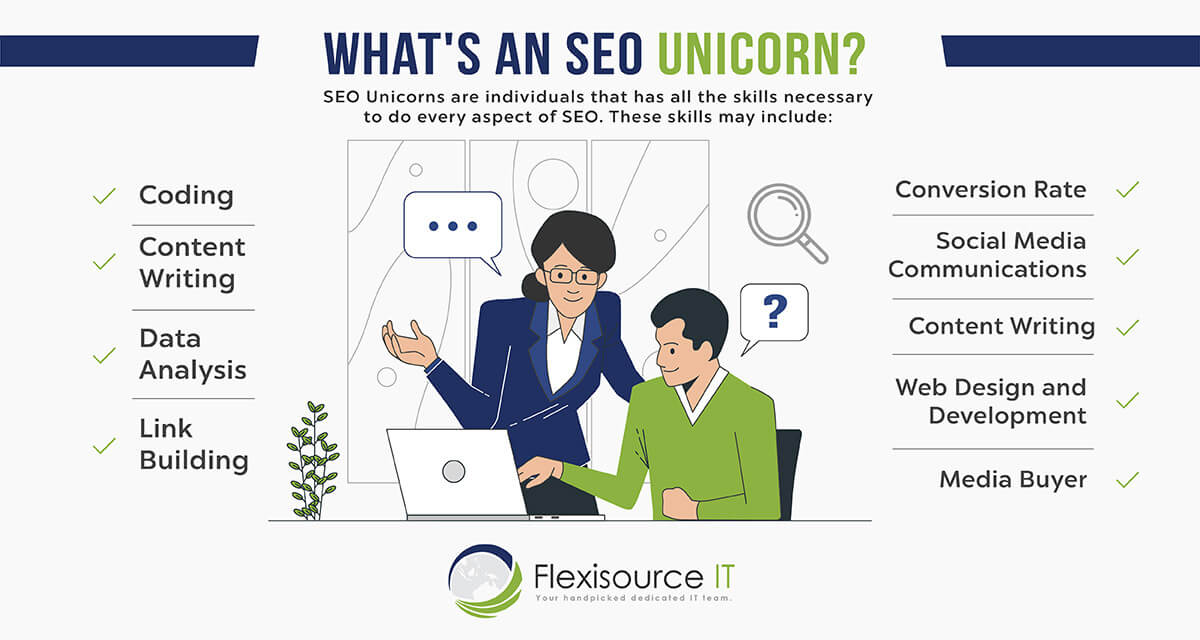 Unicorns are usually hard to find in SEO. The profession entails many aspects like web development, technical SEO, writing, designing, and communication. An SEO unicorn needs to have the skill set necessary to do every part of search engine optimization. These skills may include the following:
Technical SEO –

Technical SEO is the ability to comprehend the complexity of the search engine and what necessary technical adjustments are needed to rank the website.

SEO Coding –

As mentioned earlier, SEO involves coding but is not necessary. For an SEO Unicorn, coding skills are a significant advantage in further optimizing certain aspects of the website. Understanding SEO source code can also help specialists figure out how to display a web page's content.

Content Writing –

Content is necessary for SEO. An SEO unicorn needs the ability to conduct keyword research for SEO and incorporate it accordingly.

Link Building –

Link Building is vital to SEO. It helps the search engines discover new web pages and determine how well the page should be ranked in SERPs. It can also generate more traffic to your website. There are tons of

free backlink checker tools

available online that can help you identify potential links. Still, SEO Unicorns must have excellent communication skills and research skills to generate more links.

Conversion Rate Optimization –

Conversion rate is vital in SEO as it enables you to acquire customers without added cost. As such, understanding conversion rate is a great skill to have as an SEO specialist so you can adjust your strategies based on your site's conversion rate.

Social Media Communication –

Social Media presence is another great way to increase traffic to your website and promote your brand. It does not affect your ranking factor in SERPs. Still, it increases your company's popularity which is also a great way to distribute your content.

Web Design and Graphics Creation –

SEO unicorns must understand how web design works and graphics work. These skills are essential to creating different

responsive web layouts

and optimizing website speed and minimizing load time.

Media Buyer –

SEO and Media Buying comes hand in hand in digital marketing. Online advertising such as PPC can help rank in SERPs by making your website visible and relevant to searchers.

Training Skills and Communication skills

– Many SEO specialists are asked to teach their digital marketing team members the SEO basics. They also need to communicate the importance of some SEO aspects like keywords, 404 cleanup, and more to writers and webmasters.
Conclusion
In summary, you can be a great SEO without SEO coding skills. If you can code tools in PHP or Python, you have a head start against another SEO specialist. But this doesn't make you a better SEO than the others.
As an SEO, you need to be the person who can create pieces of content that people would like to visit and read multiple times. You also need to have excellent communication skills to build links and work with other people.
So, if you don't know how to code, don't worry. You can still learn SEO and be an SEO specialist.
If you are looking for SEO unicorns to optimize your website, Flexisource IT is one of the best SEO agency in Australia. Contact us and tell us about your website.
Pamela is a full-time content writer and a lifelong Philomath. Her previous experience as a research analyst made her passionate about traveling the world and understanding how it works. During her day off, you can often find her indoors, writing stories or oil painting.