Outsourcing has become a trend over the years. Many businesses outsource part of their operations to overseas companies to meet their needs and solve issues on various tasks.  In addition, it provides a lot of advantages in terms of strategy, technology, and logistical ease. As such, most large companies in Australia outsource their operations, ranging from customer support and back-office positions to IT and Engineering Services.
What's outsourcing?
Outsourcing is a business practice, whereas a company hires a third-party provider outside the business to perform or develop a product that cannot be done in-house.
One of the reasons companies outsource services is to cut their operational expenses or when their employee does not have the skill needed to do the service. Likewise, businesses can avail a wide range of outsourcing services such as manufacturing, customer support, logistics, back office, or IT development.
There are different types of outsourcing available worldwide. Companies can choose between onshore vs offshore vs nearshore vs flexisourcing. They can also choose to outsource their needs worldwide as the increased popularity of outsourcing led to many companies providing these services.
Outsourcing can be found in India, Poland, China, Brazil, Singapore, and the Philippines.
Why do Australian companies outsource to the Philippines?
When choosing your outsourcing destination, a company needs to focus on the advantages and what it can give to their company. It's crucial to weigh what it can provide based on costs, effectiveness, and review. And amidst the competition, the Philippines remains the number one choice for Outsourcing in Australia.
The Philippines has developed to be one of the best and premier outsourcing destinations in the global arena. It provides a lot of opportunities and prospects that other countries cannot offer. Several companies globally, including companies from Australia, have been seeking to outsource services in the Philippines.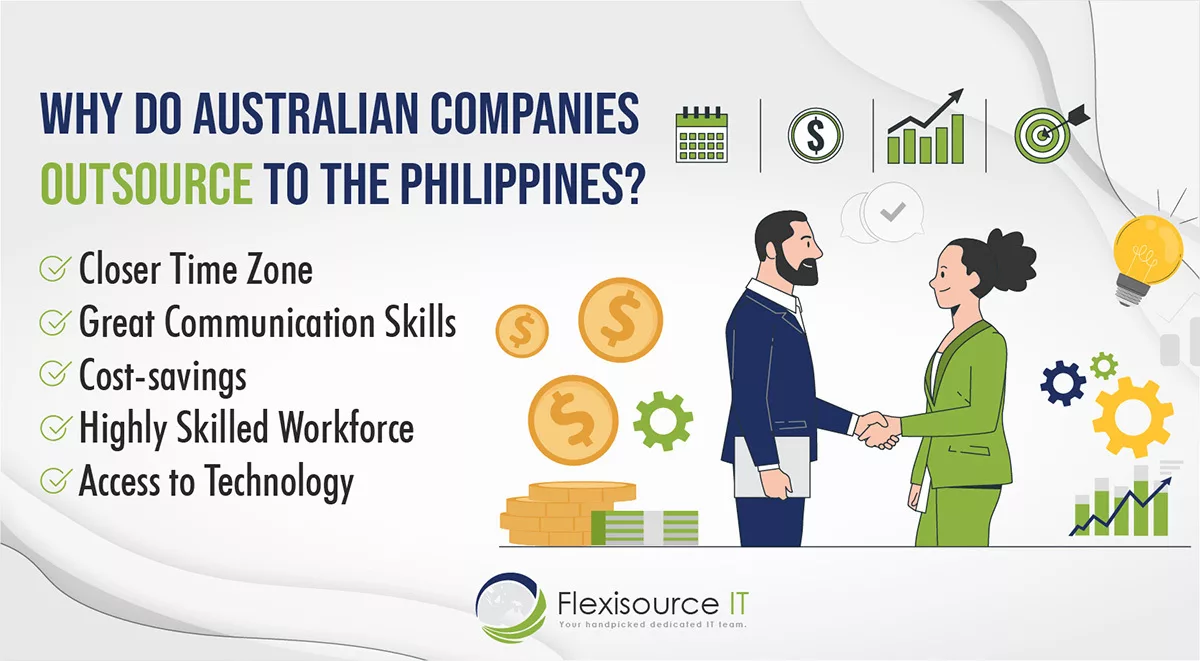 To learn more, the following are the advantages to outsourcing parts of your business in the Philippines and why outsourcing Australia companies choose this country.
A lot of Australian outsourcing companies choose the Philippines over other countries because of their time difference. The Philippines is in the same time zone as Western Australia and only two hours behind Eastern Australia. Likewise, Filipinos are very flexible on their working hours. They continuously adjust and are willing to work early morning shifts or even at night and on holidays. They are resilient and can serve clients all over the world.
Moreover, Australia and the Philippines are geographically nearby. Flight duration from Sydney to Manila only ranges from around seven to eight hours. Suppose a company would like to check on their remote employee. In that case, it is easy for Australians to catch a flight to the Philippines.
   

Great Communication Skills
Another reason why Australian outsourcing companies choose the Philippines is for their excellent communication skills. According to the British Council in Manila, the Philippines is recognized worldwide as one of the largest English-speaking countries and is spoken by more than 14 million Filipinos. In addition, English has always been one of the official languages of the Philippines.'
In addition, Filipinos have a unique style of communication. They try to express their ideas and opinions diplomatically and with humility. With these facts, the Philippines is one of the most trusted outsourcing destinations for call centers, software development, and more.
Australia outsources to the Philippines primarily to reduce costs. The average monthly salary of a remote employee from the Philippines could be less than 5 times the equivalent position in Australia. For example, the wages of offshore employees in the Philippines can range between $5 to $50, depending on the position.
Companies usually take advantage of these costs when outsourcing tasks like customer or technical support, accounting, and lead generation.
Contrary to common belief, Outsourcing in the Philippines is not only limited to call centers. The Filipino workforce can provide various other services across all industries, such as financial services, human resources, digital marketing, and more.
The outsourcing industry in the country has been gearing to shift toward more complex and higher skilled services. In Australia, Outsourcing to the Philippines usually entails IT services as this is the most demanded job in the market. According to Magellan Solutions, the IT Business Process Management created 71,000 new full-time jobs in 2019, making the total headcount 1.3 million.
Moreover, the Philippine government has invested and developed a technical training program to equip more Filipinos with relevant IT skills, including software development, graphic, and web design, and more.
Suppose you are worried about the Philippines' digital poverty and technology accessibility. In that case, more local and foreign investors are improving the business outsourcing industry. They are paving the way for more tech innovation and education in the country.
As the digital age heightens, information-based services and products are more prevalent in the Philippines. More and more applications are popping locally. In fact, the Filipino youth is dominated by tech-savvy millennials who are equipped and trained to undertake global IT needs.
Likewise, the Philippines has an enormous business process outsourcing industry. It employs millions of employees, including tech professionals that produce more applications and software's daily. Big companies ensure that their services will deliver only the best and the highest quality programs.
Most Common Outsourced Services Availed in the Philippines?
 

Customer Services
Companies that offer customer-facing products and services usually deal with a lot of inquiries and complaints. Thus, most of these offshore IT services in the Philippines deal with these needs immediately and do not disrupt their daily operations.
Many BPO industries in the Philippines handle customer care hotlines over the phone or via chat and email. The customer support representatives (CSR) then usually deal with these issues or report the problem to the associated department of the company.
 

Technical Support
Some IT or Telecommunication companies in Australia outsource Technical Support services in the Philippines. Most of these technical supports are software engineers or IT experts. They help users identify the problem and give out instructions to resolve the issue.
The Philippines is an excellent destination for technical support accounts. Filipinos have the necessary English communication skills and technical capabilities to help customers with product errors.
 

Sales and Lead Generation
As a business, finding prospective clients and leads are necessary to keep your company operating. It is an essential activity for B2B marketing and sales time.
Many outsourcing companies in the Philippines offer lead generation services or cold calling to invite possible customers to avail of your products and services. Some companies even use the latest technology in finding potential sales leads.
 

Digital Marketing
A lot of companies are trying to upscale their internet reputation to catch up with the digital age. It does not only help you create a reputational brand and invite possible customers to avail your products and services.
Many outsourcing companies in the Philippines offer a huge chunk of digital marketing services that can help businesses. Services such as content marketing, Pay-per-click ads, Search Engine Optimization, Business Blogging, and Social Media Marketing can be availed through many outsourcing companies in the Philippines.
 

Back Office
The back office is essential to any business. It mainly consists of finance, administrative, and sometimes human resources. This section ensures that the company complies with all business requirements and that the company's daily operations are working.
Availing back-office services in the Philippines is a great way to reduce costs and delegate labor-intensive tasks to offshore employees.
 

IT & Software Development
The Philippines is well known for providing excellent service in IT services. Most companies in Australia, especially banking and finance, avail external services to effectively IT-enabled their business process.
IT Outsourcing Companies in the Philippines offer a vast service such as app or software development, cloud hosting, website development, eCommerce site design, cyber security, QA Testing, and more.
Creatives and Design
No company can be successful without proper branding. Branding represents your company, and it's crucial to create a memorable impression on your consumer. Most creative services cover almost everything in marketing design, including website design, logo creation, infographics, printing, video productions, and animations.
Many outsourcing companies that offer design services in the Philippines can handle high-volume production and fast turnaround time.
What companies in Australia outsource to the Philippines?
The benefits mentioned above are only a few reasons why Australian companies outsource to the Philippines. Recently, large companies in Australia continuously hire talents to help them with their business needs and continue to deliver services to their customers.
To answer the question, "what Australian companies outsource" here's a list of the well-known companies in Australia that avails offshoring services in the Philippines:
Canva is one of the successful Australian start-ups that offshore companies in the Philippines. It was founded by Melanie Perkins, together with Cameron Adams and Cliff Obrecht, in 2012 as a graphic design platform. To date, the web app has more than 750,000 users.
It offers aspiring and new graphic designers to create material quickly and effortlessly. The company offshores some of its position in the Philippines. They have a team in Manila with more than 60 members of designers, content creators, writers, engineers, and customer specialists.
Telstra Corporation Limited, more known as Telstra, is Australia's largest telecommunication company. It offers telecommunication networks and products and services for mobile, internet access, pay televisions.
Like other telecommunication companies, Telstra needs to handle customer requests and technical errors. As such, they need dedicated customer service. Many Telstra accounts are being taken by a call center company in the Philippines that provides skilled agents that assist Telstra in their customer service needs.
Star News Group is a family-owned Australian media company based in Pakenham, Victoria. It's the leading newspaper provided in Melbourne, Geelong, and the Yarra Ranges region. It is well known for being an innovative publishing company. It has a reputation for delivering a diverse range of content and publications.
Like any other media company, Star News Group needs to constantly create and provide hyper-competitive and outstanding journalism on the internet. As such, this company in Australia outsources writers in the Philippines. The Philippines is a fantastic destination for content production, both from a technical and creative perspective.
Like Telstra, Optus is one of the largest telecommunication companies in Australia that outsource in the Philippines. Optus provides mobile, telephone, internet, and entertainment network services to more than 10 million clients per day.
It is undeniable as to why they had to invest in outsourcing staff. Optus set up "microsites" call centers in the Philippines to keep the business and services sustainable. Usually, big corporations like Optus will create their own office in other countries and avail the lower salary and cost of operation. This kind of offshore operation is referred to as a captive operation.
Vodafone Hutchison Australia (VHA) is the second biggest telecommunications company in Australia that provides mobile and internet services. The company's 4G network covers more than 22 million users.
Similar to Optus, Vodafone transferred its customer service operations to the Philippines. Vodafone offshore some of their non-technical and technical roles in contact centers in Manila. Their office in Manila primarily supports customer calls like the one in India.
Should Australian start-ups outsource?
Starting entrepreneurs have a selection of decisions to make when building their companies. One being their day-to-day business operation – whether they create an in-house team or outsource staff. In the past, several startup companies that have received an incubator program tend to build their company with an in-house team. Let's face it, outsourcing can be a risky decision to make, especially with the cost and commitment.
Still, if you are time-constrained and do not have experience running an office, it is great to try outsourcing. Outsourcing is not just about minimizing operational costs. It's also strategically entrusting part of your business to an organization that can help you achieve your goals. It can help you focus more on improving your business rather than worrying about the smaller bits like customer support or care.
Startups in Australia can outsource their staff until they feel comfortable internalizing their operations. If you are still scared to try outsourcing, remember that it's highly scalable. You can try to avail a small team in the meantime and let it grow when the need arises.
Ready to outsource your staff?
Flexisource IT can help you grow and achieve your goals. We are one of the best IT outsourcing companies in the Philippines. We offer a fully dedicated team of IT and Digital Marketing experts to turn your ideas into a product. Let us help your business grow.
Pamela is a full-time content writer and a lifelong Philomath. Her previous experience as a research analyst made her passionate about traveling the world and understanding how it works. During her day off, you can often find her indoors, writing stories or oil painting.