Did you know that PPC is one of the most popular forms of advertising on the internet? In fact, according to a study conducted by Clutch. Co, 65% of small to medium businesses use PPC for their advertising campaigns!
However, running PPC ads is not as easy as it looks. You need to have in-depth knowledge of Google Ads, your branding, and your research for your campaign to be successful. Luckily, outsourcing your PPC management has been prevalent in recent years.
Outsourcing your PPC management can undoubtedly help your business. Many digital marketing agencies can help you optimize your campaign to maximize investment return. Still, like any other service, outsourcing PPC comes with many disadvantages. In this article, let's find out what PPC is and the pros and cons of outsourcing this digital marketing need.
What Is PPC?
PPC is an acronym for "pay-per-click," a type of online advertising. It is the most common form of advertising on Search Engines and Social Media Platforms.
PPC allows advertisers to place their ads in Google's search results and Google Display Network websites or social media feeds. It also appears at the top or side of the page when someone searches for keywords related to your business. Display ads show up on websites and apps, including YouTube and Gmail.
There are a few key things that all businesses should consider when deciding on a PPC campaign:
Budget

– You need to decide how much you want to spend on PPC per month and divide this by the number of conversions or sales you want to achieve to calculate your monthly budget.

Landing page

– You need a landing page with information about your product or service so that people who come from search engines can find what they're looking for quickly and easily.

Keywords

– Before running ads, you need to look for related keywords for your ads. Think as if you are your target audience, see what they need and what they will search to look for your business or product.
Why should you outsource your PPC Management?
Running a PPC campaign requires planning, researching, and resources to be effective. It would help if you spent a lot of time managing and making sure it produces leads and conversion. However, by outsourcing your PPC management to a professional agency and you will be able to save time and money.
Advantages of Outsourced PPC Management
As mentioned earlier, PPC is one of the most popular types of advertisement. It is considered the most effective marketing channel. PPC can help your business reach its target audience at a low cost. But ultimately, outsourcing your PPC management can help you with the following aspects.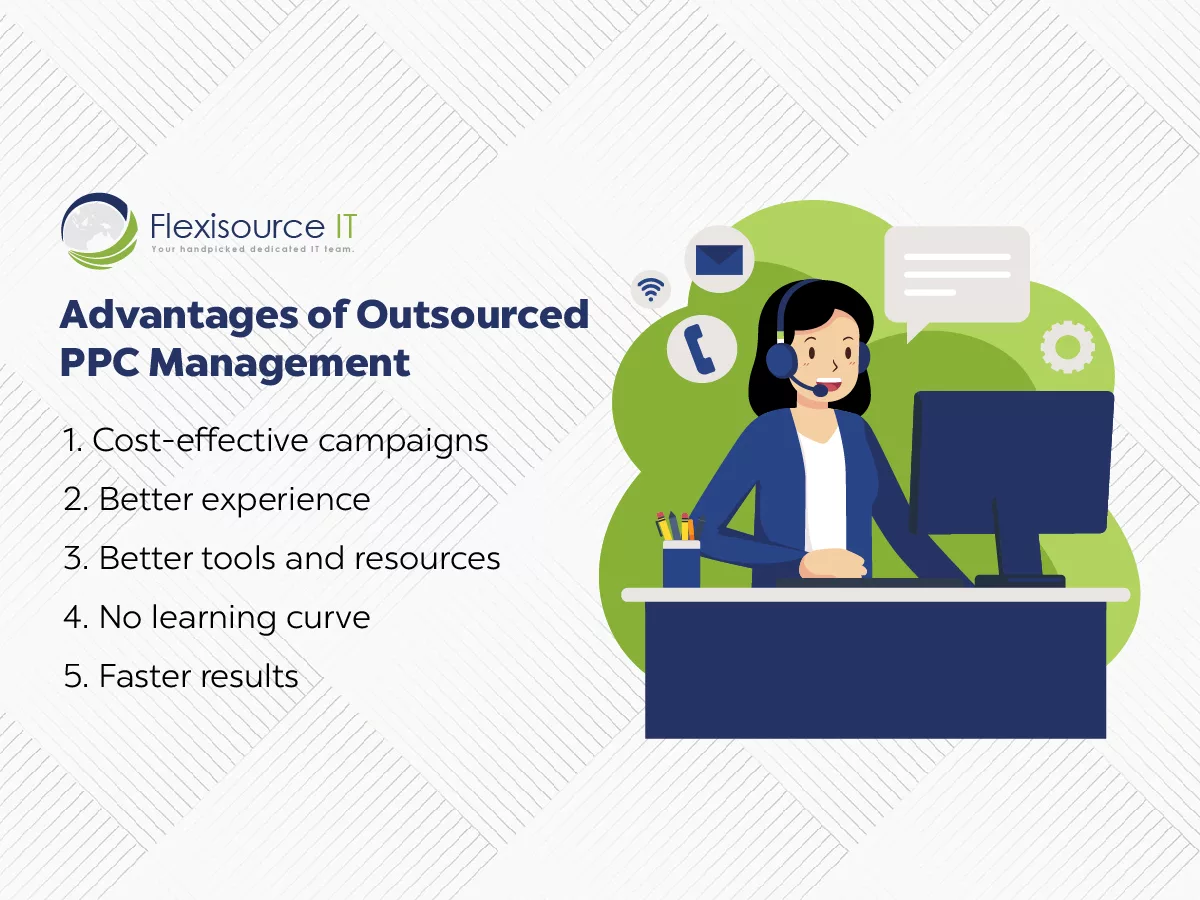 1. Cost-effective campaigns
Outsourcing your PPC management can help you save money. PPC management is not easy and requires a lot of time and skills. But since you are hiring a professional to do your PPC management, you are sure that your ads will generate leads.
No need to undergo the process of testing or trial and error. You are sure that the agency knows what they are doing. It saves you the time, resources, and money that you would otherwise spend if you did it independently.
2. Better experience
As mentioned earlier, PPC requires a lot of planning, thinking, and managing. By outsourcing PPC specialists, you get someone with more experience to handle your account. Most PPC agency knows the ins and outs of advertising. They know what works and what does not in any industry.
With their years of experience, they will be able to provide you with the latest strategies and optimize conversion rates for better results.
3. Better tools and resources
Suppose you are running a small corporate and don't have the time or resources to manage your PPC account. Investing in these needed tools is likely out of your choice, especially when you opened your business.
But outsourcing your PPC management can help you get better tools and resources. The agency you will hire will cover all the bidding process, keywords research, campaign setup, optimization, and reporting.
4. No learning curve
Handling your PPC means you should know how it works and how to operate various tools. It would help if you also were well-informed on how you can optimize it further and be able to detect multiple practices that work for your business. Moreover, it could delay good results.
But by outsourcing your PPC management, there is already an expert who knows how to do that. Outsourcing can help you quickly get your advertising campaign off the ground. You don't have to worry about hiring a team of experts and that learning curve.
Moreover, it can help you focus on other aspects of your business while still getting the best results in terms of ROI and conversion rates.
5. Faster and reliable results
There is nothing more exciting than getting quick results in your marketing efforts. But PPC is not that easy to implement and produce results. It may take longer for you to optimise your campaign to see your design outcomes.
Outsourcing your PPC management can give you faster results. The PPC agency knows what to do, when to do it, and how. You'll get leads in no time!  
Disadvantages of Outsourced PPC Management
Despite the numerous benefits mentioned above, outsourcing PPC campaigns to agencies also has a few demerits. Here are some cons of outsourcing PPC.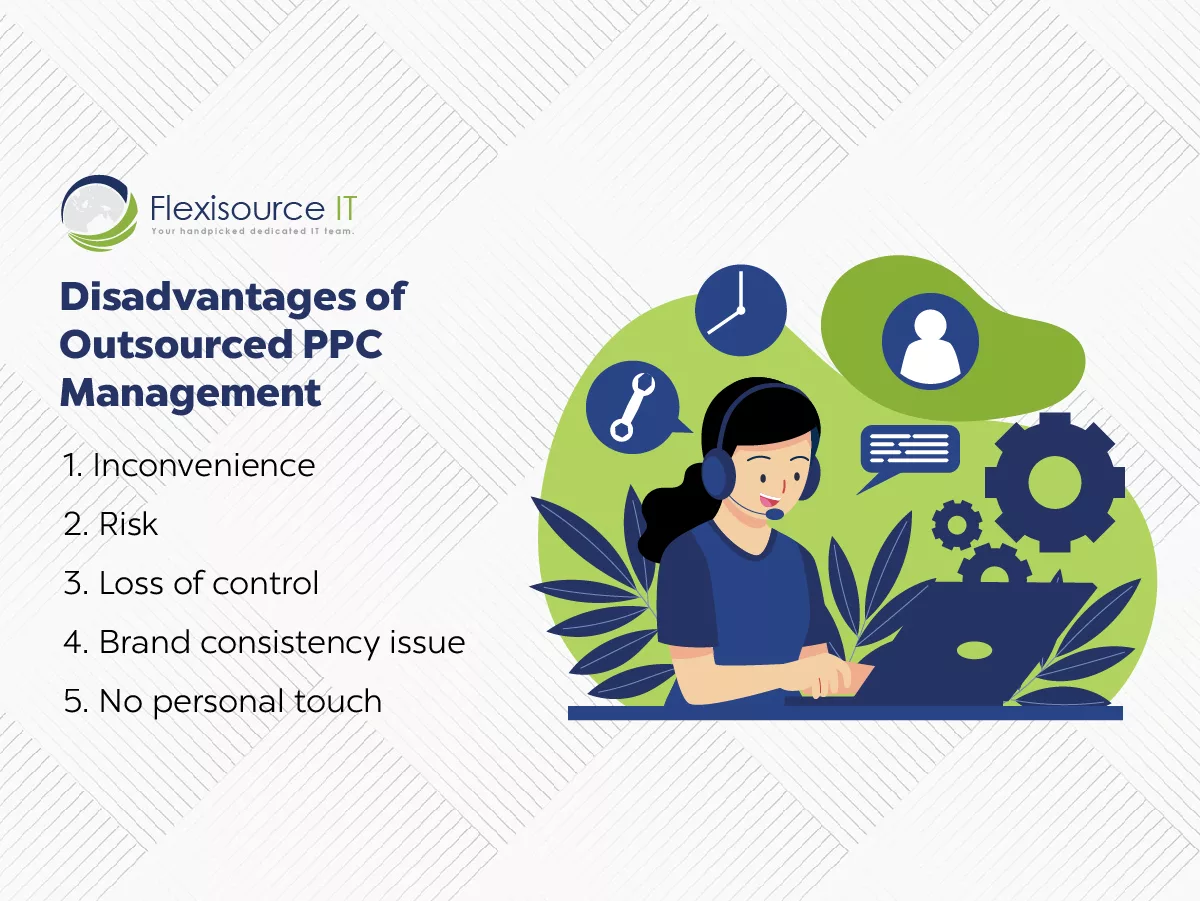 1. Inconvenience
PPC outsourcing is a popular option for businesses that focus on their core competencies. It can provide a reliable team of experts to handle the day-to-day management of their PPC campaigns. However, many companies are hesitant to outsource because they fear its inconvenience.
The truth is that outsourcing can cause inconveniences such as time zones, language barriers, and other potential issues.
2. Risks
Outsourcing your PPC management comes with potential risks. The most common risk is that the outsourced company might not have enough expertise to handle your campaign. They may not know your product and target audience. It can lead to poor performance and a waste of money in the long run.
3. Loss of control
There are several reasons you might choose to outsource your PPC management. When you hire an agency to manage your PPC campaign, you let go of a considerable aspect of your ads. You let them strategies your campaign, monitor, choose what keyword to use, etc.
Likewise, these can cause issues when it comes to leads you receive.
4. Brand consistency issue
Outsourcing your PPC management to third-party companies may cause brand consistency issues. It is because the outsourced company may not be aware of your brand strategy and positioning or tone that you have set for your company.
In addition, some outsourced companies will only be focused on generating more leads and conversions for the client, which might not align with the company's marketing goals.
5. No personal touch
PPC management is a huge responsibility. It includes tasks such as keyword research, budgeting, and bidding. You can put your personal touch on your ads if you manage your PPC campaign.
Otherwise, you may lose your personal touch on materials like banners, captions, or event engagement with your audiences by outsourcing your PPC management.
Outsource Your PPC Management
The digital marketing arena is changing, and so are clients' expectations. Many agencies are now using PPC to generate leads for their clients. PPC outsourcing can be beneficial when you focus on other aspects of your business or when you need help with your campaign. But it can also be a risk if the agency doesn't have enough knowledge about your industry and the keywords that work best for it.
Still, if you are not a PPC expert, it can be overwhelming to manage all the aspects of PPC management. Outsourcing some or all of these tasks to an expert will allow you to focus on other parts of your business while they take care of the PPC side of things for you.
So, if you decide to outsource your PPC campaign, contact us! We provide the best outsourcing PPC management in the Philippines!
Pamela is a full-time content writer and a lifelong Philomath. Her previous experience as a research analyst made her passionate about traveling the world and understanding how it works. During her day off, you can often find her indoors, writing stories or oil painting.