Social Media has become the most popular and most successful platform to advertise your brand and products. Its power is endless and can reach many customers, influencers, and other potential business partners.
Though it comes with many opportunities, maximizing social media networks can be challenging. You need to keep up with your audiences and engage every day. Not only that, planning and preparing content can take a tremendous amount of thinking and execution. And without the right tool, it can be nearly impossible for one person to do this.
Likewise, we listed the 12 best social media scheduling tools to help you with your content campaign.
Why is using social media marketing Important to your business?
Connecting to your target audience can be difficult. It can nearly be impossible to reach your target audience when using traditional marketing. It is untargeted, expensive, and immeasurable.
However, in this digital age, it would be wiser for businesses to use social media for marketing. In this digital age, most of the population spends a large chunk of their time using social media. According to Statista, in 2020, the average daily social media usage amounted to 6 hours and 25 mins per day. Using social media can help you reach a wide range of potential consumers.
In addition, it can also offer a lot of advantages like targeted advertising, insights, and other data that can support you in improving your marketing campaign.
Here are other reasons how social media can help your business.
Low-cost advertising using Facebook ads for business
Learn about your competitors why analyzing your competitor's profile
Build a community with your costumers
Target certain consumers demographically
Learn about audience behavior and buying patterns
Increase your ROI
Build and maintain relationships with your present customers
Increase your brand popularity
Top 12 Social Media Scheduling Tools
Despite all its advantages, managing social media for business can be difficult and time-consuming. Posting frequency is essential in social media to build audiences. However, planning, creating, and posting content is more complex than anyone thought. This usually can lead to burnout for most marketers.
And here's where social media scheduling tools can help. It is a convenient shortcut in scheduling, planning, and queueing your posts, rather than taking time every day to post on various social media accounts. It can improve efficiency and productivity.
Here are a few social media scheduling tools that you might want to use in your business: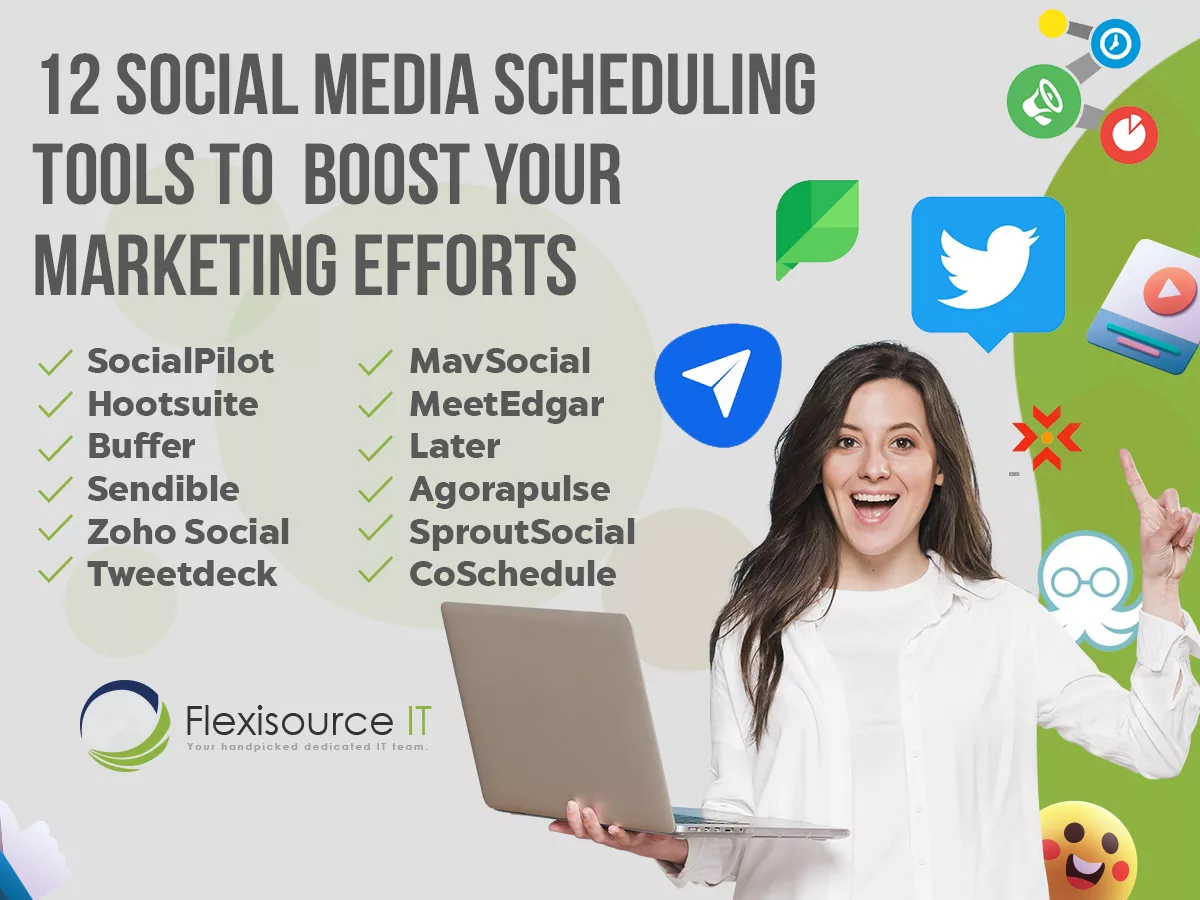 1.        SocialPilot
SocialPilot is a social media scheduling app that helps marketers and businesses automate their social media posts and management. It features a clean and straightforward interface that lets you sort and group social media account based on your preferences. This makes it easier for you to manage multiple accounts and publish on all of them.
This social media scheduling tool can be used on several social media platforms such as Facebook, Twitter, LinkedIn, Pinterest, Instagram, and even TikTok. You can put hashtags, comment, and message your customers with SocialPilot.
SocialPilot offers plans ranging from $30/ month to $150/ month, relatively cheaper than most social media scheduling software.
2.        Hootsuite
Hootsuite is one of the popular social media scheduling tools used by large companies and agencies. This media scheduler is used by more than 18 million users worldwide and has supported companies for a long time. You can use Hootsuite on Facebook, LinkedIn, YouTube, and Instagram.
This social media post scheduler covers mainly the roles of a social media manager. Using Hootsuite, you can curate content, create a content calendar, schedule posts, and even manage your team. It also lets you measure your ROI and offer great social media insights.
Although this tool offers top-notch features, its plans are slightly pricey for small businesses. Its plans range from $19 a month with one user to $599 a month for five users.
3.        Buffer
Buffer is a social media post scheduling app that allows marketers to create and build several relevant posts to share with their audience. It's user-friendly with its simple interface. With this social media planning app, you can easily share and schedule relevant blogs, webpage, or even posts to your account.
Buffer offers a freemium version that allows you to schedule up to 10 posts for free. However, their paid plan lets you undertake as much scheduling as you want. You can get the paid plan for a meager price of $5 per month.
4.        Sendible
Sendible is one of the best social media scheduling tools. It offers excellent features, personalized reports, and top-notch insights. This tool also features a great dashboard and tool for publishing, CRM, mobile, and collaboration. It allows marketers to plan, schedule, publish posts, videos, images on various social media platforms at once. Moreover, it will enable you to edit scheduled posts without taking them off the queue. You can even reach specific segments audiences using this tool.
This social media scheduler allows you to use it on social media networks such as Facebook, Tumblr, Twitter, and non-social media sites such as WordPress, Medium, or Blogger blog. Likewise, you can connect sensibly with Canva to help you design better visual content for your audiences.
Sendible offers a Micro Plan for solopreneurs for only $29 per month and a small plan for $99 per month.
5.        Zoho Social
Zoho is another top-notch social media scheduling tool that helps businesses automate their social media content generation. It allows companies to reach the right audiences promptly with the right messages.
Users can manage multiple accounts and schedule posts in one go. It also allows you to collaborate with your team using the same dashboards. It also offers a report to help you track conversions and ROI in every campaign. With these insights, you can also improve your strategies and campaigns to create more engaging content for your audiences.
Zoho can be connected on various social media platforms such as Instagram, Twitter, Facebook, and more.
Zoho prices range from $14 a month to $52 a month, depending on your needs.
6.        Tweetdeck
If you are a company that only uses Twitter, then you should try TweetDeck. This social media scheduling tool is a free app that allows Twitter users to schedule and manage Twitter interactions. With this tool, you can work your feed and respond to comments and messages from your customers.
This social scheduling tool also allows you to find the most trending hashtags, making it easier to tag your posts.
Tweetdeck is entirely free and was offered by twittter.com itself.
7.        MavSocial
MavSocial is another excellent social media scheduling tool that supports Twitter, Instagram, Tumblr, and YouTube. It helps listen, engage, post, analyze, and collaborate. This tool promotes using more visual content. It has a separate digital assets library to upload images, audio, and video. It also has an in-house photo market to purchase any media using your Mavsocial account.
Unlike other top social media scheduling tools, MavSocial has an inbuilt photo editing app where you can edit your photos before schedule and posting them.
Mavsocial offers a 14-day trial, with no credit card required. Its plan starts from $19 per month to $199 per month.
8.        MeetEdgar
MeetEdgar is a scheduling tool for social media that helps to keep your social media fresh every day. It offers marketers an effective way of scheduling and organizing content to automate posting.
This tool features category-based scheduling to create specific groups and schedules for posts like updates, videos, tips, etc. MeetEdgar stores your content on its library that can be reposted later. It recycles evergreen content that doesn't leave your queue empty.
MeetEdgar supports Facebook, Twitter, Instagram, Pinterest, and LinkedIn.
You can start using Edgar for only $19 per month that offers unlimited scheduled posts for 3 social accounts. If you need more, you can avail of their $49 per month plan that lets you handle up to 25 social accounts/
9.        Later
Later is another top-notch social media scheduling tool that lets you post to several social media platforms. Although available to various social media websites, the application is perfect mainly for Instagram. Posting content later begins with an image rather than text.
This content scheduling tool also comes with a Media Library that stores images that you can use for future posts. You can add notes, labels, and stars on your library items to filter and sort them.
Its interface is also easy to use. With Later's Quick Scheduler, you can drag and drop posts into time slots to schedule them.
You can use it Later for Free. However, the paid plan offers more features such as carousel scheduling, Instagram location, user tagging, creating stories, etc. The premium plan also features conversations that allow you to manage Instagram comments using later. Price starts from $8 a month to $40 a month.
10.      Agorapulse
Agorapulse is an all-in-one social media management tool that can help you schedule and publish posts across various social platforms. It allows users to optimize posts for each network and schedule them using the social calendar.
This social media posting scheduler also comes with a collaboration tool that lets team members track posts, share notes, and schedule content using the same social media scheduling calendar. In addition, Agorapulse lets you manage other social media aspects such as the social inbox where you can manage comments and messages in one unified inbox.
This tool also features a monitoring tool that lets you listen to what other people say about your brand and learn user behavior.
Agorapulse is a free plan that is perfect for solo entrepreneurs. Otherwise, its paid plan starts at $79 per month, billed annually.
11.      SproutSocial
SproutSocial is an all-in-one social media scheduling tool that allows users to schedule and post content across several social media networks. This tool is perfect for the team as it features a great collaboration tool. Managers can edit team members' permission and access based on their contribution.
The calendar also features a snapshot of what's being published daily. It also comes with a robust reporting tool that allows you to uncover actionable insights and data tailored to what you want to see.
Sprout social plans range from $99 a month to $249 a month. It also offers a 30-day trial for users.
12.      CoSchedule
CoSchedule is also an all-in-one marketing platform for planning, organizing, and executing content for social media and company blogs. The platforms allow users to publish content simultaneously across several networks.
This content scheduling tool also provides an all-inclusive Top Content Report, which documents shares and engagements of your posts. Coschedule also features a "ReQueue" Bucket that allows you to recycle and repost best-performing messages or content without lifting a finger.
This social media scheduling tool is free to use but only allows posting for one network. However, the premium plans can be availed for only $29 a month.
Conclusion
As mentioned earlier, creating and scheduling social media content is an arduous task. But you can easily do this with the right tool. Having these tools on hand is crucial for you and your company to stay focused and save time.
But remember, overly relying upon these tools would not automatically win your social media game. You need to research and find the latest trends.
So if you are looking for social media strategist in Australia to help you with your business, Flexisource IT can help you. Contact us now!
Pamela is a full-time content writer and a lifelong Philomath. Her previous experience as a research analyst made her passionate about traveling the world and understanding how it works. During her day off, you can often find her indoors, writing stories or oil painting.