Social media is a massive part of our lives. It's not just the site we go to for memes and funny videos, but it's also a place where you can interact with your friends and family and find out what's happening worldwide. In fact, according to Statista, in 2022, 4.26 billion users will be using social media worldwide.
So, it's undeniable that marketers should use social media in every business to promote their products or even get the word out there. However, using social media as a promotion tool is not that easy. It would help if you did a lot of planning, researching, and executing. And one of the most crucial characteristics is time to the perfect time to post on social media.
There are different opinions about this, and many studies have been done on the topic. Thus, this article will explore the different views about social media posting schedules and what has been found in studies on this topic. After reading this article, you should be able to decide for yourself when it is best to post on social media.
Why does Social Media Posting Time Matter?
As the introduction mentions, social media is an important marketing tool for businesses. It helps you promote your brand and reach out to a broader audience. Moreover, if you optimize your strategy, you can maximise its potential.
When it comes to posting on social media, timing can be everything. It can make or break your engagement rates and, ultimately, your success as a business. The right time of day for posting content can have a significant contribution to the success of your social media marketing strategy.
As such, below are some reasons why social media posting schedules matter: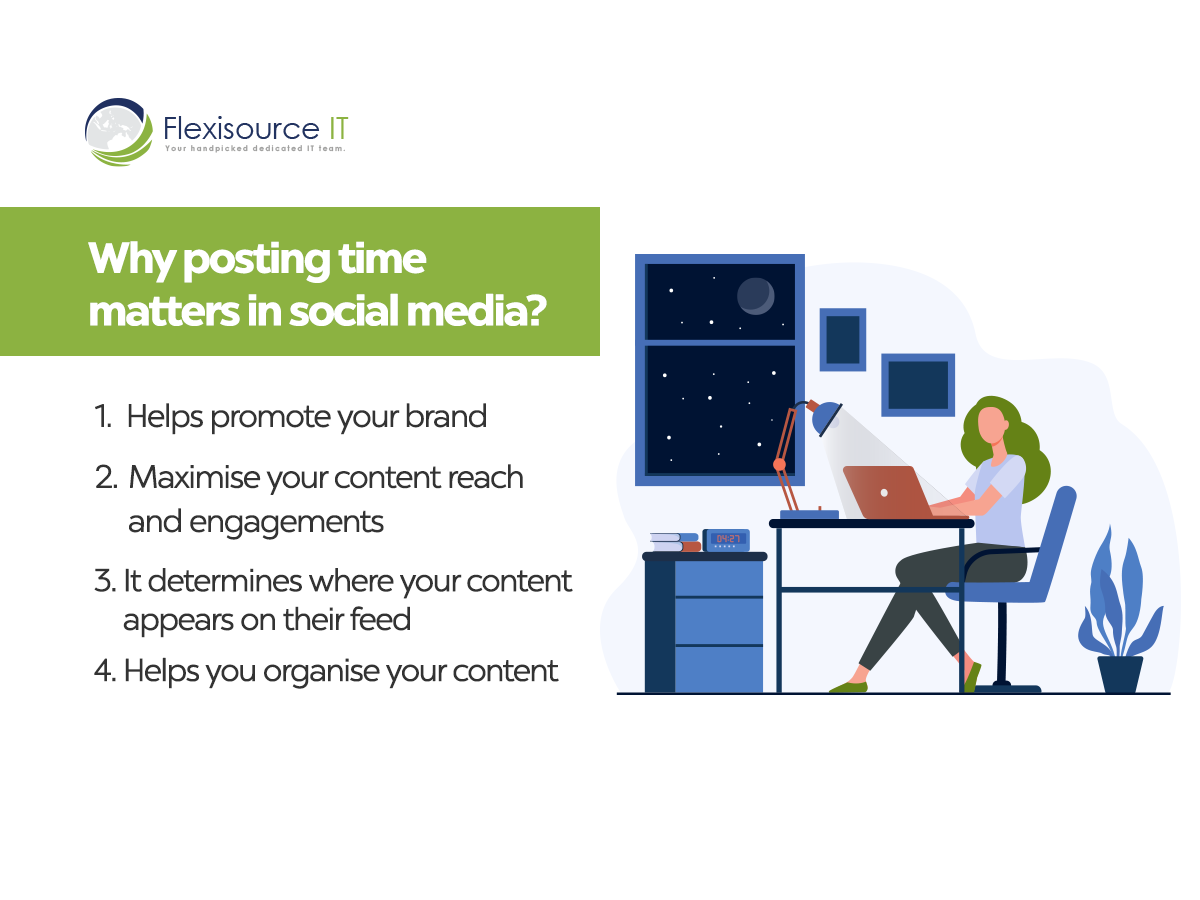 1. Helps promote your brand to maximise your content reach and engagements
As mentioned earlier,  the time when you post on social media is also significant because it can help you get more attention and clicks. It's important to know when most of the audience is online so that you can post at the most suitable time.
For example, when you post at the right time, you have a higher chance of getting more engagement and shares. It also increases your chances of being found on the result pages. Moreover, it allows you to reach out to new audiences.
2. It determines where your content appears on their feed
Many factors contribute to this, but one of the most important ones is when you post your content.
It is widely accepted that posting at the right time can help you get more exposure on social media. People tend to scroll through their feed in a specific order, and if your post doesn't appear in their feed for some reason, they may never see it.
Likewise, you first need to find out what time zone your target audience is in because this will determine when they will be scrolling through their feeds.
3. Helps you organize your content
The thing is that social media is not only something you use to share content, but it's also something that can consume a lot of time if you don't take care of it. And while you can use a bunch of social media tools to automate some tasks, it does not take much from your planning.
Likewise, one way is to set up a posting schedule for yourself. This way, you know exactly when and what marketers will post content on each platform, which will help with organization and productivity.
What are the top times to post on Social Media?
The best time to post is not always clear-cut, but there are a few factors that you can consider when deciding what the best time to post is for your business.
The most crucial factor in determining when you should post on social media is who your target audience is. It's also important to know when people are most active so that they are not distracted by other posts when they may be more likely to engage with your content.
For example, if you are targeting mothers, posting at 10 am would be more effective than posting at 10 pm because that's when they're more likely to be scrolling through their feeds.
In addition, it's essential to consider where your target audience lives and their work hours. For example, posting in the morning would be the best option if you target Europeans who work from 9 am – 5 pm. You can target those scrolling through social media on their way to work.
Moreover, time zones are another essential factor in determining what time to post on social media. Sometimes, those who handle social media are in different time zones than the target market.
Likewise, here is the general best time to post on social media per platform:
1. Best time to post on Facebook
Facebook has been a popular social media networking site for years. It allows people to connect with friends and family and share photos, videos, and other content. While many business owners have leveraged their digital marketing campaigns through Facebook, there is no perfect time for posting on the platform.
The platform's algorithm follows the interest of each user and their habits. Still, here are the overall social media posting schedules for Facebook:
An adequate time to post on Facebook is usually in the morning (6 – 8 am) and the afternoon (2 – 5 pm). People are most likely to be scrolling on their social media accounts. However, suppose you are posting something that requires longer attention, like company announcements or video. In that case, it's better to post at night.

Sunday is the worst day to post on Facebook for B2B campaigns, according to

Statusbrew

. It is considered that Sunday receives the lowest interaction rate.
2. Best time to post on Instagram
Instagram is a social networking platform that allows users to share their pictures and videos publicly or privately. Through this platform, users can upload pictures and videos, follow other accounts, add various filters to their images, as well as tag people in the photos they post.
Moreover, Instagram is considered one of the best social media platforms for sharing creative ideas, selling products, and offering professional services.
Here are the best social media posting schedules for Instagram to maximise your reach:
According to

Sprout Social

, the best time to post content on Instagram is when there are many online users. It usually happens in the morning, between 11 am and 1 pm on weekdays.

However, it differs from Reels. While reels can get up to 300% more engagement than the usual Instagram content, you will get more engagement if you post it on weekdays from 9 am to 12 pm.
3. Best time to post on Twitter
Twitter is a social media platform that shares and receives thoughts, ideas, and news. It also allows users to post what they are doing and where they are at the moment in their life. Users can also share images, videos, and GIFs on Twitter.
According to

SproutSocial

, the best times for tweeting are between 9 am on weekdays for B2B companies.

On the other hand, straightforward content should be posted on Twitter from

1 to 3 pm, especially on the weekends.
4. Best time to post on LinkedIn
The LinkedIn engagement has been slowly scaling as a long-time, professional, and job hiring-focused social media platform. The platform has grown into the third-largest social media platform next to Facebook and Instagram, with more than 810 million users worldwide.
Many companies and recruiters have been using the platform to meet professionals from various walks of life and invite them to join their companies. So, if you are using LinkedIn to promote your brand, the best social media posting schedule on LinkedIn depends on the type of content you are posting.
For example, if you are posting a job opportunity, you should post during the late morning hours. The best time is around 10 am to 12 pm.

However, if you want to share an article or blog post relevant to your industry, it would be best to post it during the evening hours.
5. Best time to post on Tiktok
TikTok is a social media app with more than 500 million active users. And while this app started as a place for people to share short videos of themselves, it has now become one of the most used social media platforms worldwide. Many businesses have been adapting and opening their TikTok accounts to promote their services.
Based on the study conducted by

Hootsuite

, the best time to post on TikTok to gain the best engagement is at 7 pm.
Conclusion
And that's it! These tips will help you maximize engagement and optimise your social media marketing strategy. And if you need further help managing your business, Contact Us Today! We provide one of the best social media marketing services in Australia.
Pamela is a full-time content writer and a lifelong Philomath. Her previous experience as a research analyst made her passionate about traveling the world and understanding how it works. During her day off, you can often find her indoors, writing stories or oil painting.