Social Media has become a primary need for many businesses worldwide. This platform offers a lot of opportunities and prospects just to be ignored. According to Statista, social media reached more than 3.6 billion users in 2020. It is expected to reach 4.41 billion in 2025.
Likewise, social media marketing has become a necessity for all businesses. Social media marketing, however, is not an easy job. It is not something that can be done overnight.
This digital marketing method takes a lot of patience and consistency to see the results. If you are a social media administrator, you know that it can be challenging to create content and post at the same time consistently. Not to mention interacting and replying to your customers regularly.
However, suppose you want your social media marketing strategy to be successful. In that case, you need to spend time on it every day. You need to identify your target audience and what they expect from your company. You should also have a plan of action that includes goals and objectives. The last thing you want is to be posting content without a clear idea of what you're trying to accomplish with it.
Likewise, in this article, we'll discuss how you can create an effective social media marketing plan.
What is Social Media Marketing, and Why is it important?
Social media marketing is a form of marketing that uses social media platforms to create awareness for a product or service. It is often used to promote products and services in the digital world. The idea behind social media marketing is to use the power of social networks to create awareness for a product or service.
This marketing strategy is essential because it provides a way to reach out to people interested in its products and services. It is also an effective way of promoting content on social media channels. And lastly, it enables companies to monitor what people are saying about their brand or product on social media channels.
7 Best Social Media Strategy for 2022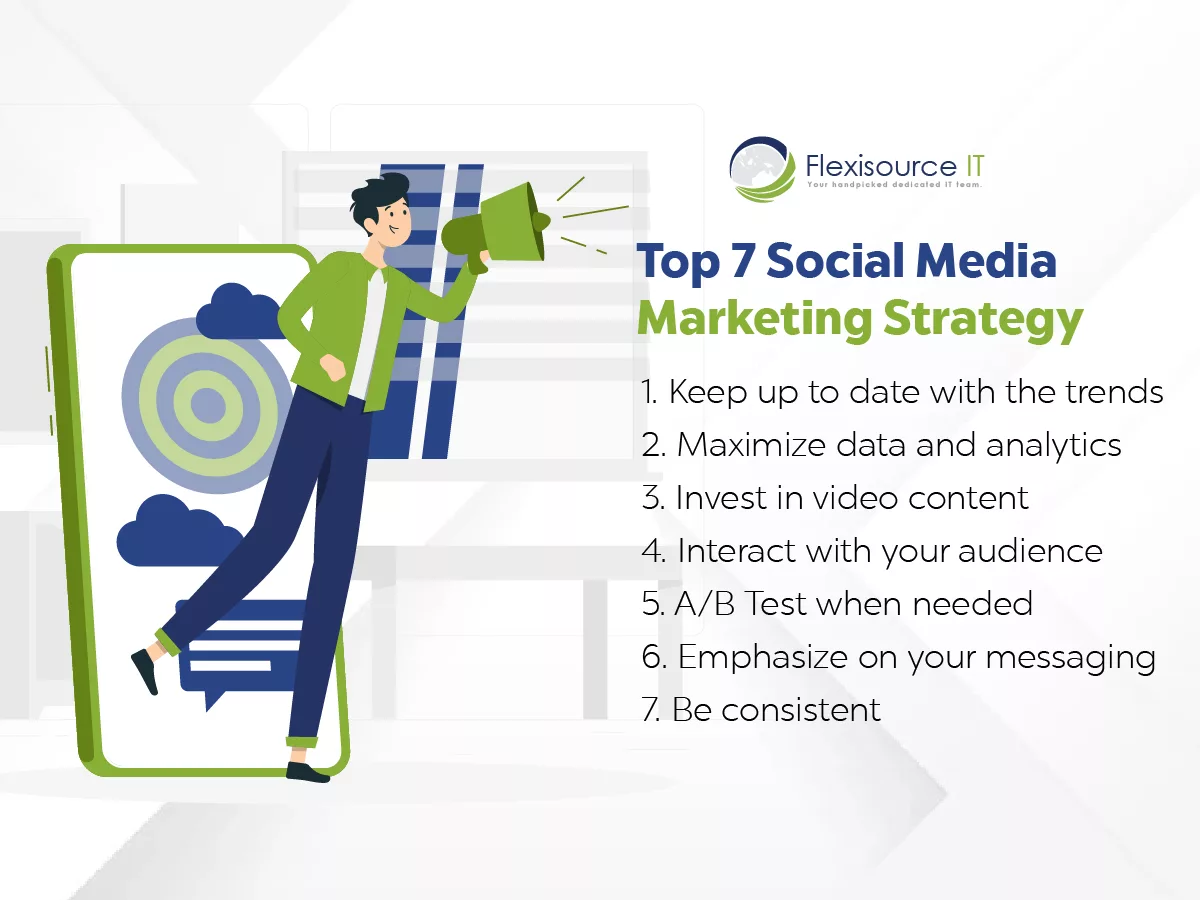 Social media is a fundamental part of any marketing strategy. With the rapid changes in social media, it can be hard to keep up with the newest trends. Here are some tips for 2022 that you should consider for your social media strategy.
1. Keep up to date with the trends
One vital social media marketing strategy that you need to include in your campaign is following and keeping up with the latest trends. Keeping up with the trends can help your company stay ahead of its competition and provide the best service to its customers.
In addition, this strategy will help you acquire more skills, learn new tools, build up a network, and become more efficient. Staying up to date with the industry trend will also help you generate more ideas that interest your target consumer.
However, with new trends coming out every day, it can be hard to keep up with new and old. Social media marketing is a comparatively new field, but different directions have been popping left and right.
The following are some tips on how to keep up with key trends in social media marketing:
Read latest social media news site
Listen to podcasts about social media
Subscribe to YouTube Channels
Watch social media marketing managers on platforms
Connect with social media marketing networks
Join several groups and forums related to social media marketing
2. Maximize data and analytics
Data and analytics are the keys to any social media marketing strategy. They provide a clear picture of what is going on and help evaluate the effectiveness of a campaign. Most social media tools, such as scheduling or advertising, offers a lot of data that can help you boost your campaign.
Moreover, these data can be used to measure how well a campaign is doing and if it needs to be tweaked or adjusted somehow. It also helps marketers understand their target audience better to create more targeted campaigns.
3. Invest in video content
One of the popular social media marketing strategies today is video content. Posting videos is becoming more widespread as it is one of the most engaging forms of content in social media networks and worldwide. A well-crafted video can go viral in a matter of minutes.
The best part about them is that you can use them to promote your products or services without being pushy or in your face about it. Simply create an informative video that educates people on the topic and then post it on social media networks where it will be seen by your target audience.
Moreover, most social media platforms allow users to post video content on their networks. You are not limited to just one social media platform for promotion. You can post your videos on Facebook, YouTube, Instagram, LinkedIn, Snapchat, and many other platforms
One popular video content recently is Instagram's Reels. It can be used as promotional material for your business or as an introduction to the company's values and culture. They're short enough to capture the attention of viewers who may not have time to watch longer videos. They can show off your company's personality and values in just a few minutes.
4. Interact with your audience
Users and visitors are the lifeblood of any business regarding social media marketing. Without them, your campaign will most likely fail. As such, you need to keep your audience engaged to keep them coming back. And one way to do it is by interacting with them.
There are many different strategies that you can use when it comes to this. One is by generating content that can surely relate to your customers. You need to get their attention and make them feel that your company understands their need.
You can use your social media account to get feedback and find out what they like and dislike about your products and services. This way, they will feel heard and treasured. You make your audience feel that their opinion matters in making your business operate.
Another way is by setting up a customer service platform on your website by opening your chats for questions or simply replying to inquiries in the comment section.
5. A/B Test when needed
A/B testing is the most common way to optimize social media marketing strategy. It is a method of comparing two versions of your design, campaign, content, or ads and determining which version performs better.
Since social media marketing campaign aims to get more visitors to your website and convert them into customers. Then, it is excellent to use A/B testing for your social media content and ads to maximize their benefits.
Remember, however, that you need to have enough traffic on your website and enough time for the results from the experiment to come back.
6. Emphasize your messaging
Social media marketing is a powerful tool for businesses to reach their target audience and convert them into leads. It is essential to emphasize its messaging and brand get the most out of social media.
The first step for a digital and social media marketing strategy is creating a content plan that will help you create a consistent message. Moreover, this will help you to attract and retain your customers.
Likewise, to emphasize your messaging in your content, ensure that your social media marketing strategy is in place, including your company's brand's goals, objectives, and messages.
7. Be consistent
Social media marketing is all about consistency. It's about being present on social media and engaging with your followers frequently. People are more likely to follow an account if they know what they can expect from them on a regular basis.
Marketers need to create strategies that are sustainable, repetitive, and predictable. Moreover, the process should be flexible enough to allow for spontaneous moments of creativity but not so loose that it becomes difficult to execute.
There are a few things that you can do to maintain consistency on social media:
Keep your posts timely using social media marketing tools
Post at similar times every day
Post about new products or services that were recently launched
Likewise, you must have a plan in place that includes your goals, target audience, and channels. In addition, it can help you stay on track and accomplish your goals.
Ready to start your 2022 Social Media Marketing Campaign?
And there you have it! We are sure that these social media marketing strategies will surely help your marketing campaign better and achieve success. Whether starting from scratch or just revisiting your campaign, it is never too late to integrate this social media marketing strategy.
And when you are ready to start your new campaign, always remember to:
Use your KPI and goals as a guide
Widen your target audiences
Use evergreen content
Make sure to hire or consult an expert when starting your campaign
And if you are looking for a team of digital experts and social media specialists, Flexisource IT can help you. Discover our social media marketing services through our website!
Pamela is a full-time content writer and a lifelong Philomath. Her previous experience as a research analyst made her passionate about traveling the world and understanding how it works. During her day off, you can often find her indoors, writing stories or oil painting.