As a business owner, it is part of your responsibilities to value your customer and their needs, including customer service, product inquiries, and technical support. These jobs, however, are very time-consuming and can be arduous to employees.
Here is where outsourcing technical support can help you. Outsourcing has been popular with a lot of companies worldwide. According to CareerOne, at least 44% of companies in Australia outsource at least one business process in their companies.
And while it's a significant percentage of companies, many companies still hesitate in outsourcing. Pausing in outsourcing is understandable as outsourcing technical support is a considerable investment. Many companies have already told a lot of outsourcing horror stories.
This article will teach you everything about outsourcing technical support and whether it's right for you.
What Is Outsourcing Technical Support?
Outsourcing technical support is not a new concept. Companies have been doing it for years because of its advantages. Basically, outsourcing technical support means relying on a third-party service provider that specializes in providing technical support or customer service. It can be done through various methods, including using an outsourced call center, hiring an in-house team, or using software that provides an automated response.
Many companies choose to outsource technical support instead of hiring an in-house team due to the various benefits. Companies outsource their tech support and save money and time because the third-party service provider has already solved customer problems. The benefits are not just limited to cost savings but also include better quality of service for customers and free up time for employees to focus on other tasks.
Here are some Outsourcing Technical Support Services you can get from a third-party company:
Hardware and software installation guide

N

etworking and configuration of devices

S

ystems monitoring for security, performance, and compliance

Inbound technical support team

or troubleshooting of issues
When should you outsource technical support?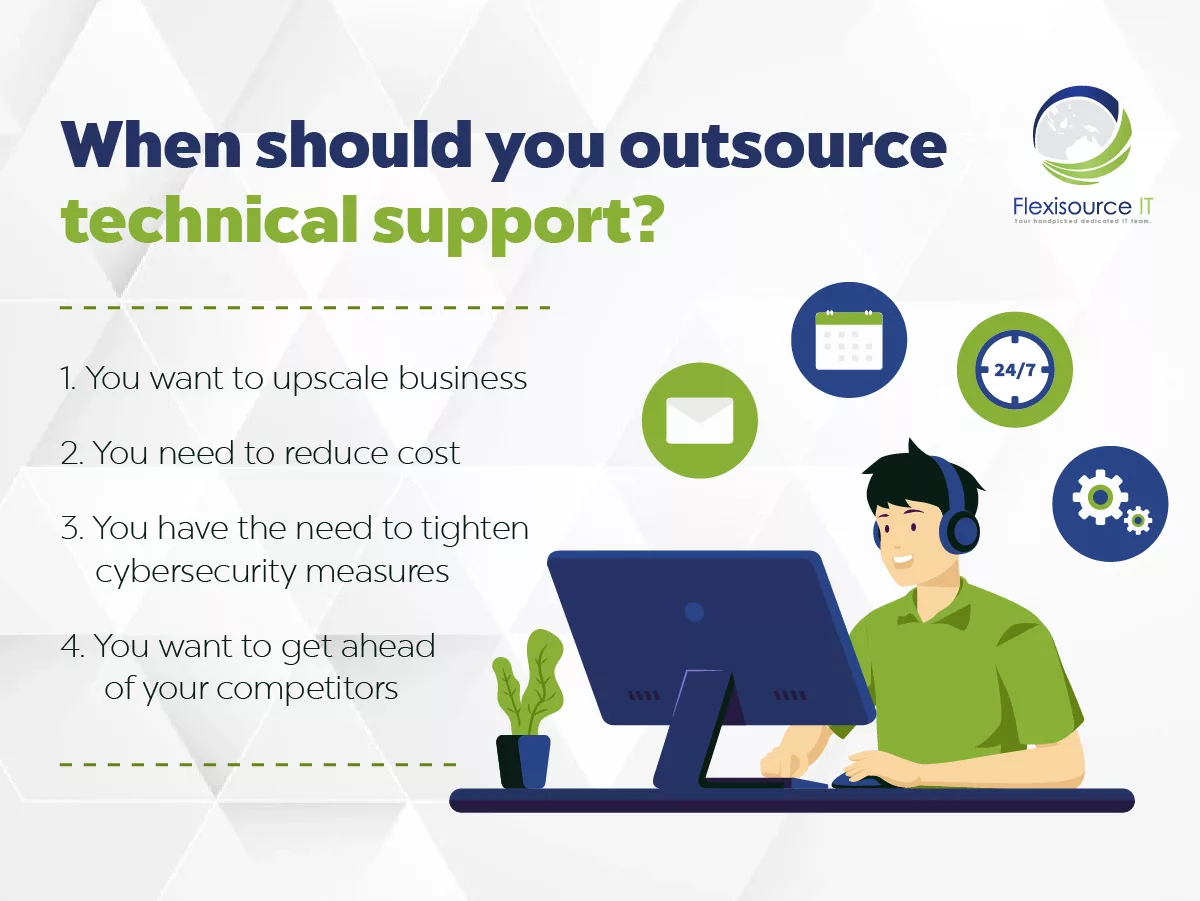 Companies outsource technical support for several reasons. Outsourcing technical support is cost-effective. So, if the company is trying to cut costs or budget, then hiring third-party technical support is a perfect choice. No need to invest in office infrastructure, software, and training. In fact, some companies have found that by outsourcing their technical support, they have been able to reduce labor costs by 70%.
Likewise, many companies have become familiar with lacking the proper skills or expertise in services they need to accommodate. By outsourcing technical support, they can get the help they need from a wide range of experts in different fields.
Third, another reason for outsourced companies is expanding their business and services. This means that employees who used to have time to accommodate technical support will most like handling other tasks. Allocating resources to solve customer issues is not something every company can do. However, it's something that a third-party company can do without any trouble at all!
What are the pros and cons of outsourcing technical support?
There are tons of advantages and disadvantages of outsourcing your technical support. It appeals to different businesses of all sizes. Below are some of the benefits of outsourcing tech support.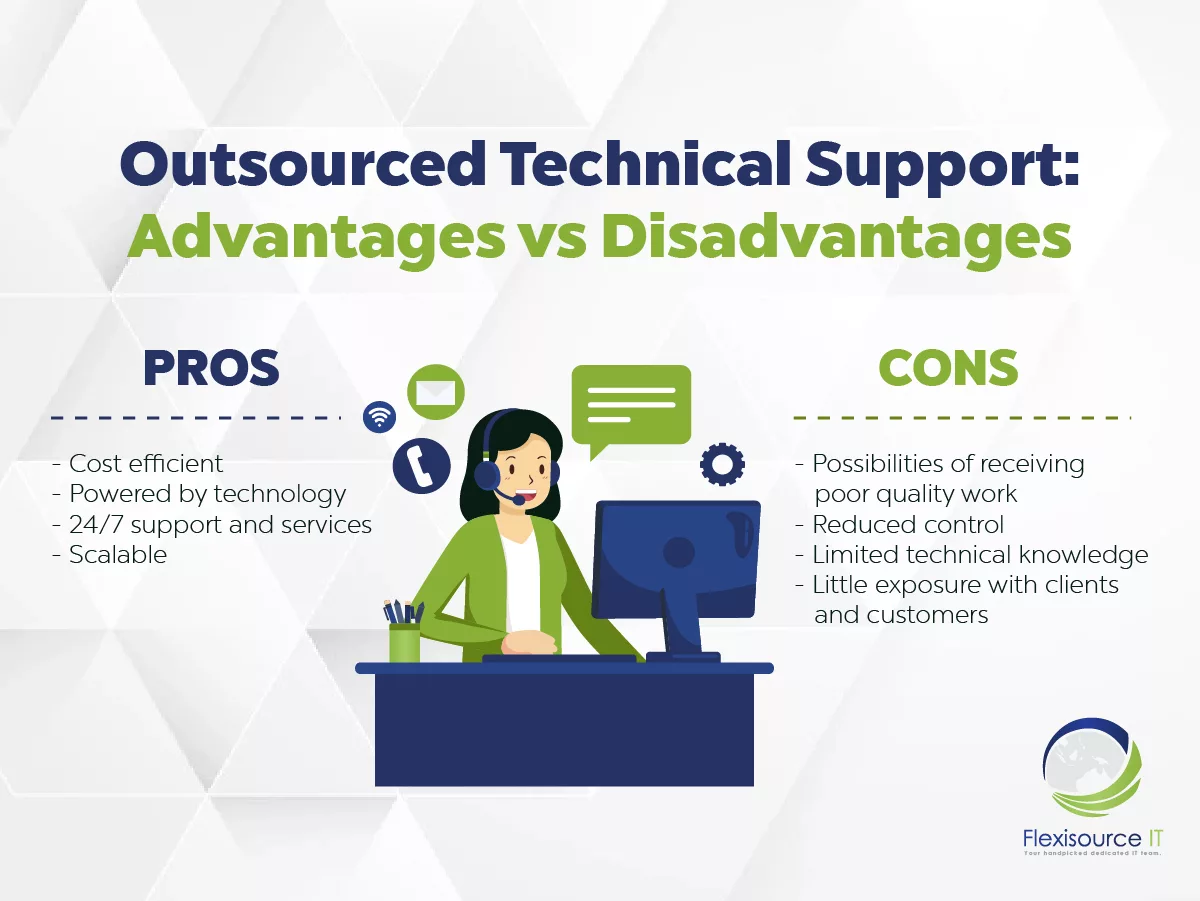 Pros of Outsourcing Technical Support
1.
Reduced Cost
An average salary of an IT Specialist in Australia can cost more than AUD 110,000. On the other hand, outsourcing tech support from the Philippines would only cost about a maximum of AUD 20,000. That's five times less than hiring an in-house technical support employee.
As such, it can help you save money and resources. You'll protect yourself from bearing this cost entirely by outsourcing your technical support.
Not only that, but outsourcing will also handle other hiring costs such as allowance, equipment, and office space. All the other expenses that come with hiring will be removed from your budget.
They also provide a more efficient way to handle customer service, which leads to increased customer satisfaction
2. Easy to Scale When Needed
Since technology is a significant player in everyone's life, the volume of customer queries and technical assistance requests will never stay the same.
So, if there is an increase in customer demand, an outsourced company can quickly scale up. Just inform your third-party company of your needs, and they will help you find the perfect person to fill up that position.
This also saves on your cost because the company only pays for the technicians when they are needed. It also scales well because when there's an increase in demand for technicians, it's much easier to hire them than if they were working in-house full time.
3. Focus on Core Business
Outsourcing technical support is an excellent way for companies to focus on their core business. Hiring a third-party company provides businesses with an opportunity to focus on their core business instead of spending time and resources on managing the support team. You can now grow your business without worrying about customer service or hiring a new employee to handle this.
Your engineers and developers can now focus on what they do best – creating new features and fixing bugs.
4. Access to the global talent that can provide 24/7 support
Outsourcing technical support is a cost-effective way to get access to global talents. For example, suppose the company is based in the United States and needs someone fluent in Mandarin. In that case, they can find someone in China and hire them as their outsourced technical support person. With the help of outsourcing agencies, you can make sure that your team is well-equipped to handle any kind of problem.
Cons Of Outsourcing Technical Support
Despite all the advantages outsourcing technical support provides, some disadvantages need to be considered, such as:
1. Quality of Service is Out of Your Hands
Outsourcing technical support can be a risky business. The company relies on the customer to know the right questions to ask and have the time to do so. The outsourced company may not have enough experience to provide quality service, or they may just be incompetent.
In-house tech support will have the chance to train and familiarize themselves with your product. This will give them the advantage of possessing more tech knowledge and dealing with customers better. On the other hand, you wouldn't have the chance to be included when onboarding new agents. Meaning, there's a limited scope to monitor and ensure how well they will deal with customers.
Don't worry, however. Most outsourcing companies are well-experienced in training new hires. Just make sure you rely upon them your expectations and requirements.
2. Reduced Control
Outsourced employees are not your employees. And in some instances, they don't directly report to you. Unlike an in-house team, you do not talk to them often and only check on their work via the outsourcing company.
Thus, if customer service falls outside the standard, this may reflect your company and create a bad brand image. Likewise, it's essential to outline your needs, guidelines, and rules when signing a contract with an outsourcing company.
3. Little to no exposure with clients
Having an outsource company to deal with customers also means a barrier between you and your customers. Unlike the in-house team, where they can directly report to you, any critical feedback from your customer might get lost in the process. This feedbacks are essential data to improve your business and operation.
So, if you are worried about feedback getting lost, having in-house tech support is probably the one for you.
Is outsourcing right for your business?
Outsourcing technical support gives your company an advantage to provide an excellent customer service reputation and help your customers access a quick and straightforward resolution across various channels. The benefits it provides are undeniable.
You can even extend to having outbound agents who can develop customer care and ensure that customers are not experiencing technical issues.
However, as mentioned earlier, outsourcing is not viable for every company. So when should you outsource technical support? If your company has a set of a typical responses to issues, outsourcing technical support might be for you. Outsourcing can help you improve efficiency and let someone handle a repetitive task.
Since most queries are expected to be generic, outsourced agents can easily handle customer issues. They will just provide the standard responses and help to customers. Issues when dealing with customers will be minimal.
On the other hand, your company should not outsource when all technical issues and challenges need individual attention or solution. Dealing with these customer issues requires specific knowledge and expertise. Thus, an in-house employee would be better at this job.
Ready to outsource your technical support?
And that's it! Outsourcing technical support is one of the many advantages of modern business. Just make sure that you research well before outsourcing any parts of your business. Make sure to outsource from a company with a good reputation and review.
And after all those hassles, we are sure that outsourcing technical support will help you breeze through customer requests and keep them happy.
Flexisource IT provides the best technical support to Australian and New Zealand companies if your company is looking to outsource. Contact us now! 
Pamela is a full-time content writer and a lifelong Philomath. Her previous experience as a research analyst made her passionate about traveling the world and understanding how it works. During her day off, you can often find her indoors, writing stories or oil painting.