In this digital age, most companies, even the small ones, use computers and the internet to run their business. Most heavily rely on their system to cater to their customers, count supplies, or promote their business. Gone were the days of manually managing everything. And that is why ensuring that your business's system is flawless is a must for every company.
That's where having an IT or development team can help you. They can manage your system, keep it updated, and prevent any error or security breach. However, as your business scales, so are these experts' tasks scale. Managing your system or network would be too hard for them to handle.
And this is where IT Support Services outsourcing can help you! IT support outsourcing can ensure that your technology is serviceable 24/7. Still, they can also help you adapt to the latest technology. Most of these providers also help you manage, backup, and save you from disasters that may come.
So if you are having second thoughts about outsourcing your IT Support needs, read on and learn why and how you can outsource your technical support services in the Philippines!
Why Outsourcing IT Support Service to the Philippines is a Smart Move for Your Business
The Philippines has been a premier choice for outsourcing IT support. And it is due to all the benefits it provides to the outsourcer and their business. Here are a few reasons why you should outsource IT support services in the country:
The country is a veteran in IT outsourcing. No need to fear the country's industry failing.

With English being an official language, Filipinos are well-equipped to handle IT Support service queries worldwide.

The cost of labor in the Philippines is much lower than in other countries. It means that you can have a team of IT Support agents who are highly trained and knowledgeable without breaking your budget.

The Philippines is constantly adapting to digitalization and technology trends.

You do not have to worry about high turnover rates or staff training costs.

The government highly supports the IT-BPO industry, even creating localised studies for call centers.
Step by Step Details of How to Outsource IT Support Service to the Philippines
As mentioned earlier, outsourcing IT Support in the Philippines provides multiple benefits, such as cutting costs and a high employee retention rate. However, it can also give you a lot of drawbacks if you mistakenly outsource your needs to the wrong company.
It would help if you found a reliable and professional IT solutions partner in the country. As such, here is a step-by-step guide to outsourcing IT support.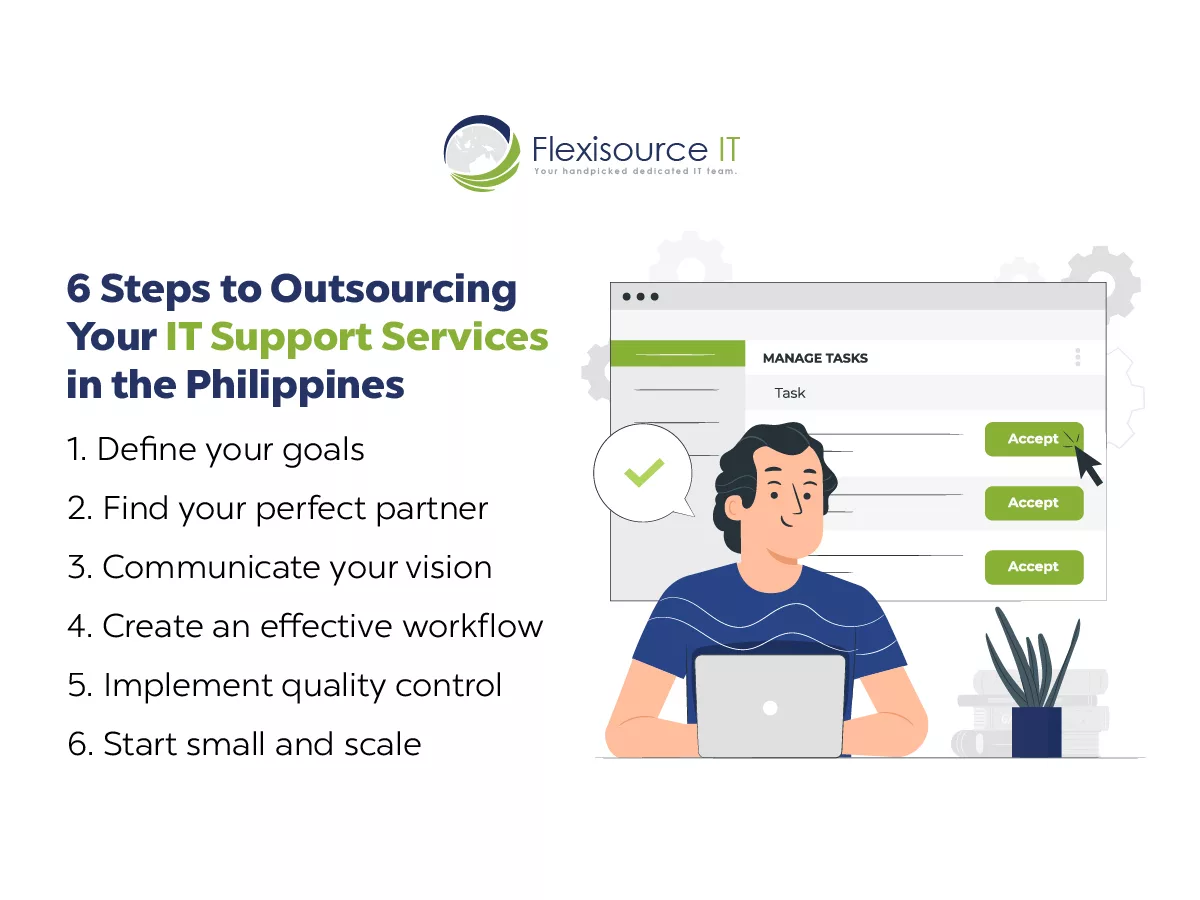 1. Define your goals and objectives
One of the most common reasons for outsourcing failure is not the goal itself but the planning and execution. Risks in outsourcing IT Support occurs when the management or the solutions provider fails to ensure that the company goals are followed.
Thus, If you are outsourcing IT Support, it is essential to define your goals before starting. It will help you find the right company and ensure that the outsourced company can provide the level of service you need.
The most imperative thing is to guarantee that your outsourced IT Support team understands your products, services, and the IT supports skills necessary to do the work. They should be able to answer questions with confidence and provide a high-quality service.
Likewise, you should also make sure that they understand how your IT Supports behave. It will help them know what they need to do to resolve any issues quickly and efficiently.
2. Find your perfect partner
The company of your choice in outsourcing IT Support contributes tremendously to the success of subcontracting a portion of your business. These third-party companies will be handling the overall of your IT support and sometimes a customer-facing matter of your business. They directly impact ensuring that your business is running, reputation, and branding.
And if you pick the wrong company, it could ruin your business overall. As such, it's crucial to find a good IT Support service provider.
There are numerous types of IT Support services, and it's essential to find the one that will best meet your needs. It would help if you always looked at your company's needs. Do you need someone to answer phone calls? Or do you need email support? What about live chat?
 It's crucial to find a service that will offer all these things and other services like online tutorials, FAQs, email marketing, etc.
3. Communicate your vision
The next step in outsourcing IT Support in communicating your vision to the freelancers. As mentioned earlier, one of the most common reasons for outsourcing is failure to execute your goals. And framing it clearly to the third-party provider is part of the problem.
If you do not communicate your vision correctly, they might tread another path, and your company is losing its vision. Sharing your vision right will help you get better results from your outsourcing experience.
The first step of communicating your vision is clearly understanding what you want from the freelancer. Provide a checklist of your needs and present to them carefully what you want to happen.
Communicating this clearly will help them do their job more efficiently and accurately. It will also make it easier for the outsourcing provider to provide feedback on how they are progressing in their work and what could be done better.
4. Create an effective workflow
The next step in outsourcing IT Support is creating an effective workflow for your team. It will allow you to manage your time and money better while still providing exceptional service for your IT Support.
You can take many distinct methodologies to manage an IT Support service team. One option is to hire an entire department of people to handle various tasks such as: answering the phone, email, and social media. Another option is to hire freelancers who will work on a project-to-project basis and can be hired by the hour or day.
5. Implement quality control
Next is quality control. When outsourcing IT Support, quality control is essential. Your organization cannot afford to let your system downtime or customer experience provide subpar results. Having a QA ensures that your company's IT system is as good as possible. It can also help you prevent any issues in the future.
Likewise, quality control entails a lot more than just quality assurance. It includes pre-sales and post-sales activities, such as inbound and outbound quality calls, to ensure that every IT Support receives excellent service.
6. Start small and scale
Outsourcing IT Support is a way of reducing the cost of hiring new staff. It is also a way to transfer the responsibility for IT Support service to another company, which may be better equipped to handle it.
When outsourcing IT support, you should start small and scale later. Start by outsourcing one or two things and gradually increasing the number of tasks you outsource as your company grows in size and experience.
How Much Does It Cost to Outsource IT Support in the Philippines?
Several influences go into decisive the cost of outsourcing IT support. Outsourcing IT Support can also depend on what type of service is being outsourced, as some types are more costly than others.
First, there's the type of IT Support service you need, ranging from phone-based IT support to email-based IT support. Second, the number of employees handling your IT Support service inquiries can go from one employee to hundreds or even thousands. Third, you're looking for a long-term contract with fixed rates or a short-term contract with hourly rates.
So, for example, suppose a company is outsourcing their IT help desk services. In that case, they can expect to pay more than if they were outsourcing superficial level 1 customer support.
Likewise, the volume or scale of the project may also affect the cost of outsourcing. It will significantly impact how much it costs to outsource IT support.
Lastly, the cost of your IT support may vary depending on where the company is located in the Philippines. Salary in the capital vs. provincial is different. For example, suppose the outsourcing company is located in the province of Laguna. In that case, it may cost less than those found in Taguig City.
Conclusion and Tips for Succeeding with an Outsourcing Strategy
It is undeniable that outsourcing IT Support can help your business grow. Outsourcing enables your company in-house time to focus on the core business that can help you expand and scale. It can likewise be a game-changer for your business.
However, You cannot make this decision of subcontracting a portion of your business overnight. You need to ensure that you have done enough research, planning, and communication with your people. And with all of these accounted for, I am sure that you'll make the best decision to outsource your IT support.
So if you are looking to outsource your IT support in the Philippines, consult with us now! We provide top-notch IT support services to companies in Australia and New Zealand. Visit our IT Support service page to learn more! 
Pamela is a full-time content writer and a lifelong Philomath. Her previous experience as a research analyst made her passionate about traveling the world and understanding how it works. During her day off, you can often find her indoors, writing stories or oil painting.