As we go further into the digital age, data science has become more relevant to usual aspects of our lives and wellbeing. It dominated almost all industries today. Data science for business became the fuel for banking, finance, manufacturing, transportation, education, hospital, eCommerce, and more.
The term "Data Science" was first used by Peter Naur in 1960 as a substitute for computer science technology. In his published magazine called "Concise Survey of Computer Methods in 1974", he defined data science as processing data.
After that, Data science has become a significant field in years. It is a vital area for evolving and improving business and has become an essential part of our life. One of the primary functions of data science is to study and structure your business data to extract more accurate insights for your company. Data Science has been relevant for years in the world. To fully understand data science, let's discuss data science and how it powers your business.
What is Data Science?
Data Science is a process of consolidating, building, constructing, organizing, and structuring datasets to analyze and extract information. It combines statistics, scientific method, artificial intelligence (AI), and data analytics that allows businesses to extract value from their data.  The data science process requires you to: 
Form hypotheses

Run experiments to gather data

Assess data's quality

Clean and streamline datasets

Organize and structure data for analysis 
What does a Data Scientist Do?
Those who specialize in structuring and analyzing data are called data scientists. Data scientists collect, assemble, and analyze large sets of structured and unstructured data and interpret the results to create an applicable plan for organizations and businesses. 
Machine Learning enables Data Scientists to extract and collect data using computers by writing algorithms in programming languages. When designed and tested correctly, the algorithm can catch trends that humans usually miss. It can also use to speed up the process of gathering and analyzing data. These techniques produce accurate results without explicit programming rules.
In Businesses, Data Science and Machine Learning can be best interpreted in Facebook algorithms and ads. Facebook uses machine learning to decide which advertisement to show to users. By studying users' data and behavior, like clicking ads, liking a post, visiting a business page, or simply searching.
Why Data Science Matters and How it Powers your Business?
Data Science for business has become a significant necessity in recent years. As the world evolved into a digital age, Data science emerged as an essential part of many businesses. Since then, it can be inevitable for an organization to be successful without the help of machines and data science. If you want to upgrade your business using data science to understand big data, here are six benefits of data science in your industry. 
Empowering Management and Officers to Make Better Decisions
Data science can turn any data collected into perceivable information and recommendations. It can guide business owners in making accurate decisions based on logical facts and figures.
Data Scientist creates models using the existing data that translated into a variety of plausible action. A company can learn which decision will bring the best outcome for the business. With the help of data scientists, organizations can improve hard-to-read data into readable data. Companies can then use these data to improve and fasten decision-making processes by measuring, recording, and tracking KPIs and other information.
In addition, with data science, companies can ensure that the staff is familiar with the organization's analytic products. Data scientists can prepare the team by demonstrating effective system use and extract insights and drivable actions. Once the staff understands the product capacities, they can further address critical business challenges and develop their products and services. 
Help Businesses Define Goals and Targets
Data Science plays a critical role in using big data and analytics to improve customer experience in all parts of business operations and strategies. With the help of the data scientist, the company can examine and explore its raw data and construct a division that will help and improve the institution's performance, engagements with customers, and profitability.  Data Science provides information about customer patterns and behaviors to help companies create vital marketing campaigns and targeted advertising to increase product sales.
For example, with data science, companies can learn what products sell best to specific demographics. This can help the company deliver the right product at the right place and time, maximizing its production and sales.
Increase business predictability
Besides creating a better business goal, data science can also help in business predictability. With Data Science, predicting demand is easier for business owners. Businesses can now expect the product they need to develop, restock, or produce. It can help companies decide what to order and how many staff they need to hire in anticipation of the business, creating a cost-effective operation and higher ROI.
The algorithms can also help businesses to improve the company's existing processes.  Data scientists can help by recommending additional methods that can continuously improve the value of the organization. Companies must have a crucial metric to calculate their success.  
Identification of Target Audiences
Customer lead and customer attrition are two things that affect businesses. Businesses need to understand the factors that either make their customer stay or leave. There are several tools online that companies can use – from Google Analytics to Customer Surveys. However, these data are useless if we cannot understand or identify factors like demographics, etc.
Data Science, for many businesses, can take existing raw data that is not useful on its own and combine it with others. By doing this, enterprises generate valuable insights that companies can use in learning about their current and potential customers.  Moreover, with Data Science, companies can use historical customer data to map out valuable customers and strategize how to prevent them from leaving.
In addition, data science can help marketing teams to understand customer experience through conversion indicators and create the best possible customer experience or campaign.
Recruiting the Right Talent for the Organization
Data Science, for business, has been actively changing the recruitment process throughout the years. With the growing demand in the job market, recruiters have difficulty weed out candidates and finding the perfect recruit for their company. Recruitment data is no joke and has been demonstrated to be challenging to analyze. The recruiter usually reads through several resumes all day, finding the candidate that matches their recruitment.
Data Science made recruitment easier by mining a vast amount of data available online. Data Scientist works their way through all available platforms and databases by placing data points to find candidates that fit the organization's needs. With data science, recruiters can even expedite data-driven aptitude tests throughout the selection.
In today's data-centric world, organizations need procedures to handle individual data for legal and ethical reasons. With the help of data science, companies can increase security for their businesses and protect critical and sensitive pieces of information.
Banks use intricate machine-learning algorithms to identify frauds compared to the user's typical financial activities.  These algorithms can catch fraud accurately and quicker than humans due to the enormous amount of daily data.
Businesses can use algorithms in any other industry to protect sensitive information through encryption. Companies need to know data privacy laws. Companies should now misuse customers' data – including credit card and bank information, social security and id numbers, contact information, address, etc. Together with human judgment, the business can ensure a higher level of security and ethical use of data. 
Is Data Science for Your Company?
Data Science is the future of many businesses. The world's leading corporates of different industries are benefiting from this technology. And with the right tools, knowledge, and resources, Data Science can help find permanent solutions for rising problems in the broader perspective across all fields.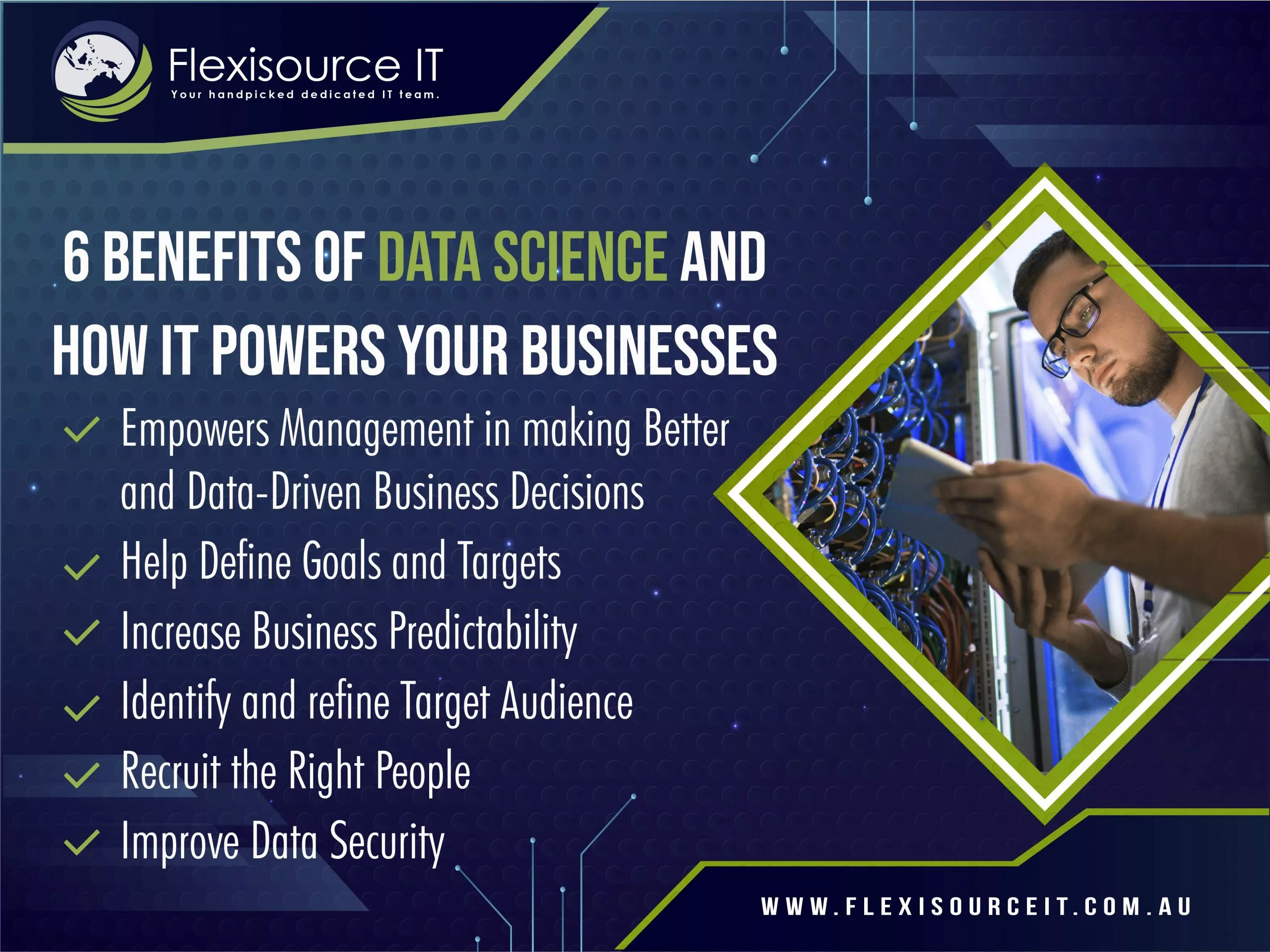 In summary, Data science for business can help utilize technology to boost your company's performance. It can add value to any business data and enable them to understand it more. Whether it is statistics, workflow insights, or hiring new candidates, Data science can help businesses analyze raw information and transform it into workable action. It can also lead businesses in making a well-informed decision that allows companies to grow strategically.
Data science trends are showing no signs of slowing down. It's not too late to implement data science throughout your business. It can add value in different ways like decision making, training, marketing, and analytics.
Are you interested in integrating Data science into your company? Flexisource IT is one of Australia's leading IT service providers to guide you in your data science and analytics journey. We can help you put your unstructured data to good use with our Data Management, Process Design and Implementation, and Data Analytics. Visit FSTI for more information.
Pamela is a full-time content writer and a lifelong Philomath. Her previous experience as a research analyst made her passionate about traveling the world and understanding how it works. During her day off, you can often find her indoors, writing stories or oil painting.