The importance of branding in any business is more than what you think and see. It's not just a logo and color. Branding is what makes a company well known to the people. When you think about a brand, you think about what the company stands for, its customer experiences, and its product.
In short, branding is how your customers perceive you. However, many organizations neglect the recognize the importance of branding. And with the massive competition in the market today, businesses must go the extra mile in ensuring that they stand out to the crowd.
Likewise, let us look at this article and learn why branding is essential in businesses today.
What is branding?
Branding is the art of creating a unique and memorable identity for a product, service, organization, or person. It's about the relationship between the consumer and the product. Likewise, Marketers can do branding by using some logos, slogans, colors, shapes, and other elements that make the brand recognizable to consumers.
A good branding strategy will differentiate your company from your competitors to appeal to consumers.
Why is branding important in business?
Branding can help companies in several aspects. Check out the importance of branding as indicated below.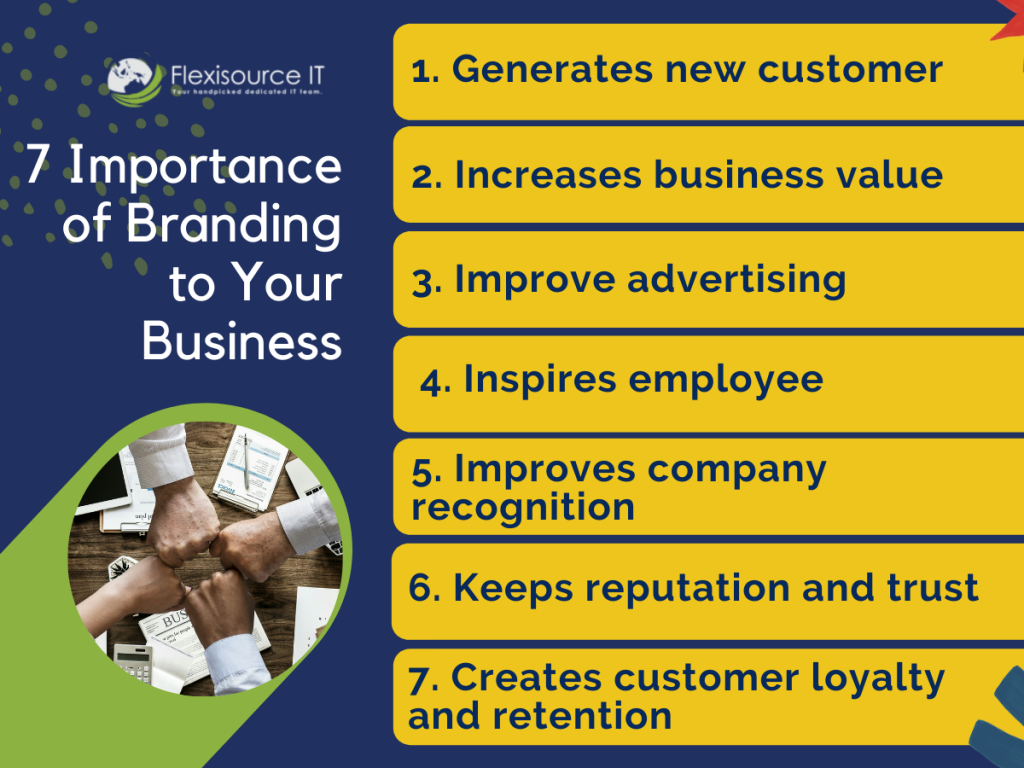 1. Generates new customers
One importance of branding in business is that it helps generate new customers. Branding creates a unique name and image for a product, service, or company. And when done appropriately, it can help develop new customers and make your company more recognizable.
Branding helps a company stand out in the marketplace. It is the key to generating new customers and offers them a sense of familiarity.
A brand is a symbol that represents the company and its products. Suppose the brand should be unique and easily recognizable. In that case, people can identify it quickly and associate it with your company's products or services. A strong brand will also help generate new customers by creating a sense of familiarity when they see it in different places like billboards, logos, or commercials.
2. Increases business value
Branding is creating a name, symbol, slogan, and other distinguishing features that identify one's products or services and differentiate them from competitors. Likewise, another importance of branding is that it provides a sense of identity to the customer and makes it easier for them to remember your company.
It has been found that brands increase the value of a business by adding an emotional attachment to the product or service. Consumers are more likely to trust a brand than an unknown entity. The more trust consumers have in a brand, the higher their willingness to buy its products or services.
And it's not just for buyers either. According to Global Banking and Finance, 82% of investors believe that brand strength and name recognition are more important in guiding their investment decisions.
3. Improve advertising
Brand awareness is a crucial factor in advertising. Likewise, branding is vital to a company's success in advertising because it can help sell its product and make them recognizable.
Brands sell products, and they are what make a company recognizable. To be successful in advertising, you must have a strong brand identity. For example, if people know about the brand, they are more likely to buy it. Business owners can achieve this awareness through different methods such as advertising or word-of-mouth communication.
4. Inspires employee
As mentioned earlier, branding aims to create a name and image for the company that will distinguish it from its competitors and makes it desirable to potential customers.
It is similar to employees and potential candidates. When a brand has a good reputation, it attracts well-informed and enthusiastic candidates to your job posting.
Likewise, good branding can give employees a sense of purpose and pride in their company. It provides them a competitive advantage in their career, having a reputable employer brand to work from. In addition, branding can help create strong company culture.
5. Improves company recognition
Another importance of branding is that it helps in increasing customer loyalty and recognition. A strong brand can be precious for any company, as it will improve their honor from their customers.
Branding is not just logos and slogans. It involves all aspects of a company's communications with its customers: packaging, advertising, signage, customer service, employee uniforms, etc. This is an essential part of any company's marketing strategy.
6. Keeps reputation and trust
One more importance of branding is that it helps companies maintain their reputation and build trust with their customers. It can make a company stand out from its competitors and create a memorable image.
Companies can use branding to build trust by showing their authentic values. They can also boost brand confidence and trust by delivering their stated benefits and products and staying true to their mission and core values.
7. Creates customer loyalty and retention
Branding creates loyal customers by making them feel like part of something. In fact, according to Invesp, 59% of shoppers prefer to buy new products from the brands they trust. It makes them feel like they belong in the company and that they are doing something meaningful.
Similarly, a brand is a promise, and it is essential to keep this promise as much as possible. This means that the company needs to provide good customer service, be transparent about its practices, and have a strong product or service.
How to start your company branding?
There are many ways to position your brand and establish a company's position in the market relative to its competitors. Here are some branding guides to start with.
1. Pick your company's focus and personality
The first step to start your branding is to identify the focus of your company.
It can be anything from a niche, product, or service. It will help you define your company's personality and decide what kind of target audience you want to reach out to.
After deciding on the focus, you need to pick the right color palette for your branding. A color palette should be cohesive, and it should reflect the personality of your brand. Remember that colors are powerful tools, and they can trigger different emotions in people.
2. Find Your Target Audience
The next step to building a successful brand is to find your target audience. There are many ways to do this, but understanding what they want and need is the most effective way. You can identify their needs and wants and their values, beliefs, and attitudes.
Additionally, you can find your target audience by determining their lifestyle. For example, suppose you have a product for mothers with young children. In that case, you want to know what activities they participate in regularly or what they usually watch on the TV. Think about their interest. Understanding your target audience will help you know your focus on branding.
3. Build a strong connection with your consumers
One of them is to build a solid emotional connection with customers.
It is done by telling stories about your business and creating an emotional connection with your customers. Furthermore, building a solid dynamic relationship with customers will help you differentiate yourself from competitors and make it easier to stand out.
4. Launch your digital marketing campaign
Digital marketing and branding are not two different things. They are two sides of the same coin. Digital marketing is how you can promote your brand and make it more visible to your target audience.
The first step in launching a digital marketing campaign is to set up the goals you want to achieve. These goals should be measurable and realistic. Furthermore, you should also decide on your campaign budget before setting up your campaign.
Next, remember your target audience and decide on the best channels for reaching them. For example, if you target millennials, you will want to use social media channels like Facebook, Instagram, or Snapchat. They spend most of their time online. Once you have identified these channels, it's time to create content for them, including videos, images, infographics, etc.
Ready to launch your digital marketing campaign?
If you are looking for a company to help you with your branding and branding needs, Contact Flexisource IT! We provide excellent and extraordinary branding, digital marketing, and graphic design services. Visit our digital marketing services to learn more. 
Pamela is a full-time content writer and a lifelong Philomath. Her previous experience as a research analyst made her passionate about traveling the world and understanding how it works. During her day off, you can often find her indoors, writing stories or oil painting.