If you will develop your own website or application, then outsourcing probably has crossed your mind. It is a great way to save money and help you achieve a great quality product in just a short amount of time.
However, choosing an outsourcing company can be difficult. For starters, you need to consider particular elements when finding the right company. You need to factor out critical parts, including the price, the service, reputation, and even the country and location of the company. You need to make sure that their time zone perfectly fits yours and that they are easy to work with.
So, if you are a company looking to outsource your software development, then read on as we list down the top 10 countries to outsource your software development to:
Why outsource your software development?
Outsourcing is an excellent option for most businesses to develop new tools, websites, and digital transformation. It is affordable and can also provide high-quality products that are highly scalable and transformable.
Still, if that does not convince you, here are some key advantages of outsourcing your software development needs to another country:
1. Lowered Development Cost
According to Medium, hiring an outsourcing developer can help a company reduce its development cost by 60% without losing its quality. This lowered cost is attributed to different factors such as salary, recruitment, H.R., and infrastructure cost.
When outsourcing your developer, you do not need to pay for things like employee benefits, paid time off, equipment, office space, infrastructure, and others. The outsourcing company will have to deal with these aspects.
Moreover, when you outsource software development to other countries, salaries are more likely to cost lower than in your country.
2. Gain access to a world-class pool of talents
Software developers and engineers are one of the majors in demand and scarce professions in Australia. According to the Royal Melbourne Institute of Technology, between 2018 and 2019, there were about 37,761 Job posts related to computer scient, software engineering, etc. However, according to the Australian Government Job Outlook Data, there are only about 30,600 software engineers in the country. These projections and comparisons can mean few available software developers to other companies.
However, by outsourcing, you can have access to a global pool of experts with various experiences and qualities. Outsourcing companies can bring the best talent that is right for your business anytime, anywhere. They don't even have to be in the same country as yours.
3. Speed up time to market
In a competitive market and industry, time is critical. You always need to get ahead of the competition and release new great features to your customers. You do not have time to idle.
As such, outsourcing your software development will give you time and opportunity to focus on developing and creating new features for your software. While the outsourcing team handles all the issues and performance tasks, your primary team can focus more on the core tasks in improving your product.
4. Time Zone Benefits
Time zone differences should not always be connotated as a negative thing. For many businesses, it means having around-the-clock service. By hiring an outsourcing software company opposite your time zone, you can have a team that will handle issues or bugs that may arise during off-hours in your country.
5. Flexibility and scalability
A sudden need to create a feature not in the original plan is inevitable when developing software. It can impact the project process, affect expected deliverables, or cost the company extra resources.
However, this is not the case with outsourcing. The third-party company can also scale their team anytime and develop your software needs.
Top 10 Countries to Outsource Your Software Development?
You are probably looking for a company to outsource your software development with all the above benefits. However, choosing an I.T. outsourcing company should not solely be based on the company and its reviews. You also need to consider the location, culture, and language. Likewise, we have listed the top outsourcing countries in 2022: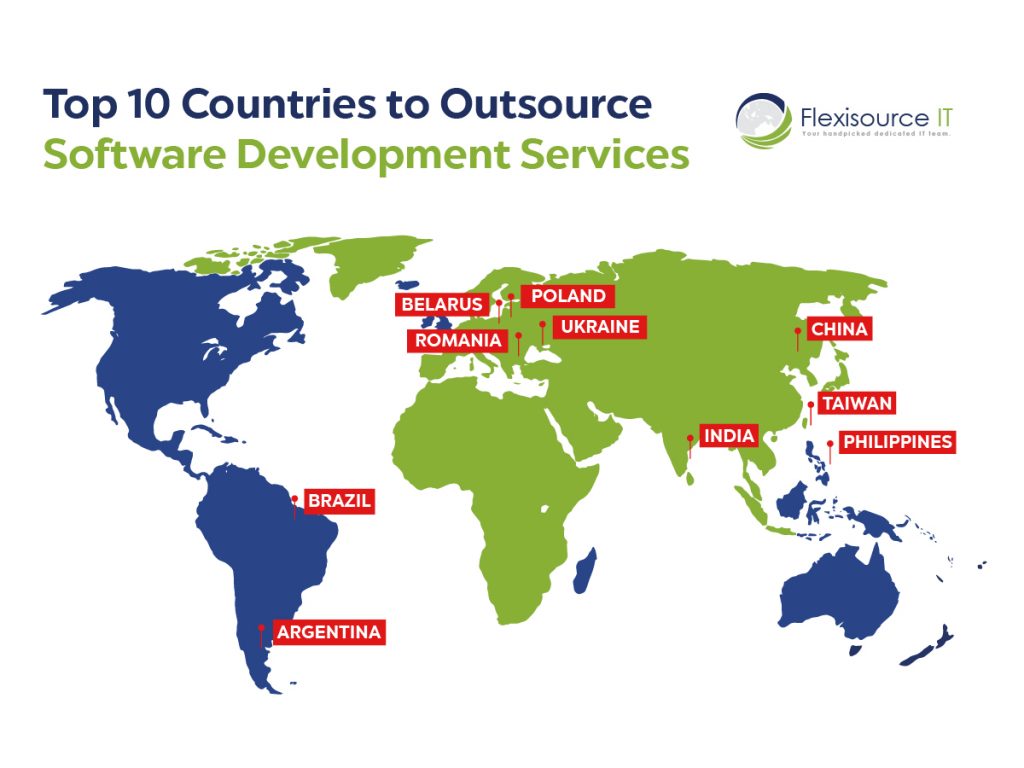 1. The Philippines
The Philippines has been one of the most significant popular countries to outsource software development. It offers several benefits such as lowered cost, excellent I.T. and software education, and a very competitive market.
According to the Philippine Board of Investments, in 2016, there were about 200,000 IT and software experts in the country. And it has developed one of the most distinguished careers in the country.
Benefits of IT Outsourcing in the Philippines:
Lower cost – According to Upwork, software developers in the Philippines can cost an average of $15 to $35 an hour
Neutral English Language – English is the countries second official language. Most professionals in the land use English daily.
Cultural Influence – The Philippines shares similar cultures to most countries such as Spain, the U.S., and other Southeast Asian Countries.
Strong Government Regulations – The BPO industry is one of the top economic pillars in the country. As a result, the government recognizes its potential and facilitates its growth. Tech courses are even included in public schools and training centers.
2. India
When outsourcing software development, India probably has come to your mind. It is one of the top chosen countries to outsource software development by many companies. It offers 24/7 services to various countries with the latest technology. In addition, it is projected to have the highest number of software developers by 2023 and 2024.
Benefits of IT Outsourcing in India:
Extremely cheap – In comparison to other countries, you can hire a developer for about $19 to $40 an hour.
Extensive expertise – The country's government also continuously improves their I.T. experts through education and training.
Access to a large pool of talent – Top talents in software development are available in India. They have engineers that are knowledgeable and experienced in machine learning, JavaScript, .Net, UI/UX Development, and more.
Latest Technology – The country's I.T. sector is ahead of the market and invests in the newest technology to serve better.
3. Ukraine
Ukraine is one of the top-performing countries to outsource software development globally. The country has multiple I.T. outsourcing regions that have dominated the outsourcing industry globally. It has gained a reputation throughout the years for a variety of reasons such as
Benefits of Outsourcing in Ukraine:
Good cultural fit – Most Ukrainians share several customs with European countries. In addition, 80% of the I.T. community also communicates with English very well.
Great location and time zone – Ukraine's time zone overlaps or is partly close with major European countries.
Ukrainian governments are investing in the future of I.T. education in the country.
4. Poland
Poland is one of the top-ranked countries to outsource software development globally. The country has ranked 37th on the World Economic Forum Global Competitiveness Report. And the I.T. outsourcing market has approximately reached 2,311.7 million U.S. Dollars by 2021.
Poland's I.T. experts are highly proficient in Quality assurance and most programming languages such as PHP, .Net, and Java.
Benefits of Outsourcing in Poland:
Dynamically Growing IT Market – The country's government supports the I.T. businesses. The industry has been rising exponentially in recent years. It is projected for the sector to reach 3.5% in 2021.
U.S. and E.U. standard in Data Security – The country abides with the same data protection legislation as Western European countries and seriously takes data security.
Part of European Union – If your company is located in one of the E.U. member states, outsourcing in Poland minimizes the paperwork needed and costs
5. Romania
Alongside other eastern European countries, Romania has become one of the finest countries to outsource software development in 2022. The country's I.T. industry is actively growing by 14.3% this year and is expected to double in 2025. The education system is also improving and will produce thousands of new software developers every year.
Benefits of Outsourcing in Romania:
Low cost – According to Upwork, the cost rate to outsource a software developer in Romania is up to $25 to $49 per hour.
Growing I.T. industry – The country's I.T. industry is growing. Major IT companies are now investing in the country, such as Microsoft, IBM, Apple, and more.
Compatible Time Zones – Romania is geographically located close to European Countries. Their time zone is excellent for both U.S. and western Europe.
6. China
Together with India, China is one of the best countries to outsource software development globally. It is home to the fastest-growing I.T. companies, and the country produces as many as 4.7 million tech graduates yearly. The government is continuously innovating new trends and technology in the digital scene and has contributed to creating top apps used by the world, such as TikTok. PubG, and Wechat.
Benefits of Outsourcing in China:
Very cheap labor cost – Offshore software development in China is relatively low and is estimated to range from $27 000 to $52,000 yearly
Large talent pool – China is home to more than 7 million software developers, data scientists, and A.I. creators. The country can supply any tech specialists you need in your company.
7. Taiwan
Considered one of the four Asian Tigers, Taiwan is one of the most potent and equipped countries to outsource software development. Its capital is ranked as one of the top 50 super cities for team outsourcing solutions and digital innovations worldwide.
Benefits of Outsourcing in Taiwan:
High Tech Work Force – The country has a literacy rate of 98%, with at least 45% of the population holding a university degree. It also produces at least 10,000 IT and computer science graduates yearly.
Government Supports – Taiwanese government fully supports business outsourcing through funding companies, good immigration, and business-friendly fintech regulations. The government has also developed an Open Data Initiative that supports transparent digital governance and is the epicenter for A.I. and IoT development.
8. Belarus
Together with Ukraine and Romania, Belarus is considered one of the top software exporting countries in the world. Belarus has significantly increased its support in technology and I.T. services. Today, the government is steadily growing and is now serving countries worldwide.
Benefits of Outsourcing in Belarus:
Affordable workforce – According to Upwork, software developers' rates in Belarus vary from $20 to $60 per hour.
Home to vast talent pool – Belarus produces thousands of I.T. professionals yearly with its government's efforts in improving education
Close time zones with other countries – If you are located in Europe and are worried about hiring a company with different time zones, then Belarus is for you. The government is in Eastern Europe, just a few hours apart from the west.
9. Brazil
Like its South American counterparts, Brazil is no stranger to countries outsourcing software development. In 2021, the country was 5th place in the Kearney Global Service Location Index. This ranking tracks the capacity of a country to deliver high-quality outsourcing services.  
However, this is not surprising since the Brazilian government has been supporting the BPO industry and even provided tax breaks to entice call center investors. It has long since boosted the country's economy and the country's quality of life.
Benefits of Outsourcing in Brazil:
Proximity to American Countries – Brazil is located closer to U.S. and Canada. Both countries prefer to outsource I.T. services in Brazil for easy access, same time zone, and cultural similarities.
Price is better than those in North America – Despite having a higher rate than other countries, $25 to $80 per hour, outsourcing I.T. operations in Brazil is still comparatively low.
Skilled professionals – The University of Sao Paulo ranked 3rd in the Best Global University in Latin America. So far, the country has been producing a lot of developers yearly
10. Argentina
Like Brazil, Argentina is also an attractive outsourcing destination to U.S. and Canada due to its proximity and similar time zone. It has attracted numerous international companies such as Motorola, Accenture, Hewlett, Oracle, etc.
In addition, most I.T. experts in Argentina are well versed in Software Development and Cloud Computing.
Benefits of Outsourcing in Brazil:
Top Ranked in Tech Education – Argentina has prioritized its education for the past decade. It has ranked #1 in Latin America in the Q.S. World University Rankings 2022, beating Brazil and Mexico.
English Speaking Workforce – Although the country's official language is Spanish, many of its workforces are multilingual and are great English Speakers
Developed I.T. Infrastructure – The country boasts high-speed internet and robust tech tools. 
Conclusion
Suppose you are one of the countries that outsource the most. In that case, you should consider these Top 10 countries to outsource your software developer. Just make sure that most of the benefits it provides are the right ones for your needs.
Also, if you are looking to outsource your development in the Philippines, Flexisource IT can help you. We provide top-notch I.T. and Digital Marketing Services to companies in Australia. Visit your I.T. services page to learn more!
Pamela is a full-time content writer and a lifelong Philomath. Her previous experience as a research analyst made her passionate about traveling the world and understanding how it works. During her day off, you can often find her indoors, writing stories or oil painting.