Trends, by nature, have changed over the years. Many businesses try to keep up with the trends to build credibility and value and show their consumers that they are essential. Likewise, companies need to keep up with new digital marketing trends as they might be worthwhile.
Similarly, multiple copywriting trends have been popping up for a while. These trends can help marketers produce high-quality copies that appeal to their current characters and prospects. As such, this article has rounded 12 copywriting tips for 2021.
What is Copywriting?
Copywriting in 2021 is one of the most critical elements in marketing and advertising. It is ever-changing, and that's why it's one of the most outsourced services worldwide.
 Copywriting is a form of writing content for the purpose of advertising or marketing. Usually, it is used in an ad copy or sales copy to promote or introduce a product to the market.
One critical benefit of copywriting is that it helps marketers get their consumers to take action after reading or hearing them. Copywriting is like a call to action but on a bigger scale. Unlike your typical call-to-action (sign up now to contact us), it makes the readers feel, thinks, and respond.
Copywriting Tips for Beginner Copy Writers
Customers want to be treated as individuals by companies that they interact with and support. As such, the typical one fits all generic advertising does not work. Customized copy that is made to appeal to a specific type of consumer rather than the whole population is more effective.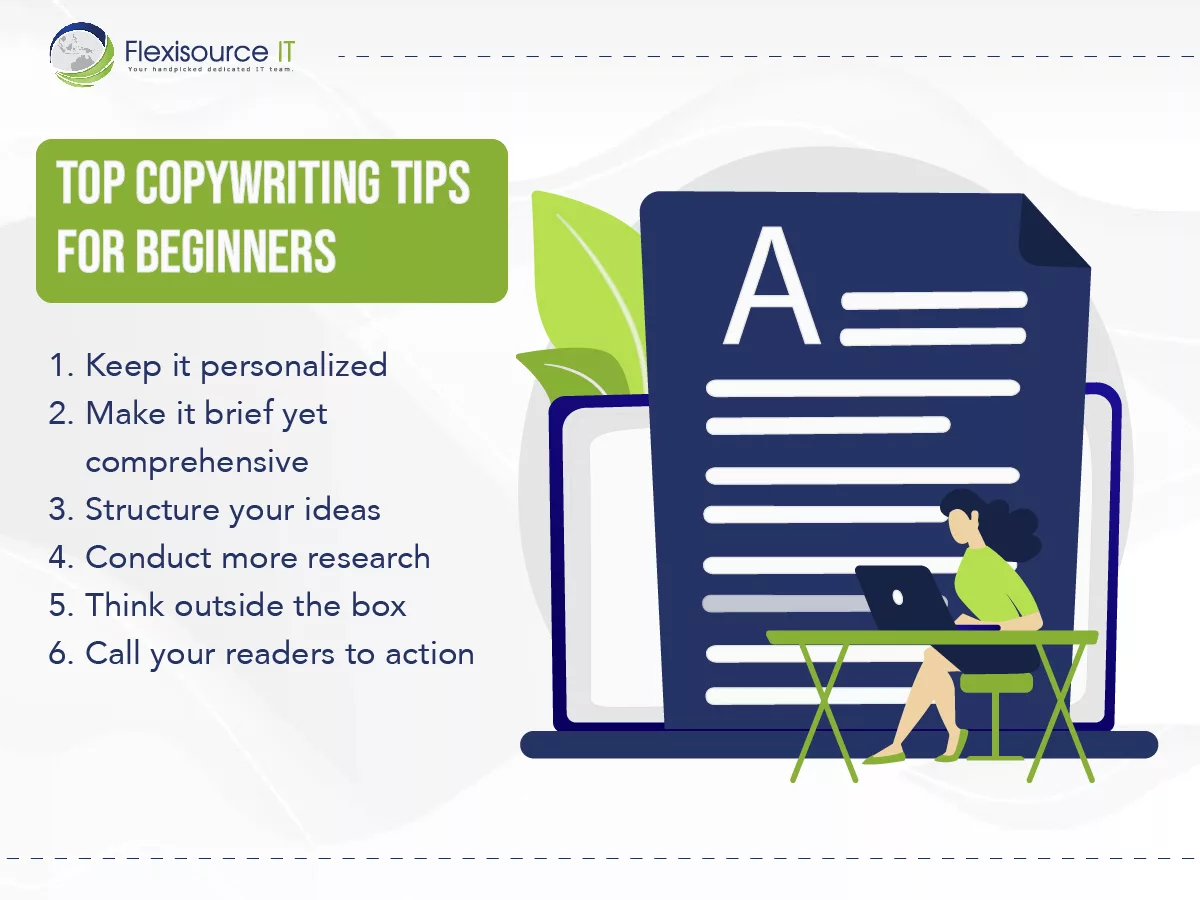 Despite this, personalized copies are still used less. Most large companies still utilize generalized copies in their marketing strategies. As such, here are some tips that content marketers can use to make copies more attractive and memorable to your target market.
1. Keep it personalized
Personalized doesn't mean including a client's name or creating a copy for a specific person. It means understanding your audiences. Content marketers need to interact with their customers. Learn from their interaction and what they are interested in.
Personalized means establishing a relationship and relating to them on a personal basis. Then, your prospects or clients will likely read your copy more as it looks like you understand their needs.
2. Make it brief yet comprehensive
As much as you want to educate your readers, it's essential to not bombard your copy with blocks of text. Try to keep your writing short and simple, but not that you lose important information. Aspire to conciseness and don't leave out crucial data that your reader might need or take action from.
You might also want to add a few pictures or infographics to break the content.
3. Structure your ideas
All contents need to have a structure. It will help make the copy logical and meaningful. Thus before writing, try to strategize your content and create an outline. Establish a hierarchy of the information presented. It can help influence your copy and to emphasize vital points of the content.
In addition, unstructured content might confuse your reader. As such, they will likely leave your website and no comeback.
4. Conduct more research
Research is probably the most essential part of copywriting. You need to create content that is informational and sells best. When copywriting, your main objective is to provide information enough to captivate the reader's interest. The next step is to invite them to your website or products with an inviting CTA.
As such, jamming your content with jargon is not a great idea as readers might lose interest. Similarly, adding irrelevant content or fluff to your content might push readers away. So the primary goal of copywriting is to provide enough information to invite readers to avail of your services.
Well researched content can help decrease the bounce rate, and It is a great way to increase traffic and your website's ranking.
5. Think outside the box
Copy also needs to be creative to capture your audiences' interest. Copy marketers need to think outside the box and deliver content that is in trend. However, make sure that you do not write outside of your objective! Make sure that it still includes your target audiences' interests. Make it relevant to your readers while incorporating creativity.
6. Call your readers to action
Another necessary copy is the CTA. It's not just enough to catch your reader's attention. You also need to lure them to your website or to avail your product. You can use CTAs to persuade readers to purchase your product, learn more about your services, participate in a discussion, or sign up as subscribers.
Top 10 Copywriting Trends in 2021
Now that you are ready to make your copy, it's excellent to incorporate different trends in copywriting. There are tons of copywriting trends in the content marketing industry like blogging, podcast, etc. Some of these, however, might already be outdated.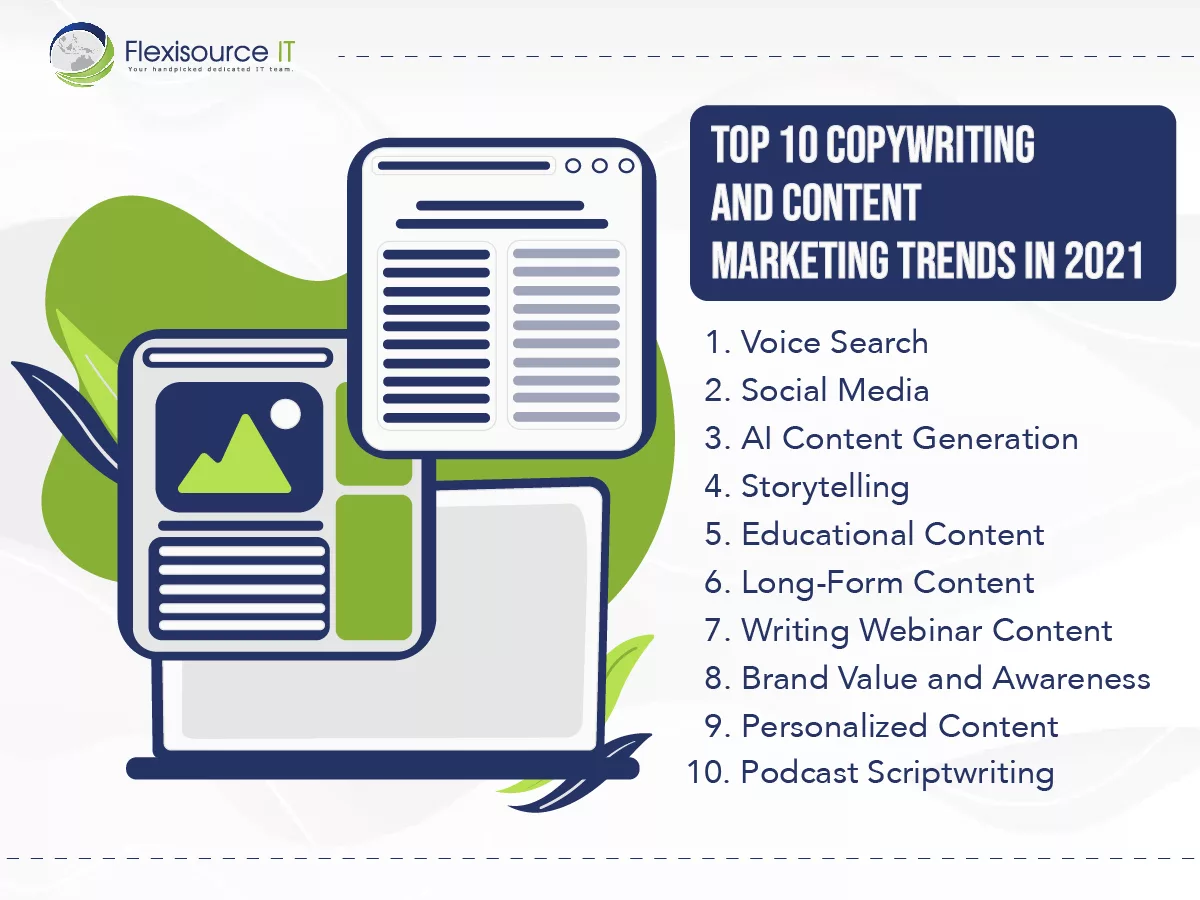 As such, we have compiled 10 Copywriting and Content Marketing Trends for 2021.
1. Voice search and keyword research
Voice search is a growing tech trend everywhere. It's faster, convenient, and accessible even to persons with disabilities to get answers from search engines. A lot of devices already include voice search tools such as Apple's "Siri, Microsofts' "Cortana," or Amazon's "Alexa." According to Google, 27% of the online global population is using voice search on mobile.
As such, most SEO copywriters make sure that their keyword is aligned with voice search. Online marketing specialists believe that utilizing the power of voice search in copywriting also streamlines your SEO strategies and keywords. As such, incorporating voice search into your copywriting is vast potential and colossal gamechanger in attaining organic traffic.
2. Social Media
A lot of popular platforms come and go. Nevertheless, social media has been with us for years. It has remained relevant for the past year. Everyone has their social media accounts such as Facebook, Twitter, Linked In, and Instagram.
Similarly, they also have been an excellent platform for digital marketers to advertise and invite people. Copywriting for Social Media in 2021 is crucial for all copywriters. It allows them to keep up to date with different trends and reach their audiences.
Each platform also has different preferences and audiences. As such, doing extensive research is necessary for social media. For example, Instagram consists of creative-centered users. As such, when writing content on Instagram, you need to make it short and unique. On Twitter, most contents are casual and conversational. As such, your copy should be succinct and modern. LinkedIn, on the other hand, is a professional platform. Use a more formal tone in your copy on this platform.
Still, these are social media. So it's essential to keep your paragraphs short and concise. Get to the point but maintain a friendly and fun tone.
3. AI content generation
The use of Artificial Intelligence is a rapidly growing trend in this decade. According to Semrush, 86% of CEOs say that AI is already integrated technology in their office. Likewise, some booming copywriting AIs generates writing using natural language processing tool. Big companies like JPMorgan Chase uses AI Copywriting tools for general ad copies and CTA.
AI Copywriting is used for a lot of reasons. It saves time and increases productivity among employees. It keeps the user time by generating both long content or short copy. In addition, the content is easy to edit and ready to be used on blogs, websites, emails, or social media.
This alleviates the pressure that many copywriters endure regularly. It also saves them from having writer's block. As such, we should try to change our mentality of AI replacing humans. Instead, we should consider them as a companion that helps us in minimizing our tasks.
4. Podcast scriptwriting
A podcast is another trend that has been booming in this decade. According to Statista, 57% of US consumers listen to podcasts in 2021, with 49% consuming between 3 hours to 10 hours of podcasts weekly. The podcast industry is relatively young and is showing a growing trend in the following years.
With this in mind, Digital Marketers can use podcasting as an avenue to advertise and promote their product. Like video content, podcasts also need a script. Copywriter needs to create a range that can connect with their audiences.
When used as a digital platform, podcasts rely on the copywriter's creativity, uniqueness, and persuasive writing skills to ensure that their targets are heard literally and figuratively. And as a copywriter, you might want to refine their scriptwriting skills
5. Storytelling
Most website today uses informative and educational content on their websites and ad copy. At times, however, readers want to learn more about you or your personal experiences. Many consumers more likely support a company that they can relate to on a personal level or someone that they think can understand them.
Likewise, storytelling, case studies, and testimonials are excellent Content marketing strategies for your website. You can share a personal story on your about us page, customer testimony, or newsletter. It is a great way to create unique content and share reliability.
6. Educational content
For some businesses with a specific niche like IT or Health, educational content is a great way to invite readers to visit your website. Most readers would like to learn more about the latest tech trends or diseases that we need to avoid. And as an expert in this field, it is an excellent venue to inform them about the latest trends in your industry, business, and services.
Education content can be in the form of articles, blogs, infographics, statistics, or tips. Show your audience that you are an expert in your industry, and you can learn more about the latest trends in the world.
7. Long-form content
Although many writers argue on long-form length, it is still one of the most used copywriting trends in 2021. Long-form content is an excellent avenue for content marketers to create a piece that is jammed with keywords. It's a beautiful way for a website to rank on search engines and increase traffics to your site.
Likewise, long-form content is not just rewarding for SEO but also for the readers. A lot of readies crave meatier, knowledge-packed articles. It educates them on information about their interest. And with the right long-form content, readers will likely feel engaged, enticed, and entertained.
8. Writing webinar content
Like podcasts, webinars are also becoming a rising trend in the digital marketing arena. Conducting webinars has shown to provide tons of lead generation and customers to the business. However, operating a webinar is not easy. It requires a lot of research and content written before the webinar day.
Not only it requires a script, but also presentation and promotional content such as ad copy. As such, writing webinar content is excellent for copywriters to expand their skills. In addition, it's also a perfect venue for businesses to introduce their brands by sponsoring webinars.
9. Brand value and awareness
Building awareness, reputation, and value of your brand are imperative in the 2021 digital marketing arena. Online competition is substantial in any industry. And in today's digital age, it is harder to target your market if your brand is not well-known. As such, companies to keep ahead in building their online presence to ensure survival.
Likewise, a business needs to establish its content marketing strategy. Copywriter needs to create trending, humourous, and cheerful copies to align with current and potential customers. In addition, being aware of the current issues and social norms can help you stand out from the crowd. It will highlight your brand as someone who cares. It will help your brand scream trust, acceptance, and authenticity.
10.  Personalized content
A growing number of digital marketers are now using personalized content or user-generated content (UGC) in their copywriting blogs in 2021. Consumers worldwide are becoming more trusting of opinions and reviews of other consumers. And what's the best way to show that you are listening is by creating a UGC.
As a copywriter, you need to give what your audiences want.
Content and Copywriting Trends: Conclusion
These are just a few copywriting trends that are relevant in 2021. While some have been used for years, they are still relevant and can give you good stead in your copywriting game. Still, it is important to make strong and relevant content for your readers, no matter your business.
If you need to help with your copywriting, Flexisource IT offers excellent copywriting skills, perfect for any industry. Visit our digital marketing services today!
Pamela is a full-time content writer and a lifelong Philomath. Her previous experience as a research analyst made her passionate about traveling the world and understanding how it works. During her day off, you can often find her indoors, writing stories or oil painting.