Today, every business with a website must be familiar with Search Engine Optimisation. It increases your web traffic, makes your company look authoritative and renowned, and provides more conversions and revenue.
However, many people think SEO is too complicated and not worth the effort. And that is not true. As long as you know SEO basics, you will undoubtedly help you succeed in optimising your website. It just requires effort and planning.
To help you with that, here are our SEO Cheat Sheet and 13 beginner tips on Search engine optimization.
What is Search Engine Optimisation (SEO)?
Search engine optimisation or SEO is the process of affecting the visibility of a website or a web page in a search engine's unpaid results—often referred to as "natural," "organic," or "earned" results. It is an umbrella term for the technical and creative processes used to make a website appealing to search engines.
SEO may target different kinds of search, including image search, local search, video search, academic research, and news searches. Similarly, it can include the technical and creative components of designing, coding, and submitting websites to rank higher on search engine results pages (SERPs).
The main goal of SEO is to ensure that each page is as relevant as possible to specific keywords or phrases.
13 SEO Tips for Beginners
SEO is a powerful tool today that, when properly used, can make your organisation more viable and popular on the internet and produce more sales or conversions. It is an integral part of companies' digital strategy. Many businesses are now optimizing their website and content for SERPs.
To help you begin your SEO journey, here are 13 SEO tips for beginners: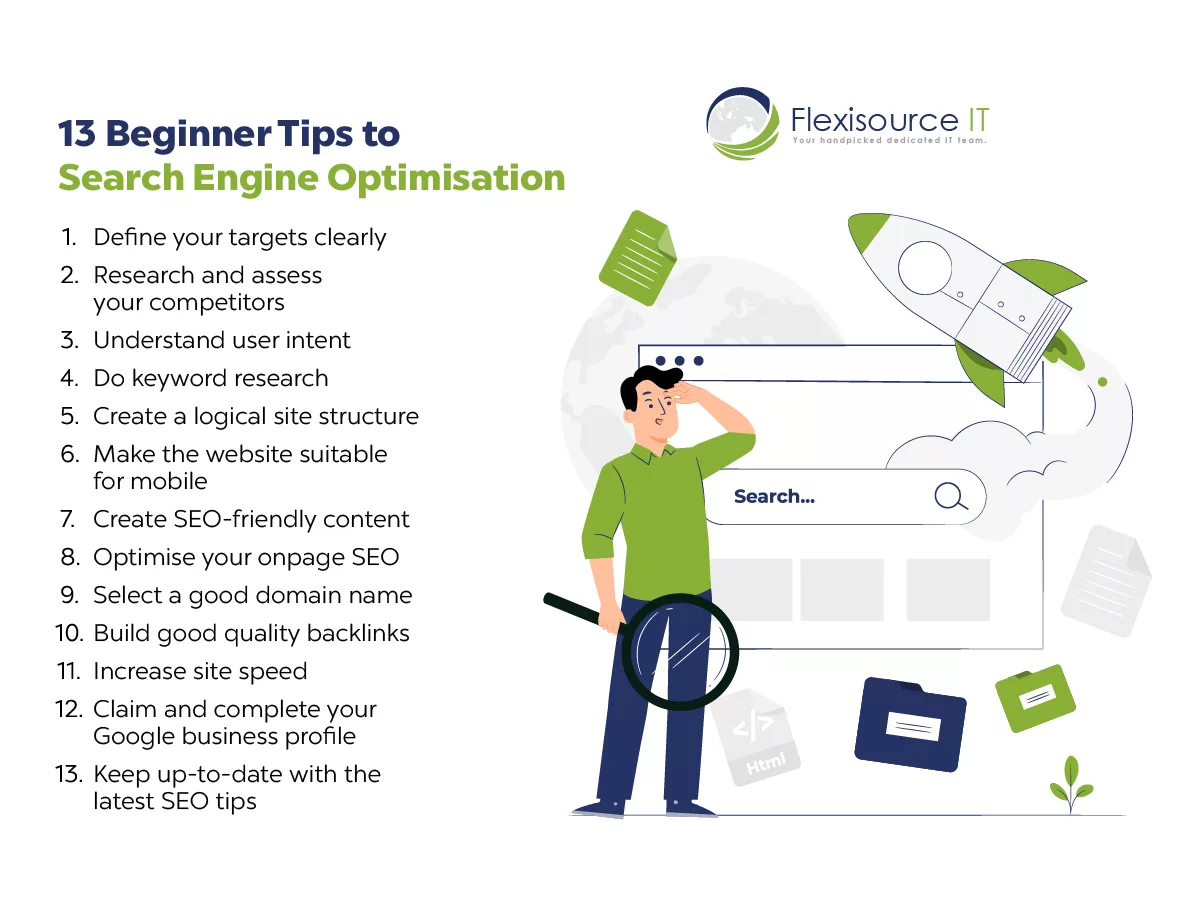 1. Define your targets clearly
One of the most essential SEO tips for beginners that you should remember is defining your main goal. Before diving into creating a strategy, it is necessary to know your target to maximize your Return on Investment (ROI). You should also know how to track the success of your campaign.
To define your targets, try asking yourself what you are doing your SEO for? Brand awareness? For new leads? Engagements. Then, determine the following Key Performance Indicators (KPIs):
Sales acquired after implementing the campaign

Number of downloads/views

Contact Form Submissions

Number of phone calls received

Email Subscribers acquired
2. Research and assess your competitors
The following SEO tips and trick is assessing your competitor. Knowing your competitors is essential for SEO as it gives you a panoramic view of what you are against. It also gives you an idea of what you can focus on, what you could do better, and what is working and what is not.
Take a deep dive into your competitor's SEO activities and evaluate their top ranking pages and what they are ranking for. Then, identify the following aspects:
Competitors' weaknesses and how you can take advantage of them

Gaps in the market

Competitors' strengths and how you can apply them on your website
By identifying these matters, you will have a more vital idea of what you need to achieve for your SEO.
3. Understand User Intent
Search intent is probably one of the most critical elements of SEO. It directly impacts how your target audience will search and how your website will appear on their search page result.
Likewise, another SEO Tip for Beginners is to understand these intents. It will help you know which keyword you should be using. For example, if your business sells cupcakes, your target audience would be searching for keywords such as "best cupcakes in your area" or "best cupcake flavors."
To understand this further, here are three search intents such as
Informational – User looking for information about a product or service

Transactional – Someone looking to buy the product or service

Navigational – User who wants to go to a website.
Always try to think about the intent of your target user and what they want and needs. So when you write content, you are fulfilling what they are looking for, and you have the best chance for Google to think that your content is valuable.
Just make sure your content can help searchers and is reliable.
4. Do keyword research
As mentioned, keywords are one of the most critical parts of SEO. Suppose you want people to find your website or rank in SERPs. In that case, you need to find keywords relevant to the user's intent and incorporate them into your website and content.
However, before researching keywords for your website, you first need to understand the difference between Long-tail and Short-tail keywords. Basically, short-tail keywords are much more general queries of users consisting of a maximum of two words. Short tail keywords, while they come with a lot of traffic, are more complex to rank due to the high volume of people using them and increased competition.
On the other hand, long-tail keywords are longer keywords, consisting of more than three words. These are a bit dormant in terms of search but easier to rank.
Looking for your keywords is harder manually. You can try using FREE SEO Keyword Tools such as Ahrefs, SEMRush, or Keywords everywhere. These tools come with much-needed metrics such as Keyword Difficulty that will tell you how much effort you need to put into your content.
It can also tell you other keywords that will be more accessible than rank for but still relevant to the keyword you are aiming for.
5. Create a logical site structure
The following SEO Tips for Beginners is creating a logical site structure. Having an easy-to-navigate and user-friendly website is vital to SEO. It helps you create a logical hierarchy for your content. It also makes it easier for visitors to find and navigate content that can improve traffic and conversions to your website.
Likewise, the easiest way for you to build a logical website structure is by sketching out a mind map. Check out this article to learn more about website structure.
6. Make the website suitable for mobile
According to GSMA Intelligence, there are about 5.32 billion mobile users today. This number is just evidence for businesses to build a mobile responsive and adaptive website to accommodate all types of customers.
Mobile SEO makes it easier for visitors using mobile or tablets to navigate your website without needing to zoom in to read the text of your website. So, you won't miss the opportunity or traffic of mobile users!
7. Create SEO-friendly content
One more essential SEO tips for Beginners is creating unique and SEO-friendly content. As mentioned earlier, keywords are necessary to rank in SERPs and appear in your target users' search results.
However, the keyword is not the only important element for your blogs to rank. Google also requires you to create engaging and valuable content. It's quality over quantity. So, write for humans first before search engines. Spamming keywords in your content is not good, and Google might penalise you for it.
8. Optimise your onpage SEO
On-page SEO is not all about keywords and high-quality content. It also includes aspects for the search engine bots to crawl that you must implement to rank for Google and other search engines. Here are some elements for website optimization guidelines you should know.
Title tags

– These are the title of your page that are displayed on search engine results pages (SERPs). A reasonable title tag should be able to precisely describe the webpage or content. You can achieve this by using your target keywords. Just make sure that it's eye-catching to users and is between 50 to 60 characters to make an impact.

Meta descriptions

– These are snippets of text that describe the content of your webpage. They are used by search engine crawlers to understand what the web page is about and give your visitors information about the page. The typical length of a meta description is between 150 to 160 characters.

Headers –

Headers, also called body tags, help organise your content for readers and search engine bots. It is essential to determine if your content is crucial and relevant to the search query.

Image Alt

–

text

– This is like SEO but for your image. It helps search engines to rank your photos on image-based results. This allows other consumers to discover your website when searching for ideas.

Page Url / Slug

– Page URLs should be simple for both readers and the search engine. When writing an SEO-friendly URL, remember to remove unnecessary words and only use one or two keywords.
9. Select a good domain name
While domain does not heavily affect your website's ranking factor, it still needs to be considered for an SEO campaign's success. One of the top domain SEO tips for beginners is not including keywords on your domain. Make sure to stick to your branding. Your domain does not have to be "dentistinmelbourne.com."
Here are a few tips for a good domain name:
Short and unique

Name of your business

No hyphens
10. Build good quality backlinks
Acquiring backlinks is probably the most critical SEO tip and need for businesses k. A backlink is when another website mentions your website or web page on its content by linking to it. It is a major deciding factor in increasing your website's rank and quality.
Search engines see backlinks like voting and determine if your content is helpful. Having a high-quality website backlink to yours will make your page and content more reliable.
Still, remember that only high-quality and relevant content should backlink to your website. For example, search engines might not rank your page if you keep getting links for websites that are spammy and of bad quality like gambling, magazine type, etc.
In addition, the higher the domain ranking of a website, the more influential the backlink does in ranking your website.
11. Increase site speed
Increasing your website's speed is one of the topmost essential SEO Tips for Beginners. Site speed is necessary for SEO because it affects user experience and conversions. For example, if your website takes longer than 15 seconds to load, users are more likely to leave your website and not re-visit.
To determine your website's load speed, you can use Google's PageSpeed Insights to check. It also comes with many recommendations on how to speed up your site.
12. Claim and complete your Google Business Profile
Another SEO tip for small businesses is taking care of their Local SEO. Local SEO is essential for companies that serve a customer base in a specific area. As such, you should claim and complete your Google My Business Profile.
By doing so, you will gain google reviews from customers and be rewarded as trustworthy and authoritative.
13. Keep up to date with the latest SEO Tips
The last and most critical SEO Tip for Beginners is keeping up to date with Google's Algorithm. Google usually changes its algorithm hundreds of times per year. While most of these changes are minor, significant updates sometimes affect your search results and ranking.
Thus, constantly check Google's Search Algorithm and Ranking System Updates.
Optimise Your Website with Our SEO Services
Using this SEO guide, you will surely stay relevant and rank on Google's SERP. But if you are still hesitant and confused about how to do it, Flexisource IT can help you!
We provide the best digital marketing services to companies in Australia! Contact us today!
Pamela is a full-time content writer and a lifelong Philomath. Her previous experience as a research analyst made her passionate about traveling the world and understanding how it works. During her day off, you can often find her indoors, writing stories or oil painting.