Building and executing an effective digital marketing campaign to improve your website's traffic and leads is not easy. There are many methods available worldwide, and Search Engine Optimization (SEO) being one of the most popular. Companies worldwide are leveraging their web ranking using SEO practices. It is proven to be effective in building organic traffic to your website.
Currently, SEO is hot in the market. Not only big enterprises are using it but also to the smallest businesses. However, hiring a dedicated digital marketing team might be a little bit steep for a small business with a limited budget. You might try to do it on your own. But to be successful, you need to have the proper knowledge and use the right tools.
It's simply unbearable to do every step, from conducting keyword research to analyzing conversion trends and implementing effective content marketing without the proper tools. To fully help you, here is an article about what is SEO and the Top 16 SEO Tools for small businesses.
What is SEO?
SEO or Search Engine Optimization is optimizing and improving your site to increase its visibility and ranking on search engines such as Yahoo, Bing, and Google.
Many businesses ask the question, "is SEO worth it?" Fundamentally, SEO is worth all the time and resources to many companies. It is a massive part of digital marketing as trillions of people are searching for anything online. The search engine is the primary source of digital traffic for many famous brands. SEO is great for any business as it provides better visibility of your website.
Best Free SEO Tools for Small Business
If you own a small business, every resource, monetary or time, is essential to you. You need to keep building, and with limited resources, you must work on every free tool you can get your hands on. So, suppose you are looking to optimize your website but have a limited budget. In that case, there are various SEO tools for free available online.
If you're looking to start SEO optimizing your website for a low to zero cost, here are the best 16 SEO free tools available for you!
1. Ahrefs Backlink Checker
Ahrefs offers a free link-building tool called Ahrefs' Backlink Checker, which shows the top 100 Backlinks to any website. It also gives referring domains, total backlinks, Domain Rating (DR), and URL Rating (UR).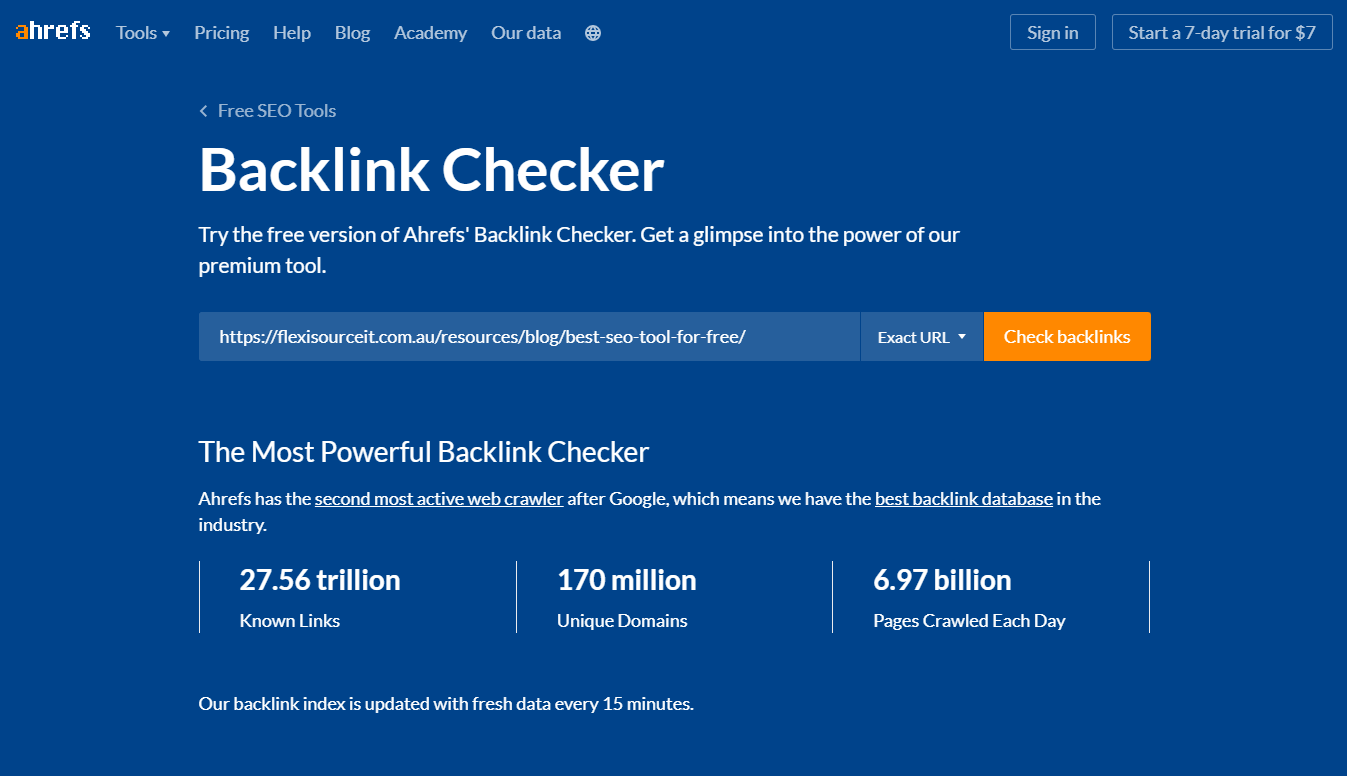 Ahrefs' free backlink checker screenshot
This free link building tool is a great way to check your competitor's website and find potential link building opportunities. In addition, Ahrefs' Backlink Checker can give you the following benefits:
It's an SEO tool for free

See actionable insights and page-level metrics for any website, URL, or pages

Monitor the growth and decline of backlinks of some domains and pages

See all pages and websites linking to your website in a detailed report

See estimated organic traffic to each linking page to your web page

Additional tools such as Free SEO keyword generator
2. AnswerThePublic
AnswerthePublic is a free keyword tool for SEO where digital marketers and SEO specialists can align themselves with customers' thoughts. The app can help marketers guess what people want to know by looking at autocomplete data from search engines and listing questions and phrases commonly searched on specific keywords. SEO Specialists can then tailor your advertising, content, and campaigns around these questions.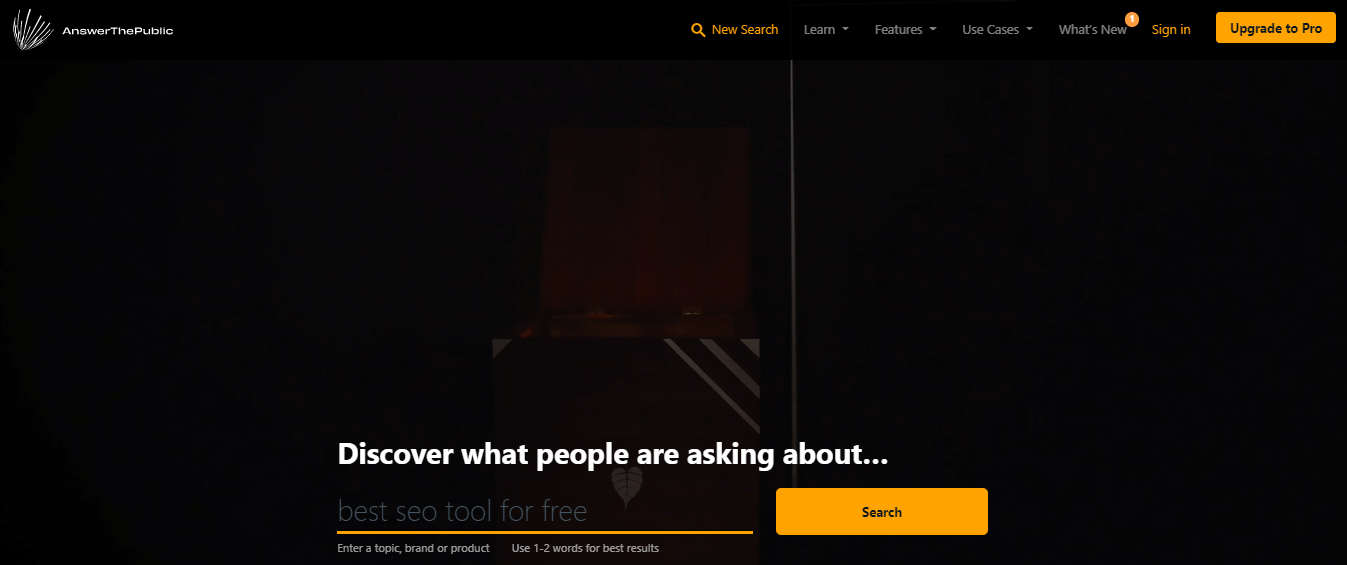 AnswerThePublic's screencap with 'best SEO tools for free'
In essence, AnswerthePublic helps businesses to transform their content and be relevant with their customers. It enables you to find new topics, keywords, and related ideas in your niches as you dive into the questions your consumers have. In addition this free keyword tool gives the following advantages:
Targets your keyword research around the questions

Aids you in optimizing your Long-Tail key Phrases

Helps you in answering questions that can get you into Google's featured snippet

Help you to relate to your target audiences

Accessible and free SEO keyword research tool campaigns
3. Google Analytics
Google Analytics is a powerful online free SEO tool for analytics. Installing it on your website can help you in analyzing and understanding your marketing tactics. Google Analytics reports on which marketing tactic (ads, target keywords, etc.) drives the most traffic to your website.
Krista Seiden's walkthrough of the new Google Analytics 4
It can help business owners set goals for their marketing and advertising campaigns. In addition, the tool can assist you in delivering a high-quality website to their users and customers and provide all necessary information. Similarly, Google Analytics can give you the following benefits:
Understand user behavior easily

Track online traffic

Sales conversion report

Improve online adverts with marketing analytics

Find the right audience

Google Analytics conversion tracking
4. Google Search Console
Google Search Console is one of the top-tier free SEO tools online. After setting up your account, the software will alert you if Google finds an error on your website. You can also link this tool to google analytics to use more reporting tools in your analytics account.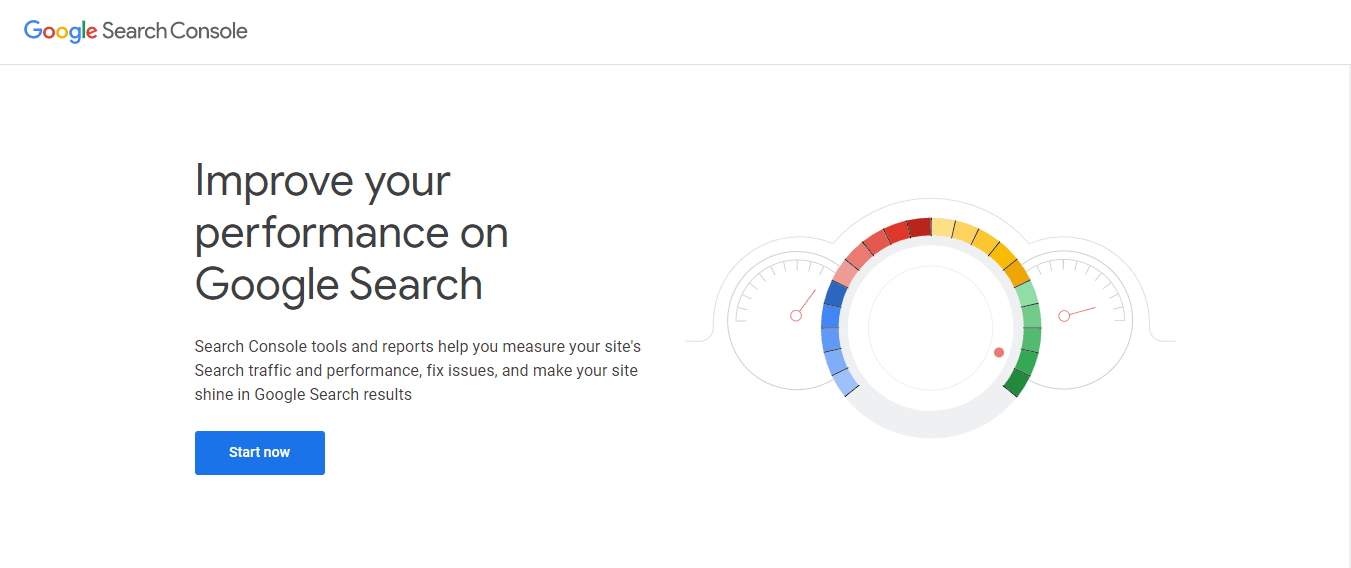 With these two tools combined, you'll be able to review essential stats like clicks per keyword, keyword ranking, and the occasion of when your website showed up in search per keyword. It also provides a click-through rate when your website shows in the search results. In addition, Google Search Console can give you the following advantages:
Improve your website's appearance as it can show you what your pages look like in Google's Search engine result page or

SERP

Ensure that the title,

URL

,

Meta Description

,

Site Links

, etc. are all correct

Increase

Organic Search Time

Understand Google's Index and remove unwanted URLs from being indexed

Crawl your website

Can be used as a free SEO keyword tool
5. Hunter.io
Hunter.io, also known as Email Hunter, is one of the best free link building SEO tools online. It's an email tool that assists digital marketers in finding the contact information associated with any domain. This tool is excellent for individuals or companies using cold emailing to find leads for their business.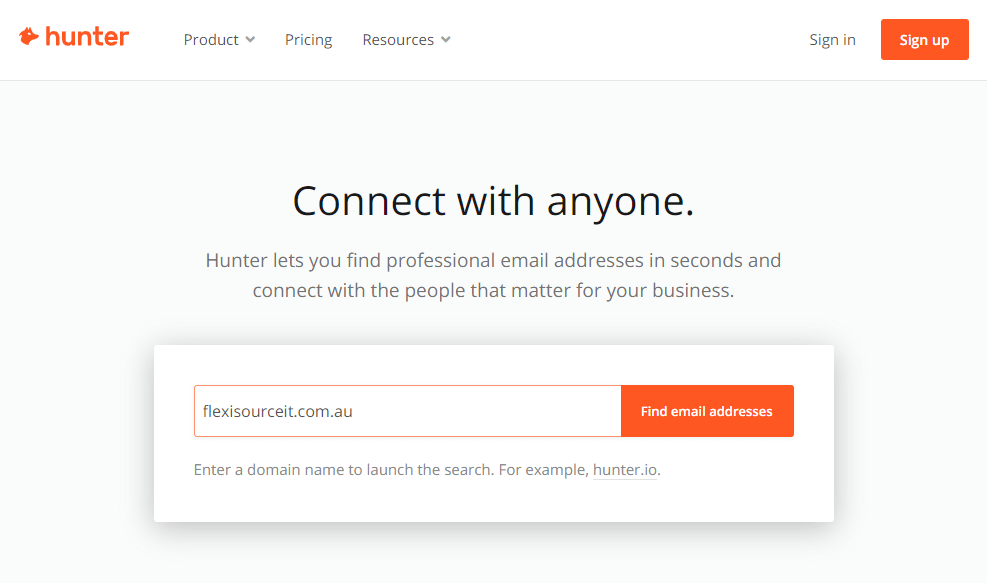 For SEO, Hunter.io is a great link-building tool as it allows you to get your hands on the email of your target link-building websites. In addition, the program can also help with the following advantages:
Provides link building templates

Performs bulk operations like domain search, email verification, and email finder

Filter out emails with deliverability issues

Find 100 emails for free!
6. Keywords Everywhere
Keywords Everywhere is a free keyword research tool for SEO, available on Google Chrome and Mozilla Firefox. It's a browser extension that shows monthly search volume, cost per click (CPC), and various Application Programming Interfaces (API) information.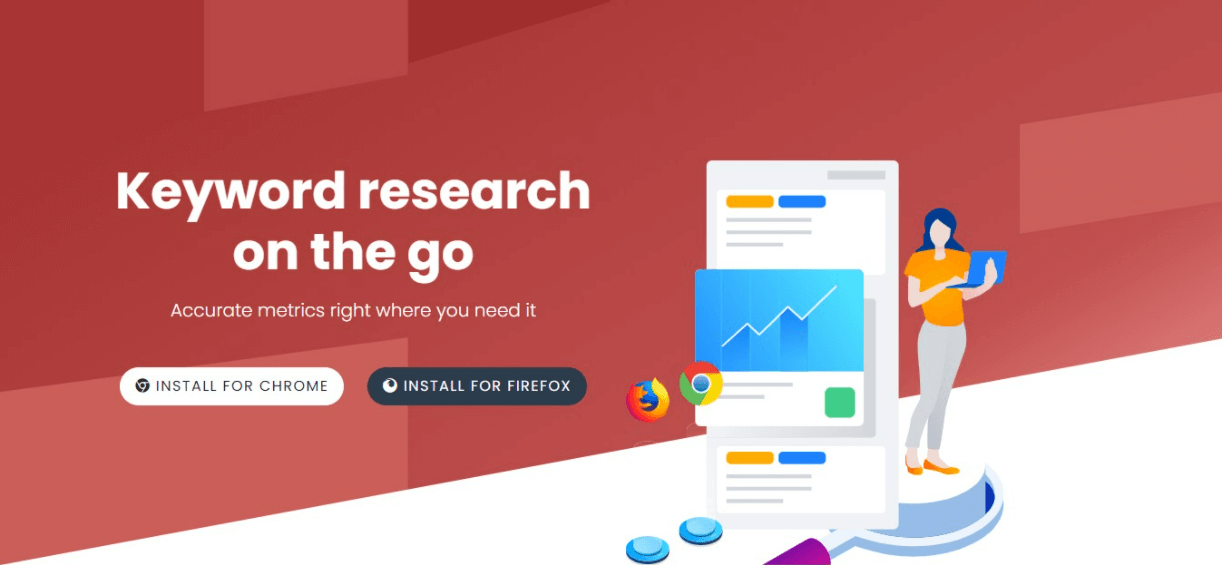 Screenshot of Keywords Everywhere tool
This free keyword research tool also provides data right into the search page you just used. Aside from that, Keywords Everywhere also provides the following:
Download your keywords list in Excel, CSV, or PDF file formats

Add your keywords in masse to get their volume metrics.

Search by country and narrow your results by specifying the country

Choose the best language you need

Available on 16 platforms like Google Search, Google Search Console, Google Analytics, Google Trends, Google Keyword Planner, Bing, YouTube, YouTube Tags, Amazon, eBay, Etsy, and more.

View monthly estimates traffic and the top 5000 keywords on any URL or Domain

Find Keywords that your competitors rank with competitor gap analysis

View Moz DA, Spam Score, DA Trends, backlinks with Moz Link Metrics
7. Mangools SERP Simulator
Mangools offers various SEO Tools that are great for digital marketing, SEO Specialist, and businesses. The brand is famous to many users for its design and ease of use.

Mangools' Google SERP Simulator w/ example
Mangools offers a free Google SERP Simulator that lets you see the title tag, URL, and Meta Description of pages in the search result as you write them. In addition, Mangools' google search preview tool includes more features such as:
Easy fetch and improve the actual title and description of any website

Title tag and meta description length indicator

Add SERP features such as date, star rating, or ads on top of the result

Heatmap features

Export and implement features for the source code of the website
8. MozBar
MozBar is one of the best free SEO audit tool extensions, available on both Google Chrome and Firefox, that provides insights and link metrics of a website for SEO purposes. It shows link metrics for pages and web domains as you search and displays other information such as Domain Authority, Page Authority, and website backlinks.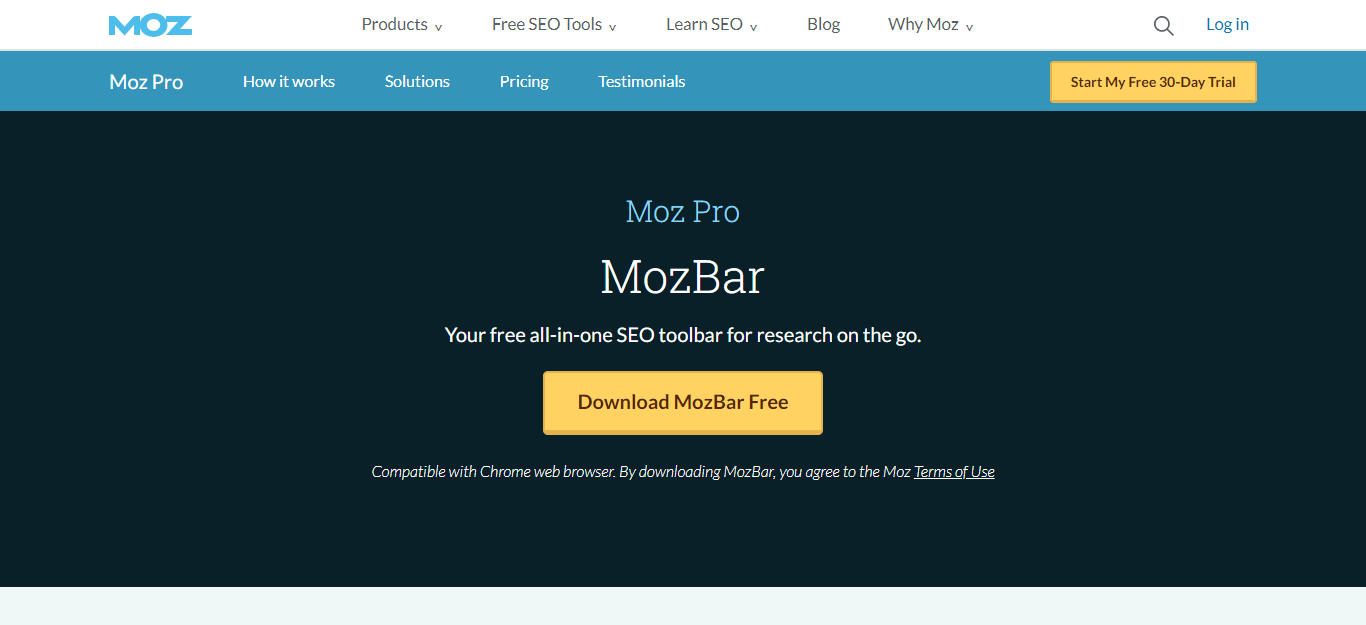 In addition, the toolbar is integrated into SERPS, which makes it easier for you to look at the authority metrics of each webpage. Aside from that, MozBar free SEO tool provides data, including the webpage's title tag, alt text, meta robots, etc. Moz toolbar also offers the following benefits:
Finds relevant keywords and lets you know your chance of ranking

Helps you find existing content that needs revamping to rank better

Improves any technical issues with your webpage

Assists you in auditing the current site for any tech issues

Keep track of your most important keywords.
9. Google PageSpeed Insights
Google PageSpeed Insights is a free web and mobile SEO tool that helps you find and fix web applications that slow down your website. It reports on the performance of a page on both desktop and mobile devices. It provides insights and suggestions on how it can be improved.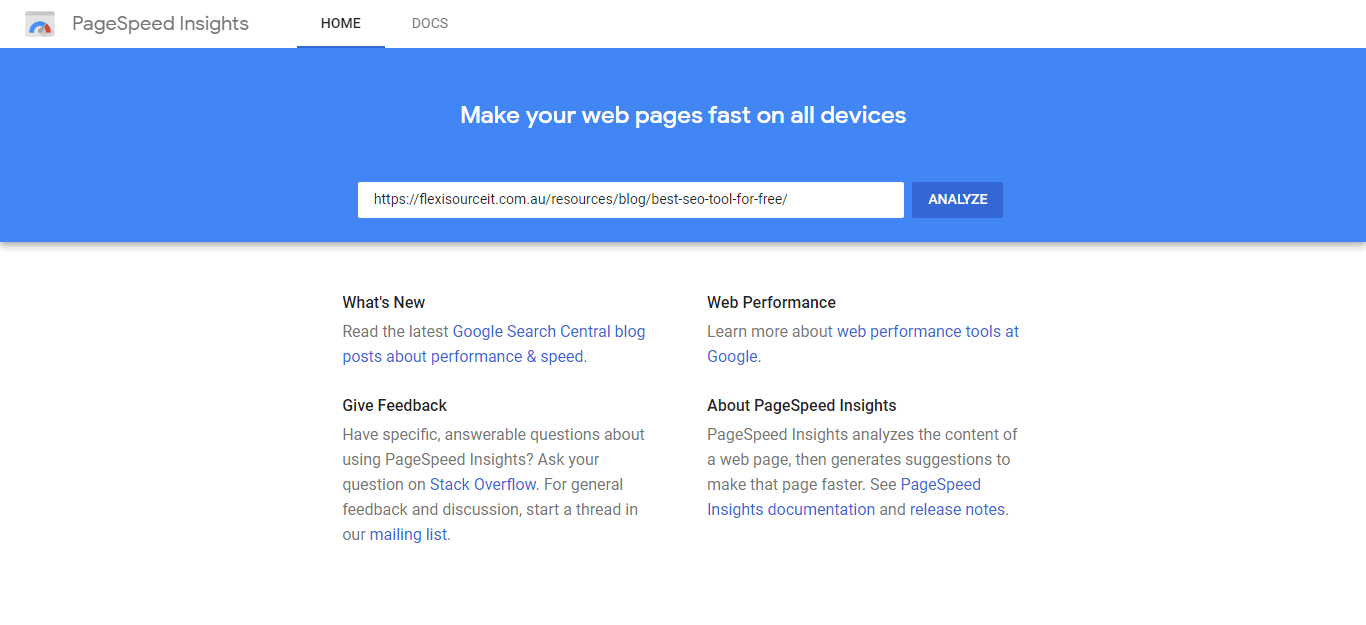 Google PageSpeed Insights screencap
Google PageSpeed Insights comes with an open-source tool called Lighthouse that analyzes data by combining real-world information from the Chrome User Experience Report dataset.
10. Screaming Frog
Screaming Frog SEO Spider is an advanced and top tier free SEO tool used to audit your website. It is a website crawler that improves onsite SEO by extracting data & auditing for common SEO issues. The spider bot mimics the Googlebot web crawler, providing essential insights into how Google sees your website. Screaming Frog's website crawler tool can be used to crawl small to large websites.
Demo and overview of Screaming Frog's SEO audit tool
It manually checks every page that would usually be labor-intensive for humans. It detects easily missed issues like redirect pages, meta fresh, or duplicate page issues. Aside from that, it can also do the following tasks:
Find broken links

Analyze Page titles & metadata

Extract data with CSS path, XPath, or Regex

Review bots and directives

Generate XML sitemaps

Integrate with Google Analytics, Google Search Console, and PageSpeed Insights APIs

Crawl JavaScript websites

Visualize website structure / architecture

Scrape SERPs
11. SEMRush Site Audit Tool
SEMRush offers one of the best SEO software for small businesses. SEMrush's site audit tool is built to help you find and fix on-page SEO errors and drive more traffic to your website.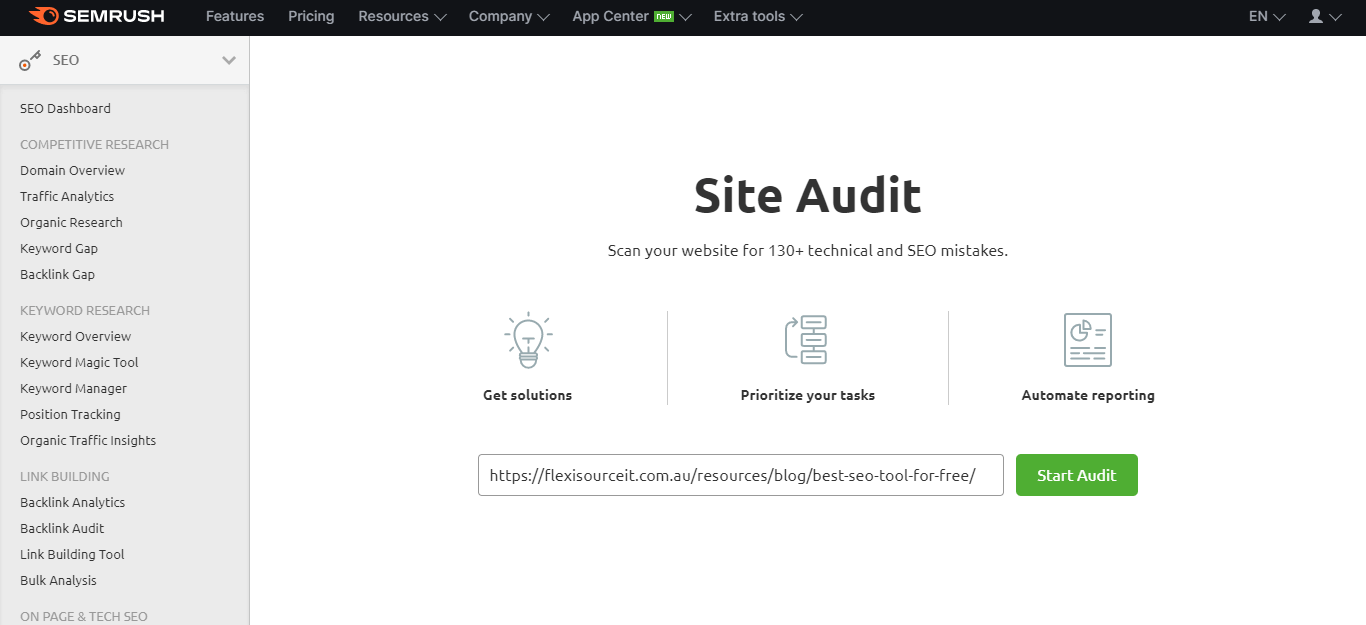 Screenshot of SEMRush site audit tool
Their site audit tool tests all significant SEO errors and analyzes results into easy-to-digest reports. In addition, SEMRush free audit tools provides the following benefits:
Compare crawls and progress with different SEO Audits

Schedule weekly technical SEO Audits

Monitor your website's health with reports

Check the website's position with a position tracking tool
12. SEOquake
SEOquake is a free SEO web browser plugin compatible with Mozilla Firefox, Google Chrome, and Opera addons. The tool provides users organic research data at the click of a button. This free SEO toolbar plugin can also deliver parameters for listing within the search engine results.
In addition, the free plugins also allow users to see metrics for landing pages and domains, including Google Index, Alexa Rank, Facebook, and more. Along with organic research data, SEOquake provides other useful tools, including:
SEO Audit any landing page

Break down landing pages with Keyword Density report and reveal competitor's target keyword

Assist in finding what link exists on any pages with the Internal/External Link analysis
13. SimilarWeb
SimilarWeb is a digital intelligence tool that provides web analytics and information web traffic. It gives estimates of the total traffic various websites receive. It is an excellent tool for SEO masters to see competitors' top traffic sources – into six major categories, including referring sites, social traffic, and full free SEO tools for keyword research.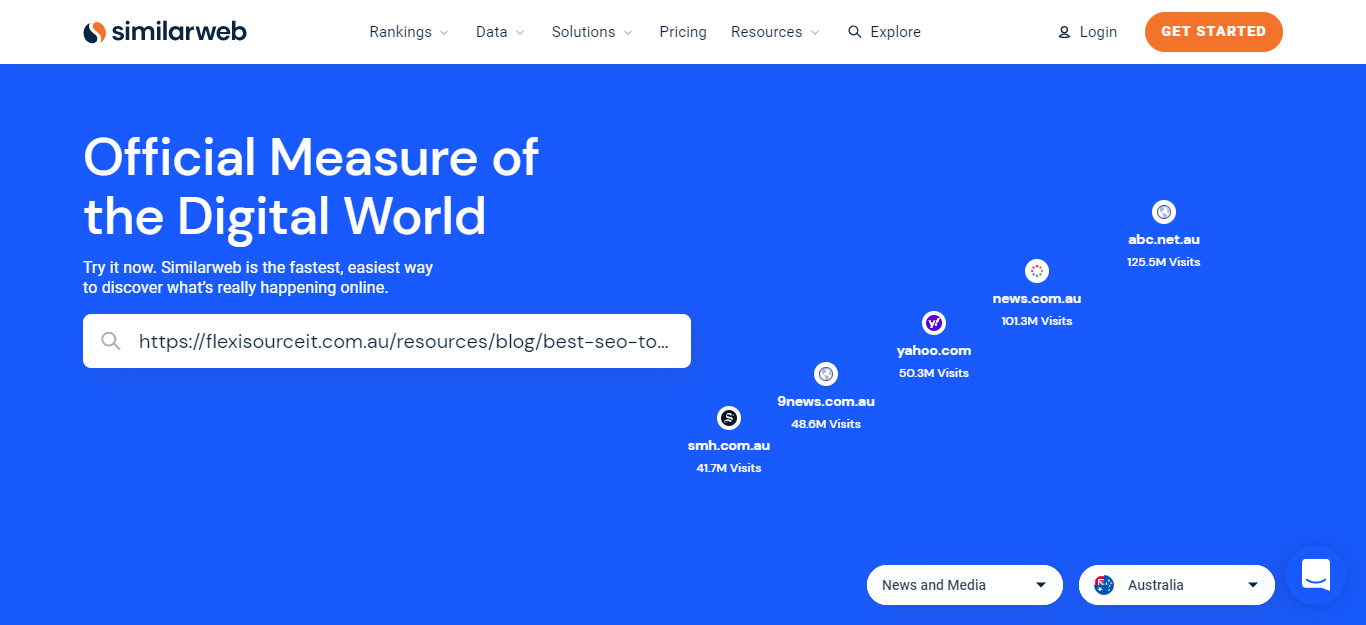 SimilarWeb screen capture
In addition, you can do various functions with the tool such as,
Integrate data from SimilarWeb to your competitive dashboard and have a complete picture of competitors' traffic source

Receive metrics such as industry traffic shares, top traffic resources, and monthly competitor visit

Stay up to date for new competitors entering your industry

Identify industry trends and predict future investment.
14. Ubersuggest
Ubersuggest is a free SEO keyword search tool by Neil Patel that specializes in creating new keyword ideas. Ubersuggest allows you to collect insight and competitors strategies that you can adapt and transform for your very own.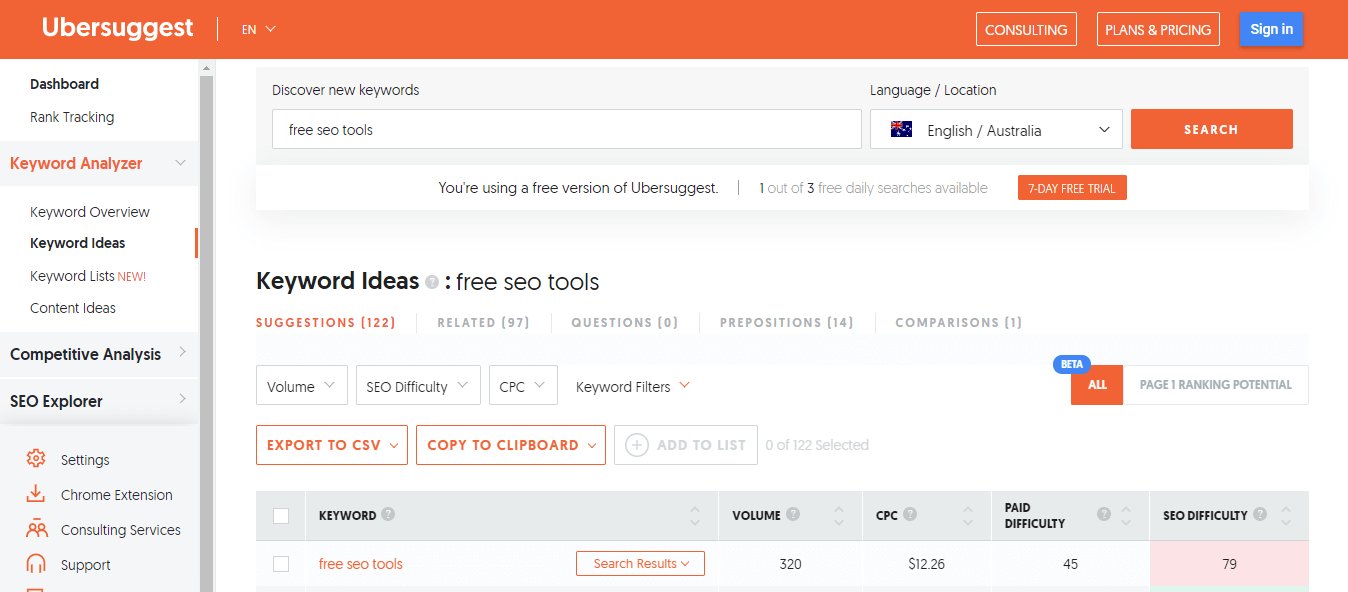 Ubersuggest screenshot using 'free SEO tools' as example
In addition, Ubersuggest gives the following excellent edges:
Suggests long-tail keyword ideas

Provides critical data in each keyword, including monthly search volume, average CPC, PPC, and SEO Competition

Gives Domain Overview

Discover TOP SEO Pages

See backlink data
15. Yoast WordPress Plugin
Yoast SEO is a WordPress Plugin that helps in improving your website's ranking on search engines like Google, Bing, etc. It helps in optimizing your site's content and keywords through its user-friendly platform. Once installed to your WordPress site, the Yoast SEO plugin will appear on the bottom of every page or post you create.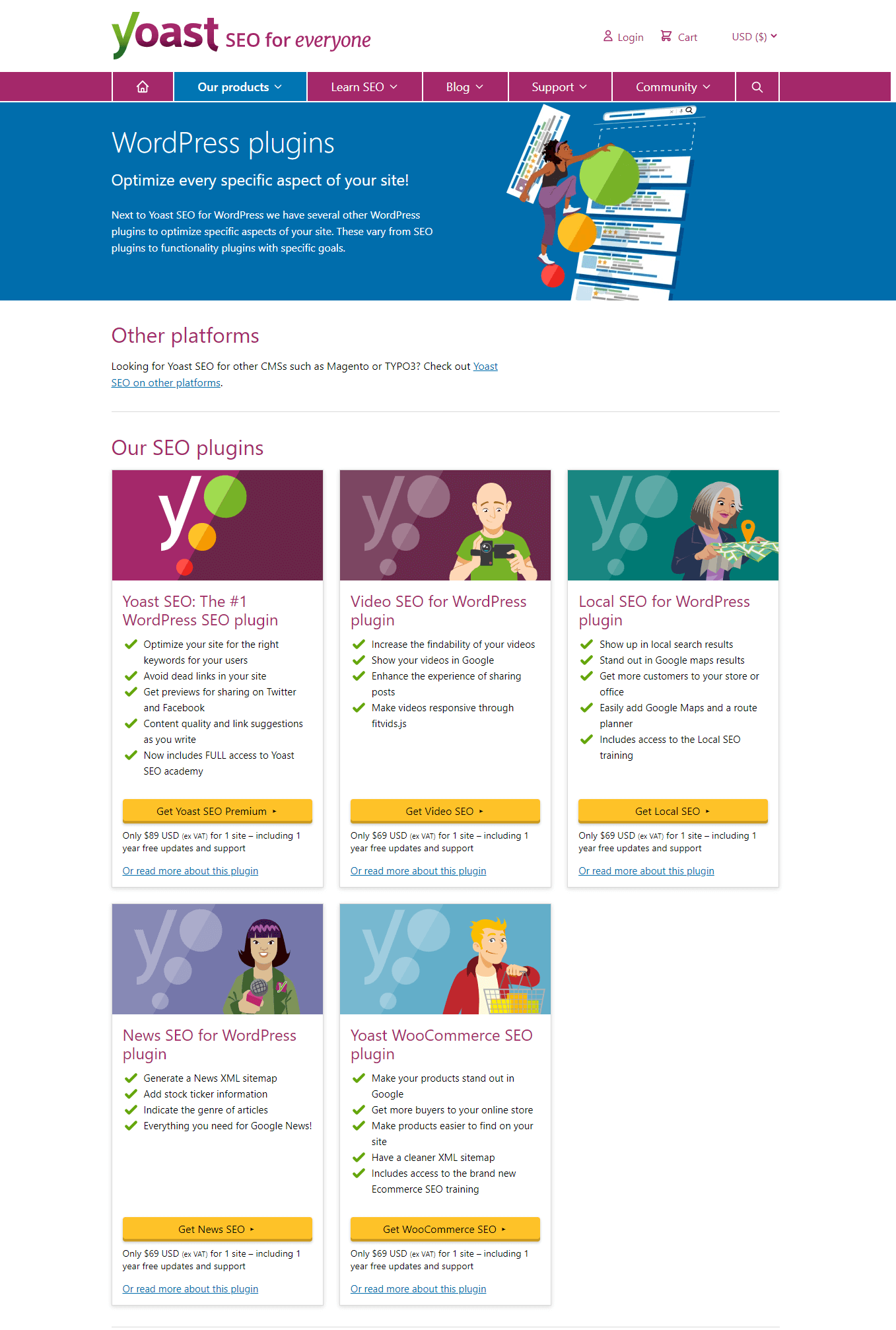 Yoast plugin offers
In addition, Yoast SEO plugin does automated inputs in some areas. Still, you need to do some feedback and planning if you want to fully maximize its benefits. These free SEO plugins also provide the following benefits:
Choose your Keyword focus for your webpage

Provides Google review where you can edit your SEO Title and Meta Description

Provides inputs on your content readability

Suggests improvements on SEO optimization

Scores your websites' content
16. Google
Yes, Google itself might be the best and most important Free SEO Tool on the web.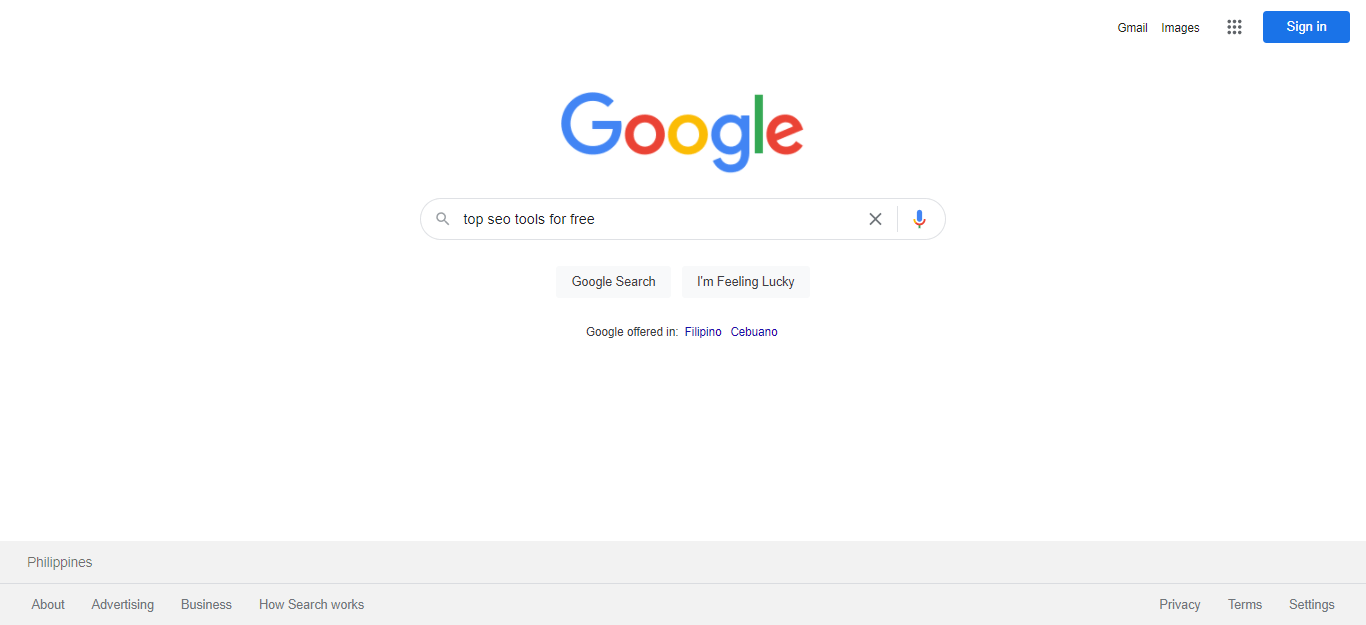 Google is possibly the most popular search engine worldwide, and it's for a good reason. It's fast, reliable, and delivers quick search results. In fact, this is why most web owners SEO optimize their sites – to appear on Google. When people perform a search on google, it indexes the website with the most relevant content on the search query. The search engine itself can be used in searching if your SEO campaign is effective by searching your target keywords to see your website's search rank. In addition, you can use it to see which competitors are ranking on your target keyword. Aside from that, Google can provide the following benefits:
Provides new Google Advanced SEO support page that shows how to use search operators for identifying errors and making improvements

Search hundreds of SEO tutorials and resources online

Several app extensions perfect for an SEO campaign
Final thoughts on SEO Tools for Free
There are numerous free SEO tools available online such as the ones mentioned above. However, there are just sixteen of the tools out there; you just have to find the one that works with you.
If you don't want to invest, you can start with these free SEO ranking tools to determine whether you need to expand to other devices. If one works with you, you can upgrade to their paid plan anytime. Just make sure to plan it out and stick with your budget and requirements.
Starting your SEO journey is difficult with all the planning and tools. Thus if this is overwhelming for you, try hiring a digital marketing team. Flexisource IT offers organic SEO services to any website. We provide affordable SEO for small businesses, get in touch with us today.
Pamela is a full-time content writer and a lifelong Philomath. Her previous experience as a research analyst made her passionate about traveling the world and understanding how it works. During her day off, you can often find her indoors, writing stories or oil painting.