The start of COVID-19 in 2020 has shocked a lot of employees and businesses. Due to the quarantine restrictions, many workers are forced to work remotely. Many companies were forced to close due to having few to no customers.
Likewise, it is worth noting that unpredictable events can happen at any moment. From natural hazards to manmade disasters, these events can potentially harm or damage your business, disrupting your operation. And if you are not well prepared to deal with these events, your business will be put at a financial loss or tarnished reputation.
Lucky for everyone, you can try to avoid these risks by establishing your business continuity plan (BCP). These plans can help you respond to and prepare for any disasters or events that can destroy your company. It contains processes and procedures to help your company cope with unexpected occurrences.
But what is BCP? How can it help your business? How do you prepare one? Read this article to learn more!
What is a business continuity plan?
A business continuity plan is a document that outlines what will happen to the company in the event of a disaster. It helps companies maintain operations in a disaster and includes plans for emergencies such as fire, flood, and power outages.
Likewise, this document typically includes procedures for maintaining critical operations during and after a disaster, including how to respond to an emergency. It also can be used to address any number of potential disasters such as natural disasters, human error, cyber-attacks, and terrorism.
What are the benefits of having a business continuity plan?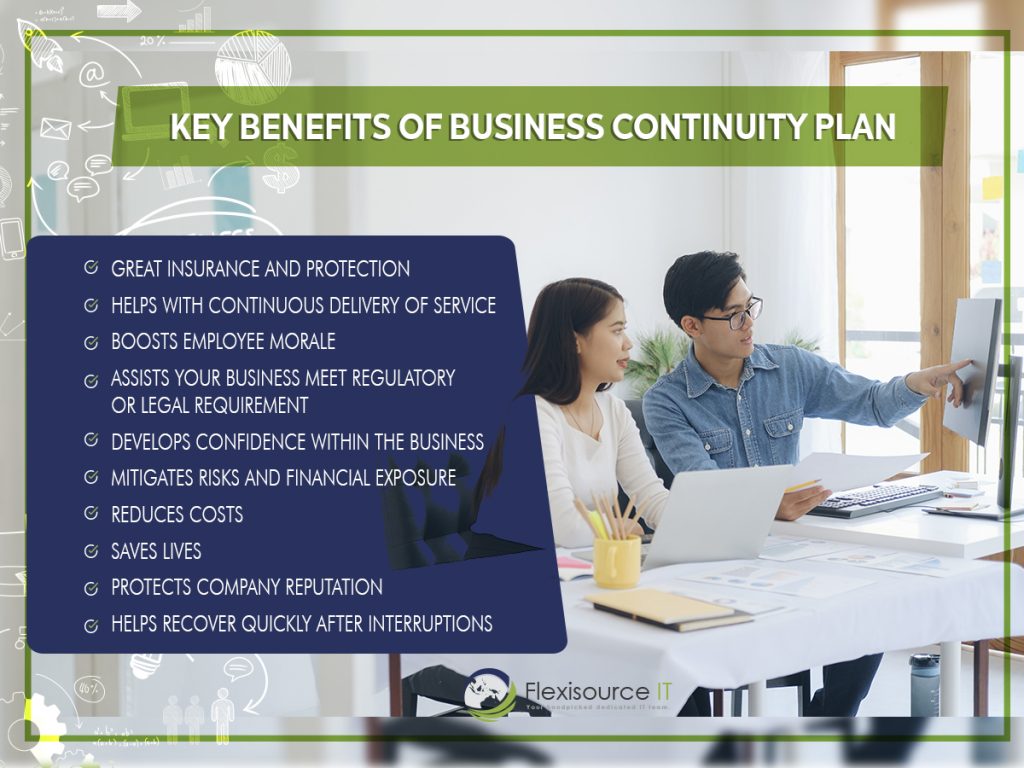 The main goal of a BCP is to protect its people, property, and assets. It helps your business recover from any sudden interruptions or losses. In addition, having a business continuity plan in place can help minimize the impact and damage of an unexpected event to your business.
While it takes a lot of time and effort to devise the perfect BCP, you will soon find that it works as soon as an emergency strikes. Likewise, here are some benefits of BCP to your business.
1. Great insurance and protection
A simple yet carefully thought-out business continuity plan can act as insurance and protection for a business. While most companies have insurance to help them recover from unforeseen expenses and damages due to disasters, it does not cover everything.
It does not help the company concerning their revenue loss and business downtime. On the other hand, a business continuity plan can protect your company from all losses during a disaster.
The plan constitutes everything from funds, savings, strategy in case of data loss, how a company can continue its service, etc.
2. Helps with continuous delivery of service
As mentioned earlier, emergencies and disasters can happen anytime without warning. At times like this, your delivery of service could be affected. Every company should have a business continuity plan to ensure that the delivery of services is not interrupted in case of any disaster.
The plan includes different scenarios, corresponding actions, and a list of people responsible for each task to deliver continuous service.
3. Boosts employee morale
Business continuity plans are not exclusive to companies or businesses. Another great importance of a business continuity plan is that it can help boost employee morale. It proves that the company is looking out for its best interests.
Employees are vital to a business's success. It is crucial for your BCP to also include strategies to protect its employees. You need to have specific plans to keep them, and their well-being checked in times of disasters.
In addition, having a BCP gives employees confidence in their careers and work. They do not have to worry about finding a new job as the company would not likely not fail with a BCP.
Likewise, BCP also helps to protect your company from lawsuits due to negligence or reckless behaviour.
4. Assists your business with the regulatory or legal requirements
A business continuity plan can help a company assists your business meet regulatory requirements.
During the planning phase of BCP, your organization will have to audit and account for all assets, from building permits to legality. This would help you investigate all needs to meet the government regulations or legal requirements.
In addition, BCP can help you establish the organization's objectives and how it will meet these objectives in a disaster or crisis. When you have a plan, it becomes easier to make sure that your company is prepared for anything that could happen.
5. Develops confidence within the business
The business continuity plan is a document that every company should have. It contains the policies and procedures followed in a disaster or disruption to keep the business running.
Likewise, a well-crafted BCP will give your business confidence even in times of disaster. It can help you maintain your customer base and help you keep your revenue stream going.
6. Mitigates risks and financial exposure
A business continuity plan is a set of strategies, processes, and procedures that an organization can use to mitigate risks and financial exposures.
The company's risk management team often creates business continuity plans, including members from several departments such as finance, operations, human resources, and IT. The BCP must be updated regularly to reflect changes in the company's operations or business environment.
7. Reduces costs
A business continuity plan is crucial for the growth and success of any organization. This helps them reduce their risks and costs by preparing for disasters. Identifying all the potential risks that may affect the organization helps reduce the probability of such events. When an event does happen, it enables the company to minimize its losses by being prepared beforehand.
Likewise, it also reduces costs by helping make quick decisions during the crisis and not delaying them until things settle down again.
8. Saves lives
Since BCP includes procedures in the event of disasters, it can help save the lives of your employee and yourself. The plan must consist of evacuation plans, fire drills, emergency preparedness, etc.
9. Protects company reputation
Business continuity plans are a critical part of any company. They are not just a risk management tool, but they also help to protect the company's reputation. It outlines the company's response to a disaster and how it will proceed with its operations.
Suppose a company is not prepared to handle risks. In that case, they appear incompetent not only to their employees but also to their customers.
10. Helps recover quickly after interruptions
A business continuity plan is a document that helps the organization to manage any kind of unplanned disruption and continue to operate as usual.
It includes the steps to resume operations as quickly and safely as possible. The plan should also outline what information is required from employees, customers, suppliers, and other stakeholders to continue operating during an emergency or disaster.
Likewise, the plan should be executed with minimum effort in an emergency.
Conclusion  
At this point, the benefits of BCP should be clear to you. If you still do not have a BCP in place, start by conducting a business impact analysis followed by a company audit. Assess which one will be affected the most, including people, jobs, and assets. Then, create a plan on how your business will cope in the crisis, how you can continue your services, and what positions are critical.
Failure to plan your BCP can be disastrous and risk losing customers or your business. As such, create a plan and remember to test it rigorously. Ensure that it fulfills its purpose and minimises the potential impact of emergencies.
Pamela is a full-time content writer and a lifelong Philomath. Her previous experience as a research analyst made her passionate about traveling the world and understanding how it works. During her day off, you can often find her indoors, writing stories or oil painting.