The world is rapidly changing. Businesses rarely anticipate changes to happen. And without a plan, a company might struggle to recover. And in worse cases, it may not even recover again. However, businesses can protect themselves. With an effective Business Continuity Plan and disaster recovery plan, it can thrive back from unfortunate occurrences.
What is a Business Continuity Plan (BCP)?
To put it simply, a Business Continuity Plan (BCP) is a strategy of a company to recover after an unexpected loss. It is a system that allows your business to persist, regardless of any issues faced while operating. These issues may include natural disasters, economic recession, or even the current global pandemic. As such, it is deemed essential for businesses always to have a plan for unpredictable future situations.
Emergency Response Business Continuity Plan (BCP)
With various potential threats today and even in the future, business enterprises should always have a concrete Disaster Recovery Plan that will guide your business on what to do and where to focus their resources. Having an effective BCP will significantly help as the world experiences a global crisis today.
Regular run-throughs with your BCP are also an opportunity to see where you will be lacking. Furthermore, having a Business Continuity Plan is suitable for your employees. If they know it, they will be less likely to get anxious when uncertain times come. This will also help your business recover and adapt quicker than the others.
A Standard Business Continuity Plan (BCP)
Choosing a BCP Plan for your remote staff can be overwhelming, having quite a few BCP templates to choose from. When picking, it is essential to remember that it should contain specific criteria to work, even for your remote workers. Here is a Business Continuity Plan standard model:
This phase should include abrupt recognition of risks and how to handle them effectively. It could also be something that answers whether such risks are avoidable and how to prevent them.
This is an essential phase in the process. This is where you need to be alert and immediately recognize critical areas in your business that can be sacrificed. Then, analyze the potential results of such actions and how they can affect your business as a whole.
This stage will require the management to shift its focus to the individual level. Is each team player ready to respond in any given situation? Are they knowledgeable enough on how to handle their work? Will it be worth it to form a team that focuses on dealing with possible issues that may arise?
Coping back and recovering is the final stage of this plan. This stage should clearly state how the business can get back on track as quickly as possible. This is where recovery measures come into action to assess its effectiveness.
How to Build A Business Continuity Plan That Works For Remote Staff
Business Continuity Plan (BCP) should cover on-site employees and the off-site or remote staff. With the COVID-19 pandemic, business owners and employers are forced to transition into a Work from Home (WFH) setup. Thus, a remote working policy is essential to manage remote teams effectively.
However, you may wonder how it works and what contains a remote working policy. Here is a Business Continuity Guide to help you establish an effective Backup Plan that will cater to your remote workers: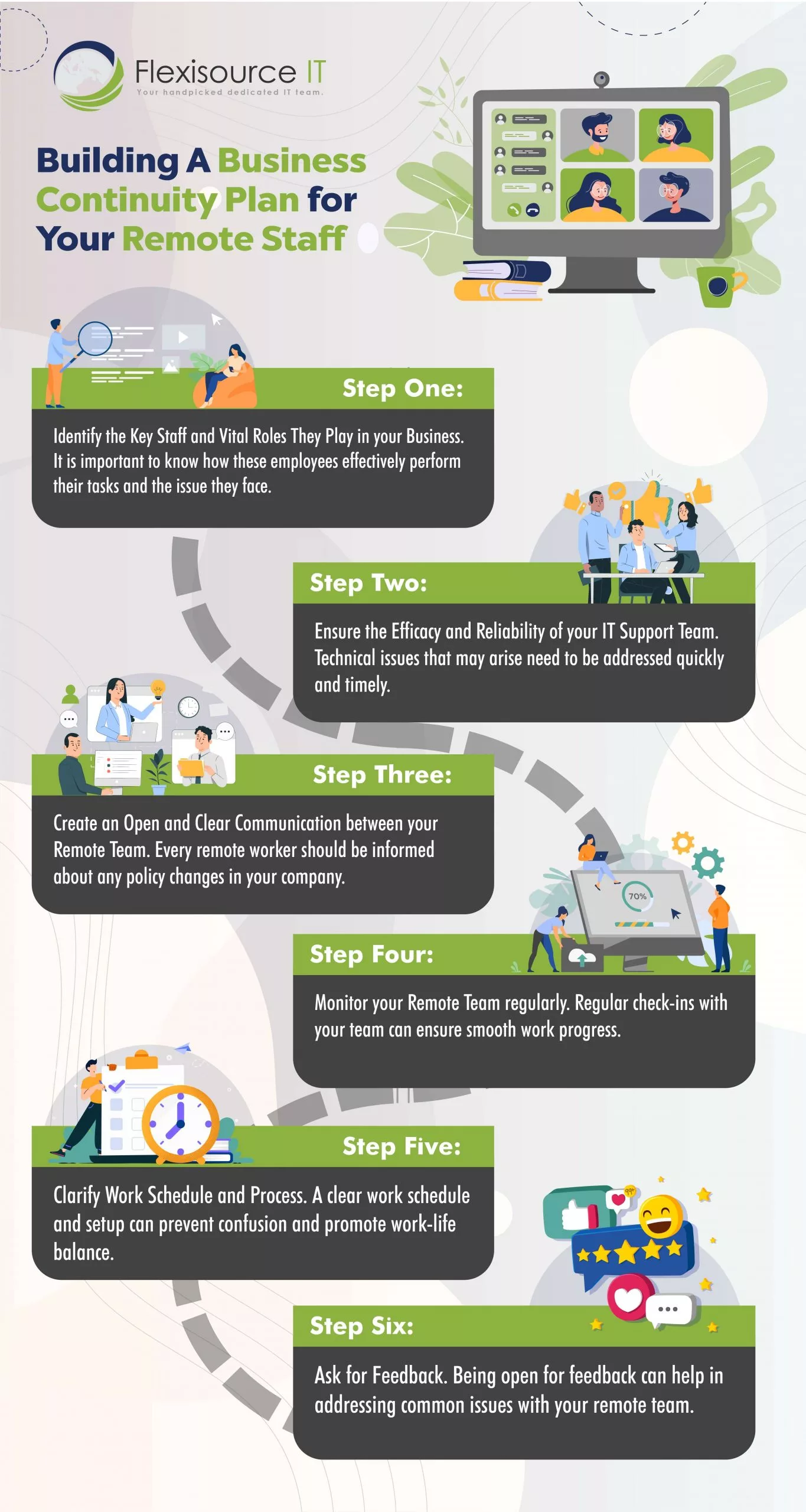 Step One: Identify Key Staff and Their Vital Roles
The first step should start with identifying your key staff and the vital roles in your business. How can these employees effectively and efficiently perform their tasks even if they are working remotely? Do these employees have reliable and robust internet connections? If there are workers who cannot work off-site, is there a way to address this issue? Can you put up temporary accommodation for them?
Those are just some of the many possible issues that employers and business leaders need to identify. And those should also be included in the policy.
Step Two: Ensure The Efficacy of IT Support
The next thing you need to consider is to ensure the availability of your IT support team. There should be an abrupt way to address technical issues that may arise. Aside from that, you also need to consider your workers' online identity, data, and other assets while working remotely. Is the information being handed to your remote workers safe and secure? If not, it is wiser to have access to software that allows your remote teams to share information securely.
Cloud computing can be a great option in maintaining and securing data and other assets. Cloud-based disaster recovery and business continuity solutions suit any business with a low tolerance for downtime and data loss.
Similarly, having fair access to those kinds of software should be given to each remote worker. Your Business Continuity Plan must include a policy tackling this issue. If one remote worker does not have access to specific company software, alternatives should be provided.
Step Three: Enhanced Communication
Open and transparent communication is vital, especially when handling remote teams. Every remote worker should be informed about the policy and changes to those policies.
Expectations should also be clarified to avoid confusion and frustration from remote workers. For instance, an explicit declaration of set schedules or deadlines can help your employees determine their goals. What level of productivity or output is expected from remote workers? Is there regular reporting for each team? These details should be thoroughly discussed beforehand.
Step Four: Regular Check-ins
Regular monitoring is necessary to ensure smooth work progress. This does not mean setting up a camera for each remote worker to track down their every move. Instead, you can set up a system that will update you on their progress at work. Examples of this may include regular virtual meetings, email, or even a quick chat.
Clarification must be set to limit confusion and to promote work-life balance. Remote workers should have a clear working schedule or a straightforward setup on how work is done. It can be timeframes of how long it should take to respond to a colleague's query. Clarifying these steps in your Business Continuity Plan is essential in ensuring smooth continuity of the business.
Step Six: Ask For Feedback
Asking for feedback from your remote staff is crucial. Working remotely is far different from working on-site. Some of your workers might be new to the work-from-home set-ups. Thus, offer them the means to provide feedback on what could be improved.
This pandemic may take a while before it comes to an end. Their current work-from-home set-ups may take longer than expected. Asking for feedback and hearing their stories and experience from working remotely can also be beneficial for you. You will know common issues with remote setups and learn ways on how to deal with them.
What are the Key Benefits of Business Continuity Plan?
Avoids Disruption to the Services Provided By Your Business
Assurance of Delivery Service is one of the best promises you can give your clients, regardless of your business's industry. Being prepared to handle incidents like data loss and electric outage would prevent unexpected interruption to your business, especially if the services you offer are time-critical, like those in the healthcare industry. Disruptions to those services can not be tolerated at all.
Minimize Financial Risk
Among the benefits of having an effective BCP are the alleviation of business and financial risk. BDevelopingdevelopinga resilient backup plan, process, and procedure reduce any potential data breach risk or system failures. The economic losses associated with such events, even minor ones, can be avoided with a good BCP.
In addition, added expenses resulting from being unable to operate can halt any business ventures you are planning and can be catastrophic to your business expansion.
Gives Client confidence
A business that is transparent with its BCP efforts is communicating effectively with its customers and clients. Showing the right pieces and plans to them boosts confidence and assurance. It shows that your business is highly committed to providing the best service to your clients, even during disasters.
Help Your Employees Feel Assured
A perfect BCP also helps two most of your essential business stakeholders, the client and your employees. Having assurance can improve the overall confidence of your business. For your employees, having a BCP as a backup plan can lift their worry for unanticipated disasters and assure them that the company will continue operating in the wake of tragedy. In addition, knowing that no catastrophe can cripple the business allows the employee to feel security for their job. A company that inspires confidence in its people would promote a good and promising reputation and brand.
Improve Productivity
When developing a BCP, you will need to revisit your business process to design and implement a suitable plan for your business in case of disasters. During this process, you may spot redundant or counterproductive activities and techniques that are barriers to operating efficiently. With this new insight, you can devise a better strategy and approach to improve your business operations.
Peace of Mind
Running a business can be stressful, especially in the midst of disaster or pandemics. With BCP in place, there's a chance to reduce some of the worries and stress. You can have peace of mind that your business will recover without an issue in times of disaster. You would know that a solution is ready for any problem that your business might face at the end of the day.
Is Your Business Continuity Plan Now Ready?
Business Continuity Plan should not only cater to on-site employees but even off-site or remote workers. Through this, you will be able to maintain critical business functions and improve areas that are lacking. This not only retains your connection with your employees but also allows you to operate the business as smoothly as possible.
If you are still to develop your business continuity plan, this is an excellent time to research more on business continuity plan development. But if you are currently recovering from the pandemic, learn more about the five IT Spending Priorities for Businesses Post-Pandemic.
Leave your online campaigns to the experts. Get in touch with Flexisource IT today.
Pamela is a full-time content writer and a lifelong Philomath. Her previous experience as a research analyst made her passionate about traveling the world and understanding how it works. During her day off, you can often find her indoors, writing stories or oil painting.