Thanks to society's technology and capability upgrades, consumer demands and expectations are more challenging than before. With the rise of the digital age, more customers are looking for instant gratification and quick answers to problems.
And with that, most customers turn to their devices and the internet to look for answers. Many businesses need to keep up with the latest tech trends to level up their customer service and accommodate customer expectations.
However, due to the ever-changing landscape of technology, keeping up with the latest customer service trends can be difficult to keep up with. Likewise, we came up with the 7 customer service trends that will matter the most in 2022.
Why is customer service important?
Customer service is essential to any business as it retains customers and cultivates loyalty among consumers. According to Zendesk, 77% of customers are more loyal to companies that offer the top services.
As such, it's always important to be up to date with the latest trends in the consumer services industry. The following are some reasons as to why providing top-notch customer service is a must:
Helps with customer retention and acquisition
Enhance the company's brand, image, and values
Happy customers will refer your business to others
Customers are willing to pay more for companies that offer excellent customer services
Customer service can offer insights on how to improve your business
Creates marketing opportunities
7 Customer Service Trends To Look Out For In 2022
Customer behavior and demand is a forever-changing landscape. Since the pandemic hit in 2020, many consumers have preferred to receive customer service through mobile devices or digital platforms. Lately, it's all about enhancing the digital customer experiences rather than renewing their traditional services trends.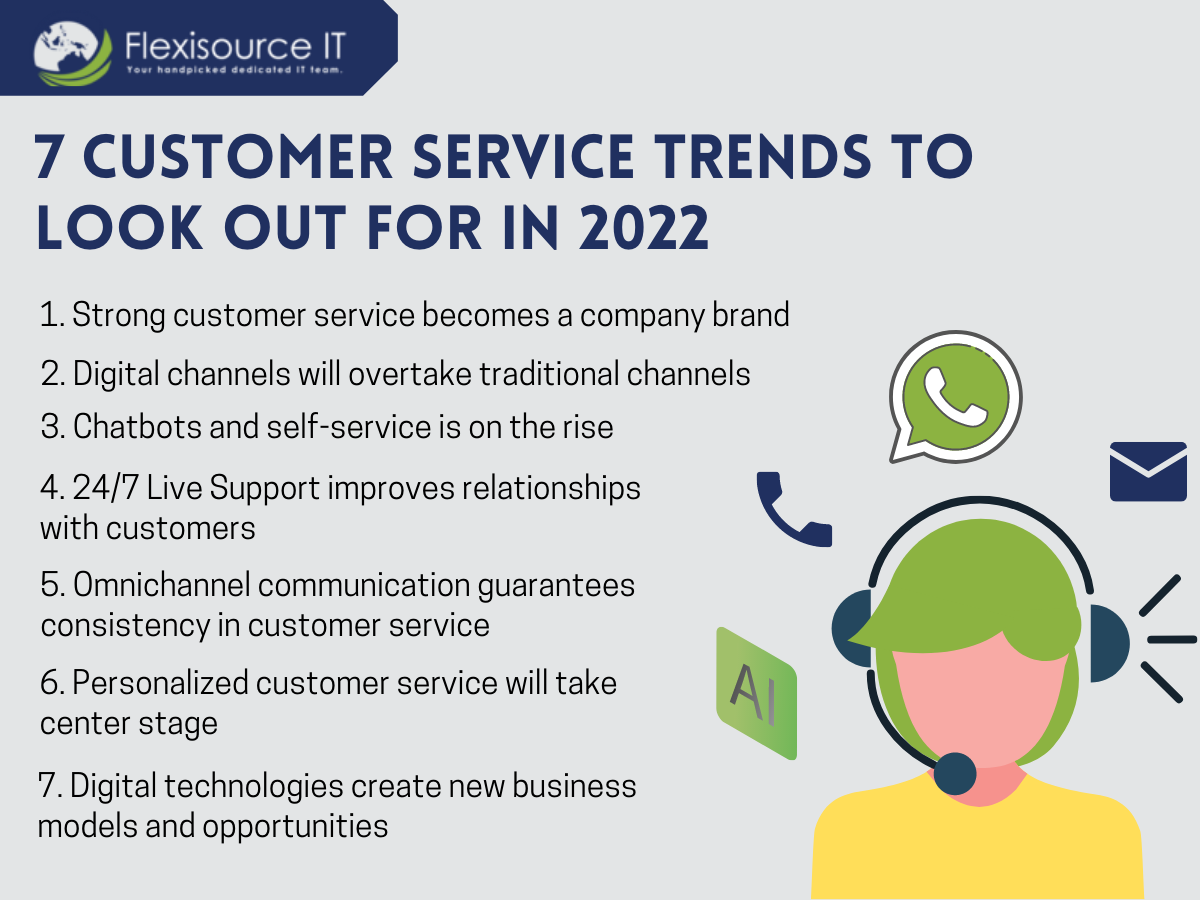 Keeping up with these trends in customer service can be difficult, especially for those who are still transforming their processes to automated ones and are newly emerging to the digital landscape. Likewise, let's take a closer look at the future customer service trends you might want to include in your strategic planning.
1.   Vital customer service becomes a company brand
The start of the COVID-19 pandemic in 2020 has changed the volume of customer service received by businesses. Industries like tourism, eCommerce, and entertainment are now handling more than double the usual volume of customer service demands during the pandemic.
In addition, some of these companies have temporarily dismissed their workers, resulting in lesser available customer service representatives and longer wait times.
It is no surprise that more customer support is a critical brand driver. As customer expectation escalates and the quality of customer service drops, the stakes of customers taking their business elsewhere get higher.
Likewise, one customer service trend to keep an eye out for in 2022 is establishing solid client relationships. 
2.   Digital channels will overtake traditional channels
Another excellent customer service trend to prepare for in 2022 is establishing digital media. The COVID-19 Pandemic and global lockdown accelerated the need for businesses for digital transformation.
As more people stay at home, they use digital platforms such as email, social media, websites, and more. Not only do they use these platforms to contact family and friends, but these platforms have also become a way to connect with brands.
It's no wonder that these consumer trends will take over in 2022. According to Zendesk, more than half of the businesses globally are expected to invest in customer experience technology over the next 7 years.
3.   Chatbots and self-service is on the rise
Another customer service trend to expect in 2022 is the rise of business chatbots and knowledge-based databases (KBDB). As customer service becomes more in demand, many companies have been turning to use AI and automated chatbots.
Customer self-service trends had become more prevalent in 2020. According to one Zendesk study, interactions with automated AI jumped by 81% in 2020. It has become a critical portion of any messaging strategy by companies.
Chatbots are helpful to customers in solving less complex requests such as order status, tracking packages, account balance, and inquiries. It can also provide answers to minimal technical solutions while the customers are waiting for a human agent to help them.
Likewise, KBDB is also a convenient way for customers to take care of things using information from the website. According to the book "The effortless experiences," 58% of most customers try to find answers on the company's website before calling the customer service department.
Investing in self-service solutions and providing more information on their websites can benefit your company. It reduces the number of calls your customer service receives and also allows your customer services representatives to focus on more important tasks and issues,
In addition, this also provides 24/7 support to customers without requiring human employees to be present. It can eventually lead to reduce operation costs and budget cuts.
4.   24/7 Live Support improves relationships with customers
Because of the evolution of digital channels, your customers can do their business anywhere and anytime. Companies now need 24/7 interaction with companies, whether doing shopping or in the form of customer service. This interaction can happen anytime.
As such, companies need to live up to these expectations and provide the necessary operation to compete with other businesses. Providing 24/7 customer service trends can be done on several platforms such as inbound customer service, SMS, website, social media, or even physically.
5.   Omnichannel communication guarantees consistency in customer service
With customer trends needing 24/7 customer care, being available in every channel is also a rising customer service trend in 2022.
The information age changed the way we use digital platforms. Today, these platforms are no longer solely used for communication and friends. Most consumers now use this platform as a way to communicate with their favorite brands and companies,
Businesses need to offer customers options for contacting their customer service through omnichannel support, including social media, messaging applications, email, etc.
6.   Personalized customer service will take center stage
It's no surprise that hyper-personalization is a part of the new customer services trends in 2022.  Customers value a friendly and highly personalized interaction with companies. According to Epsilon, 80% of consumers are more likely to purchase when brands offer a customized experience.
Businesses can personalize their customer support services through the following methods:
Unify data to ensure that customer information is easily accessible by customer support agents.
Tailor fits outbound customer service by segmenting campaigns to each customer persona using consumer insights.
Use intelligent technologies and tools to enhance customer service support and consumer expectation.
7.   Digital technologies create new business models and opportunities
Today, big data, AI, and learning machine technologies transform how companies operate their businesses. Thanks to mobile devices, IoT, and wearables, companies can now interact with consumers everywhere and are now capable of collecting data from consumers. Companies have utilized these technologies to learn more about their customers and encompass data collected in their business technologies.
With this at hand, customer service changes and are now experienced-focused. Many companies in 2022 are expected to improve customer service by utilizing data and providing us more valuable insight and a more prosperous customer journey.
Does Your Digital Customer Service Strategy Deliver?
Providing excellent customer service to build your brand, retain customers, and invite new markets to your business. By Incorporating these customer service trends into your strategy, you can deliver world-class and custom-made customer service.
Delivering these trends can be challenging, especially for small businesses. That's where Flexisource IT can help you. We provide the best support services in Australia and New Zealand. Contact us now!
Pamela is a full-time content writer and a lifelong Philomath. Her previous experience as a research analyst made her passionate about traveling the world and understanding how it works. During her day off, you can often find her indoors, writing stories or oil painting.