For many BPO employees in the Philippines, working from home amidst the COVID-19 Pandemic helps keep them safe from exposure to the virus. It helped them keep from burnout and have the work-life balance they deserve. Similarly, working from home allows people to maintain their stability in financial matters, saving money spent on commuting, petroleum, and food.
However, with the leniency of the government's COVID-19 protocols, the work setting is turning back to its original state. Many companies are now allowed to require their employees to work back in the office.
And on top of that, the Philippine government recently released guidelines requiring companies in the BPO industry to make their employees return to the office by 01 April 2022.
Nevertheless, it's inevitable for outsourcing workers to feel unsafe with their return to the office, especially since the virus is far from over. This article aims to explain to employees the company's obligation to ensure their safety in a face-to-face work arrangement.
Why is the Philippine Government Obligating Companies to return to the office?
The Philippines is one of the top contributing countries globally regarding business process management and outsourcing. According to consulting and research firm Everest Group, the country generated $26.7 billion of outsourcing revenues in 2021, coming second to India in the world's top IT-BPM locations.
And to catalyze these incomes for economic activity, Secretary Ramon Lopes of the Depart of Trade and Industry (DTI) discourages outsourcing companies from working from home. He mentioned that resuming on-site will stimulate spending and help businesses, especially Micro, Small, and Medium Enterprises (MSMEs), regain their losses due to the Pandemic.
In addition, the government also placed these guidelines together with their intentions of removing the tax breaks vested for BPO companies at the end of March 2022. According to the Fiscal Incentives Review Board (FIRB), the government granted tax breaks to BPO companies while having up to 90% of their employees work from home.
On the other hand, Jack Madrid, President, and CEO of IT & Business Process Association of the Philippines (IBPAP), is requesting an extension of their work from home arrangement to September. In his interview with the inquirer, he mentioned that "it is not easy to transition back to the office after remote working for two years." Yet, the FIRB was persistent in stating that their tax break would only last till March.
Many BPO employees are now worried about this new regulation. They are anxious about long traffic hours, proper office arrangements, and exposure to the virus. And this problem has caused massive resignation to any company, especially with jobs that employees can quickly do remotely. Workers are also under IT, and BPOs are requesting a hybrid option. The Philippine government is yet to grant this request.
A Philippine Employer's Legal Obligation on Workplace prevention and Control of COVID-19
While BPO companies can't do much about the government-mandated return to the office, they can otherwise improve their employees' prevention and mitigation initiatives against COVID-19. They can ensure this by following DTI and DOLE's interim guidelines on workplace prevention and control of COVID-19.
The policy stated that employers have the legal obligation to enforce measures against the COVID-19 virus at par with the minimum health standards from the Department of Health (DOH).
In addition, it covers aspects such as physical and mental resilience, reducing transmission of the virus, and employers' and worker duties.
Check out interim government guidelines: DTI and DOLE INTERIM GUIDELINES ON WORKPLACE PREVENTION AND CONTROL OF COVID-19.
Tips on How to Make a COVID-19 Safe Workplace
With the government releasing workplace prevention guidelines on COVID-19, employers must take the initiative and provide their company policy to prevent and control the COVID-19 virus. Here are some tips on making a safe workplace at the start of the return to the office setting.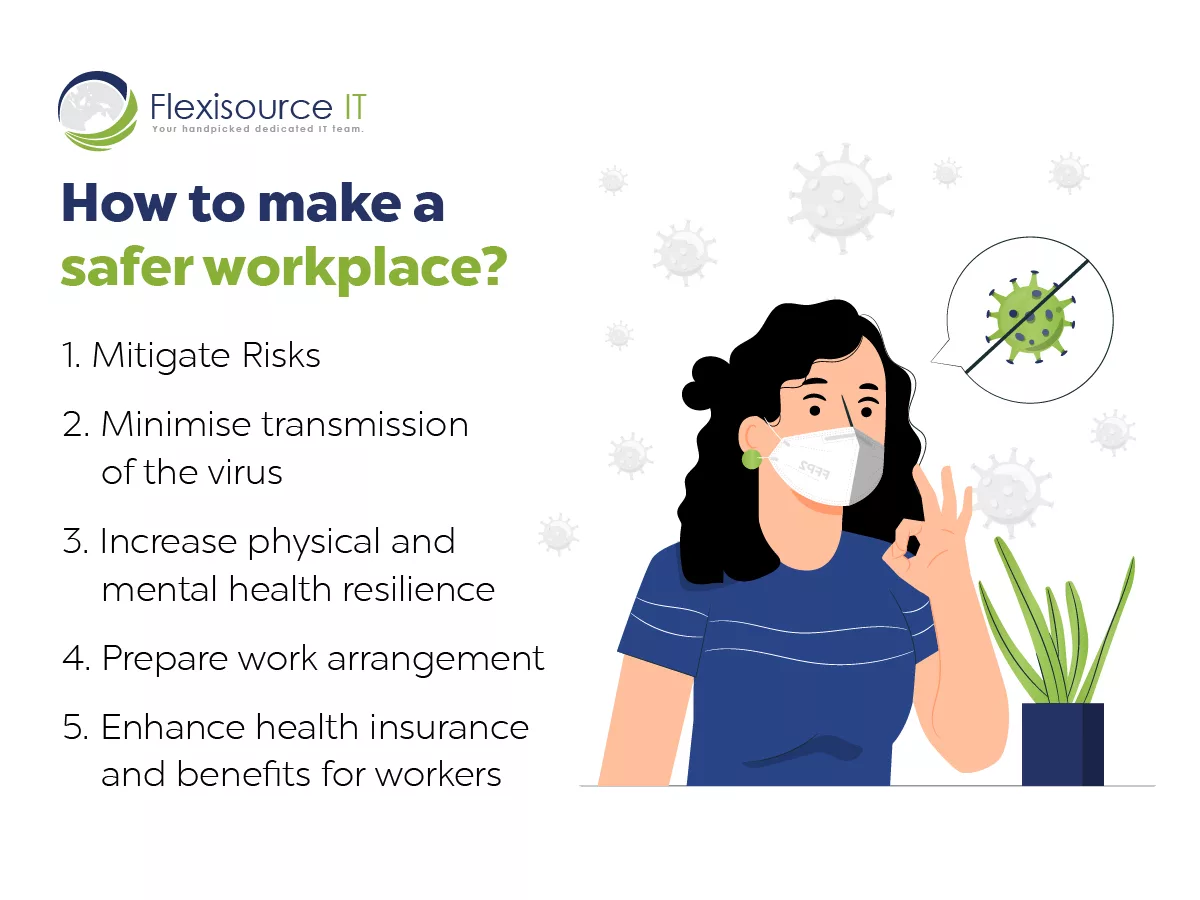 1. Mitigate Risks
Before requiring employees to return to the office, it's vital for company management first to mitigate risks and create a strategy and policy to ensure that workers are shielded from the virus. Businesses should develop administrative and engineering protocols such as masking, physical distancing, and proper ventilation.
In addition, the organizations must ensure that their employees have access to the correct information regarding COVID-19. They need to provide the right resources such as hand hygiene and cleaning materials to fight the spread of COVID-19.
2. Minimise Transmission of the Virus
COVID 19 is a virus that can quickly spread through the air. The workplace is one of the most common places where COVID 19 outbreaks happen because people constantly come in contact.
So before allowing employees to return to the office, management needs to implement preventive measures to workers such as: following the essential hygiene practices, avoiding contact with sick people, eating healthy food, and keeping yourself hydrated.
In addition, make sure that employees prevent staying in an enclosed space altogether for long periods and try to keep themselves away from sick people as much as possible.
3. Increase Physical and Mental Health Resilience
Since the start of the COVID-19 Pandemic, it has been known that the virus affects people's physical health and mental well-being. The virus itself has caused many to fall sick, and the situation and restriction exacerbate the feeling of stress and fear.
Similarly, many Filipinos have expressed their anxiety about suddenly returning to the office. Thus, company management needs to increase their initiatives on employees' physical and mental health resilience. Here are some tips on starting it:
The first step is to educate people about the risks of COVID 19 and what they can do to keep themselves healthy during this time.
Secondly, employers should provide their employees with opportunities for physical activity during work hours – such as walking meetings or taking the stairs instead of the elevator.
Thirdly, employers should encourage their employees to take time off when they need it to recover from
4. Prepare Work Arrangement
Correspondently, flexible work and alternative arrangements should be encouraged. Since social distancing is still vital in the new standard, companies must prepare several shifting or rotating schedules to meet the demand of their employee and company. A reduced work schedule or appearance in the office could significantly help the transition.
In addition, management must conduct activities such as training or assignments that employees can easily do remotely.
5. Enhance health insurance and benefits for workers
As mentioned earlier, COVID-19 can quickly spread among workers. Return to the office arrangement heightens their risk of catching the said virus with their exposure during the commute or collaborating with coworkers.
Companies need to provide health insurance and benefits for their workers. Having a fallback with your financial health needs can reduce significant stress and struggle caused by the Pandemic.
In addition, companies can also provide medical reimbursement, medicines, or vitamins to their workers.
Lastly, companies must offer Paid time off to their employees to prevent the spread of the virus. Sometimes, when an employee feels sick but time off is unpaid, they will risk reporting to the office so that they won't miss any workday. PTO will ensure that your employees will not expose other coworkers to the virus.
Ready to return to the office?
Since the declaration of Alert Level 1 Status in Metro Manila, many businesses are bouncing back to recovery. Companies do not require employees to report physically in the office while others remain working remotely.
So, if your company is one of them, make sure to follow the proper protocol to stay safe. Likewise, check out how Flexisource IT ensures its employees' safety during the COVID-19 Pandemic.
Pamela is a full-time content writer and a lifelong Philomath. Her previous experience as a research analyst made her passionate about traveling the world and understanding how it works. During her day off, you can often find her indoors, writing stories or oil painting.