Today, the mobile application is one of the top needs of most businesses. Many organizations have designed and developed mobile platforms to promote their products and provide continuous customer support to their client. And with the increased usage of mobile apps, it is now expected that consumer app spending over mobile will raise over $156 billion by 2022.
Still, many companies hesitate to create a mobile app for their business. And this is totally understandable as developing and maintaining a mobile application is not that easy. Likewise, this article will tackle top advantages and disadvantages for business of mobile application development.
What is mobile app development?
Mobile application development is developing software that runs on a mobile device, Smartphone, or tablet computer. Moreover, these apps are designed to run on various platforms, including Android, iOS, and Windows Phone.
The applications can be used for various purposes, including playing games, shopping online, watching movies, chatting with friends and family, or reading the news. Apps are usually available through either Apple's App Store or Google's Play Store.
Why develop a mobile app for business?
Developing mobile apps for businesses is an excellent way to expand their reach and increase customer engagement. In addition, a mobile app for business purposes can be used in various ways to increase employees' productivity, provide a better customer experience, or help grow the business.
With that said, you might want to invest in a mobile application for your business. However, it would still be wise to consider the pros and cons of mobile app development before investing.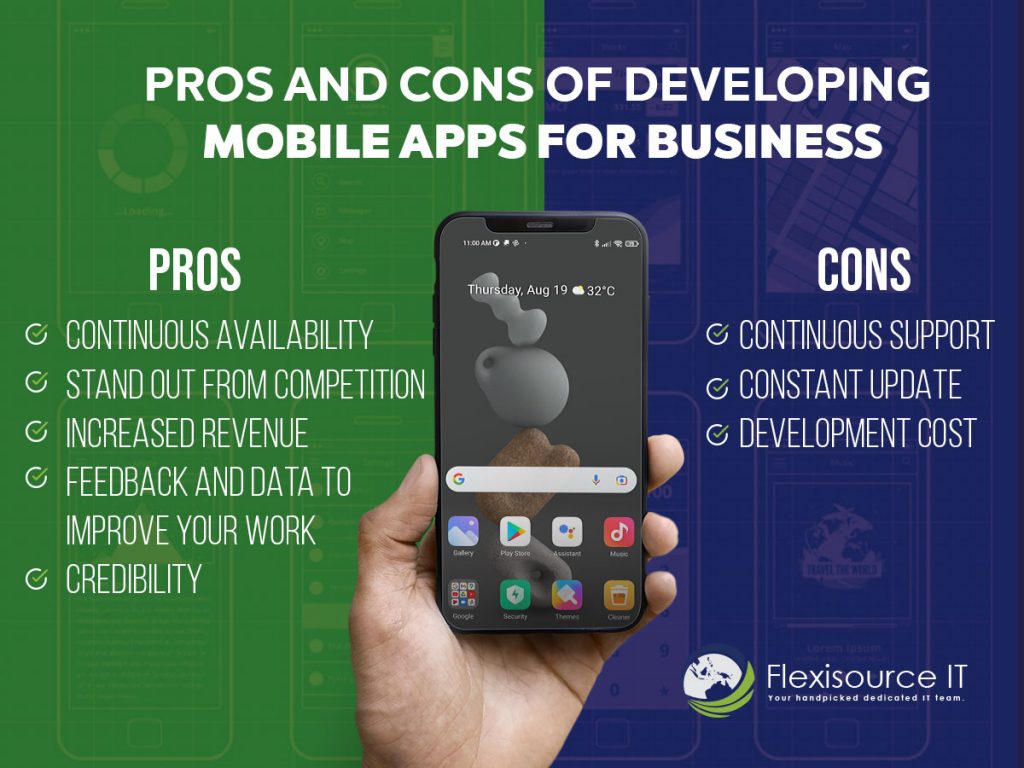 Pros of building mobile for business
1. Continuous Availability
A superior customer experience is vital in every business. It helps you get ahead of the competition and build a good brand. Developing a mobile can help your company provide a magnificent CX to your clients. It can help you ensure that you are always available to support and address their need and contact you when necessary. Mobile apps will help you keep your associate and customer at arms reach at all times.
Likewise, mobile apps can also help you reach your target audiences anytime. Customer engagement is vital in any business. You constantly need to promote your business through promos, discount codes, and announcements. With mobile apps, you can automate and schedule a statement that will notify and catch your customers' attention – anytime, anywhere.
2. Stand out from the competition
Mobile application is rising in popularity. In fact, app downloads are expected to reach 258 billion in 2021. Likewise, it's not surprising that mobile apps are increasingly being used by businesses to rise in the competition.
With mobile apps, you have the power to be relevant to modern technology and trends. You can announce and notify clients of a special holiday reward ahead of your competitors. In addition, you can also launch a unique feature exclusive to your brands, such as a loyalty program or easy store locator using your application.
3. Increased Revenue
Although it's not cheap to develop mobile apps for business, it will generate lucrative revenue through mobile apps. As mentioned earlier, a mobile application is an excellent platform for announcing or serving special offers to your customers for eCommerce businesses. Likewise, it will not only increase your popularity but also your revenue.
Likewise, you can also make a paid application that will require users to pay money to use your apps. If this is not the case, you always create a freemium version that is free to use with limited features but will charge if they want to upgrade.
4. Feedback to Improve Service
For an organization to grow, feedback is essential. Customer feedback is a great way to upscale the quality of the product and service of your company. You get first-hand data of what your customers want and how you can equip your business to solve their issues.
In addition, these data can be vital in creating compelling content that will surely relate to your customers and improve engagement.
A mobile application can help you meet their level of expectation, increase your revenue, and help your company establish a great customer experience brand.
5. Credibility
Credibility is a significant element in a brand's growth. It affects both the buying decision and loyalty of customers. A mobile application can help small businesses and startups to build credibility. Suppose you have a well-optimized and interactive app. In that case, people will presume that you sell excellent quality and product as you invested a lot in your mobile application.
Cons of building mobile for business
1. Continuous Support
While mobile apps empower you with unlimited access to your clients, this also means that you need to have constant support whenever your client reaches you. You need to be prepared to provide 24/7 live support or knowledge-based instructions to help your customers when they have an issue.
This equates to your team adjusting to scheduling to support questions after working hours. An excellent way to solve this is by enabling an auto-response bot in your mobile application or outsourcing your technical support team.
2. Constant Update
Mobile apps may be a great way to engage and provide a seamless experience to your customers. However, most users quickly get bored if they use the same feature of each application. And when they can't find a part they need, they will soon see better alternatives.
This could hurt your revenue and your brand and customer experience. Therefore, developing a mobile app for business is a continuous process.
In addition, mobile applications need frequent maintenance. From time to time, you need to repair bugs or security vulnerabilities to ensure that your application is safe to use and that all customers' data are secured.
Likewise, most mobiles release new OS on different devices. Sometimes, your application code is not compatible with the latest update and requires fixing.
3. Development Cost
Developing a mobile application takes a lot of planning, resources, and time. It needs precise knowledge and capability to be developed and is separate from the web development team. Development of a simple app could cost up to forty thousand dollars to sixty thousand dollars and could take up to two to three months. You need to hire or outsource a reputable software development company and not waste resources.
Likewise, suppose your company cannot afford to develop mobile app for business. In that case, it is better to create an optimized version of your website.
Easy steps to start your mobile app for business?
The first step in the process is determining the type of device your app will be developed for. This will determine what programming language you need to use and what platform-specific features to include in your app. Here are some features that you may want to include in your mobile app for business:
Push Notification

– Push notification is an automated message sent to a mobile application whenever it is idle. This feature is great to add,

increasing mobile app engagement by 88%.

Call to Action (CTA) Features

– Adding CTA such as buttons, arrow keys, etc., can help increase your businesses' clickthrough rates within the app. This is a great feature to convert users into long-time patrons and clients.

Fast response time

– Uses simply want an immediate and fast application that can tend to their needs. Likewise, it's essential for your app's response time to be quick – whether it's an email, one-time pin, etc.

24/7 Live Customer Support

– Although this could cost a considerable amount of resources, having around-the-clock customer support can help increase customer retention and build loyalty.

Accessibility in UX

– Having an app that accommodates people with disabilities can help your company build a better brand and reputation.

Voice search

– In 2020, voice search makes up

50% of all searches

. This can help your company optimize your PPC and SEO efforts more aligned with your clients.
The next step to develop mobile app for business is to create wireframe or prototype that shows how users will interact with your app. It helps you identify any potential problems with the design before investing too much into it.
Once you have a prototype, you can start developing your mobile app by adding functionality such as input fields, buttons, and other interactive elements. 
Conclusion
In summary, the advantages of developing mobile applications surely overshadow the disadvantages. Developing a mobile app will surely help your business increase its revenue and establish a strong brand in your industry.
Thus, make sure to develop mobile app for business today! If you are looking for a company to outsource your mobile app development, Flexisource IT can help you. Contact us now and let's talk about your company!
Pamela is a full-time content writer and a lifelong Philomath. Her previous experience as a research analyst made her passionate about traveling the world and understanding how it works. During her day off, you can often find her indoors, writing stories or oil painting.