As a small business, you are perhaps trying to get as many leads as possible. For a few years, you've been sending out emails to your potential and current clients using popular emailing tools like Gmail or outlook. However, it's not giving you the conversions you are looking for.
Most of your emails are probably lost in the void, also known as the spam folder. So you cry and try to seek out professional help. You tried searching for possible outsource email support services that can do the job well.
But what if I tell you there are other means of reaching them without seeking expensive professional service? That's a try! There are tons of free email marketing services and tools out there.
No more spam, surprise, and embarrassing email. Find out on this article the top 10 free email marketing services and save money!
What is the most effective email marketing strategy?
Each year, a lot of businesses are adopting using email as their preferred way of communication. In fact, according to Statista, just in 2019, 293.6 billion emails were sent and received each day. This amount is expected to increase to up to 347.3 billion daily emails in 2022.
Considering this fact, your email needs to be unique to stand out from the sea of emails being received by users. There are tons of creative strategies out there. As such, here are some of the best email marketing strategies that can help you stand out and get more extensive sales and higher click-through-rates:
1. Personalized your message
Personalizing your message doesn't necessarily mean creating an individual email per subscriber. Instead, it means outlining your emails based on your customer data. You need to surround your content with something that your customers can relate to or see something that they need. According to Invesp, personalized email contents have a 29% higher open rate and 41% click rates than non-personalized ones.
2. Schedule your Emails
Timing is everything when it comes to digital marketing. Likewise, when sending emails to your clients or subscribers, make sure to aim for the right time. Having that in mind, free email marketing services and tools have the ability to schedule sending your content to your clients.
Below is a table that can help you find the perfect timing, depending on your type of industry: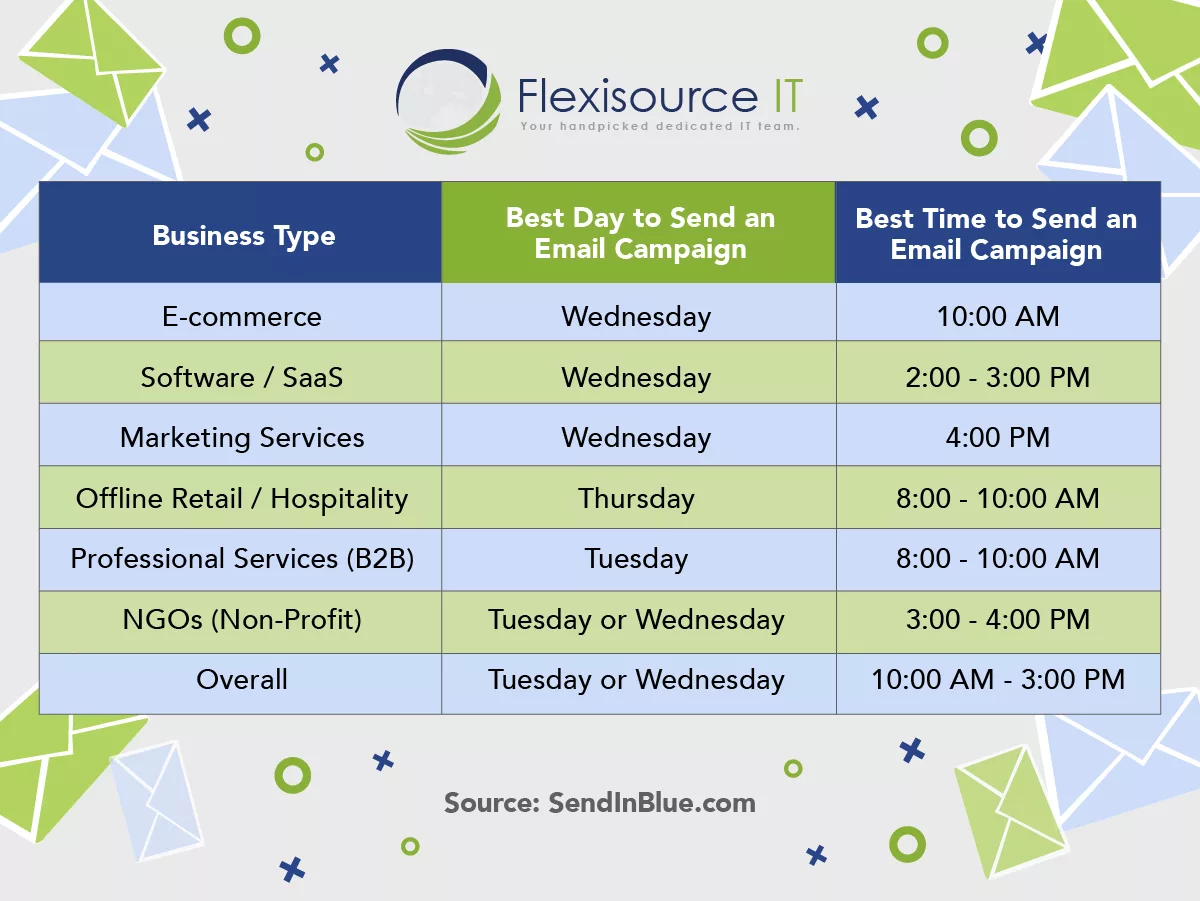 3. Segment your email list
Doesn't it annoy you to receive emails that are in any way not related to you? So before sending a personalized email about your locality or a specific topic, segment your email list. Segmentation is easy and usually can be done through a lot of free email marketing tools. In fact, according to a study from Hubspot, there is a 39% open rate chance when you segment your email list.
What is the best free email marketing services in 2022?
1. Moosend
Moosend is one of the top free email marketing platforms that offer almost all necessary features in your marketing campaign. This email marketing tool features a drag and drop builder, making it easy for users to design and optimize their emails.
It also provides a detailed campaign performance report and user behavioral data to help marketers design their content for a better open and click-through rate. Likewise, users can also create a specific list with their advanced segmentation feature to send valid emails to each recipient.
You can even integrate your favorite third-party apps to pass the existing data of your customers.  Likewise, Moosend free version allows:
Maximum of 1,000 subscribers

Unlimited emails

Emails without Moosend Branding

Automated tasks like scheduling sending of emails and events

Email customizable templates

Online forms for your lead generation

Real-time analytics to monitor performance

T

hird-party app integrations to streamline your marketing campaigns
2. HubSpot
HubSpot email marketing is a perfect platform to fuel your entire marketing funnel. This tool includes all your business needs, all-in-one platform. It's free and powerful. Despite being a CRM platform, this tool can help marketers send out individual newsletters to subscribers that capture leads. It offers tons of great features like customizable landing page builder, Facebook ads manager, and more.
On top of all these, the free plan provides reports that can help marketers get insights from their consumers and how their campaign efforts influence them. In addition, HubSpot's free program offers:
Facebook, Instagram, Google, and LinkedIn ad Management

Easy contact Management

1 million Free Subscribers Spot

Send out 2,000 emails per month

Subscription forms to capture your leads
All in all, HubSpot is one of the best email marketing tools that offer free services that will surely increase your lead and conversions.
3. SendinBlue
SendinBlue is probably one of the finest EDM platforms perfect for beginners. It comes with a drag and drop feature to design and customize your emails, newsletter, and other content. SendinBlue also offers tons of templates that are great for the newsletter and other marketing campaigns materials. Apart from its email design capabilities, this tool has free SMS marketing features, perfect for engaging with mobile users.
Most of the features are already in their free version. You can create workflows with the workflow editor on the free plan, but you can only include 2,000 contacts. Also, keep in mind that your email campaign will still have the SendInBlue logo. Likewise, here are some of its great features:
Easy contact list segmentation to group subscribers

Send transactional emails and SMS Sending

Online form builder for lead generation

CRM functions

Basic Reporting

Automation marketing, perfect for

bulk email marketing services

Unlimited Subscribers

Send 9,000 emails per month
4. SendPulse
SendPulse is a multi-channel marketing platform. However, it offers one of the best email marketing services, perfect for eCommerce. It lets users integrate any eCommerce Platforms, like Shopify and Woocommerce, to quickly send out updates, newsletters, and more to their shoppers.
It comes with a lot of excellent email templates that users can effortlessly customize with its drag-and-drop editor. You can automatically send these emails on a different schedule based on event triggers, behaviors, and other metrics.
This platform also identifies who among your subscribers is the most valuable and unique. It also provides open and click rates, as well as read and unread rates for each subscriber. You can also personalize your email easily using a replaceable text field. Likewise, here are some other features of SendPulse:
HTML Editor

Contact segmentation

Web push notification

Basic Autoresponder

Transactional Email

Up to 500 subscribers

Send out 15,000 emails per month
5. MailChimp
Mailchimp email marketing is probably still one of the best email marketing service providers out there. They offer a free plan with all the basic email marketing features like email automation and creation. But what makes it unique is its intelligent recommendation features that provide marketers great user insights to optimize your campaign.
In addition, its content manager is very beginner-friendly. So, designing emails can be light and breezy. You can store any of your images, logo, and material on the platform for easy access.
Mailchimp also lets marketers automate their emails, including those related to their client journeys, such as welcome emails, birthdays, order confirmation, cart reminders, and more.
Likewise, here are some of Mailchimp's other features:
Contact list management tools to organize your subscribers

Third-party app integration including Gmail for users to easily add their

free mailing list service from Google

Single-step automation

Send out 10,000 emails per month

Maximum of 2,000 subscribers

Reporting and analytics

Mobile-friendliness
6. MailerLit
With its revolutionary features, MailerLit is considered one of the top email marketing tools that offer free services in the market. This email marketing tool comes with a drag and drops email customizer for easy content creation. In addition, it comes with a landing page builder and pop-up customizer. It sure will make your email stand out among competitors. It also has a built-cutting-edge photo editor and rich text editor, perfect for creating stunning emails.
If you do not feel confident which variation of your email works the best, MailerLit has an A/B split testing that helps you find out which elements perform better.  This marketing service also provides comprehensive campaign analytics and report, including data like unsubscribe rate, open rate, click rate, and more.
Most of the features are already on its free plan, and this includes:
Autoresponders

Basic templates

Unsubscribe page builder

Subscriber management

1,000 subscribers

12,000 emails per month
7. Zoho
Zoho is one of the first-rate free email marketing software in the sales and marketing arena. It's a CRM platform that comes with an email marketing service with a fine selection of email templates that you can easily edit using their user-friendly editor. Its free plan also comes with A/B Testing, CRM features, and more.  Likewise, Zoho also comes with:
Webstore tracking

Basic analytics and reporting

12,000 emails per month

2,000 subscribers

Email automation

Email Workflow

Autoresponder
8. MailJet
MailJet offers one of the best email marketing tools that let marketers execute an effective marketing campaign. It comes with a customizable pre-designed template that can create responsive emails, perfect for any device.
This email marketing platform also allows marketers to add dynamic materials to personalize your email for every subscriber. You can also integrate MailJet in most CRM platforms, making managing your mailing list more manageable and faster.
MailJet also comes with a real-time collaboration feature, perfect for a team. Likewise, it also features the following:
Unlimited subscribers

6,000 emails per month

Unlimited store of contact details

Reporting and email stats

Free bulk email marketing

function

SMTP relay services
9. Email Octopus
EmailOctopus is a modest email marketing tool that runs on the Amazon SES infrastructure. White its free plan doesn't come with a lot of features like other free email marketing tools. The platform allows marketers to send many emails per month, making it on the top email marketing platforms list. This makes it seamless for small businesses looking for free resources.
This tool also allows integration with third-party apps like WordPress and Zapier for a seamless and easy customer data integration.
Email Octopus also features:
Customer statistics and analytics, stored for 30 days

Customer support

Drag and drop editor

2,500 subscribers

Send 10,000 emails
10. Sender
Sender email marketing is one of the best email marketing tools that is free and comes with many features that most small businesses need. Marketers can create eye-catching emails using pre-designed templates that can be customized using images, videos, and text from the platform.
It also features robust analytics that lets you track users who opened your mails, read them, or those who just deleted them. It also helps marketers to build an accurate subscriber profile to optimize their email marketing strategy and campaign.
Likewise, here are some senders free plan features:
2,500 subscribers

15,000 emails per month

Push notifications

Autoresponders + transactional emails

Online Forms
Conclusion
Most of these free email marketing tools already come with robust features. Thus, small businesses should make the most out of them.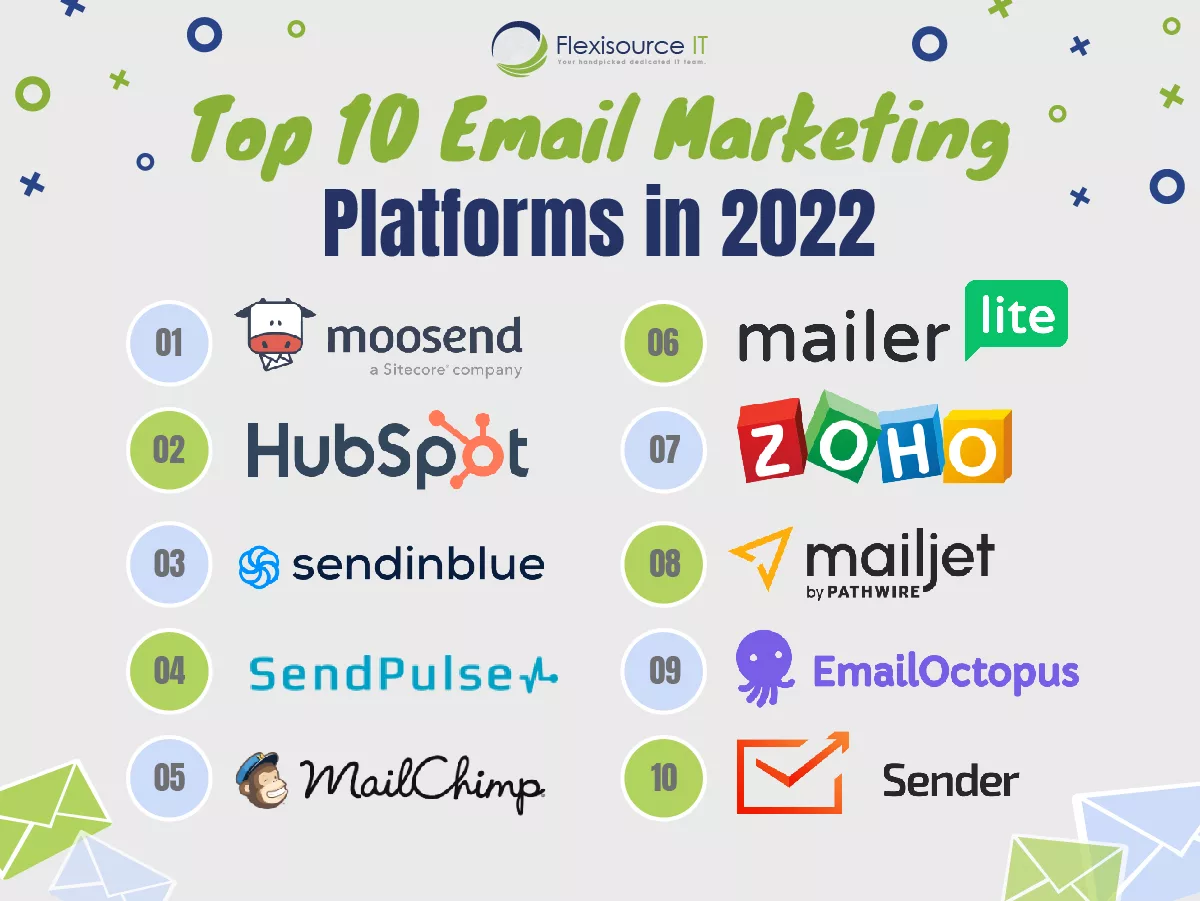 This can help them save time, money, and resources. And even if these cannot accommodate your business needs, you can also upgrade to their paid plans for a low price.
To sum it up, these are just a few of the best email marketing software in 2022. There are tons of other choices that you can find out there. But if you are just starting your marketing campaign and want to hire a professional to handle your desktop support services near Melbourne, check out our service. Contact us now.
Pamela is a full-time content writer and a lifelong Philomath. Her previous experience as a research analyst made her passionate about traveling the world and understanding how it works. During her day off, you can often find her indoors, writing stories or oil painting.