Despite many people claiming that email marketing is outdated, it is still one of the most used methods of reaching customers by business. According to Statista, about 82% of marketers still use email marketing worldwide. However, with technology, tactics and trends in email marketing are constantly changing. New technologies and tools have penetrated this marketing method and will continue to grow in the future.
And as a digital marketer, you need to keep up with the trends to get ahead of the competition. Worry not, as this article will familiarize you with the top email marketing trends for 2022.
What is Email Marketing?
Email marketing is a digital marketing strategy where companies send emails to their customers or potential customers. It  aims to get readers to take action, such as signing up for newsletters or buying a product. Similarly, it is also an excellent method to introduce your clients to discount codes, new products, and services and educate them on a brand's value.
Likewise, many companies also use email marketing to engage their customers in ways like birthday greetings, order status, reminders, anniversaries, and more.
Why is Email Marketing Important?
Email marketing has become a powerful tool for businesses of all sizes. Email campaigns can generate leads, increase sales, and build brand awareness if done correctly. Moreover, below are some of the paybacks of using email marketing in your business:
Reach a targeted audience with the latest segmentation features

Drive more revenue and sales

Collect essential data with feedback and surveys

Increase leads and potential customers

Produce cost-effective marketing campaign

Create a contact list for reference

Provide value to your customers

Flexible design and campaign

Highly scalable, can reach a larger or smaller audience if necessary

Measurable with data provided in tools

Can experiment before launching a full-scale campaign using A/B Testing

Environmentally friendly, unlike traditional marketing

Time-saving and easy to set up
Top 10 Email Marketing Trends in 2022
There are several ways to make an effective email campaign. However, it's always important to integrate the latest trends in any digital marketing campaign. Likewise, this year's current email marketing trend is to help you craft a successful email marketing strategy.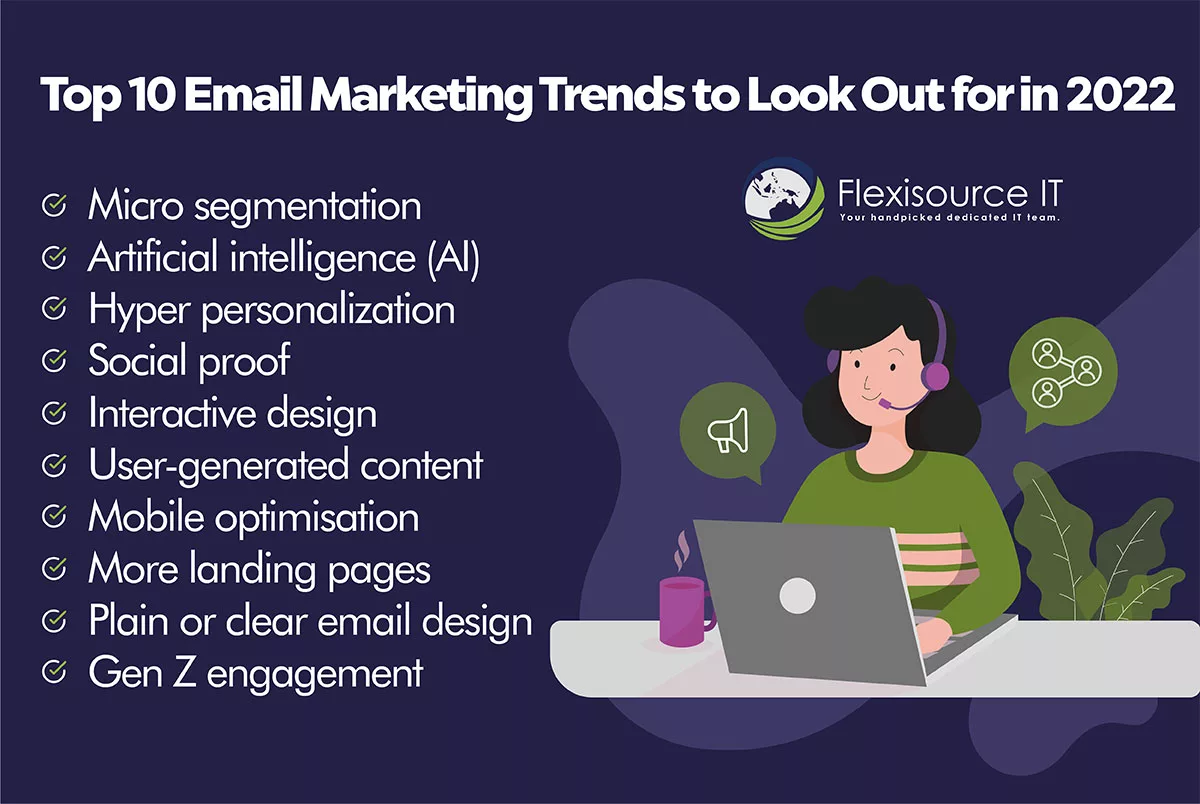 1. Micro-segmentation
Not every subscriber or customer will positively engage with your emails. Some might open, read, or click it when you send a message. However, about a tiny percentage of your email list will not open your emails and downright delete them immediately.
Likewise, marketers have emphasized that Micro-segmentation will be one of the top email marketing trends in 2022. Micro-segmentation is a digital marketing strategy that helps companies target customers based on characteristics or behavior.
Most of the time, marketers categorize customers based on four principles: geography, Demographic, Behavioral, and Psychographic.
Geographical segmentation

is based on their country, state, city, or neighborhood.

Demographic

, on the other hand, are categorized based on income, education, gender, age, religion, and other personal choices

Behavioral segmentation

is related to their account in your company. It can be categorized by purchase history, frequency, intent, type of customer, etc.

Psychographics

are the ones that feature a customer's lifestyle, values, etc.
2. Artificial intelligence (AI)
In this age of technology and digitalization, AI in email marketing should not surprise anyone. This powerful invention can help marketers automate their email marketing and streamline their tasks.
As one of the latest email marketing trends, Artificial Intelligence can help email marketing in significant ways: Automating Tasks and Producing a powerful campaign. Thanks to its powerful capabilities, AI today can write and send a general email to customers.
Moreover, with the help of Machine Learning (ML), most AIs can produce better emails based on the data collected from previous interactions with customers. Likewise, AI can help marketers with repetitive email marketing tasks such as anniversary emails, birthday emails, order updates, etc.
3. Hyper personalization
Another top email marketing trend in 2022 is hyper-personalization. The one-size-fits-all strategy does not work on most customers today. Most consumers want to feel valued and understood by companies. They want their individual experience to be closer to their needs and wants.
With this, most personalization in email marketing significantly impacts the customer experience. It can help companies connect better with customers and understand their needs. It can also help businesses deliver a product or service that many will patronize, as it solves their problems.
Likewise, marketers can use these data collected and provide products, services, and content that are more relevant.
4. Social proof
Social proof has the very same concept in real life and email marketing. When customers shop, they want to make sure that they buy something that they'll get the best out of. Something reliable and authentic. As such, most shoppers look for reviews, recommendations, and comments before availing of a product or service.
Social proof is like providing your current customer evidence that your product has value in email marketing. This can be in customer testimonials, product reviews, and a list of customers that trust your product.
Likewise, mentioning essential people or institutions who certified your product is also an effective tactic for email marketing.
5. Interactive design
A common mistake that most marketers make when sending emails to clients is that it does not support interactivity. According to Megan Moller, director of content marketing at Litmus, "91% of consumers want interactive emails, but only about 17% of marketers provide it."
In the previous years, interactivity could be an issue for emails to not function. But with the technology today, interactivity can quickly be done with the right tools. There are tons of Free email marketing services and tools to help marketers design an interactive email. This can be anything from letting the consumer click, swipe, or play with.
Likewise, this 2022 email marketing trend can help drive higher engagement, conversions, and purchase intent.
6. User-generated content
Another email marketing trend introduced to marketers in previous years is user-generated content.
User-generated content is basically any content the clients create about your product. This can be anything from a product recommendation blog, product review videos, or even simply a picture of them using your product. This type of marketing can help boost trust with potential clients and is an excellent way to promote your product with less effort.
In email marketing, you can incorporate user-generated content by hosting a contest for your social media, sending vouchers in exchange for a review, or tapping with influencers.
7. Mobile optimization
Mobile devices are increasingly used by the population today. In 2022, about 7.26 billion, or 91.62% of the world's population own a smartphone. Likewise, it is integral for companies to ensure that their email marketing efforts are optimized for mobile.
Marketers need to ensure that their email marketing provides the same experience as desktop users to mobile users. Try following the tips below to keep up with these email marketing trends:
Use responsive templates.

These are designed to automatically fit on the screen, regardless of which device they are using. As such, marketers do not need to worry if the email is rendering correctly.

Use fewer images.

Don't overdesign your emails. Make sure that embedded images are small enough that they can quickly be loaded on their phones

Use buttons.

When adding a call-to-action, make sure you use a button instead of links. It's easier for people to see a button in their smartphone rather than a line of text.

Consult an expert.

Lastly, suppose you are unfamiliar of doing this. In that case, you can outsource a digital marketing company that can ensure your emails are optimized for a mobile experience.
8. More landing pages
Each email marketing campaign should always have a dedicated landing page. Adding a landing page can invite more people to purchase your product, visit your website, and funneling customers to your page for more info.
The whole point of a landing page is to keep your subscriber focused on your intent or what you want to introduce in your email. Call to action buttons should be clear, interactive, and have one destination.
9. Plain or clear email design
While interactive designs are one of the most relevant email marketing trend, there are circumstances when you also need to use a clear and plain format. The pandemic has made offline interaction less available to people and businesses. And some heavily rely on email to directly communicate critical matters.
Likewise, text-oriented emails are the answer to this. Using the plain design, companies can now send an important message, campaigns, or event CEO speeches, without eliminating the salient vibe of the email.   
10. Gen Z engagement
You might think that the younger generation doesn't care about emails. However, they are more than keen on receiving emails from their favorite brands and companies. According to this study, 31.8% of Gen Z responders said they would like to receive emails from brands. This means that you can no longer ignore Gen Z from your email list.
To engage with Gen Z, make your email more engaging and personalized. Emphasize individual engagement and show them that they matter.
Conclusion
These email marketing trends in 2022 are just a few tactics you can use in your email marketing this year. So keep it up and apply these trends immediately in your campaign.
If you need help with your email marketing strategy, consult Flexisource IT now! We offer the best email marketing services in Australia.
Pamela is a full-time content writer and a lifelong Philomath. Her previous experience as a research analyst made her passionate about traveling the world and understanding how it works. During her day off, you can often find her indoors, writing stories or oil painting.