For years, digital marketing has been one of the most popular and most explored industries of businesses. Over the years, this concept has revolutionized how business advertise their company and communicate with their customers – often blended with technology and traditional marketing. It has introduced us to SEO, social media, and content marketing methods.
However, learning digital marketing is not easy. It requires multiple and precise steps, strategies, and trends to follow for it to be effective. And while there are many online resources, learning from an entire course of data or books is still the best way to learn about digital marketing.
This article will tackle the industry's top 10 digital marketing books. In this article, you will find a summary of each book, its author, and an online link.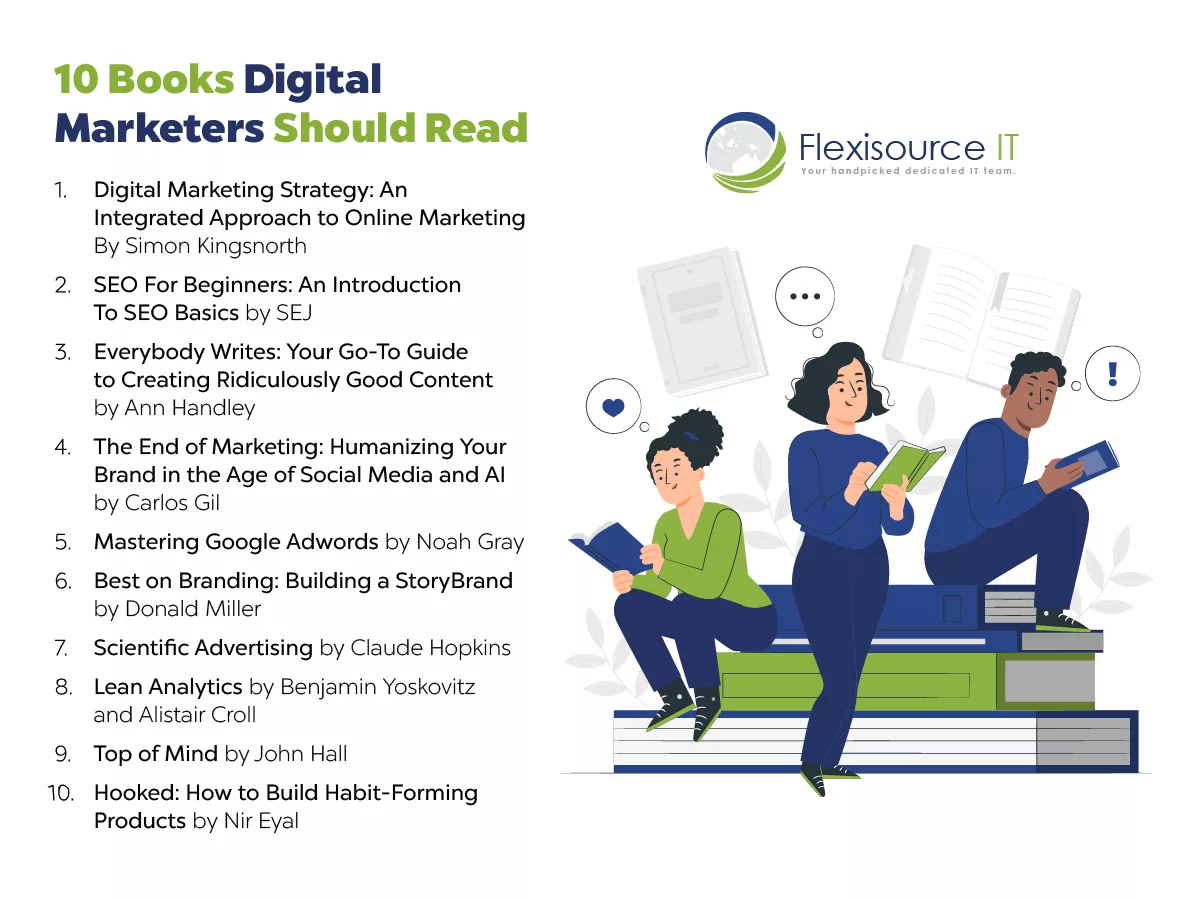 1. Digital Marketing Strategy: An Integrated Approach to Online Marketing by Simon Kingsnorth
In this digital marketing book, Simon Kingsnorth discusses creating an integrated online marketing approach. He talks about integrating digital marketing with other marketing channels and how marketers can use it to generate more sales.
The author starts by defining the term 'integrated approach' and then discusses what it means for digital marketers. He then talks about how digital marketers can integrate their work with other marketing channels like SEO, PPC, email marketing, etc. The author also discusses how an integrated approach can help generate more sales for a company.
2. SEO For Beginners: An Introduction to SEO Basics by SEJ
SEO for Beginners by Search Engine Journal is one of the advanced digital marketing books available to marketers. It tackles SEO basics and how you can utilize it to improve your website. This book talks about how SEO has evolved over the years and how it is now more important than ever to implement. It also discourses some of the most important things that need to be done to ensure a site is optimized for search engines.
The book is a brilliant overview of the world of SEO. It teaches the basics of this field, such as how search engines work, what users expect from them, and how search engines rank pages.
3. Everybody Writes: Your Go-To Guide to Creating Ridiculously Good Content by Ann Handley
Everybody Writes an excellent guide for improving content writing skills. It provides a wealth of information on how to write more persuasively and creatively.
This digital marketing book starts with the basics of writing, such as finding your voice, sentence structure, and word choice. It then moves on to more advanced topics like SEO, keyword research, and social media optimization. Likewise, the author shares valuable insights about marketing your content and managing your own time as a writer.
The book is filled with inventive training to help you become a better writer by developing your skills in different areas – from storytelling to video scripts. It also offers advice on how to build an audience for yourself and use it for marketing purposes.
4. The End of Marketing: Humanizing Your Brand in the Age of Social Media and AI by Carlos Gil
The End of Marketing by Carlos Gil is a social media digital marketing book that focuses on how to humanize your brand in the age of social media and AI. The book offers a new perspective on connecting with your customers through empathy, storytelling, and authenticity.
Likewise, it introduces marketing and what it means in today's digital age. It also discusses social media's effect on marketing and how marketers can use artificial intelligence for marketing purposes
5. Mastering Google Adwords by Noah Gray
Noah Gray, a Google Adwords expert, has written a digital marketing book on the subject that is informative and engaging. It's a must-read for everybody who wants to learn about Google Adwords and its nuances.
Mastering Google Adwords is an insightful read on advertising through Google. The author not only talks about the basics of advertising but also delves into the intricacies of this powerful platform. This digital marketing book is a must-read for anyone who wants to learn about Google Adwords and its nuances.
6. Best on Branding: Building a StoryBrand by Donald Miller
Donald Miller's story is an inspiring one. He started as a pastor, but he soon realized that his true calling was in marketing. That's when he founded his company, StoryBrand, a consulting firm that helps brands tell their stories better.
Miller has written a digital marketing book on branding and storytelling called "Building a StoryBrand" This book is about creating your brand and making your company stand out from the others.
7. Scientific Advertising by Claude Hopkins
Scientific Advertising is a digital marketing book written by Claude Hopkins, a pioneer in the advertising industry. He founded one of the first marketing agencies and pioneered many techniques today.
This book is divided into three parts: 1) The Psychology of Advertising, 2) The Technique of Scientific Advertising 3) The Practice of Scientific Advertising.
The first part explains how to use psychology to persuade people to buy products or services. It includes understanding how people think and react to stimuli such as words or images. The second part discusses the scientific advertising technique, which studies human nature and behavior to create advertisements that will be successful with most people. The third part talks about the practice of scientific advertising, which is all about putting theory into practice.
8. Lean Analytics by Benjamin Yoskovitz and Alistair Croll
Lean Analytics is a digital marketing book measuring and managing data to build successful digital products. If you are part of product development, this book will help you understand which metrics are the most important for your success and how to collect them.
The book covers two main topics: first, what data can tell you about your product, and second, how to use that data to improve your product. Lean Analytics is a practical guide for anyone who wants to succeed by using data.
9. Top of Mind by John Hall
John Hall is one of the world's most prominent and successful copywriters. Hall has written over 20,000 ads and scripts for clients worldwide.
In his digital marketing book Top of Mind, he shares his insights on how to write copy that sells. John hall broke this book into four parts. First is the art of being a good copywriter. Next, how to write headlines that sell. Then, how to write excellent copy. And lastly is how to be a successful creative director.
The first three sections are about writing skills and show us how important it is for a writer to be creative and emotional when writing. The last section is about managing creatives, which tells us how important it is for a writer to work with people and words.
10. Hooked: How to Build Habit-Forming Products by Nir Eyal
Hooked is a digital marketing book about how to create products that people can't put down and what it takes to make a strong habit.
Nir Eyal is an expert on the psychology of technology, and it's his job to understand what motivates people to use certain products over others. He talks about how companies design products with the end goal of creating habits in their users, and he offers some actionable steps for building those habits.
Eyal uses a four-step process for creating patterns: Trigger, Action, Reward, and Investment.
Pamela is a full-time content writer and a lifelong Philomath. Her previous experience as a research analyst made her passionate about traveling the world and understanding how it works. During her day off, you can often find her indoors, writing stories or oil painting.