Creating high-quality content for your business has become a necessity in this digital era. Customers are constantly on their devices, watching a video, listening to a podcast, or reading blogs.
And due to this trend, businesses are obligated to generate a massive amount of unique and extraordinary-quality content to attract visitors and customers to their websites. In fact, there are tons of content marketing trends in 2021 that popped up to keep up with the ever-changing content marketing landscape. Using these trends, however, isn't always practical.
Content can be developed in different ways and still remain futile. Likewise, writers need to make sure that they constantly apply modern copywriting tips and tricks to create exciting articles and maintain readers' interest.
This article will help you understand the most common copywriting tips for beginners.
What is copywriting?
Before proceeding to the copywriting tips, let's first discuss what is copywriting. Copywriting is the act of writing for website content, sales promotions, and other marketing materials such as digital advertisements, brochures, catalogs, newsletters, and email.
Basically, copywriting aims to increase brand awareness and persuade readers or listeners to take a particular action. This action typically includes availing of your product, subscribing to your newsletter, or clicking a button.
Why is copywriting important?
Copywriting is essential for marketing and advertising businesses as it can help generate traffic and conversions. More precisely, excellent and well-written copywriting allows companies to drive sales, profitability, and increase in Return on investment (ROI).
It can help your business achieve its goals by convincing potential customers that your product can help them in their daily lives.
How can I make my copywriting better?
Most copywriters use writing structure to help them organize their content and communicate effectively. There are tons of writing systems like inverted pyramids or AIDA. But if you want one that is good in persuading readers on call to action, you should try the 4 Ps Structure.
The 4Ps Structure is a formula that provides proven copywriting tips and tricks that writers can use to bring top-notch content. Its frameworks are composed of promise, picture, proof, and push to guide writers on how to get good at copywriting. The 4 Ps is not solely for written content but is also suitable for audio and video.
As such, let's go through each of them and discuss how it works: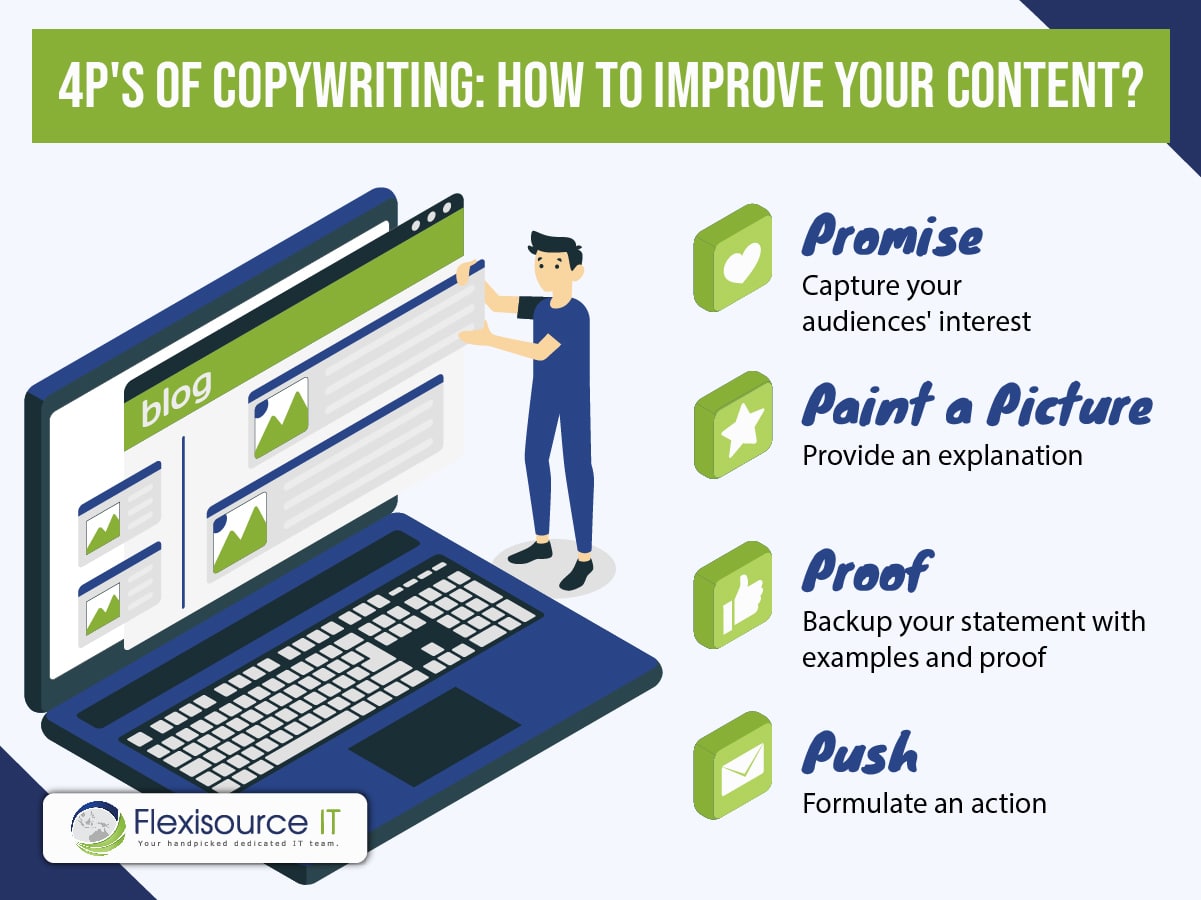 PROMISE – This is the most essential section when writing. This part is where you get the attention of readers. It can take the form of a unique headline or introductory piece. As such, make quick promises to your readers in the first line of your copy. Ensure that your pledge captures your target market's needs and interests.
PICTURE – This part is where you paint an image to the readers. This is where you visualize to the reader how the product/content/service can help them. Usually, you can tackle the advantages of the topic in this part.
PROOF – Next, we need to back up our picture with facts or figures. You can also use social evidence, testimonies, and reviews in this sector. By this time, your readers are probably interested in availing the topic you're discussing. This is a great strategy to fold their interest in delivering action.
PUSH – Also known as Pitch, is the last part of the 4 Ps of copywriting. This is the section where you convince the readers to avail your product or services. It needs to consist of a very compelling reason to act now, followed by unique factors like bonuses, guarantees, and more.
And that's it. You can also use these copywriting tips and tricks in your sales copy or PPC pages. This is also a great template when building web pages for services, products, and others. 
What Are Top 10 Copywriting Best Practices?
There are tons of good copywriting tips available online. Most can help a writer to create a solid structure and write compelling content for the readers.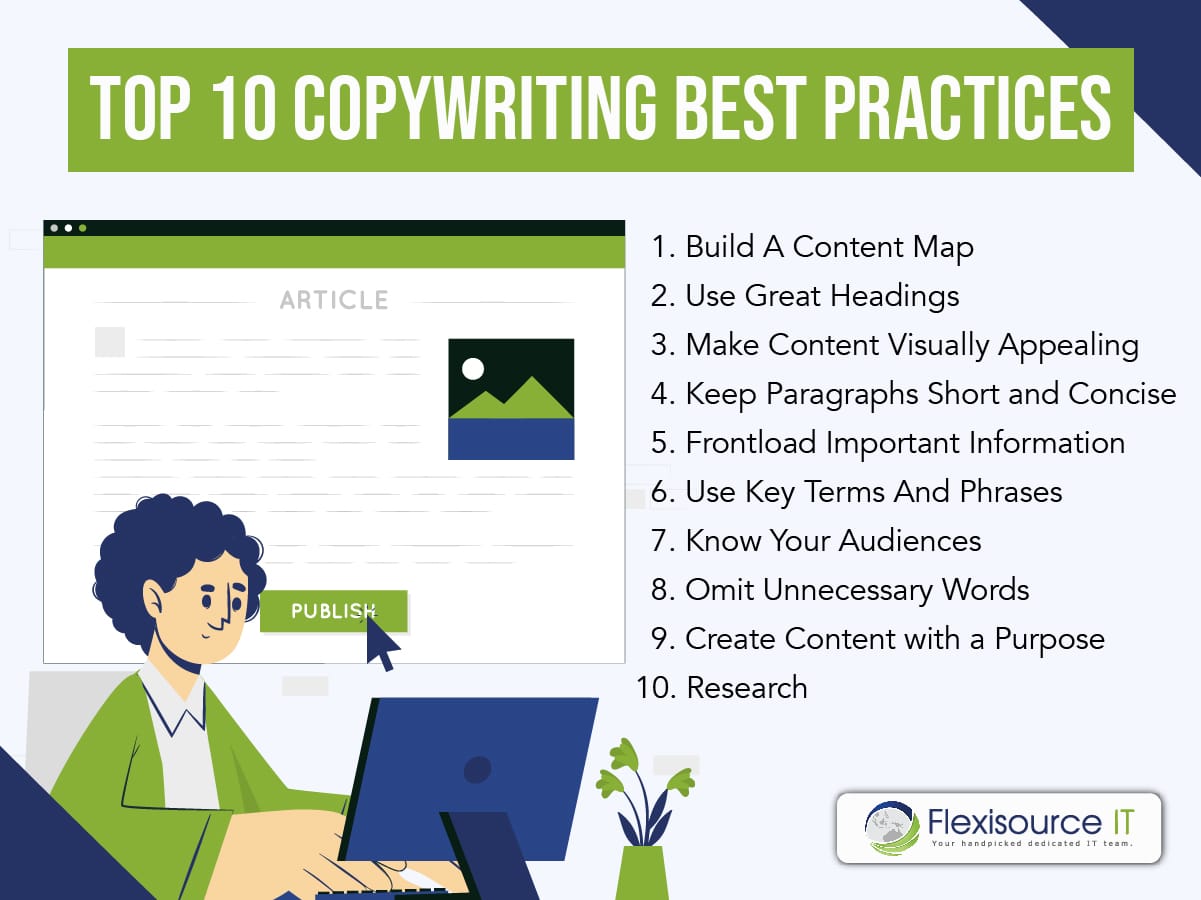 Likewise, here are ten best practices on how to get better at copywriting:
1. Build a content map
Before creating content, it's important to first map out your idea and what you want it to look like. One great copywriting tip and trick that users can adapt to is by building a content map.
A content map can act as a guideline for writers when creating content. It helps them visualize how the content will be used. It can also act like a checklist where it tells writers if they could deliver their objectives.
A content map can also tell if your content spoke to your readers and helped them throughout their customer journey.  
2. Use adequately of headings or headlines
Another great copywriting tip and trick is by using compelling and adequate headings. As mentioned early, a well-written headline is necessary for copywriting as it helps get the readers' attention. Your headline is the first thing that readers see, and this attributes to whether they will continue reading or not.
Moreover, headlines also act as the outline of a page. It summarizes your paragraphs' content and lets users understand what the section is all about before deciding whether to read it or skip it.
Likewise, headings are also great for SEO. Heading Tags function as an indicator to help structure your website or page. Google uses these headings to crawl through your webpage and determine your content.
As such, a compelling headline makes a big difference as it's what searchers see and can determine your website's click-through rate. You can have an excellent copy on your website, but none of it matters if your headline sucks.
Likewise, here are some headline copywriting tips for your articles:
Include Questions in your headline to generate curiosity and deliver SEO value. You can build your questions around the questions indicated on "People also ask" on Google SERPs.

Use Power Words in your headlines to capture the reader's attention. Identify keywords related to your content and integrate one or two into your headlines.

Use Special Characters like numbers, brackets, and hyphens in your headline. It will catch searchers' eyes and lead to more clicks.
An excellent heading itself can deliver the right message to your target audience. Make sure to choose your headline wisely.
3. Front load important information
The rapid rise of reliance on people's technology has caused the formation of what we call "the information age." People can access any knowledge instantly through the internet. As such, digital production and content distribution have become a primary campaign for many businesses.
With tons of available data online, many users tend to skim or scan over a website. And when readers browse, they are looking for the first few words of each line that will provide clues if they are reading the suitable material they need.
So, suppose you are reducing significant or related words to the first few sentences. In that case, you are also reducing the chances of readers seeing the relevance of your article. In this regard, front-loading is another critical online copywriting tip that writers should follow. To front-load, writers should start the content with the most essential detail of your topic relevant to your audience. Input detailed information, keywords, links, call-to-action, or critical messages.
4. Make copy visually appealing
With the flood of content online and shrinking attention span, many users usually skim over articles and content. Thus, another excellent copywriting hack that can make your content inviting and enticing to the eyes is by making it visually appealing. To make your copy attractive, try the following website copywriting tips:
Use a good font that is easy to read. Most online marketers' users are Courier, Verdana, Georgia, and Times New Roman.
Try a variety of text formats like bolding important information, italicizing quotes, and more.

Use bullet points or numbers when listing details

Break up paragraphs

Indent quotes

Use headings and subheadings

Use images and infographics
5. Keep paragraphs short
Long paragraphs are hard to scan and understand. It could be harder to digest for people with a shorter attention span, and readers would probably end up losing interest and abandoning your website.
As such, when writing a copy, writers need to ensure that paragraphs are short. This makes it easier for readers to skim over your content and process every information you are providing. This is not only exclusive for websites but also an excellent copywriting tip for social media.
6. Call attention to key terms and phrases
Copywriters should never forget the importance of integrating keyword intent in their content. These SEO copywriting tips provide numerous benefits such as increased organic and paid traffic, impressive ROI, and advanced rank in Search Engines.
Why? Well, keywords are how users interact with Google. Search engines want to provide the most appropriate content to search queries of users. And keywords are how they find pertinent content to the customers' search terms.
As such, incorporating keywords into your content is a crucial copywriting skill to have.
7. Know your audience
Another important copywriting tip and trick are to know your target audiences. As a copywriter, it's essential to relate to your readers and find out their pain points. Remember that your target audience has questions that they need answers to. Whether it's about the best place to eat or service that will make their life easy, they search to seek the solution.
And once you understand the needs of your consumers, you can start searching for the types of content that work well with your intended customers. Good copywriting comes with clean thinking and straightforward content that connects with the readers. It moves and engages them.
8. Omit unnecessary words
Sometimes, writers overload their copy with information, and it could look excessive to readers. Copywriters need to remember that copywriting is not conventional writing. It needs to be concise and brief.
Usually, copywriters can get rid of half the world without losing their message. Thus, removing unnecessary words and information can reduce the length to half, making it easier to scan and read.
9. Research
Research is not only exclusive to understanding your topic. The main objective of researching when writing copy is to discover sections that you can improve to provide better and efficient content. Likewise, a lot of marketers study their competitor's content, campaign, and strategy.
Researching your topic on search engines can also help you understand the top 10 organic spots on the first page of SERPs and apply them to your content. In addition, it can also help you gather relevant information and keywords that you may use in that content.
10. CTA
After finally painting the picture to your audience, you might be asking the question, "now what?" Many copywriters often forget to call for action. This can damage the result of your copy and business.
Having no CTA in your copy is like putting your hard work in vain. The audiences will probably have developed an interest in your product. As such, this is an excellent opportunity for writers to highlight or feature your products and services.
Conclusion
Copywriting is challenging. You need to balance optimization, relevance, keywords, and a lot more to create content that your target audience will love. If you are writing an article right now, make sure to use these copywriting tips and tricks. It can help you jump-start your content writing and save you a lot of time and effort!
If you are inexperienced in copywriting but want to start delivering information to your customers, check out our copywriting services for small businesses. Flexisource IT provides a wide range of IT and digital marketing services. Contact us now.
Pamela is a full-time content writer and a lifelong Philomath. Her previous experience as a research analyst made her passionate about traveling the world and understanding how it works. During her day off, you can often find her indoors, writing stories or oil painting.