Southeast Asia (SEA) is known as one of the biggest exporters and suppliers of agricultural products in the world. It is almost ironic that technological investment in this vital sector remains to be unseen, even though there are a few initiatives from several countries in the region.
Southeast Asia's climate and weather conditions vary per country, but even so, it is one of the most significant contributors to the world's food ration.
Association of Southeast Asian Nations (ASEAN) Key Figures Report in 2018 stated that agriculture shared a mere 10.6% of the region's GDP. Even so, agriculture remained to be a vital part of the economy of some countries in the region such as in Cambodia and Myanmar.
Agriculture is still the biggest provider of jobs in Southeast Asia mainly in Myanmar (48.8%), Vietnam (41.9%), Indonesia (31.9%), Thailand (30.2%) and the Philippines (28.3%).
The region's agriculture sector is the perfect incubator of the development and expansion of agricultural practices, agritech (use of technology in agriculture), horticulture or aquaculture to improve yield, production efficiency, and profitability.
Agritech can be products, services, or applications derived from various input/output processes. However, the region's potential is not fully tapped since most investments in the region are not focused on agritech.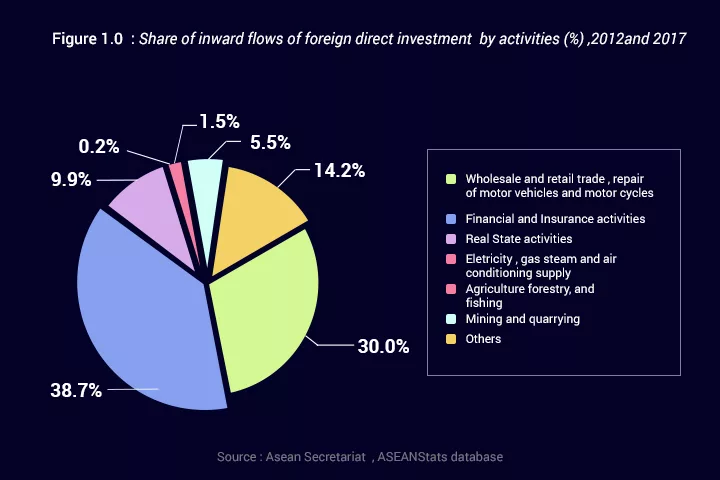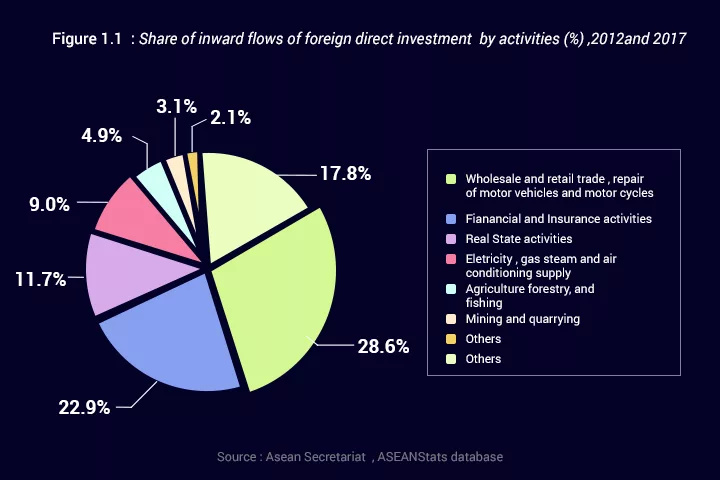 (Left: FDI in 2012; Right: FDI in 2017)
In the same ASEAN Key Figures report, the association accounted that the majority of Foreign Direct Investments (FDI) inward flows in the region are focused on Wholesale and Retail of motor vehicles (28.6%), Manufacturing (22.9%), and Financial Insurance activities (11.7%) in 2017.
Meanwhile, agriculture, forestry, and fishing only accounted for 3.1% of the FDI inward flows in the same year. Even at present, the investment in modifying agriculture through technology still got a long way to go.
Efforts and improvements through Agritech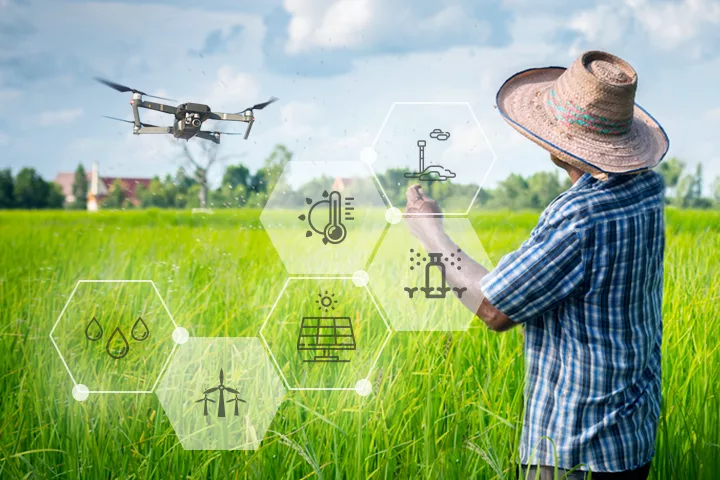 Various efforts in improving agricultural practices and methods are in the works. Innovation and technology aid the transitions of traditional agriculture to better, more efficient processes.
Agritech is slowly engaging the agricultural sector in various ways. For example, farming is improved through the use of apps that give farmers information about crop price data, weather forecasts, and equipment rentals.
In Myanmar, agritech company Impact Terra created the "Golden Paddy" platform, an application where farmers can check real-time, personalized information on local crop prices. It also informs farmers on weather-based advice like drought warnings, flood notices, and potential pest infestation.
In the long run, these efforts are targeted to encourage the youth to be interested in reviving the farming industry, giving opportunities to the rural areas to develop without being highly urbanized.
Drones as the key to efficiency and maximum production
Drones also play a vital role in the success of agritech. These automated devices assist farmers in quickly and accurately mapping and monitoring their crops. Drones also guarantee a higher level of safety during application of pesticides on crops.
Asia Development Bank reported in 2018 that drones realize the sought-after pinnacle of farming called precision farming, which increases crop yields by 20%.  
Even though there is a great benefit of using drones in production, there has not been a present large-scale usage in the region. This could be because of the regulatory restrictions in using the unmanned vehicle commonly because of privacy and security concerns.
Incorporating blockchain technology
Another viable option is the use of blockchain technology. It will make a secure database that farmers can use to document their transactions, inventory and other details. With this documentation, farmers can trace the origin and life cycle of their products.
Agritech Hub
Singapore is on the move to become the agritech hub i the region, even though they currently source all of their agricultural products abroad.
Enterprise Singapore has recently invested US$66.3 million in Singapore-based agritech companies and startups. The economic powerhouse can utilise its pool of leading and developers as it joins the agritech industry.
This move might benefit the whole region if Singapore overcomes its inexperience in agriculture by learning the agricultural practices abroad.
Southeast Asia's agricultural sector can be a potential economic thrust if it can be improved and innovated using technology. While the current state of the agricultural technology in the region needs further advancements, it promises significant benefits throughout the agriculture-oriented countries of Southeast Asia.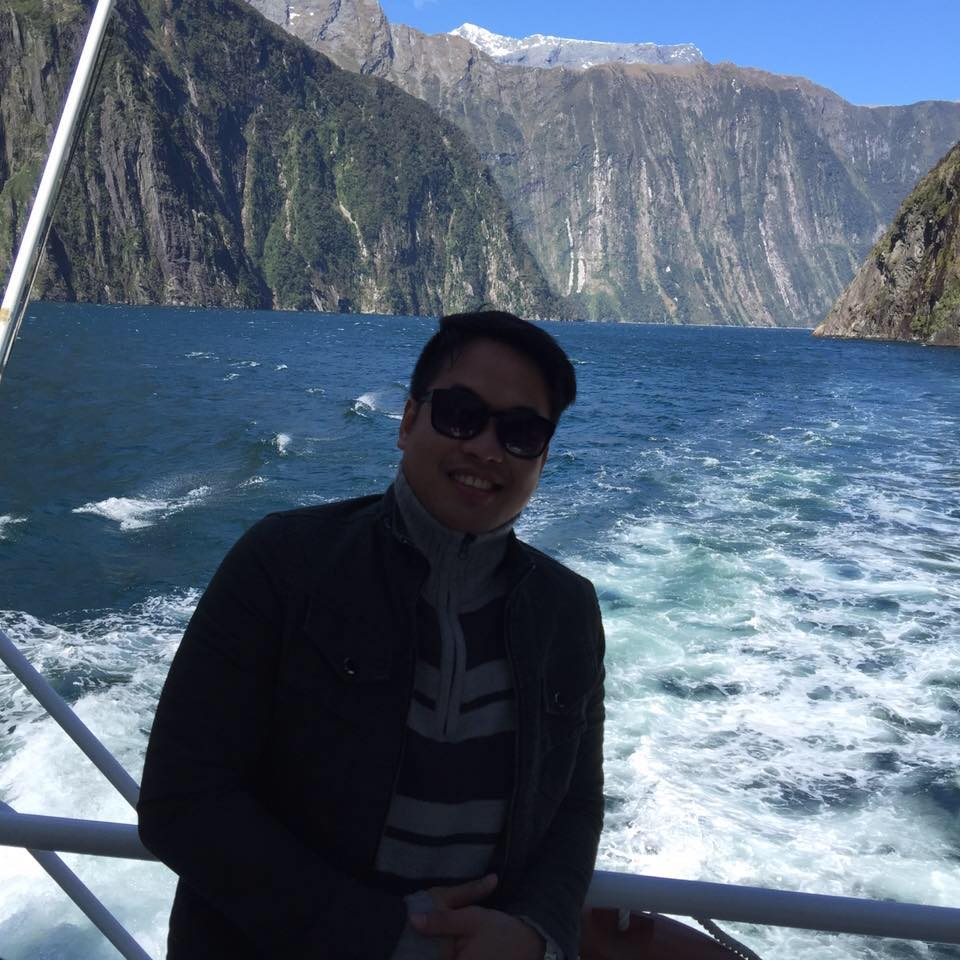 Bernard is a well-motivated and hardworking person who has acquired extensive training and experience in digital marketing. His broad experience in working with various international brands has helped him developed a strong capacity to manage multiple projects on strict timelines that adhere to brand identity and values. With his years of experience in digital marketing, he goes beyond the average marketers to help businesses achieve outstanding results.