According to the study conducted by International Data Corporation (IDC) on Digital Organization Structures and Roadmaps Mature, the rise of technology has shown that by 2023, 75% of businesses will have a comprehensive digital transformation implementation roadmap.
As such, more companies invest in technology, and digital transformation, the demand for experienced IT experts and leaders is rising. Most companies are looking for a Computer and Information Systems manager to plan, handle, and lead computer-related activities in their organization. According to the US Bureau of Labor Statistics, IT managers are expected to increase by 8% through 2030.
So, if you are looking to pursue a new career path, this is good news for you. However, moving into management isn't simple, especially in technology. Having advanced technical skills is not enough. You need to be conscious of what your subordinate does and understand how they work while handling your workload.
So, suppose you are interested in becoming an IT manager. In that case, this article will help you identify what makes a good IT manager?
What is an IT Manager, and what do they do?
According to CareerExplorer, an IT Manager works with its overall performance and leads the IT department, software development, and fulfills its complete information system. These experts can have IT directors, project managers, database managers, product owners, CTOs, and more.
The prominent role of an IT manager usually includes guiding their organization's technical direction by overseeing network security, database and aligning technology with the business plans. In addition to this, they also lead, plan, and coordinate large IT projects such as upgrading hardware and software, optimizing websites, and programming and developing applications and programs.
Most IT managers recruit, train, and direct IT personnel such as software developers, system analysts, support specialists, and database administrators.
What are the top 7 IT Manager Qualities?
The responsibility of an IT manager varies from company to company. Being a great manager does not necessarily mean having the proper educational attainment and IT experience. Suppose you want to step into a management position. In that case, it's essential to understand your primary role and be conscious of your subordinates.
In other words, you need to be well-informed of both the technical aspect, project management, and human resource. You need to be competent in your tasks while motivating the team you're handling and aware of their workload and capabilities. It is your job to supervise the delivery of every project from start to finish, within the budget and deadline. In addition to this, you need also to balance stress, manage your time efficiently, and get things done.
Here are a few qualities of a good IT manager that can effectively lead a team: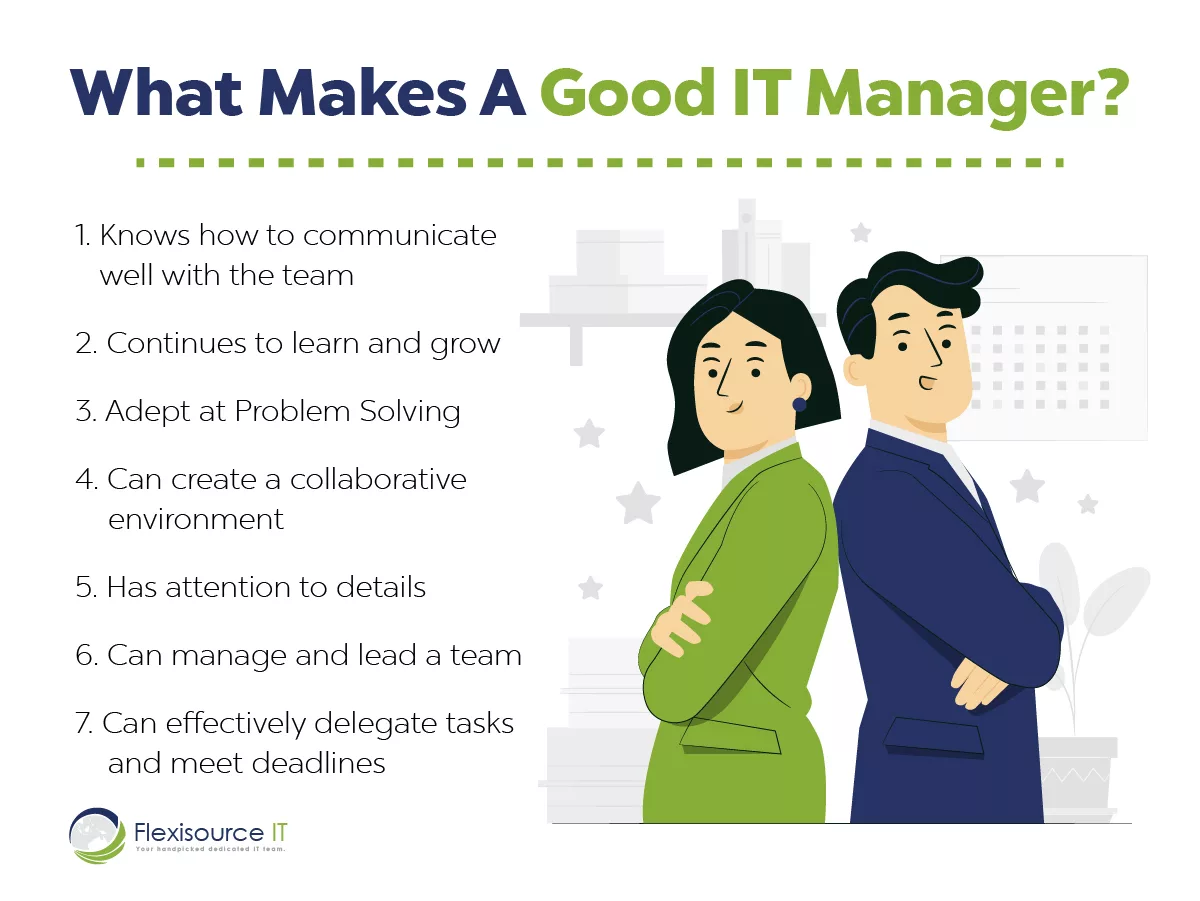 1. Knows how to communicate well with the team
Having effective communication is one of the most outstanding qualities of good management. To become a successful IT manager, you need to have verbal and written communication skills to manage your team well. FOR STARTERS, an IT manager acts as a bridge between the developers and the business. It is one of your responsibilities to communicate the business or product requirements to IT staff and ensure that all tasks are delegated ideally.
Aside from that, IT managers also make sure that all issues, common barriers to communication, and problems that block the staff from reaching their goals are addressed. You need to help your team manage their time and provide the necessary resources and tools.
They should also have an open-door policy with their team members, especially if they directly report. IT managers should also communicate and encourage staff members on their outstanding work and motivate developers' morale high. They need to socialize with their teams actively, understand their challenges, career goals, and development, and offer training, mentoring, and coaching.
Likewise, effective communication should be exclusive with the manager and the team. IT Managers should also effectively establish a relationship with other company leaders and educate them on new technologies and systems implemented. They need to present top management relevant and up-to-date technical needs, including cybersecurity and systems. They need to relay any critical issue and possible solutions to these problems.
2. Continues to learn and grow
Being a good manager is not just being aware of the latest trends and technology. The ability to continuously learn and adapt makes a good IT manager.
Technology is rapidly developing. New trends and practices keep appearing every day. IT managers need to stay updated with these developments and innovate their current practices with these trends. This ensures that your company is well protected from evolving cybersecurity threats and helps your organization be ahead of the competition.
Likewise, continuously learning and growth also help your career and professional development. IT managers can invest in attending conferences, courses, and certifications to brush up their skills and revamp their old practices. This way, they can stay up to industry standards and get ahead of other professionals.
3. Adept at Problem Solving
IT system and infrastructure plays a vital role in most organization. It helps organize their company, automate the process, and ensure business continuity. As such, the system must work smoothly and efficiently.
However, most technologies are not faultless. Companies often face issues in their system, including their network, database, and hardware. IT managers' responsibility is to ensure that all infrastructure is free from challenges. One of the top qualities of a good manager is having strong problem-solving and decision-making skills.
IT managers must quickly handle any issues, identify their cause, and find a solution for them. Delay is critical and could be fatal to the organization. They need to quickly confront problems and be well aware of their IT infrastructure and ecosystem.
4. Can create a collaborative environment
Effective collaboration and communication are vital ingredients to a project's success in any work environment. Today, IT and software developers often connect with the development or IT team and other company departments.
Still,  many IT experts find it challenging to work with other contributors. Likewise, the best manager will push forward to create a collaborative environment for their engineers. Cultivating a collaborative environment and culture where developer feels safe to communicate and trust each other is a must in any team.
It helps establish transparency, honesty, and openness among coworkers and the management. Creating a safe, collaborative environment also encourage peers to grow with each other and improve their skills.
In addition, great ideas and decisions often come when great minds work together. A collaborative environment will provide an avenue for IT experts to be creative and imaginative in solving issues and challenges.
5. Has attention to details
Technology and mistakes do not mix. Today, software errors and failures can be costly to any organization. According to CIO Dive, operational error nearly cost companies $1.56 trillion in 2020.
Having attention to detail is what makes a good IT manager. It can help the company minimize potential errors and security breaches and identify and solve possible issues before they
6. Can manage and lead a team
IT managers or leaders should have strong project management skills. As a manager, you will be leading your team and ensure that your teammates are not okay – personally or work-related.
Likewise, having the knowledge to handle budgets and manage the timeline of multiple groups and individuals makes a good IT manager. Aside from this, you need to know how to communicate personally with your teammate, assess their personality and work ethics, and coach them into success.
7. Meet Deadlines and delegate tasks
Being able to effectively and equally delegate tasks makes a good IT manager. Many IT managers are hesitant in delegating work because they believe that this could affect their image and appear incompetent or unskilled.
However, knowing how to delegate tasks can help lessen pressure in work and enable managers to focus on much more critical tasks. In addition, good managers also know the limit and needs of their teammates. They can effectively negotiate with the top management or product owners when accepting and completing tasks.
Being a Manager Learned, not inherited
In a nutshell, being a manager is not just ideally delegating and handling tasks assigned to you and your team. It's about leading and teaching your team to take significant responsibility for tasks and help them improve their skills and career advancement.
A good IT manager also should know how to cultivate happiness in their team and encourage every member to become a better version of themselves. They also need to be aware of their limits, capabilities, issues, and blockers. A good manager influences their team members and prepares them to step up to a senior role in the organization.
So, are you ready to take the steps necessary to become a good manager?
Now that you have a better understanding of the required skills, its now time to take action and get that management role. Take these seven tips of what makes a good IT manager and integrate them into your leadership.
If you think you are ready to take your career into the next step, Flexisource IT is looking for new project managers and IT leaders! Visit our career page today!
Pamela is a full-time content writer and a lifelong Philomath. Her previous experience as a research analyst made her passionate about traveling the world and understanding how it works. During her day off, you can often find her indoors, writing stories or oil painting.