Last October 2020, Google announced the release of Google Analytics 4 with the promise of "predictive insights, deeper integration with Ads, and cross-device measurement capabilities" to marketers." Digital marketers can either use both or stay using Universal Analytics (UA).
However, in March 2022, Google announced the deactivation of the UA platform in 2023. They stated, "Starting 1 July 2023, standard UA properties will no longer process data." UA Reports until 01 July will be accessible. However, new data will only flow on GA 4 properties.
And now that it is going away forever, marketers are scrambling to learn the difference between GA4 vs Universal Analytics. Likewise, we will take a deeper look at six differences between the two and why you must switch soon to GA4.
What is Google Analytics?
Google Analytics is an analytics service that enables marketers to measure their website's traffic and engagement. This web analytics tool acquires user data from their visit and use of pages, content, buttons, etc.
This web analytic tool is essential. It allows marketers to gather critical data into their ad campaign, marketing strategy, and business and shape them for success.
Google Analytics 4 (GA4) is a website analytics service of Google that enables marketers to measure the traffic and engagement on their website. It is the 4th version of Google Analytics, thus called GA4.
What is the difference between GA4 and Universal Analytics?
When Google announced the release of GA4, the primary question that crossed most marketers' minds was: "What's the difference between the two?". Here are six differentiators between GA4 vs universal analytics to answer that question.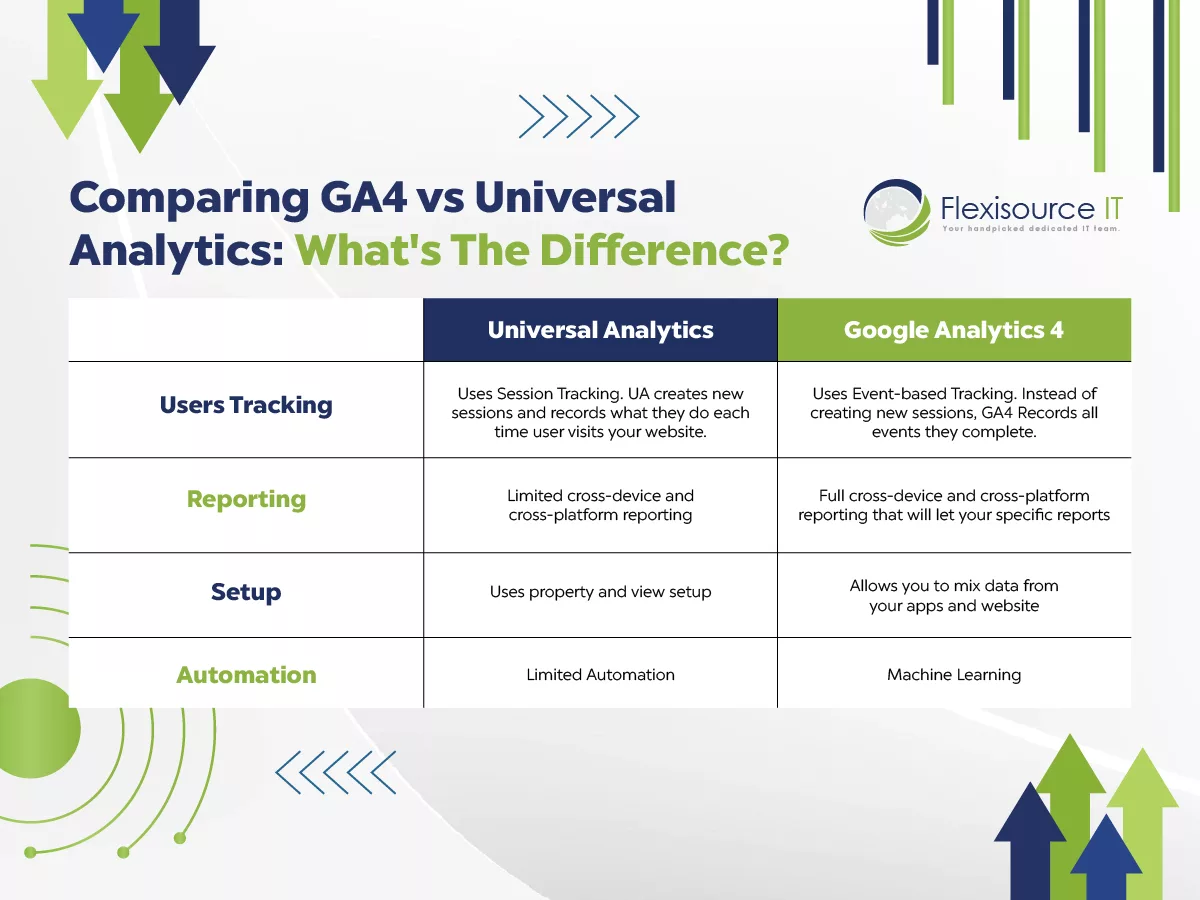 1. Measurement Models
The most significant difference between GA4 and universal analytics is their measurement models. Most marketers know that UA uses sessions or pageviews as a measurement model. It is the total number of visits to your website, including new and repeat visits. A session is a set of user interactions with a website or app that occur in each time frame. It can be a timestamp, duration, page views, events, or transactions.
On the other hand, Google Analytics 4 uses events and parameters for measurement models. It measures every user interaction with your content by enabling an option in the Google Analytics interface.
2. Reporting
Reporting was one of the significant concerns of marketers when upgrading to GA4 is reporting. In UA, there are several customization options for reports. You can pick any dementia, metrics, or items for your report.
GA4, however, has only a top-level report option. The interface of GA4 might look similar to Universal Analytics. Unlike Universal, GA4 is more oriented toward custom reporting templates and analyzing datasets on other platforms like Big Query or Path Analysis.
But don't worry! GA4 still has some standard reports available. There is at least one visualization option in its analytics tab for each tab. It might be challenging but doable. Alternatively, you can try exporting the data from Big Query or using Data Studio to transform it how you want it to.
3. Setup
The third significant difference between GA4 vs universal analytics is how they are set up. Universal Analytics uses a property and view setup, making cross-domain tracking challenging. A view in google analytics is a set for tracking traffic on a single domain. Thus, if you want to look at other views, you must change both the GTM (Google Tags) and code levels.
As opposed to this, cross-domain tracking in GA4 is much simpler. You can set up a cross-domain search on the admin retting rather than on-page tracking done through tagging and admin modifications.
4. Privacy Consent Mode
Privacy consent is one of the significant concerns in Google Analytics. In a world where privacy is becoming increasingly important, cookies and trackers are becoming less and less prevalent. It is believed that marketers sacrifice a lot of data due to country-specific regulations like General Data Protection Regulation (EU GDPR) or California Consumer Privacy Act (CCPA).
It is difficult for marketers to target users in Universal Analytics properties for those who opt out of tracking or block cookie storing.
However, GA4 was designed to be more privacy-friendly compared to Universal Analytics. Google referred to GA4 as "data privacy by design." This means they added some features to make it easier for marketers to maximize data tracking while still complying with data privacy laws.
Since 2021, however, Google has released a consent mode, allowing users to accept tracking while still achieving compliance. While it would not help target the users, it could still help you report content, traffic, conversions, and sessions.
In addition to this, GA4 anonymizes IP addresses for all users. This setting cannot be changed. Likewise, like in UA, all data gathered in GA4 are stored in Google Servers and don't give you the option to store data elsewhere.
In addition, GA4 allows marketers to choose between two data retention timeframes, such as 14 months or two months, allowing you to adjust your data retention following policy laws.
Is GA4 better than Universal Analytics?
Since its release, Google Analytics has evolved to accommodate new trends, laws, and technologies. It has been shifting to adapt customer behavior and upgrades to help marketers collect data.
So, is GA4 better than Universal Analytics? With the new features, GA4 could be considered better than its predecessor. It comes with new measurement models that help marketers carefully track user visits and interactions on the website. It makes it easier for them to identify which parts of the websites are viable and working.
Moreover, marketers can collect more data about their users as per consent. Likewise, GA4 made tracking users' behavior on multiple websites more accessible.
On the other, understanding these new features may take some time for marketers to learn. Customized reporting was also limited, making it harder for marketers to create reports for specific metrics. 
Should I upgrade to GA4?
As mentioned earlier, GA4 is replacing UA on 01 July 2023. Suppose you are still relying on Universal Analytics. In that case, we recommend that you upgrade soon to prepare to use GA4 moving forward. In addition, it is vital to export all data and historical reports from Universal Analytics. You can only access all previously processed data at least six months after its replacement.
How Can I Upgrade to GA4?
If you created your account after 14 October 2020, you are likely using GA4 properties, and no action is required. Otherwise, you can set up your GA4 property with the following steps:
Create an account for brand new users to Google Analytics and set up a GA4 Property. If you already have an account, you will need an Editor Role on the Google Analytics Account.
Next, Click on GA4 Setup Assistant and create a GA4 property that collects data alongside your existing Universal Analytics Property. Your UA will be left unchanged and still collect data.
Hire The Best Data Analysts at Flexisource IT!
And that's it. Ensure to constantly check Google on any updates regarding analytics and follow new releases. If you are not sure what to do, you can hire an Ads Expert or Data Analyst with us. Contact FSTI for more info.
Pamela is a full-time content writer and a lifelong Philomath. Her previous experience as a research analyst made her passionate about traveling the world and understanding how it works. During her day off, you can often find her indoors, writing stories or oil painting.