You need to ace your virtual interviews to land a good remote job.
In today's economy, many people are looking for ways to make a living that don't require them to leave their homes. There are many benefits to working remotely, including the ability to work from anywhere in the world; more flexibility and freedom; and improved productivity. Working remotely can also help reduce stress and improve mental health.
If you're looking for a creative way to get your foot in the door, here are some surefire tips. Ace your virtual interviews without breaking a sweat.
Do your research 
Before your interview, it is important to do your research on the company and the job position. Look at the company's website and learn about its products or services. Read news articles about the company to get a sense of their recent activities. 
Also, research the job position that you are interviewing for. Find out what the responsibilities of the job are, and try to understand what qualities the company is looking for in a candidate. This will help you prepare better for your interview and make sure that you are a good fit for the company.
Another important thing to do before your interview is to practice answering questions. Think about some common interview questions and come up with answers that showcase your strengths and qualifications. 
Conduct mock interviews
Practice makes perfect! This adage is especially true when it comes to interviews. By practicing job interviews, you can improve your chances of acing the real thing. There are a few ways to practice. You can use online tools like InterviewStream, or you can record yourself and rate your own performance.
You can also have a practice interview with a friend or family member. This will help you feel more comfortable when you are actually being interviewed by a recruiter or hiring manager.
Whichever method you choose, make sure to simulate the entire interview experience, from start to finish. This means getting ready for common questions and practicing your answers, as well as dressing the part and using the right props (if they are needed).
The more you practice, the more confident you'll feel on interview day—and the more likely you are to get the job!
Dress the part
Dress as you would for an in-person interview. Even though you won't be meeting your interviewer face-to-face, it's important to dress professionally and look put together. This means wearing clothes that are neat and clean and choosing conservative colors and styles.
Keep your hair off your face. While you won't be totally anonymous and can't control whether or not you will be recorded, it's good to maintain a fresh look throughout the interview. 
Remember, your appearance matters, even in a virtual interview setting.
Be aware of your surroundings
When preparing for a virtual interview, it's important to be aware of your surroundings. Make sure you are somewhere quiet with no distractions. Background noise can be a major distraction and can make it difficult for the interviewer to hear you. 
If possible, try to find a place without any windows so that people walking by won't be visible in the background. Also, if you are using your laptop, make sure the battery is charged and that you have an adequate internet connection.
Lastly, make sure that you are well lit. You don't want to have a dark shadow across your face or be so bright that you can't be seen at all.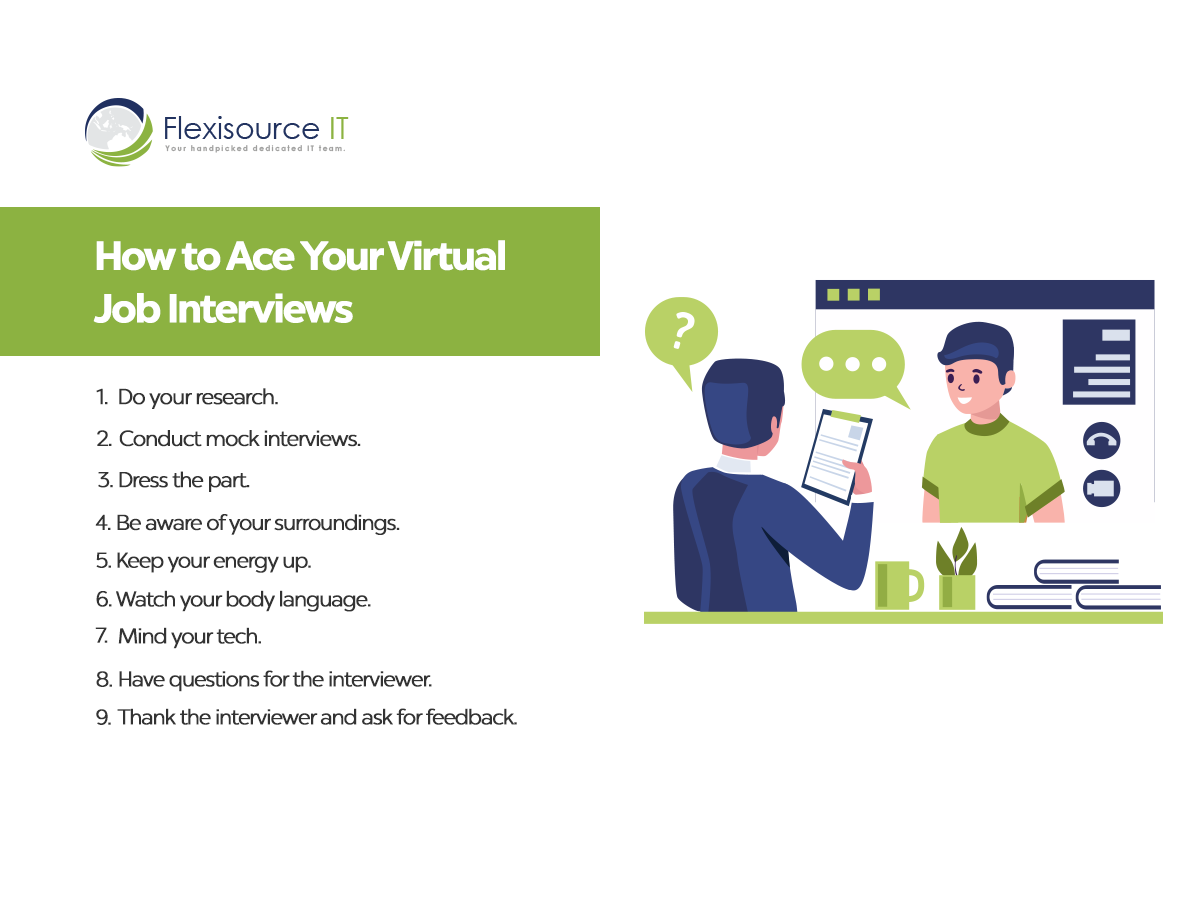 Keep your energy up
During a job interview, it is important to stay energized and focused. Here are some tips for staying energized during a virtual job interview:
Make sure you are well-rested before the interview. Get plenty of sleep the night before, so you are alert.

Drink plenty of water throughout the day. Dehydration can cause fatigue and affect your performance during the interview.

Eat healthy snacks throughout the day. Avoid sugary snacks that will give you a quick burst of energy followed by a crash. Choose healthy snacks like fruits and vegetables that will give you sustained energy.

Take breaks throughout the day, move your body, and get some fresh air. A short walk can help refresh your mind and boost your energy level.

Relax before the interview.
Watch your body language
Maintaining good body language during video interviews is key to making a positive impression on potential employers. Look your best with these tips:
Make eye contact with the camera. This will make it seem like you're looking directly at the interviewer, even if they're in a different location.

Sit up straight and keep your shoulders back. Slouching or hunching over will make you look unprofessional and disinterested.

Avoid crossing your arms or legs, as this can make you look defensive or closed off.

Smile and maintain a positive attitude throughout the interview. Frowning or appearing tense will only make you look bad.

Use natural gestures and movements whenever possible.
Mind your tech
It's no secret that job interviews are nerve-wracking. But for many, the added stress of a remote interview can be too much to bear. To ease the jitters, you can make sure all your tech is in working order. 
It's important to test your internet connection, microphone, and camera before the big day. You don't want any surprises or technical difficulties to occur during the interview. 
Poor internet connectivity can result in a fuzzy or dropped video, while a malfunctioning microphone can make it difficult for the interviewer to hear you. And if your camera isn't working properly, you may end up with a frustratingly dark or blurry interview. So, take some time to test everything out and troubleshoot any potential problems. You don't want to miss out on the opportunity because of a technical issue.
Have questions for the interviewer
There are many benefits to asking questions during a job interview. First, it shows that you are interested in the position and that you have taken the time to do your research. Asking questions also allows you to get more information about the job and the company, which can help you decide if this is the right fit for you.
Additionally, asking questions can help you stand out from other candidates and show that you are a motivated and engaged employee. Lastly, if you show your potential employer that you are interested, you can build a relationship with them and increase your chances of getting hired.
Here are a few tips for preparing questions: 
Come up with a list of questions ahead of time. This will help you stay organized and make sure that you don't forget anything important. 

Research, research, research. Make sure to read up on the company and the position before your interview. This will help you come up with relevant questions to ask. 

Be ready to change your questions based on how the person you're interviewing answers.
Thank the interviewer and ask for feedback
Thanking the interviewer is a must after any job interview, but it's especially important after a virtual interview. A thank-you note shows your appreciation for the opportunity and can remind the recruiter or manager of your strengths. It's also a chance to ask for feedback on how you did.
Your note should be sent within 24 hours of the interview. Be sure to personalize it by mentioning something from the conversation. 
The Bottom Line
By following the tips provided, you can ace your virtual interviews and make a great impression on potential employers. Remember to be prepared, dress professionally, stay focused, and be yourself. 
If you are looking for a remote work opportunity, be sure to check out our careers page. We regularly update our page with the latest job openings, so be sure to check back often. You never know, your dream job might just be a few clicks away.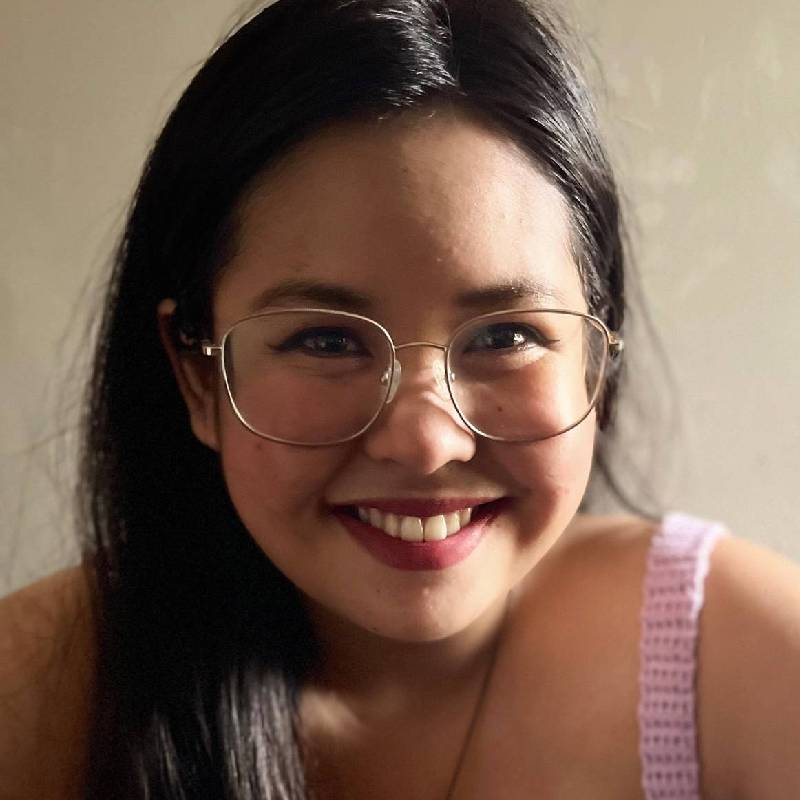 Viel is a writer with a passion for weaving words into stories that capture the imagination and engage the public. An avid reader and enthusiastic foodie, she can often be found with a mug of coffee in hand. When she's not writing, she loves spending time with her family and friends.