Running a business is not easy. You need to keep seeking new opportunities for improvement. You need to understand what your patrons want. You need to know what your employee needs. That's why it's essential to always gather insights that you can use to optimize and improve your campaigns. And a great way to collect insights is by conducting a good survey.
But the tricky part is most people do not like taking surveys. And you know that if you ever conducted one yourself. Putting a question together and sending out an email is not enough for you to complete a survey that has a high response rate. You also need to ensure that you are asking the right questions and targeting the right people.
Thus, this article will help you recognize the importance of survey response rate and how you can increase it when conducting any kind of survey – whether it's an exit survey question or customer preferences.
What is a Survey Response Rate?
Also known as completion rate, the survey response rate is defined as the total number of respondents divided by the number of the survey sample. It is usually calculated as a percentage and serves as a metric in measuring the success of your survey. Your survey's response rate is critical that helps you get most of the data you need to process analysis.
How to calculate your response rate?
Calculating your survey's response rate for data collection is easy and does not involve too many procedures. There are tons of survey response rate calculators and tools online that can help you do the job.
Still, all you need to do is to divide the total number of people who responded to your survey by the total number of people you sent the survey to and multiply this by 100.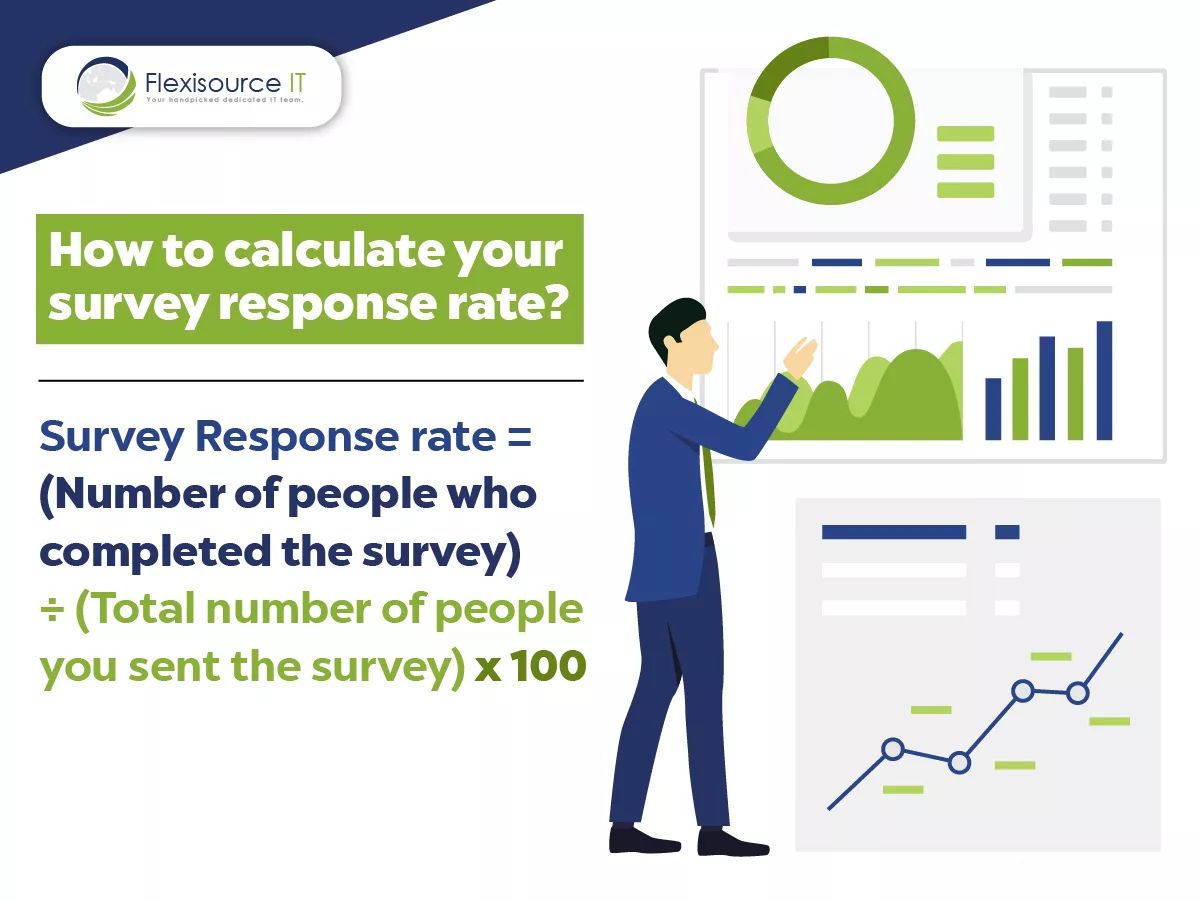 This will provide you the response rate of your survey in percentage.
What is a reasonable survey response rate?
According to Smart Survey, a survey response rate of 50% or higher is generally excellent. Those high levels of response rate are likely driven by high levels of motivation to complete the survey, resulting from a harmonious relationship between the business and the responders.
Still, your average survey response rate may also be affected based on the method where you conducted the survey. For example, surveys conducted in-person or physically have a reasonable response rate of 57%. On the other hand, a mailed survey has a response rate of up to 13%. Mobile surveys have at least a 3% to 5% rate. Likewise, surveys conducted on the internet like email surveys have a response rate of about 30%.
It's also great to remember those survey responses may vary between those conducted internally and externally. Surveys conducted with employees generally receive an average of 30% to 40% response rate, while external surveys are 10% to 15%.
Why does a reasonable survey response rate matter?
A reasonable survey response rate is beneficial to research and campaign. It helps a business or organizational decision be more credible and reliable. A low response rate, on the other hand, may undermine the reliability of the result as its indicative that this result is not from a larger population or majority
How to increase your response rate?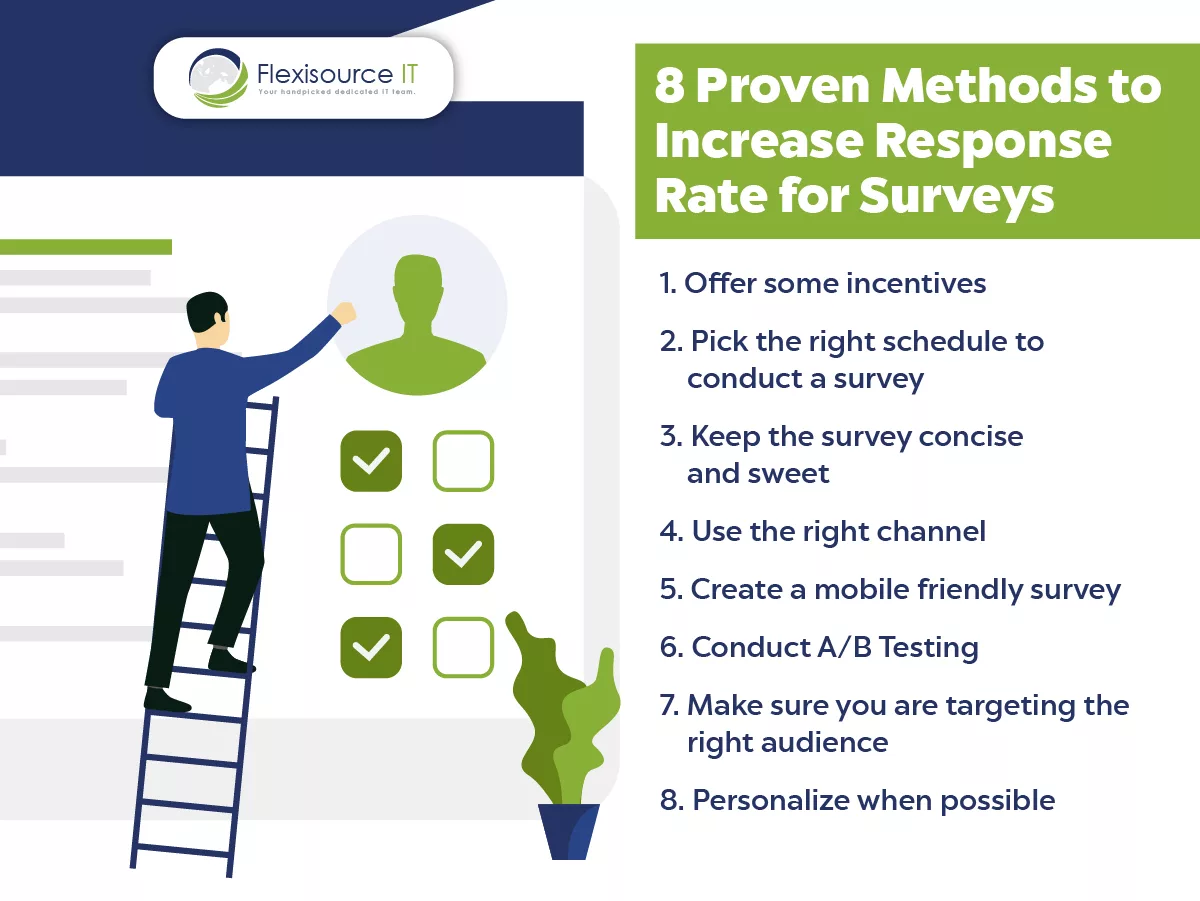 1.   Offer some incentives
Including incentives and rewards can help increase your response rate for surveys. It is proven that survey participation is boosted when tips and incentives are included. According to this research, the likelihood of returning a survey typically surges by 30% to those who were offered incentives. More enormous incentives for survey completion generally produce higher response rates. Likewise, here are some creative ways to add incentives to your survey:
Monetary incentives or gift cards for each respondent
Raffles or chance to win an item
Discounts or coupons on your products or services
Complimentary items like pen, notebooks, umbrella, or tumblers
Charity donation
White paper, articles, or studies
2.   Pick the proper schedule to conduct a survey
When conducting a survey, it's essential to send it at the right time. The perfect schedule to send a survey usually depends on the type of survey you are sending. According to CheckMarket by Medallia, if it's B2B Survey, Monday is the best day to get the highest amount of response rate.
On the other hand, B2C Survey is great for Tuesday or Friday, depending on the length of the survey. Some B2C surveys, however, needs to be sent immediately after the interaction with customers like:
Customer experiences. This kind of survey should be sent after the checkout process or after the service.
Agent Rate. This survey can be conducted after a customer service call or live chat.
3.   Keep the survey concise and sweet
Surveys themselves bore out customers. Long surveys whose answer time is estimated to be more than 12 minutes are usually avoided by respondents. Thus, it's essential to keep your surveys shorts, especially if there's no incentive, to get a great response rate for surveys.
4.   Use the right channel
Using the right channel is crucial to achieving a higher response rate for surveys. In this digital age, an email survey might reach more people than those sent via SMS. However, this depends on what form of survey it is. As such, here are some great platforms to post your surveys:
At the end of the checkout process
After live chat
At the end of the blog
On the thank you page
Via an App
Using QR Codes
5.   Create a mobile-friendly survey
Mobile phone dominates the world's technological demand. According to Statista, 80.69 of the world's population owns a smartphone. Considering this, mobile-responsive designs have become a standard for most websites and applications.
When you send out a survey, you cannot control which devices will use to open and respond. And knowing that most population uses mobile devices, your survey template needs to be accessible on mobile devices. You must make sure that your survey can be completed anywhere, anytime.
6.   Conduct A/B Testing
According to HubSpot, the typical email open rate is 25%. This means that if your survey was sent using an email, only a quarter of your audience would open and read the study. This even lowers the possible amount of people who will respond to your survey.
Likewise, it's essential to try out other methods of communication when sending the survey to see which gives out a higher response rate for surveys than just solely using emails.
In addition, you can also mix out email subjects or headlines and see which one will provide better conversions. Try to stand out from the usual "complete our survey." Using unique subject lines might be able to get your audience's attention and interest.
7.   Make sure you are aiming at the right audience
If your target audience is ignoring your survey, this might mean that you are sending it to the wrong people. Consumers usually react quickly to something that they relate to or something that they believe can understand them.
For example, if you are sending a survey regarding your product, make sure that you send it to those who purchased your product or those who have experienced your service. This will receive a higher response rate for surveys and provide valuable insight that can help improve your product.
Likewise, if you are campaigning your survey on social media using ads, try targeting the right demographic for your survey. You can also display these surveys on pages of your website that is related to the study.
8.   Personalize when possible
Surveys appeal more the consumers when they are relevant and applicable to their life. It makes customers feel special and that the company values their opinion. That's why personalizing your survey is essential to achieve a higher response rate for surveys. According to Salesforce, 84% of customers say they wanted to be treated like a person and not just a number to a company.
Are you ready to conduct your survey?
A reasonable response rate for surveys does not only increase the reliability of your data collection process and find. It also helps your company build a brand and increase your credibility to your consumers.
Hitting a good survey response is not easy. There are numerous factors that you need to implement, consider, and plan to achieve this. The listed tips in this article are just a few of those you can implement to increase your chances of getting more respondents to your surveys.
If you plan to do a survey soon, remember that a good survey should always relate and appeal to the target respondent's life. Make them feel that their opinion is needed by your company. Clearly explain how you will use their feedback and make them feel special.
If you want to know more, Flexisource IT can help you! Jumpstart your survey and have a great response rate through our email support services.
Pamela is a full-time content writer and a lifelong Philomath. Her previous experience as a research analyst made her passionate about traveling the world and understanding how it works. During her day off, you can often find her indoors, writing stories or oil painting.