If you are looking for a way to reduce your company's operation costs, you probably came across offshore outsourcing. It is one of the viable options for companies looking to balance their budget, time, and focus.
And while you may have considered while browsing, you hesitated. You came across various IT offshore myths and horror stories. According to Quality House, 50% of outsourced projects fail outright or fail to meet client expectations.
And yet, offshore IT services are one of the world's most in-demand markets. According to Capital Counselor, the global IT outsourcing market is expected to be $398 billion by 2025. So why is this the case? Find out in the article!
What is Offshore Outsourcing?
Offshore outsourcing or Offshoring is the process of transferring a company's operations to a third-party provider from another country. The term "offshore outsourcing" was first used in the early 1990s and is often used to refer to the transfer of customer service and technical support operations.
Offshore outsourcing can be done for various reasons, such as lower labor costs, access to a skilled workforce, or political stability.
Why Should You Hire an IT Offshore Company?
As mentioned earlier, offshore IT outsourcing services provide various benefits. It is highly scalable and offers a cost-effective way to complete your IT needs. Likewise, the benefits of outsourcing your IT projects to an offshore company include: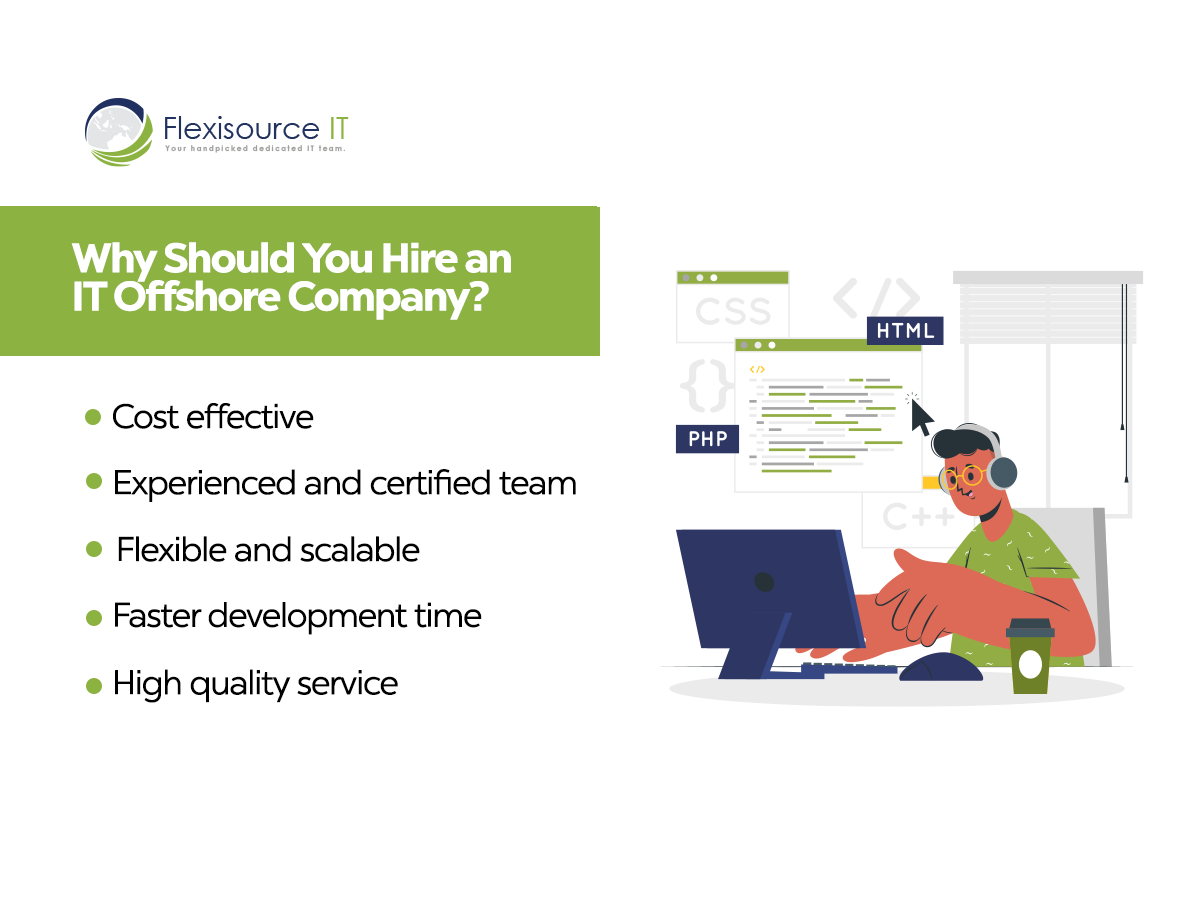 1. Cost effective
Offshore IT services are relatively cheaper than hiring an in-house developer. According to PayScale, the average salary of a software developer in Australia is about AUD 71 thousand per year. On the other hand, you can hire a software developer for AUD 11 thousand per year in the Philippines.
This pricing is because the cost of living in the country is much lower than in developed countries. Likewise, you can get a good deal on offshore IT services, like web design and development, because there are fewer costs.
2. Experienced and certified team
Offshore IT services have become a popular option for many companies, as it provides access to a broader pool of experts across the globe.
Most IT offshore companies have a pool of skilled and experienced staff based in a different countries. Moreover, they cater to various businesses worldwide. They have more experience in developing websites or programs. So, no need to worry about the quality of your software.
They can develop it with quality and in time.
3. Flexible and scalable
In today's very competitive market, any kind of business demand is ever-changing. Likewise, continuous and rapid development is necessary. However, there will be times when a new feature needs to be developed out of your expertise. You need a new expert to handle it.
But with IT offshore outsourcing, you can scale up or down with the project anytime! You can add or remove people, resources, and tools anytime you need. No need to go over the long process of recruiting, onboarding, and training.
4. Faster development time
Offshore IT services provide faster development time with better quality of work. You skip multiple processes in your offshore software development, including recruiting, training, and researching.
You can speed time your development time and lessen operating costs. In addition, most IT outsourcing companies can deliver projects to the market faster than in-house. They can do this because they have fully dedicated developers and IT experts team for your project.  
5. High-quality service
Offshore IT services are the best option for a company that wants to outsource its IT work. The main reason is the high quality of work. The offshore IT services provide higher quality work than in-house because they have a lot of experience in this field and the latest technology.
5 Qualities of a Great IT Offshore Company
IT offshore outsourcing is a massive industry with a lot of players. It is worth it to note that all the players in this industry are not equal. There are some good ones and some bad ones. Here are some qualities of a great IT offshore company.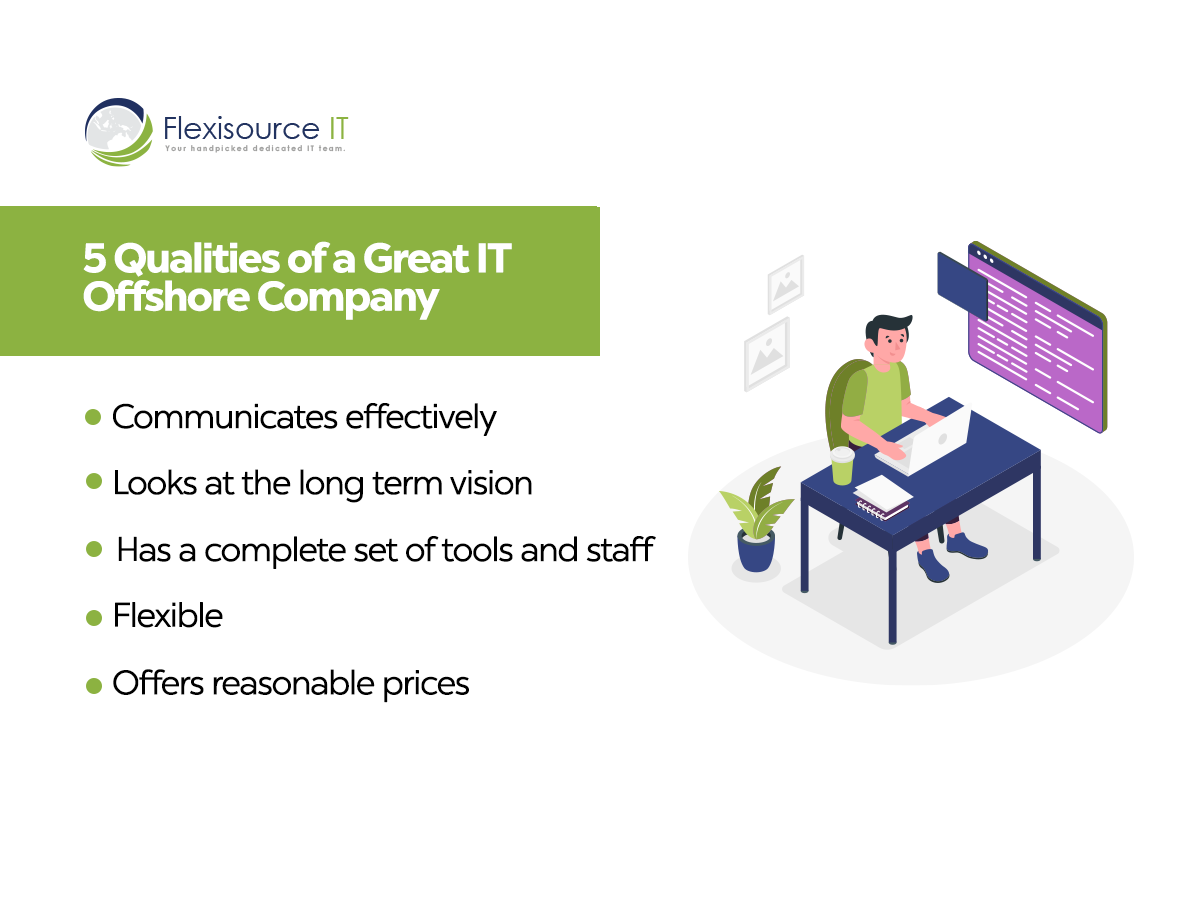 1. Communicates effectively
Transparency and effective communication are essential factors in hiring an IT offshore company. These elements make a healthy working relationship between you and your provider. As such, an excellent IT offshore company should constantly communicate with you to ensure that the development is running well and that all agreed-upon requirements are being fulfilled.
In line with this, effective communication between your company and the IT offshoring company can be done via various collaboration tools, instant messaging tools, or dashboards.
2. Looks at the long-term vision
As mentioned earlier, development is a long-term deal. When developing software or a website, your company will use it for a long time. A promising IT offshore should always look at the long-term vision and create a sustainable business model for their clients.
3. Has a complete set of tools and staff
Hiring an IT offshore company should not only be about their skills and experience. Without the right resources, they are deemed useless. They can't do their job without tools or equipment. A great IT offshore company should have a complete set of staff, tools, and equipment.
4. Flexible and highly adaptable
A reliable offshore IT company is flexible and highly versatile. They are your partner in managing your IT needs and helping you reach your business goals. They must align with your company's culture, objectives, and ideas.
As such, an excellent IT offshore company should be able to adapt, accommodate changes, and overcome new challenges.
5. Offers reasonable prices
Cost cutting is one of the goals of hiring an IT offshore company. Offshoring is cheap. Most outsourcing companies offer prices that can feed your budget, need, requirement, and more. Still, it would help if you always looked at various offerings before settling on one.
The trick when checking prices is to research the average cost for your need and look at the closest one with all requirements included. Do not settle for the cheapest provider! A trustworthy and reliable offshore partner will offer a reasonable price while remaining leeway for errors.
Outsource Your IT Needs with Flexisource IT!
Hiring an offshore company for your IT needs can be overwhelming, especially for those without experience working with offshore talents. However, with the proper research, we are sure that you can find a reliable and trustworthy company.
The benefits of hiring an offshore IT company are endless, especially with the right outsourcing partner. So step up your company and hire Flexisource IT for your tech needs. Contact us now!
Pamela is a full-time content writer and a lifelong Philomath. Her previous experience as a research analyst made her passionate about traveling the world and understanding how it works. During her day off, you can often find her indoors, writing stories or oil painting.