Every start-up needs a little boost for its business to thrive. Whether financially or idea validation, there is always room for improvement and bridge the business gaps. That's why a lot of investors have started incubators and accelerators companies to support entrepreneurs to grow.
Likewise, most of these investors find the Philippines a great testing ground in nurturing many solo entrepreneurs or start-ups. The country offers many benefits, from the lower cost of living to the growing tech-savvy and innovative youth population.
And for the past couple of years, the Philippines has birthed several local incubators and accelerators that mainly focused on helping tech-enabled and sustainable ideas. To date, most of these incubators and accelerators have supported start-ups ranging from eCommerce, edutech, fintech, and more.
What's the difference between Incubators and Accelerators?
While both incubators and accelerators are focused on helping and supporting entrepreneurs to establish their companies, the difference between them is their focus. For starters:
Incubators eliminate the big unruly idea of start-ups. It helps a start-up grow in its infancy stage until it can stand on its own. Most of these incubators get their candidates through an application process or from the network of companies or entrepreneurs they work with.
Unlike accelerators, incubators also tend to focus on start-ups or companies from a specific geographic location. Some incubators require their champions to relocate to their local community to use their coworking space. Here on, the participants will spend their time at the incubator space, networking with other entrepreneurs, expanding and validating their idea, and determining the marketability of their service.
They also receive mentoring or coaching from incubator leaders to create their business plans. Intellectual property issues, as well as doability, are vetted at this stage.
A lot of incubator programs usually last for a few months. It ends with a pitch or demo day with investors to present their idea.
On the other hand, accelerators are more on expanding an existing business model and concept. The

business accelerator program

focuses more on the rapid growth of a company rather than helping them get established. Typically, the candidates of accelerators have already demonstrated their development and minimum viable product (MVP).
As such, the main goal of the accelerator is more on building rather than mentoring. It is focused on networking and resource allocation of an already proven business idea and services. Candidates are often given small seed investments and paired with a mentor to accelerate their networks and build a market.
An accelerator program usually ends with a presentation sharing the development and growth of the business during their months within the program.
However, they have in common that both of these practices are focused on making a collaborative and creative environment for companies to reach their full potential.
Up to this date, there are tons of all-Filipino incubators and accelerators existing in the Philippines. Here's an incubators & accelerators list, to name a few:
1. AIM-Dado Banatao Incubator
The AIM-Dado Banatao Incubator is one of the best incubators and accelerators located in the Philippines. It is led and guided by Dado Banatao, a leading Filipino tech entrepreneur and a Silicon Valley venture capitalist. The company aims to help innovation-driven tycoons whose businesses have the potential or mission to influence and improve all sectors of society.
The AIM-Dado Banatao Incubator provides the start-up with world-class training, mentoring, coaching, and a support network to help grow. And in exchange, the start-up will provide solutions to emerging issues or generate jobs.
This incubator primarily focuses on helping out-of-the-box start-ups such as Payruler, PodX Technologies, and Maritime Enterprise. They are geared toward supporting early-stage start-ups that focus on tech innovations like S&T-based solutions in communication, agriculture, AI (artificial intelligence), IoT (Internet of all things), DARQ (Distributed Ledger, Artificial Intelligence, Extended Reality, and Quantum Computing), and more.
Their headquarters is within the AIM building in Legazpi Village, Makati City, and is open to non-AIM students and graduates.
2. Cerebro Labs
Cerebro Labs, a tech incubator & accelerator in the Philippines, is manned by a multi-industry, successful team of mentors trained in Silicon Valley. The mentors of Cerebro Labs are composed of senior executives from different sectors like environment, law, urban planning, engineering, finance, government affairs, energy, and more.
It helps start-ups in pre-seed and early-stage across all sectors. The team finds and equips promising tech start-ups, local or foreign. The then selected start-ups will undergo thorough training, mentoring, and coaching sessions to help them launch their products or services.
Cerebro Labs' headquarters is located in Legaspi Village, Makati City. Unlike many incubators and accelerator companies, they offer coworking space for starting individuals. It is fully furnished with equipment and networks such as advisors, corporate partners, and investors.
3. FlexiLabs Innovation Hub
Flexilabs is a new Australian Innovation Hub that helps entrepreneurs in Australia and New Zealand. It specializes in assisting innovators in validating different products or services, expanding their market reach, and developing their MVP.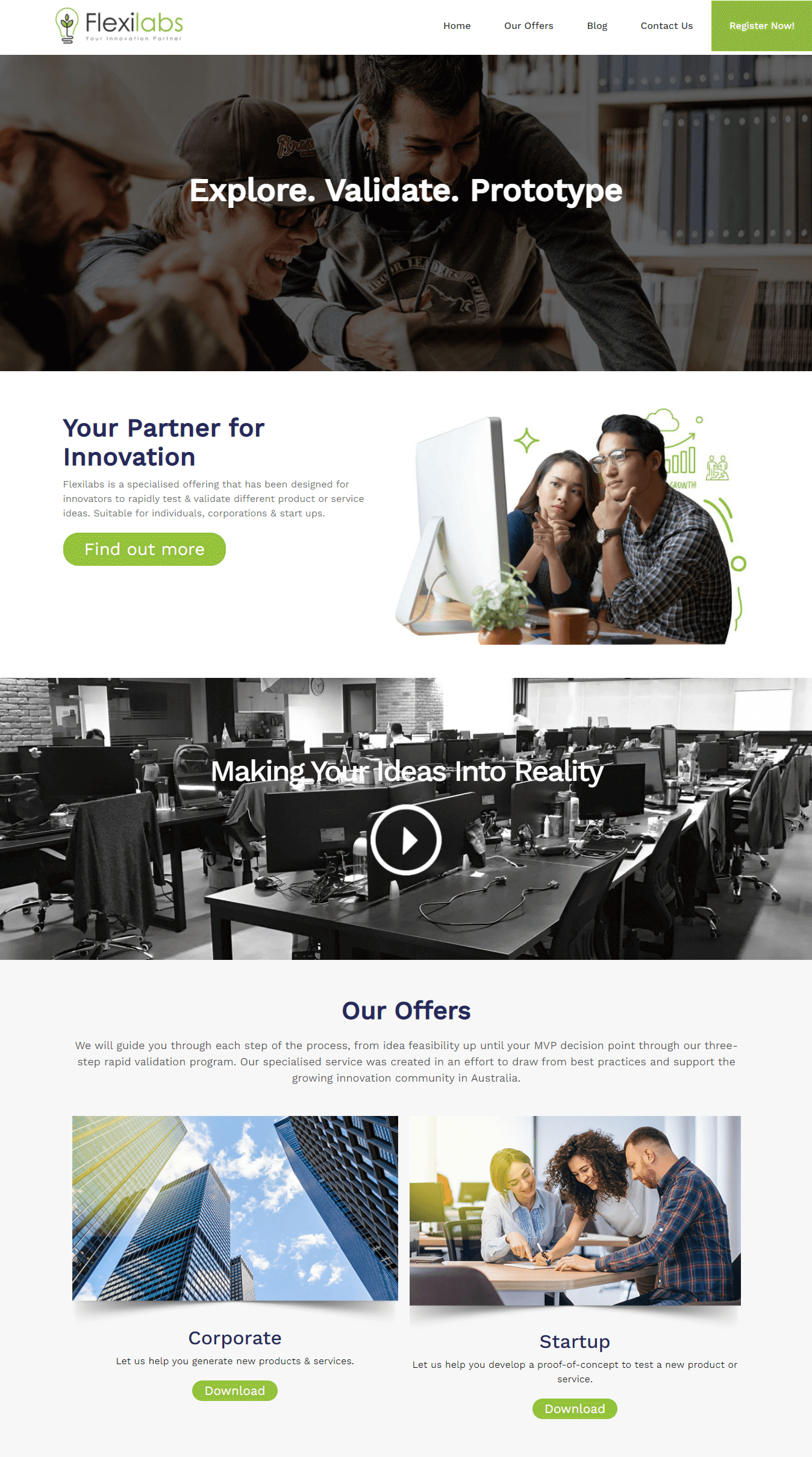 Unlike other accelerators and incubators in the Philippines, Flexilabs helps solo entrepreneurs, start-up companies, and corporations. It also guides companies starting from idea feasibility up until MVP decision point through its unique validation program.
They have offices located in Melbourne, Australia, and Makati, Philippines.
4. Ideaspace Foundation
Ideaspace Foundation is an incubator and accelerator in the Philippines that is backed by Smart Communication. It was founded in 2012 and has several notable partners such as Microsoft, Amazon, and the Asian Institute of Management.
These incubators and accelerator investors located in the Philippines are focused on helping early-stage tech start-ups that concentrate on solving emerging market issues. Ideaspace Foundation has invested in 107 companies, including Valea Health, Portfolio MNL, Blood Hero, and more. In addition, it has deployed a total of PHP 180 M funding for start-up activities in the Philippines.
5. Impact Hub Manila
Impact Hub Manila is one of the top incubators and accelerators in the Philippines. It has supported hundreds of start-ups around the world. It offers different programs for local and global opportunities to solve problems through groundbreaking and innovative ideas for a sustainable world.
This Philippine incubator/accelerator offers a wide range of incubation programs for ingenious, incubate, impact hackathon, and more. This program aims to provide a platform for start-ups to scale and grow their business ideas into sustainable ventures. It is also backed up by experienced entrepreneurs from the Impact Hub Community.
The Impact Hub headquarters is located in Vienna, Austria. Their Manila office is in BGC and offers a collaborative workspace that assists in events, training programs, and access to funding. It also has 250+ Hubbers in the Philippines, 50 entrepreneurship and corporate programs, 100 corporate, university, and government partners, and a global network of 102 cities and 17,000 hubbers.
6. Launchgarage Innovation Hub
Launchgarage is another tech incubator and accelerator in the Philippines that improves the start-up community in the Philippines. This incubator initially started as a start-up acceleration program in 2012, launched by local application engineering firm ProudCloud and Philippine-based venture capital firm Kickstart Ventures.
So far, it has invested in eight start-ups from its Incubators and accelerators programs. Launchgarage targets to support more on agritech, aquatech, BPO enterprise software applications, fintech, and more. In addition, the tech innovation hub is working to evolve into a venture capital company. So far, it has planned to raise an early-stage fund around $5 million to $10 million investment vehicle this year.
The corporation provides a coworking space facility in Quezon City. It is an excellent venue for open collaboration, knowledge sharing, events, and acceleration.
7. QBO Innovation Hub
Pronounced "Kubo," QBO Innovation Hub is a top start-up incubator-accelerator in the Philippines that guides start-ups from the start to success. It was launched back in August 2016 by its founding partners, including IdeaSpace Foundation, J.P. Morgan, Department of Trade and Industry, and Department of Trade and Technology.
QBO Innovation hub is flaunted as the first public-private partnership (PPP) designed to grow, develop, and scale the start-up ecosystem in the Philippines. It also assists start-ups financially by linking innovators, explorers, institutions, investors, mentors, and enablers from the public and private sectors. Its program consists of incubation, consultation, investor pitch, and more. Some of its notable start-ups include OneWatt, Cropital, and Senti.
8. Spring.ph
Spring.ph is a start-up accelerator and incubators group in the Philippines that focuses on software product incubation. It was launched by the Philippines Software Industry Association (PSIA) in 2021 to support and guide the software development industry in the country. It focuses on developing and commercializing at least 10 globally recognized software in various categories.  To date, this Philippine incubator and accelerator now have 50 company members, consisting of PSIA members and non-member businesses. It also has 24 product teams.
Included in Spring.ph's activities are monthly coaching forums and sessions, workshops, and events. It invites student start-ups nationwide to compete in the Philippine Start-up Challenge (PSC). It is designed for college students specializing in software development, IT, and computer science. To date, it has helped more than 25 start-ups during their events.
9. Startup Village
Startup Village is a new incubators-accelerator in the Philippines that was launched last February 2017 in Makati City. It was led by its founder Jar Bernardo as a program of LET'S GO Foundation. This nonprofit, not a stock organization, was founded in 2001 to provide small and medium-sized entrepreneurs opportunities.
This business incubator & accelerator is manned by multiple skilled and experienced practitioners, start-up founders, business gurus, and academes guiding start-ups throughout the program. Its intensive 14-week training program called "The Gift" is designed to bring the best of starting entrepreneurs. It helps them build their business from panning to accounting. It includes training on various techniques, including lecture games, videos, case studies, and more. So far, the incubator company has supported more popular start-ups like Oopa, Wagtails, Appload, Freyo, and more.
10. Xchange.ph
Xchange is an incubator-accelerator in the Philippines that specializes in helping early-stage social enterprises in the Philippines. It invests in organizations and companies – both profit or nonprofit – whose mission and objective are to create, develop, and help the marginalized communities of the Philippines.
This incubator-accelerator works closely with its portfolio companies as an active investor and helps them achieve their goals. Xchange.ph seeks to contribute expertise, knowledge, and skills built over decades from firsthand experiences in enterprise management and finance. It aims to increase the influence of social enterprises in society by empowering them to reach sustainability and scalability in the shortest time possible.  
To date, Xchange's portfolio of start-ups includes Kickstart ventures-backed Bagosphere and 500 Startups-funded mobile phone engagement platform engageSPARK.
Conclusion
To sum it up, these are just a few of the number of incubators and accelerators in the Philippines and the world. If you are an entrepreneur looking to turn an idea into a product, opportunities are waiting for you out there. As a start-up, it does not hurt to explore your avenues.
Do not be afraid to explore the field and find the perfect company to help you. There are tons of incubators around the corner that can help turn your innovative idea into reality.
If you think you are more than ready to turn your ideas into a valuable product or service or in the early-stage start-up, then try approaching these accelerators or incubators. Just be prepared to present your idea. Make sure you have a clear and defined goal. Be honest with what you have in mind. Remember, these companies are here to help you and not judge you. It might be a lengthy and meticulous process, but it would be worth your time to get your business off the ground. Good luck, and keep following your dreams!
If you are still unsure who to touch base with, try signing up with our sister for innovation, Flexilabs! This incubator offers a free consultation with Hack Days AUS Co-Founder Myles Tehan. Get in touch and visit their website.
Pamela is a full-time content writer and a lifelong Philomath. Her previous experience as a research analyst made her passionate about traveling the world and understanding how it works. During her day off, you can often find her indoors, writing stories or oil painting.