Over the years, Scrum has been one of the most popular frameworks of Agile Project Management. It has been widely adopted by IT companies and software development teams. It is continuously gaining bandwagon to non-IT groups as one practical management framework. According to Digital.ai, in 2021, 55% of their respondents said that their company plans to increase Agile use in the next 12-14 months.
There are tons of project management tools that can effortlessly help companies implement Scrum into their projects and teams. This article features the 10 best project management tools that can help you improve your scrum game.
What is Scrum?
Scrum is one of the Agile project management frameworks designed to guide teams through self-organizing and incremental product delivery. This framework aims to deliver a high-value product to the end-user by following a structured process that includes iterative planning and fast delivery. In addition, scrum project management also describes team needs, including meetings, tools, roles, and other concerns included in the structure and organization of the team.
Although Scrum is used by many software developments, its guide and principle are also applicable in non-IT-related fields, including digital marketing, financial, consulting firms, and more.
Why use Project Management Tool for Scrum?
Using the right tools is necessary to keep a high-functioning scrum team. Assigning tasks isn't enough. You need to have the means to keep track of their progress and development of the overall project. Likewise,  this is where project management tools can help you.
These tools will help you manage your team more efficiently and ensure that all tasks are done within the deadline.n In addition, the right Tool can also: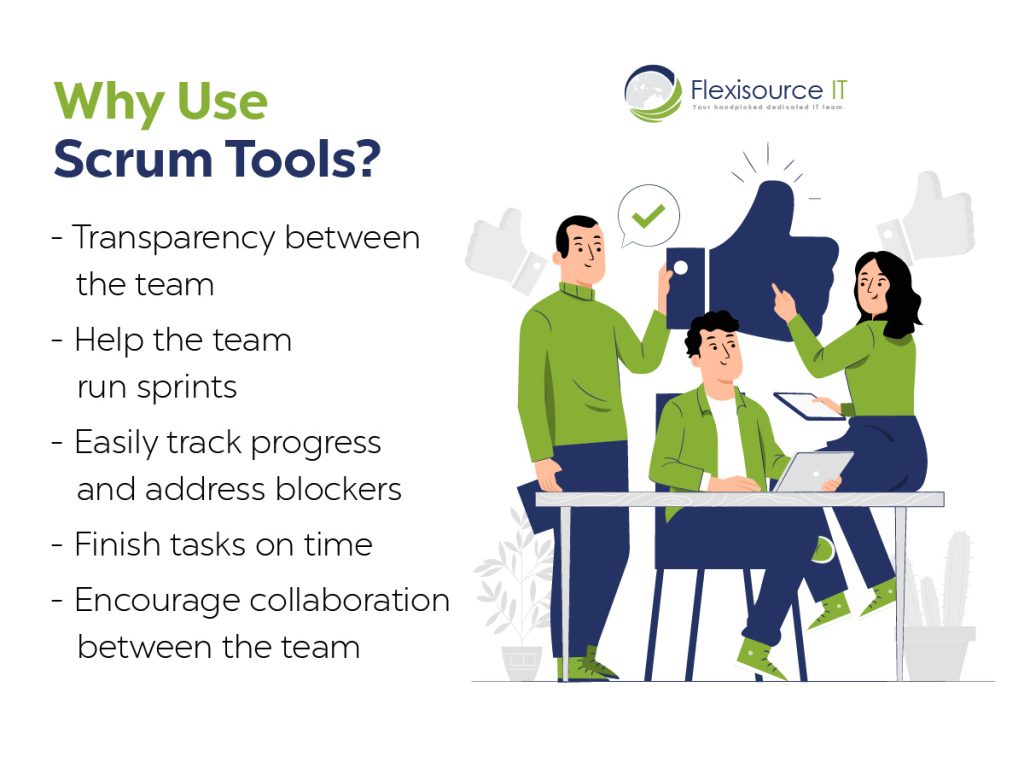 1. Improve transparency between the team
Good project management scrum tools will bring transparency to the project and team. Team members can see everyone's progress, leave feedback, annotate comments, and more when using these tools. Similarly, Team members can even safely share essential documents and files in a project management tool to quickly access teams.
2. Help the team run sprints
With project management software, the scrum team can easily make sprints. These tools can keep everyone in the loop, ensure that tasks are delegated properly, and work on the priority tasks. As such, teams are well-aligned and can work harmoniously.
3. Easily track progress and address blockers
In a scrum team, managers may find it hard to keep track of everyone's progress. But with a scum tool, tasks are organized on a board and are delegated accordingly with deadlines. Moreoever, managers can easily find whom tasks are delegated and their progress,
4. Finish tasks on time
In software development, every part – small or large – are needed to attain businesses' long-term goal. Most project management sends automatic reminders to users before deadlines to ensure that all tasks are done on time. As such, with project management tool, members can easily understand the goal, tasks, and schedule.
Similarly, this tools can even help developer to keep track of how long each tasks are done and what they can do to improve fasten their work.
5. Encourage collaboration between the team
Most scrum project management tools features open door and transparency among team members. You can easily on the board which tasks are assigned to each member accordingly and see everyone's progress.
Likewise these features promotes open communication and collaboration among team members, stakeholders, and the management. In addition, these features also creates an avenue for people to collaborate by discussing tasks, ideas, and suggestions.
10 Best Scrum Tools for Project Management in 2022
While it is undeniable that Project Management tools are beneficial in a scrum team, tons of tools are available online. But we made it easier for you. We listed down our top agile scrum tools in 2022.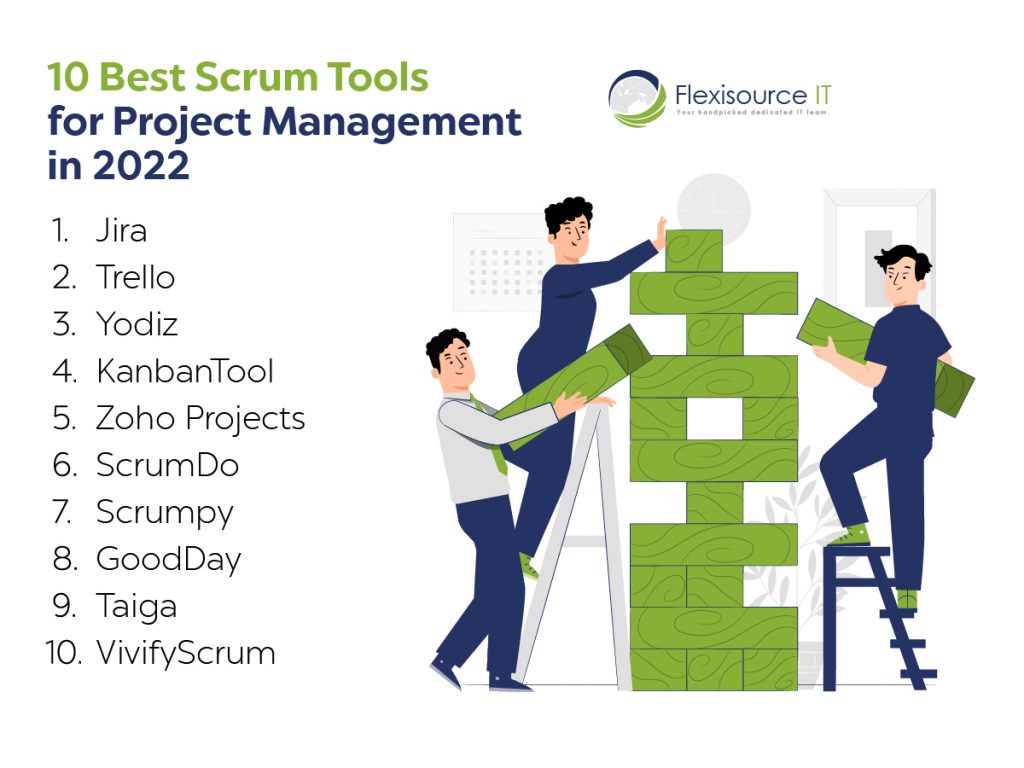 1. Jira
Jira is one of the most commonly used project management scrum tools by development teams worldwide. It helps the development team track and manages all types of work.
This Tool was initially designed as an issue and bug tracker tool but has evolved to a beautiful work management tool. Moreover, scrum tools Jira can be used in any management, including test case management, software development, agile team, etc.
Similarly, this project management tool comes with various features that make project management easy. Likewise, here are some of its most dominant features:
Agile Development Planning – Jira platforms feature Agile fundamental needs such as Scrum and Kanban Boards. Managers can easily manage project backlogs and sprints.
Mobile-friendly application – Jira is available both on desktop and mobile devices. You can access your board any time, anywhere.
Robust reporting features – The application delivers convenient report formats ranging from charts to velocity measures.
Secure and well-built application – Jira contains bug tracking software that restricts specific bugs that endanger the team's security and data. It also has a security feature that can control the permission of each member.
Easy integration with other applications – Jira supports integration with other Atlassian or IT apps such as Github, Salesforce, Gliffy, etc.
Jira's Pricing Plan:
In addition, Jira offers various plans that are fit for small to large-scale companies. Below is their pricing.
Basic Edition – Completely Free and perfect for a small team
Standard Version – $ 7.50, per month, per user. Perfect for scaling small groups, handing a single project.
Premium Edition – $14.50 / per month / per user. This Plan is perfect for a small organization that needs to collaborate and track employee progress. Premium also allows handling global and multi projects
Enterprise – Need to contact Atlassian sales team. Enterprise is great for corporate global scale company that wants to ensure security and governance.
2. Trello
If you are looking for the best free scrum tools not corelated to software development, try Trello. It is agile development scrum tools that vests team to plan, manage, and collaborate through collaborative and organized means.
Similarly, here are some of the most notable features of Trello.
User-friendly interface – Users can add, edit, and manage cards easily. Tool features drag and drop capabilities that make adding files easier.
Due dates with notification reminders – The team can add due dates to cards and set a reminder for everyone. You can also enable desktop and email notifications.
Work with external users – Trello lets you invite guests to your board without compromising internal users' access.
Kanban or Scrum project workflow – Users can visually present the project using Kanban or Scrum Layout. Assign tasks to your team accordingly and easily keep track of their asks and identify blockers.
Mobile friendly – Access your board on the go with Trello mobile apps.
Trello Pricing Plan:
Free version – $0, free for the whole team – Perfect for individual or small groups.
Standard Edition – $5 per user per month – Great for teams that need scaled collaboration.
Premium – $10 per user per month – Best for a large company of 100 people or more.
Enterprise – $17.50 per user per month – For a large-scale organization that needs to manage multiple teams.
3. Yodiz
Yodiz is one of the top agile project management scrum tools that help manage agile projects efficiently. This project management app can help managers, employees, and clients create, work, and deliver multiple projects while staying aligned on the project roadmap. In addition, this app is excellent in identifying and resolving pain points with its advanced analytics and reporting.
Moreover, below are some of Yodiz's best features:
Intelligent Analytics – Yodiz provides smart data and analytics that make handling product backlog easier. This data includes information on the team backlog's complexity, size, and trends.
Epics management – Application features customer journey and key functionalities that let you stay on the proper focus for the project.
Sprint-perfect board – Yodiz highlights the perfect board for daily meetings and sprint track.
Release Management – Yodiz lets you visually see which sprints are linked to the release. Make release easier with this app's best release management feature.
Yodiz Pricing Plans:
Starter – $0, free for up to 3 users
Issue Tracker – $3 per month per user – Great for small teams with basic needs.
Agile Tool – $ 5 per month per user – Best for large groups that need premium support.
4. KanbanTool
Kanban Tools is one of the top-tier project management scrum tools that help teamwork effectively and efficiently. Morever, this Tool showcases a visualized workflow board and comes with powerful insights and analytics metrics that can help improve your team's workflow and dynamics.
As such, take advantage of Kanban Tool's excellent features.
Real-time collaboration on Kanban Board – With Kanban Tool, you can easily access the board and collaborate with your team in real-time. Share tasks, information, and comments anytime
Insightful Data and Analytics – KabanTool provides excellent analytics and metrics to help your team plan, monitor, and improve team performance with cycle time reports.
KanbanTool Pricing Plans:
Free Version – $0 for up to 2 users and 2 boards.
Team Edition – $5.69 per user per month for unlimited boards and file attachments
Enterprise – $10.24 per user per month for unlimited boards, files attachments, time tracking, and reporting.
5. Zoho Projects
Zoho Projects is a cloud-based project management scrum tool that helps schedule, budget, and manages projects for small and midsize companies. Similarly, itt offers various project management tools, task assignments, project cost estimation, and status.
Likewise, below are Zoho Project's best features:
Easy Project Planning and Management – Zoho lets you break down tasks into manageable pieces for easier management. You can add details on each task, including – sub-tasks, the person assigned to, deadline, and more.
Gantt charts – Easily visualize your progress with Gantt Charts. This feature lets you see your milestone, percentage of completeness, backlogs, and more.
Time Tracking – Zoho project has timesheets that let you track the amount of time each member spends on a specific task.
Reporting – Creating reports is effortless with Zoho. You can extract project hours for billing with its invoice and expenses feature.
Issue Tracking – The app features issue management that helps you track, submit, and close bugs in a project.
Zoho Pricing Plan:
Free – $ 0 for up to 3 users
Premium – $4per user per month
Enterprise – $9 per user per month
6. ScrumDo
ScrumDo is one of the best scrum tools for Agile and Kaban work management. It helps users manage, plan, and improve the work process and keep track of every task within the team.
Similarly, ScrumDo also has the following features:
Measure with Result – ScrumDo generates both organization-wide and specific-wide data to help shape a better business outcome for the company.
See the bigger picture – Setting the main goal is essential in every project. With ScrumDo, you can deliver and build with scale in mind. Keep the big picture at bay and follow your organization's workflow.
ScrumDo Pricing Plans:
Scrumban – $8.99 for 10 users per month. This Plan is perfect for small teams learning Agile, Scrum, and Kanban.
Safeban – $59.99 for 10 users per month. This Plan is perfect for growing teams with scaling agile needs.
Business Agility – Contact sales team – Perfect for transforming your whole organization.
7. Scrumpy
Scrumpy is a free scrum project management tool, perfect for agile teams. It is highly recommended for the development team for its compatibility with an application such as Jira, Slack, GitLab, Github, Confluence, etc. It also runs on different devices such as desktop, mobile, tablet, etc.
Scrumpy Features:
Intelligent Notifications – Scrumpy highlights smart notifications designed to notify users of the latest updates on each box.
Available on all OS – This project management tool has recently launched its app on macOS. You can now run this app on all platforms, including Windows, Linux, Android, etc.
Export tasks to Excel file. You can now export the contents of your board to an excel file when needed.
14-Day Free Trial. After subscribing, the first two weeks of the app are for free.
Scrumpy Pricing Plans:
Regular Plan – $8 per user per month – Perfect for a small team with unlimited projects.
Enterprise Plan – Contact sales team – Perfect for a large group.
8. GoodDay
GoodDay is another top project management tool that helps teams manage and organize their work, tasks, projects, and products. It is one of the best for day-to-day planning work and ensuring harmonious working with the team.
GoodDay's Features:
Supports various project management methodologies – GoodDay interface and workspace supports all methods, including Scrum, Kanban, Waterfall, Lean, AFP, and more.
Highly customizable – You can customize your work platform according to your likes and needs.
App integration – With GoodDay, you can easily integrate more than 15 applications into your workspace.
GoodDay Pricing Plan:
Free – Perfect for about one to fifteen users
Professional – $4 per user per month. Great for small to large teams.
Enterprise – Contact sales team – Best for corporate scale needs.
9. Taiga
Taiga is a project management software, perfect for software developers and large teams. It tracks the progress of a project using either a Kanban or Scrum template or both Scrumban.
Taiga's Features:
Easy team interaction – With Taiga, you can communicate effectively with the whole team. The app shares progress on agreed tasks with everyone and promote transparency among the team members.
Reporting and insights – This app has an intuitive user interface and provides insights that can be used to improve team performance.
Taiga's Pricing Plan:
Free – $0 for up to 15 users and 5 private projects
Premium – $7 per user, per month. An unlimited number of users and public and personal projects.
10. VivifyScrum
VivifyScrum is a web-based project management tool, perfect for small and large agile teams. It can handle any size of projects from top to bottom.
VivifyScrum's Features:
All-in-one solution. You can manage projects, collaborate, and send invoices to your clients using Vivify Scrum.
Time tracking. Vivify helps you track how much time was spent on a task.
Price:
Starter – $10 per month for teams up to 10 members
Standard – $6 per user per month for groups between 11 to 50 members
Growth – $5 per user per month for teams between 51 to 100 members
Conclusion
And that's it. These 10 project management tools are our recommended software for a Scrum Team. However, other tools will surely help you in your agile journey. So, find the best Tool out there.
And if you are looking for a development team expert in Agile, Flexisource IT can help you. Our dedicated team of IT experts is well versed in Agile and its different frameworks, such as Scrum and Kanban. Contact us to learn more!
Pamela is a full-time content writer and a lifelong Philomath. Her previous experience as a research analyst made her passionate about traveling the world and understanding how it works. During her day off, you can often find her indoors, writing stories or oil painting.